Growing vegetables from seed is fun, and it's a great way to save tons of money on gardening! There's nothing like being able to walk out into your backyard and harvest fresh vegetables to feed your family! But starting vegetable seeds can be intimidating and overwhelming for beginners, and there are many things to think about.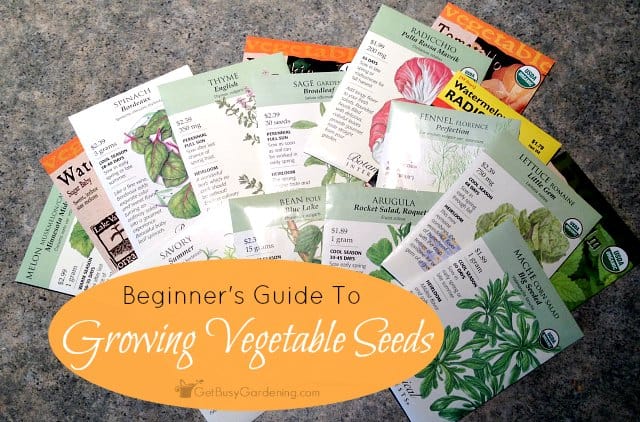 Benefits Of Growing Your Own Vegetables
We all know that starting vegetable seeds is cheaper than buying garden starter plants in the spring.
But growing your own vegetables is also one of the healthiest things you can do, and it's OH SO satisfying (not to mention all the money you save on groceries)!
Plus, there are waaay more varieties of vegetable seeds for sale at garden centers than there are starter plants. So you can grow a nice variety of vegetables that you can't buy at the store.
How To Choose Vegetable Garden Seeds
I know it sounds silly, but sometimes choosing which seeds to buy is the hardest part. It's easy to get excited about all the cool vegetables you can grow, and forget to think practically.
So, how can you narrow it down and choose what to grow? Stick with the basics, and choose vegetables that you know your family will eat.
Also, when it comes to growing vegetables from seed, the quality of the seed matters more than it does for flowers.
So don't try to cut costs here, it pays to spend a little more and buy high quality vegetable seeds. I also recommend that you get organic vegetable seeds whenever you can.
Related Post: How To Test The Viability Of Seeds With An Easy Seed Germination Test
Starting Vegetable Seeds -vs- Buying Garden Starter Plants
Another thing to think about before you start planting vegetable seeds is whether it makes sense for you to grow everything from seed.
Some vegetables are much more difficult to grow from seed, and sometimes it just makes sense to buy garden starter plants in the spring instead.
For example, I find that vegetables like tomatoes, cauliflower, tomatillos, cabbage, Brussels sprouts and broccoli can be a bit more challenging to grow from seed.
So I usually just buy those plants in the spring. Here's a list of vegetable seeds that are easy to grow to help you figure it out.
When To Plant Seeds For Your Vegetable Garden
Once you've decided which vegetables you're going to grow, the next step is figuring out when to plant your seeds.
Read the seed packets to find the recommend seed starting dates for each type of vegetable. The dates will be different for starting vegetables indoors from seed -vs- planting them outdoors.
The general rule of thumb for when to plant garden seeds indoors is 6-8 weeks before your average last frost date.
Dates for starting seeds outdoors can range anywhere from 4-6 weeks before last frost for cold hardy seedlings.
Seeds for vegetables that aren't cold hardy shouldn't be planted outdoors until after all threat of frost has passed in the spring.
Vegetable Seed Planting Guide
Now that we know when to start our seeds, the next step is figuring out how to plant those seeds. There are basically two seed starting methods to think about:
Starting vegetables indoors from seed
Planting vegetable seeds outdoors directly into the garden (aka: direct sowing)
Every seed is different, so it's best to determine which method will work the best for the types of seeds you're growing. The seed packets should give you recommendations for which method to choose.
Related Post: 17 Easiest Seeds To Direct Sow
Planting Vegetables Indoors -vs- Starting Seeds Outdoors
Sometimes it can be hard to decide which seed starting method is best, there are pros and cons to both methods.
The pros for planting vegetables indoors are that you can get a jump start on growing plants that are slow to mature.
But starting seeds indoors is difficult and seedlings require special care in order to survive the transition to the garden.
Plus you need to make room in the house for all those seed starting trays, grow lights, heat mats, and other equipment that you need for growing seeds indoors.
On the flip side, starting vegetables from seed outdoors is much easier because you don't have to worry about making the room inside your house, or caring for and planting seedlings.
But seeds started outdoors aren't very well protected, and they could wash away in a heavy rain, or be eaten by animals or birds.
There is no perfect method for starting seeds, it's best to mix different methods to make seed starting a snap.
Best Vegetable Seeds To Start Indoors
The best types of vegetable garden seeds to start indoors are ones that need a long growing season in order to be productive, or seeds that require warm soil to germinate.
Examples of seeds that usually grow best when started indoors are peppers, kale, eggplant, tomatoes, okra, melon seeds, broccoli, cabbage, Brussels sprouts, and herbs like basil.
Best Vegetables For Starting Seeds Outdoors
The best types of vegetables seeds to start outdoors are ones that are fast growing, cold hardy, and those that hate to be transplanted.
Examples of vegetables that are easy to start outdoors are root crops like radishes, turnips, carrots and beets.
Cold hardy seeds for salad greens and herbs like spinach, mache, lettuce, arugula and parsley, and quick growing crops like corn, beans, peas, cucumber, and squash and zucchini seeds are all great choices.
How To Grow Plants From Seeds Step-By-Step
Regardless of which method you choose for starting vegetable seeds, the actual steps for planting the seeds will be the same (and really, this is the easiest part of the whole process!). Here are some basic steps for planting vegetable seeds…
Prepare the soil: If you're starting vegetables from seed outdoors, loosen up the top few inches of soil. If you're planting them indoors, use a quality seed starting mix.
Plant the seed: A general rule of thumb here is to plant a seed twice as deep as it is wide. You can make a hole in the soil first and drop your seeds into it, or lay the seeds on top of the soil and gently press them in (tiny seeds can just be sprinkled over the top of the soil).
Cover the seeds: Once you're done planting, cover your vegetable seeds with dirt, and gently pack the soil down over them.
Add water: If the soil isn't already damp, water your seeds using a gentle stream of water, being careful not to disturb or wash away the seeds.
These are the basic steps for planting vegetable seeds. If you're planning on starting vegetable seeds indoors and you want more help, read this post… Tips For Starting Seeds Indoors.
Starting vegetable seeds is fun and easy, and it's a great way to save money on your grocery bill. Once you get the hang of it, you'll be able to grow all of your veggies from seed.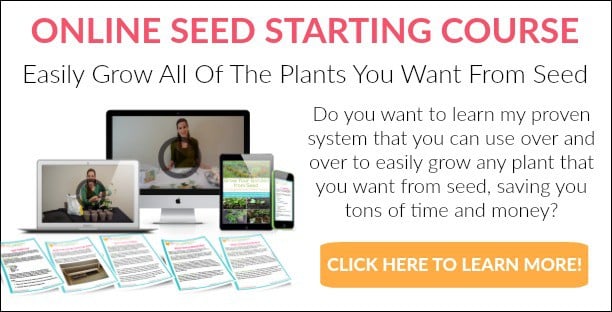 If you want to learn more about how to mix different methods to make seed starting super easy, check out my Online Seed Starting Course. It's a comprehensive, self-paced online training that teach you everything you need to know so you can be successful at growing your garden from seed. Enroll and get started today!
Otherwise, if you just need a quick-start guide to growing seeds indoors, then my Starting Seeds Indoors eBook is what you need.
More Posts About Growing Vegetables From Seed
Share your tips for starting vegetable seeds in the comments section below.
Pin it!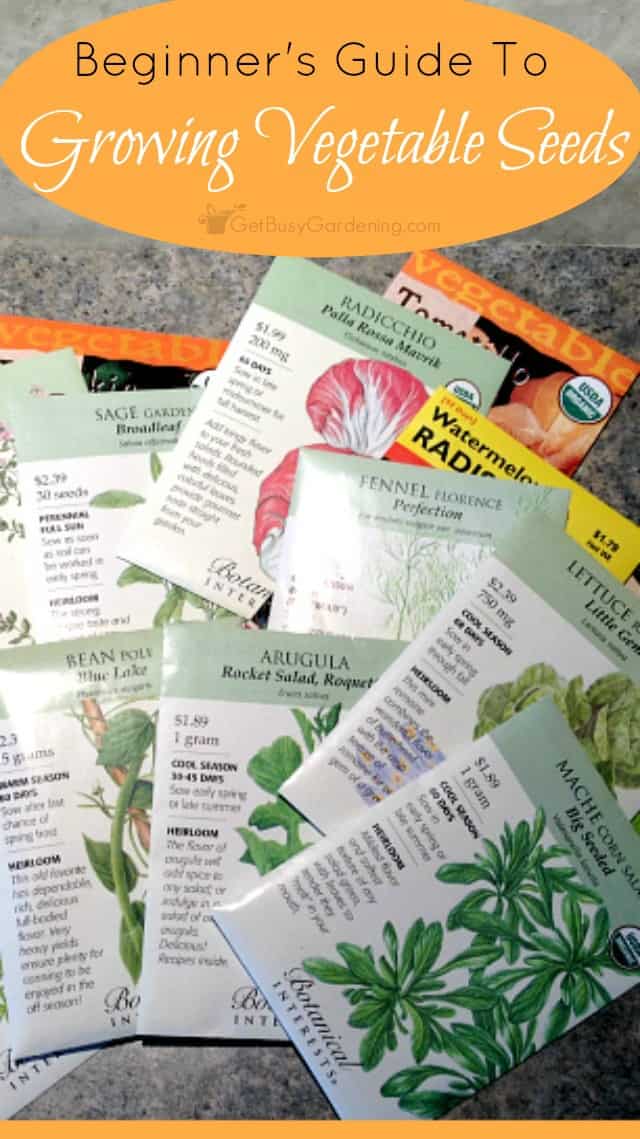 .