Over the past few years, seed starting peat pellets have become very popular. They are fast and easy to use for planting seeds, and they're fun to use too. Some people really love using the seed pellets, and there are definitely advantages to using them. But there are also some disadvantages that are important to consider. Readers are always asking me what I like best, so I thought it would be fun to do a side-by-side comparison of using peat pellets -vs- soil filled seed trays.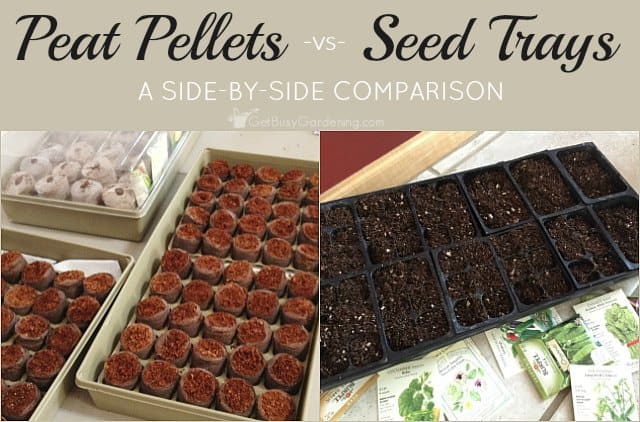 What Are Peat Pellets
If you're new to starting seeds, then maybe you've never heard of peat pellets. Peat pellets (aka Jiffy seed starters) were designed to make starting seeds easier and more convenient for gardeners. As the name suggests, peat pellets are made out of peat moss, which is a popular medium for growing seeds and plants. Not only do they make it easy to plant your seeds, but seed starter pellets also make planting seedlings into the garden super easy too.

What Are Soil Filled Seed Trays
Since I just explained what peat pellets are, I figured I'd better explain what I mean when I talk about soil filled seed trays. Using plastic seed starting cells and trays is the more traditional method for starting plants from seed. You fill the plastic cells with seed starting soil, and then plant your seeds. This is probably what most people visualize when they talk about starting seeds indoors.
Seed Starting Peat Pellets -vs- Soil Filled Seed Trays
When it comes to choosing between these two methods, there really is no "right" way to start your seeds indoors. A lot of times it will just come down to personal preference. I used seedling trays for the first several years, and it was always very economical for me. So when I decided to try using peat pellets, the first thing that jumped out at me right away was the cost. These are not as economical when compared to a large bag of seed starting soil and reusable plastic seedling trays (although if you're just starting out, it will be more expensive to buy the seed starting kits – but then you can reuse them year after year).

But you really have to weigh all the pros and cons, not just the cost… and one of the biggest pros for peat pellets is convenience. Ok, I'm getting a bit ahead of myself here, so let's just jump right into the side-by-side comparison of the pros and cons for each of these two seed starting methods.
Seed Starting Peat Pellets
What I like (pros):
What I don't like (cons):
Seed Trays Filled With Seed Starting Soil
What I like (pros):
What I don't like (cons):
There are two main things that keep me from switching to using the peat pellets for all of my seed starting. One is cost, and the other is the mesh outside that won't decompose. Neither of these are huge deal breakers for me though (the mesh outside is actually pretty easy to peel off before you plant the seedlings into the garden), and I will continue to use a mix of both methods (seed starting peat pellets are a must for seedlings that hate to be transplanted). But, I do prefer to use the seedling trays with soil over the peat pellets.
If you're trying to decide whether peat pellets are right for you, or if you should use the traditional plastic cells and trays, I say try both and see which method you like the best! I really love how easy it is to transplant the seedlings when I use the peat pellets, and if you don't start a ton of seeds, then the added cost won't be a huge issue. Both methods are great, you just have to decide what's best for you.
More Help For Growing Plants From Seeds: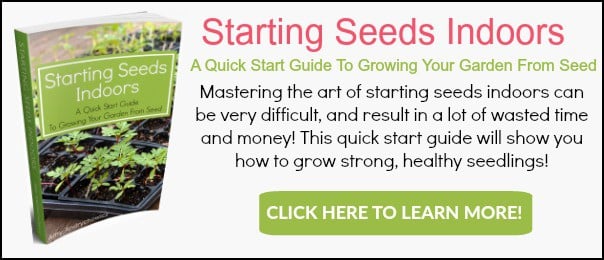 For even more information about starting plants from seed, click here… Starting Seeds
What about you – do you love the convenience of the seed starting peat pellets, or do you prefer seed trays and soil? Leave a comment below and tell me how you start your seeds.

Pin It!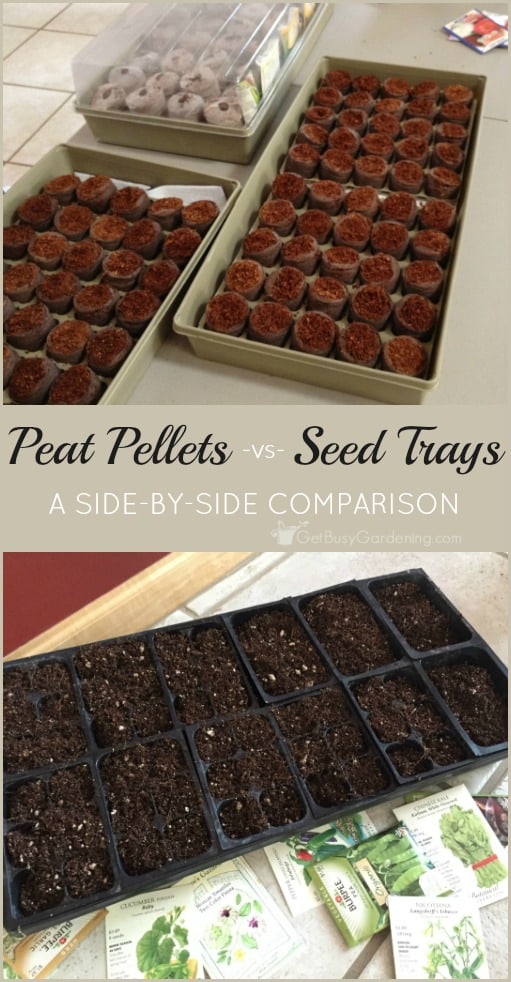 .