Potting soil vs peat pellets – people are always asking me which medium I like best. So I thought it would be fun to do a side-by-side comparison with the pros and cons of using seed starting peat pellets -vs- soil filled seed trays.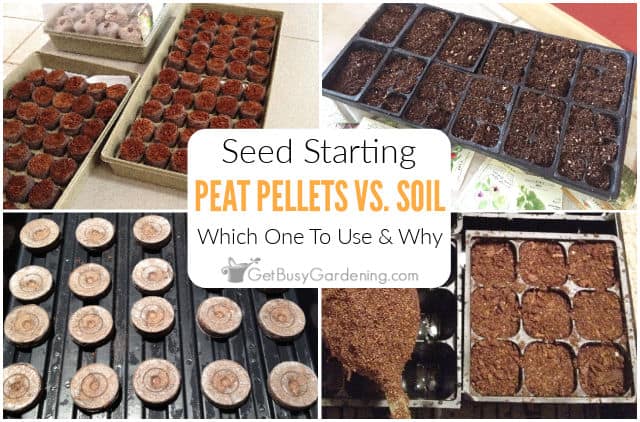 Over the past few years, plantable pellets have become very popular. They are fast, convenient, and easy to use, and they're kinda fun too.
Some people really love the seed pellets, and there are definitely advantages to using them over potting soil. But there are also some disadvantages that are important to consider.
If you're new to growing seeds, then this side-by-side comparison of peat pellets vs potting soil will be extremely helpful for you.
What Are Peat Pellets?
If you're new to starting seeds, then maybe you've never heard of peat pellets. Peat pellets (aka Jiffy seed starters or grow pellets) were designed to make starting seeds easier and more convenient for gardeners.
They look like small soil discs, and are made from compressed peat moss. As the name suggests, these compressed soil discs are made out of peat moss, which is a popular medium to use to grow seeds and plants.
Not only do they make it easy to plant your seeds, but seed starter pellets also make planting seedlings into the garden super easy too.
If you're wondering where to buy peat pellets, you're in luck! You should be able to find peat pellets for sale anywhere seeds and seed starting supplies are sold.
Related Post: How To Make Newspaper Seed Starting Pots
What Are Soil Filled Seed Trays
Since I just explained what peat moss pellets are, I figured I'd better explain what I mean when I talk about soil filled seed planting trays.
Using plastic seed starting cells and trays is the more traditional method for starting plants from seed. You fill the plastic cells with seed starting soil, and then plant seeds in them.
This is probably what most people visualize when they think about starting seeds indoors.
Seed Starting Peat Pellets -vs- Soil Filled Seed Trays
When it comes to choosing between these two methods, there really is no "right" way to start your seeds indoors. A lot of times it will just come down to personal preference.
I used seedling trays for the first several years, and it was always very economical for me. So when I decided to try using peat pellets, the first thing that jumped out at me right away was the cost.
These are not as economical when compared to a large bag of organic seed starting mix and reusable plastic seedling trays (although if you're just starting out, it will be more expensive to buy the seed starting kits – but then you can reuse them year after year).
But you really have to weigh all the pros and cons, not just the cost… and one of the biggest pros for peat pellets is convenience.
Ok, I'm getting a bit ahead of myself here, so let's just jump right into the side-by-side comparison of the pros and cons for each of these two seed starting methods.
Seed Starting Peat Pellets Pros & Cons
What I like (pros):
Fun to watch the compressed peat pellets expand when you add water (yes, I'm like a little kid!)
Easy start up (you don't have to fill cells with dirt, just add water to the peat pellet trays and watch the peat moss discs expand)
Less work since you only have to clean and disinfect the seed trays, and not all of those plastic cells
Less mess since you don't have to fill cells with loose dirt (which is impossible not to spill, at least for messy me)
Makes planting seedlings a snap, plus seed starter pellets help to reduce seedling transplant shock
What I don't like (cons):
The seed starting peat pellets are held together by a mesh or thin netting on the outside, which doesn't seem to break down in the garden. The first time I used these, I was finding the mesh throughout the garden for several years after.
The pellets dry out faster than the dirt in plastic cells
The hole in the top is too small for large seeds (but can be opened up easy enough) – You can buy peat moss pellets for bigger seeds though, which is a great option.
Harder to tag if you have multiple types of seeds in one flat, since there's nowhere to stick the plant marker
Pros & Cons Of Seed Trays Filled With Seed Starting Soil
What I like (pros):
Economical because you can reuse them year after year
Easy to add a plant tag to small groupings of different types of seeds
The soil doesn't dry out as quickly as peat pellets do
What I don't like (cons):
More prep work to clean and disinfect the cells and trays
A bit more difficult to transplant the seedlings into the garden
Risk of transplant shock is higher
Which Seed Starting Medium Do I Prefer?
There are two main things that keep me from switching to using the peat pellets vs. soil for all of my seed starting.
One is cost, and the other is the fact that you have to remove the netting (or mesh) that's on the outside, cause that won't decompose.
Neither of these are huge deal breakers for me though (the mesh outside is actually pretty easy to peel off before you plant the seedlings into the garden).
I will continue to use a mix of both methods (seed starting peat pellets are a must for seedlings that hate to be transplanted).
But, if you ask me to choose peat pellets vs. soil… I personally prefer to use the seedling trays with soil over the peat pellets.
I really love how easy transplanting the Jiffy peat pellets is. And, if you don't start a ton of seeds, then the added cost won't be a huge issue. Both methods are great, you just have to decide what's best for you.
If you're trying to decide whether peat pellets are right for you, or if you should use the traditional plastic cells and trays, I say try both and see which method you like the best!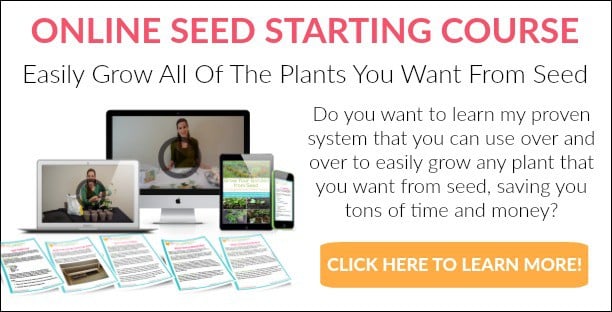 Do you struggle to grow seeds, or have tried in the past but it was an epic failure? Then you should sign up for my online Seed Starting Course. This comprehensive online course will teach you everything you need to know about growing seeds, so you can skip the painful trial-and-error, and finally learn how to grow any plant you want from seed. Register and get started today!
Otherwise, if you just want to learn how to start them indoors, or need a quick refresher, my Starting Seeds Indoors eBook would be perfect for you. It's a quick-start guide that will help you get started indoors.
Recommended Seed Starting Products
More Help For Growing Plants From Seeds
Share your experience with using seed starting peat pellets vs. soil filled seed trays, and which method you prefer in the comments below.