Parsley is a versatile herb that's easy to grow in any garden. Fresh parsley not only makes a great garnish, but it's super healthy to eat too! I love adding it to salads, soups and smoothies.
Growing parsley from seed is pretty easy too, and it's so nice to have a consistent supply of organic parsley at your fingertips whenever you need it.
In this post, I'm going to show you exactly how to grow parsley from seed, and give you parsley plant care and harvesting tips too.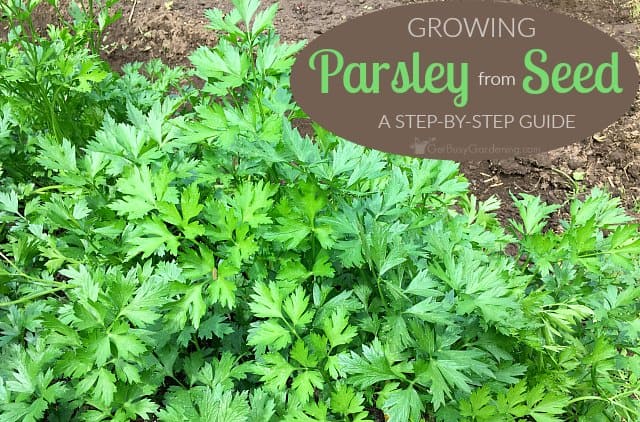 Parsley is a biennial herb, which means it flowers in the second year and then dies. It's in the same family as dill, and has similar growing requirements.
One of the things I love the most about parsley is that it's cold hardy and can survive through the winter with a little protection in northern gardens like mine (I've even had it survive through mild winters in my Minnesota garden a few times with no protection!).
Once a parsley plant starts to bolt (flower) then that's a sign that the plant is getting ready to die, so the leaves won't taste as good anymore.
But, if you allow the plant to form seeds, then you can collect those seeds and use them for growing parsley from seed again next year!
How To Grow Parsley From Seed
Growing parsley from seed is pretty easy. Parsley seeds can either be planted directly into the garden, or they can be started indoors.
Two types of parsley I grow every year are flat leaf and curly leaf parsley. Flat leaf parsley (you can find a few of my favorites here, here, and here) is better for cooking, and curly leaf parsley is super decorative and fun to grow (and of course good to eat too).
Where To Grow Parsley
Parsley can grow anywhere from full sun to part shade. But parsley prefers cool temperatures, and the intensity of the full sun might burn it out.
So, if you live in a warm climate, plant your parsley in a partial shade location that is protected from the intense afternoon sun.
Parsley also grows very well in pots and mixed containers with other herbs, vegetables or flowers, and can be very decorative as a filler plant.
When it comes to soil, parsley isn't too picky. But it prefers moist, fertile soil that is rich with organic material.
In addition to amending my soil with compost, I like to mix in an organic granular herb fertilizer before planting my parsley seedlings to give them a healthy start.
When To Plant Parsley Seeds
Since parsley doesn't mind the cold, you can start sowing parsley seeds directly into your garden 4-6 weeks before your average last frost date, or as soon as the soil can be worked in the spring.
Parsley is cold hardy, so the seedlings won't be killed by frost. If you'd rather start them inside, parsley seeds should be planted indoors 6-8 weeks before your average last frost date.
How To Plant Parsley Seeds Step-By-Step
Before planting parsley seeds, soak them in water for 12-24 hours. Soaking the seeds will help to speed up germination.
If starting seeds indoors, fill your seedling trays with a good quality seed starting medium, or you could use seed pellets if you prefer
Plant 1-2 seeds per cell/pellet (if more than one seed grows, then you will need to thin the seedlings)
Parsley seeds should only be planted about 1/4″ deep. To make sowing parsley seeds easier, I like to lay the seeds on top of the soil, and then gently press them down to the correct depth. If you're planting seeds directly into your garden, space them 3-4″ apart
Cover the seeds with soil, and gently press it down so that the soil comes in contact with the seeds
Water your seeds with a gentle spray from the hose in your garden, or by adding water to the seed trays indoors so you don't disturb the seeds
Cover each seed tray with a plastic lid to keep the soil moist, and help keep it warm too
Parsley Seedling Care
Parsley germination time – One thing to keep in mind when you're growing parsley from seed is that germinating parsley seeds can take a long time. Parsley seeds can take anywhere from 14-28 days to germinate. If you've started the seeds indoors, then put your seedling tray on a seedling heat mat to speed up germination. Otherwise, be patient and give it plenty of time.
Watering parsley seedlings: Keep the soil for your parsley seedlings evenly moist, but be careful not to overwater them. They won't tolerate sitting in soggy soil for very long.
Lighting for growing parsley indoors: Parsley seedlings don't grow as fast as other types of seedlings, but they will start reaching for the light if they aren't getting enough. In order to grow strong, healthy seedlings, it's best to add a grow light when growing parsley from seed indoors. Hang the light 1-2 inches above the seedlings at all times, and keep it on for 14-16 hours per day.
You can buy a seedling grow light system, or make your own seed starting grow lights using an inexpensive fluorescent light fixture and plant grow light bulbs. Whatever you decide to use, make sure to plug your lights into an outlet timer to make it easy to give your parsley seedlings plenty of light.
Related Post: A Beginner's Guide To Grow Lights For Seedlings
Fertilizing your parsley seedlings: Once parsley seedlings start to grow their first true leaves, it's time to start fertilizing them. Begin with a weak half dose of liquid fertilizer, then gradually build it up to full strength as your seedlings mature.
The best types of liquid fertilizer for seedlings are fish emulsion, liquid kelp, or an organic compost tea solution (you can make your own using compost tea bags). I use these on all of my seedlings, and they love it!
Learn more about how to care for seedlings here.
Planting Parsley Into Your Garden
Since parsley is cold hardy, you can plant the seedlings into the garden 2-4 weeks before your average last frost date.
But, if you're growing parsley from seed indoors, then you will need to harden off your seedlings before planting them into the garden. This is a critical step that you don't want to skip, or your seedlings likely won't survive being transplanted into your garden.
Parsley doesn't need much room to grow, so you can space your seedlings about 6-8 inches apart when you plant them. Learn exactly when it's time to transplant seedlings into the garden.

Parsley Plant Care And Growing Tips
Another thing I love about growing parsley in my garden is that it's a super low maintenance plant. The biggest problem people have with parsley is overwatering the plants.
You don't want to allow parsley to dry out completely, but consistently overwatering it will kill the plant. So, check the soil before you water to make sure it's slightly dry.
Fertilizing parsley plants: Parsley plants like to be fed on a regular basis throughout the growing season. I like to mix an organic granular herb fertilizer into the soil around the plants a few times during the summer.
I also feed my parsley plants with an organic liquid fertilizer during the summer months. There are a few types of liquid fertilizers that I use, and highly recommend that you can choose from.
Organic compost fertilizers work great, and you can get them in liquid form, or buy compost tea bags and brew your own. Two other fantastic organic fertilizers are fish emulsion or liquid kelp.
Swallowtail butterfly caterpillars: Another thing to keep in mind when you're growing parsley is that it's one of the favorite host plants for the black swallowtail butterfly larvae (aka: caterpillars).
If you see these colorful caterpillars eating your parsley (they also love dill and carrots too), please don't kill them! They won't kill the plant, and it's fun to watch them (plus, soon you will see black swallowtail butterflies all around your garden!).
So, if you're lucky enough to find black swallowtail larvae in your garden, be sure to plant extra parsley so you can share it with them.
How To Harvest Parsley From Your Garden
Parsley can be harvested all year long in warmer climates, and spring through fall in cold climates. Technically you could start harvesting it almost as soon as it has a few true leaves, but it's best to wait until it has about 10 leaves.
Don't pull the whole plant when you harvest, just cut or pinch off the large outer leaves and leave the rest to mature. That way you can harvest from your parsley plants over and over again, throughout the entire growing season. Harvesting parsley regularly will help to promote new growth too!
Parsley is easy to preserve by freezing or drying, so I always make sure to stock my pantry and freezer every summer.
Related Post: How To Harvest Parsley Fresh From The Garden
Growing parsley from seed is fun and easy, and the seeds can be planted either indoors or directly into the garden. Parsley makes a great addition to the herb garden, mixed containers or even as a companion plant in the vegetable garden. You don't need a ton of space to grow parsley from seed, so you can tuck it in just about anywhere.
If you need more help and would like to learn how to grow any type of garden seed you want, check out my online seed starting course. This comprehensive, self-paced online course is specifically designed to teach beginners how to grow seeds.
More Posts About Growing Garden Seeds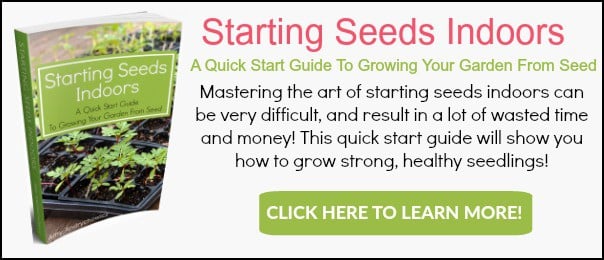 Share your tips for growing parsley from seed in the comments below!
Pin It!