Growing tomatillos from seed is really not that difficult, and it's so rewarding! In this post, I will show you all you need to know, from how long it will take, when and how to plant tomatillo seeds, seedlings care tips, and much more!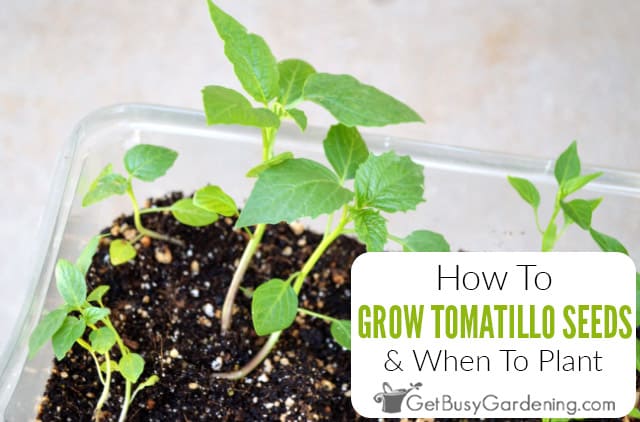 If you are intimidated by the thought of growing tomatillos from seed, now is the time to learn. Trust me, it's so much easier than you might think.
I always love growing my own seeds whenever I can, and for me planting tomatillos is a must.
It requires a bit of planning and some basic supplies, but with this guide you will be a pro in no time. Below, I will show you everything you need to know about how to grow tomatillos from seed.
Here's what you'll find in this step by step guide…
Growing Tomatillos From Seed
With several varieties to choose from, tomatillos are a lot of fun to grow from seed. Once you learn the right method to use for planting them, and how long it takes, you'll be successful with them all.
Types Of Tomatillo Seeds To Plant
Believe it or not, there is more than one type of tomatillo that you can plant in your garden. Most people are familiar with the plain green variety.
But I also love the purple ones, as well as the sweeter (yet smaller) yellow pineapple variety (aka ground cherries).
Don't worry, the steps for planting and growing tomatillo seeds are the same no matter which type you choose.
Recommended Tomatillo Seed Starting Methods
Though they are fast growing plants, tomatillos take a long time to produce mature fruits from seed.
So, unless you live somewhere warm, it's best to start them indoors, rather than direct sowing them in your garden.
Related Post: 3 Seed Starting Methods That Every Gardener Should Try
How Long From Seed To Harvest?
Like I said, they can be very slow to start producing mature fruit. It can take 75-100 days (2.5 – 3.5 months) to grow tomatillos from seed to harvest.
They love the sun and the heat. So, give them plenty of full sunshine for the best and fastest results.
Related Post: When & How To Harvest Tomatillos
Planting Tomatillo Seeds
Because they take so long to mature, successfully growing tomatillo seeds requires a bit of planning. So make sure that they have the ideal conditions and an early start.
When To Plant Tomatillo Seeds
For the best success, start them indoors 4-6 weeks before your last frost date. Here in MN, our average last frost is May 15th. So, I start my tomatillo seeds sometime in early to mid April.
If you live in a warm climate with a long gardening season, you can direct sow them after all danger of frost has passed, and the soil has warmed up in early spring.
How To Plant Tomatillo Seeds Step-By-Step
Once you know how to do it, planting tomatillo seeds is quite straightforward. Just make sure you have all your supplies together before starting for a smooth process.
Supplies Needed:
Step 1: Fill the trays – If you're using peat pellets, pre-moisten them first. Otherwise, fill the tray cells to the top with the potting soil.
Step 2: Decide how many to plant – For brand new seeds, you can just sow one per pellet or cell. But if you're using older ones, then plant 2-3 per hole, and plan to thin them later on.
Step 3: Plant the seeds – Since they are so small, you should only plant tomatillo seeds about 1/8″ – 1/4″ deep.
To do so, you can either make shallow holes in soil, then drop the seeds in. Or you can place them on top, and then gently tease them down to the proper depth.
Step 4: Cover the seeds – Fill the hole back in, then gently press down over the top to ensure the soil comes in contact with the seeds.
Step 5: Water your flats – Once all of your tomatillo seeds are sown, moisten the soil. Rather than pour it over the top, water your flats from the bottom so you don't displace the small seeds.
Step 6: Cover the trays indoors – Put the plastic dome lid on top of the trays, and place them in a warm location.
Step 7: Keep them warm – Adding a heat mat will help tomatillo seeds germinate faster.
If you don't have one of those, put your flats in the warmest room that you can. If it's too cold, it will slow down, or even prevent germination.
Tomatillo Germination Time
One of my favorite things about growing tomatillos from seed is that they sprout very fast. It only takes about 7-14 days for them to germinate. That time can be even shorter if you add bottom heat.
If yours won't germinate, then it's probably too cold for them. So, either get yourself a heat mat, or position the tray over the top of a radiator or heater vent.
What Do Tomatillo Seedlings Look Like?
The first two leaves that sprout out of the dirt will be thin and narrow, with slightly pointed tips. Those are called the "seed leaves".
All of the others that form after that are called "true leaves", and they look exactly like tiny baby tomatillo leaves.
How To Care For Tomatillo Seedlings
Properly caring for your tomatillo seedlings will really make a difference. For the best results, carefully nurture them with the right amount of light, water, and fertilizer after germination.
Light – Tomatillo seedlings grow fast, and can quickly become leggy. To avoid this, be sure to hang a grow light a few inches above them as soon as they start to sprout. A sunny windowsill won't give them enough light.
Water – Always keep the soil evenly moist, and don't allow it to dry out completely. It should never be soggy though. Use a soil moisture gauge to make sure you get it just right.
Transplanting Tomatillo Seedlings Into The Garden
Once all chance of frost has passed in the spring, and the soil has warmed up, it's time to transplant your tomatillo seedlings into the garden.
But before you can do that, you must harden them off first. This is a crucial step, so do not skip it, or they probably won't survive the transition to the outdoors.
FAQs
Growing tomatillos from seed is easy once you know what you're doing. Until then, you might have a few more questions. Here are answers to ones that I get asked the most.
How many tomatillo seeds do you plant per hole?
The exact number of tomatillo seeds to plant per hole depends on how fresh the are. If they are brand new, then you can plant one per hole. But, if they are old, plant 2-3 per hole, and then thin them out if more than one of them germinates.
How deep do you plant tomatillo seeds?
You should plant tomatillo seeds twice as deep as they are wide. So, since they are so small, this is only about 1/8″ – 1/4″ deep.
How can you germinate tomatillo seeds faster?
You can germinate tomatillo seeds faster by adding bottom heat. The ideal soil temperature is 80-85F, which you can monitor with a soil thermometer.
Do tomatillo seeds need light to germinate?
No, tomatillo seeds do not need light to germinate. However, once they sprout, they grow very fast. So hang a grow light above them right from the start to keep them from getting leggy.
Should I soak tomatillo seeds before planting?
You don't need to soak tomatillo seeds before planting them, but it certainly won't hurt. Soaking them can help them germinate faster.
But, since they are already pretty quick, you probably won't notice much of a difference if you soak them beforehand.
Growing tomatillos from seed takes a little bit of planning, but it is so rewarding. It's easy to do when you follow the steps above. Plus, it feels great to use the fruits from seeds you grew yourself.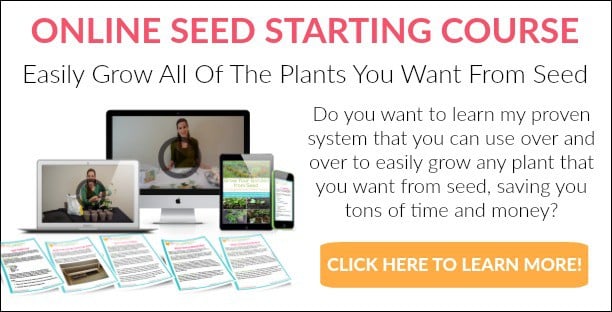 Are you tired of trying to figure out how to grow seeds by trial and error? Then you should take my online Seed Starting Course. This comprehensive, fun, self-paced course will teach you everything you need to know in order to easily grow any plant that you want from seed. Sign up and get started today!
Or, if you just need a quick refresher, then check out my Starting Seeds Indoors eBook. It will get you up and running in no time!
Related Products
More About Growing Seeds
Share your tips for how to grow tomatillos from seed in the comments below.
Print The Step By Step Instructions