Growing peppers from seed can be a bit challenging for beginners, but it's actually pretty easy once you get the hang of it. In this post, I am going to show you exactly how to grow peppers from seed step-by-step.
Growing Peppers From Seed
Peppers are one of my all-time favorite vegetables to grow in my garden! My husband loves them too, and we've grown tons of different varieties of sweet and hot pepper seeds over the years.

One of the things that we love the most about growing peppers from seed is the amazing variety of peppers we can grow.
Once you start shopping for pepper seeds, it's pretty crazy to see how many different kinds there are to choose from. And the diversity is awesome too.
Peppers range anywhere from the mild flavor of green peppers, to the sweetness of banana peppers, and the medium heat of chili peppers… all the way up to spicy cayenne peppers, jalapeños and the super HOT habanero and ghost peppers.
You name it, and we've probably grown it! Some of our favorite pepper varieties to grow are cayenne (hot), jalapeno (hot), bell (sweet), padron chile (mixed) and purple bell (sweet)
Where To Grow Peppers In Your Garden
Peppers like it hot! They will grow their best when planted in a full sun location after all chance of frost is gone, and the weather has warmed up in the spring. Peppers also grow really well in pots and containers, and would be perfect for patio or deck planters.
Pepper plants don't like wet feet, so make sure you plant them in fast draining soil and never allow the soil to get soggy. They grow best in fast draining, rich soil that has plenty of organic matter mixed in.
Peppers also love to be fed throughout the growing season. To start them off right with plenty of nutrients, I like to mix an organic granular fertilizer into my soil before planting my pepper seedings.
When To Plant Pepper Seeds
Here in Minnesota, our growing season is too short to plant pepper seeds directly in the garden. So, the best way to get a good crop is by planting pepper seeds indoors 8-12 weeks before the average last frost date.
One quick note before starting… if you're planning to start jalapeños from seed (or any other hot pepper), I recommend wearing gloves. I wear contact lenses and have had a few bad experiences taking out my contacts after handling any part of a hot pepper, including the seeds.
How To Grow Peppers From Seed
Peppers take a long time to produce mature fruit, and they require a long growing season. Germinating pepper seeds can also be pretty slow to (some varieties take up to a month germinate!).
So for these reasons it's best to start pepper seeds indoors using a high quality seed starting soil mix (or make your own DIY seed starting mix) or peat pellets.
When I use seed starting trays or peat pellets to start my seeds, I plant one pepper seed per cell/pellet. If I'm using old garden seeds that have a low viability rate, I will plant 2-3 seeds per cell/pellet, and then thin the seedlings out later.
To plant pepper seeds, I like to lay the seeds on top of the soil, then gently push them down into the soil, and cover them with dirt. You could also make the holes first, then drop the pepper seeds in and cover.
The rule of thumb for planting depth is to plant a seed twice as deep as it is wide. So plant your pepper seeds about a 1/4″ – 1/2″ deep.
How To Plant Pepper Seeds
Fill your seedling trays with moist seed starting soil, or use pre-moistened peat pellets
Plant 1-3 pepper seeds per cell/pellet (you should only need to plant one seed per cell/pellet if you're using brand new seeds)
Lay the seed on top of the soil and gently press it into the dirt, or you can make a hole first and drop the seed in
Cover the seed with soil, and gently press it down to make sure the seed comes in contact with the soil
Water your seed trays from the bottom so you don't disturb the seeds
Place the plastic lid on top of the seedling tray to keep them warm, and ensure the soil stays moist during pepper seed germination
How To Germinate Pepper Seeds Fast
When it comes to growing peppers from seed, you need to be patient and keep in mind that some varieties will start to grow faster than others. Pepper germination is faster when the soil is kept warm.
So to germinate pepper seeds faster, put your seedling trays on a seedling heat mat or over a heat vent if you can. It's amazing how much faster pepper seeds will grow when you add bottom heat.
Related Post: How To Grow An Avocado Tree From Seed
Caring For Your Pepper Plant Seedlings
Once your pepper seeds start to grow, you might wonder what to do next. Yikes! Well don't worry, cause one of the best things about growing peppers from seed is that the seedlings are super easy to care for.
Like all seedlings grown indoors, they will require some care… but pepper plant seedlings aren't super fussy.
Watering pepper seedlings – Pepper seedlings don't like soggy soil. Allow the soil to dry out a bit between waterings, but never let it dry out completely.
If you accidentally overwater your pepper seedlings and the soil is soggy, empty all the extra water that's sitting in the seed tray. Then, turn an oscillating fan on low and position it to blow over your seedlings.
The fan will help the soil dry out faster (but keep an eye on it, because sometimes this can dry the soil out too fast when a fan is blowing on the seed trays).
Pepper seedlings need lots of light – The nice thing about peppers is that the seedlings grow fairly slowly, so pepper seedlings don't require as much light as other types of seedlings do.
But if the seedlings don't get enough light, they will start to grow leggy and reach for the light. So, in order to grow thick, compact pepper seedlings, it's best to add a grow light.
Hang a plant grow light a few inches above your seedlings once they start to grow, and keep it on for 14-16 hours per day. You can use an inexpensive fluorescent light fixture with plant grow light bulbs if you want to make your own seed starting grow lights.
Also, get yourself an inexpensive outlet timer to give your seedlings the perfect amount of light every day.
Related Post: A Beginner's Guide To Grow Lights For Seedlings
Best fertilizer for pepper plants – Once your pepper seedlings start to grow their true leaves (that is, any leaves that grow after the first two sprout leaves), it's time to start fertilizing them, but you don't want to feed seedlings a full dose of fertilizer right off the bat.
It's best to start with a weak dose at first, and slowly increase the strength of the fertilizer as your pepper seedlings grow larger.
I recommend using a natural, organic fertilizer rather than chemicals. I use (and highly recommend) fish emulsion and an organic compost solution (or I make my own using compost tea bags) on all of my seedlings – they work better than chemical fertilizers and are much healthier for the environment, and for you. Pepper seedlings love it!
Related Post: How To Care For Seedlings: The Ultimate Guide
Potting up pepper plant seedlings – Once your pepper seedlings have started to outgrow the seed planting trays, it's a good idea to pot them up into larger containers to give them plenty of room to grow.
I like using plantable seedling pots to make it super easy to transplant my pepper seedlings into the garden. If you like the idea of using plantable pots, but prefer a more sustainable option over using peat, you could use coco coir pots, or cow pots.
Otherwise, you can use small plastic nursery pots (which are reusable), or even recycled containers like yogurt cups or small milk cartons to pot up your seedlings.
Planting Pepper Seedlings Into Your Garden
Once the weather start to warm up in the spring, we can get pretty antsy to get our pepper seedlings planted into the garden!
But pepper plants are not tolerant of cold weather, and the seedlings will suffer and their growth can be stunted if they're planted into the garden too early.
It's best to wait to transplant your pepper seedlings until after all chance of frost is gone, and the soil has warmed up. But before you can think about planting them into the garden, they must be hardened off first to prepare them for life outdoors.
Once the time finally comes to transplant your pepper seedlings into the garden, space your plants 12-18″ apart. Pepper plants like to be touching each other a little bit once they get larger, so don't plant them too far apart.
Pepper Plant Care And Growing Tips
Pepper plants are pretty low maintenance and won't require a lot of special care once they become established in your garden. You can learn all the details about how to grow peppers here, but here are a few quick pepper plant care tips…
Like tomatoes, pepper plants can get pretty heavy with fruit during the peak of the season and they might need extra support. You don't need to use anything super heavy-duty for staking pepper plants. Wire tomato cages work great, or you can use short bamboo plant stakes or metal plant stakes. I recommend using a flexible stretch tie to tie your plants to the stakes so it won't damage the plant as it grows.
Once peppers start forming, pinch off new growth and some of the new flower buds to encourage pepper plants to put more energy into growing larger peppers rather than always producing new growth. Pinching also keeps pepper plants compact and bushy.
Pepper plants like to be watered consistently, but don't like wet feet. So give your plants a good, deep drink of water and allow the soil to dry out a bit between waterings.
Feed your pepper plants a few times during the summer to keep them growing and producing their best. I like to top dress the soil with an organic

granular fertilizer

once or twice throughout the season. I also use liquid fertilizers a few times throughout the summer as well. Pepper plants love

fish emulsion

and liquid kelp, and they also love compost tea, which you can get in liquid form, or buy

compost tea bags

and brew your own.
How And When To Harvest Peppers
One of the great things about peppers is that you can harvest them even if they aren't fully mature (which is what green peppers are – immature red, orange, yellow or purple bell peppers).
So, you can harvest peppers once they reach a desired size, or leave them on the plant longer so they will become fully mature.
The longer you leave peppers on the plant, the hotter/sweeter (and more colorful!) they will become. When harvesting, take care to cut the peppers from the plant rather than pulling them off to avoid damage to the plant.
If you've never started seeds indoors before and have been wanting to try, I recommend starting with pepper seeds. Starting pepper seeds indoors is easy once you get the hang of it. Plus you'll be rewarded with an abundance of peppers, which makes it well worth the effort.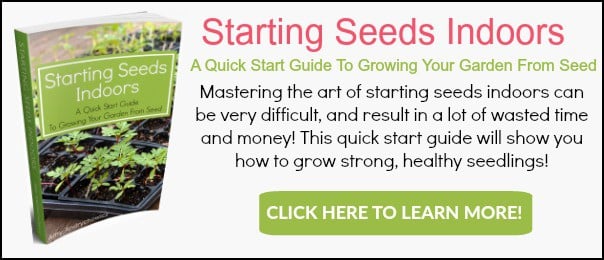 If you need a quick-start guide to growing seeds indoors, then my Seed Starting eBook is the perfect answer.
Otherwise, if you're feeling overwhelmed by starting your garden from seed, or need someone to show you exactly how to do it all, then enroll in the Seed Starting Course. It's a comprehensive online training with step-by-step videos and support to guide you along every step of the way!
Recommended Products
More Tips For Growing Vegetables From Seed
Share your tips for growing peppers from seed in the comments section below.