I get a lot of questions from new gardeners about how to grow spinach in the garden, because it can be a tricky one. Spinach is a fast growing, low maintenance crop that is actually very easy to grow from seed. When it comes to growing spinach from seed, timing is everything! In this post, I'm going to tell you the secret to successfully growing spinach, and give you tons of tips for your best spinach harvest ever!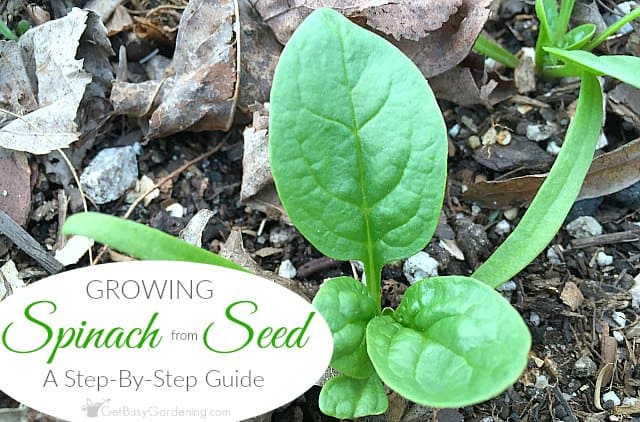 Spinach Information
Not only is spinach super healthy, it's very versatile too! It can be eaten raw or cooked, used in tons of recipes (I especially love it with eggs or on pizza!), and it even makes the perfect addition to smoothies and salad mixes.

It's super easy to freeze too, making it an even more valuable crop to grow in your garden. Some of my favorite spinach varieties to grow are Bloomsdale spinach seeds, Monstrueux de Viroflay and Matador.
Growing Spinach From Seed
Like I mentioned above, growing spinach from seed is all about timing. The key to successfully growing a good spinach crop is to grow it during the cooler months.
The biggest mistake that new gardeners make when trying to grow spinach is planting it way too late. Think of it this way… if you plant your spinach at the same time as your tomatoes, then it's too late.
Spinach is very sensitive to heat, and will bolt (i.e.: flower) at the first sign of warm weather. Plus, if you plant the seeds too late, they won't grow because spinach seeds won't germinate if it's too warm.
Spinach doesn't really like to be transplanted either, so it's best to plant the seeds directly in the garden rather than starting seeds indoors and transplanting them (which is so nice since you don't have to worry about buying any extra seed starting supplies!).
Where To Grow Spinach
One of the things I love the most about growing spinach from seed is that it doesn't need a ton of space, so you can tuck it in just about anywhere! It's a double space saver when you grow it under a lean-to or an a-frame style trellis with vining crops growing on top!
Spinach crops will be done very early in the summer, so you can easily plant it in a bed with squash, tomatoes, cucumbers, or other warm hardy plants.
Once these heat loving crops start to grow larger, the spinach will be done, leaving plenty of space for other plants to fill in.
Spinach can be grown anywhere from full sun to partial shade. But, it grows best in a spot where it's protected from the hot afternoon sun.
I grow spinach in my vegetable garden beds where it gets partial shade. Spinach also grows very well in a pot, or in mixed containers with other types of salad greens.
It can grow in many different types of soil, but spinach will grow it's best in moist, well draining soil that is rich with organic material.
Before growing spinach from seed, I mix compost into my garden beds, and I also add an organic granular fertilizer to the soil.
When To Plant Spinach Seeds
Since it prefers the cold, plant spinach seeds 4-6 weeks before your average last frost date, or as soon as your soil is workable in early spring.
Since it's such a fast growing crop, you could also plant seeds in late summer for a fall harvest (spinach is cold hardy, so it won't be killed off by fall frosts).
If you live in a warmer climate with mild winters, you can start your seeds once the weather cools down in the fall, and grow it through the winter (lucky you!).

Planting Spinach Seeds Step-by-Step
Check the seed packets for exact instructions for planting the varieties of spinach you want to grow. Most will be the same, but it's best to check to make sure there aren't any special instructions before planting seeds.
In general, here's how to plant spinach seeds step-by-step…
Loosen up the soil, and mix in any soil amendments and organic granular fertilizer
Space seeds 2″ apart (or a 4-6″ apart if you don't want to thin the seedlings)
Plant spinach seeds 1/2″ deep, and cover the seeds with soil
Gently press the soil down over the seeds
Water the soil until it's evenly moist (but not soggy)
Spinach Care & Growing Tips
Given the right growing environment, spinach is a super low maintenance and easy to care for plant. Since they have such a short growing season, spinach plants don't really require any special care.
But to ensure a good harvest, here are some basic spinach growing tips for spinach care…
Spinach germination time – When planted in the right soil, spinach seeds germinate very quickly. It only takes about 5-9 days for the seeds to germinate. Sow the seeds at different times throughout the spring for a longer harvest.
Watering spinach plants – Spinach likes a lot of water, but it doesn't like soggy soil. Make sure to grow it in a fast draining soil, and never allow the soil to dry out completely.
One of the reasons it's so low maintenance is that, since it's usually cool and wet in the spring, I rarely need to worry about watering my spinach plants.
Fertilizing spinach – Spinach plants are heavy feeders, and they will grow their best when you fertilize them. Don't use chemical fertilizers though, it's best to stick to using a natural, organic fertilizers in your garden.
I like to top-dress my soil with an organic granular fertilizer before I plant the seeds, then I feed the plants using an organic liquid fertilizer. You can start using liquid fertilizer as soon as spinach seedlings start growing their first true leaves. Organic compost fertilizer is one of my favorites.
You can buy liquid compost tea concentrate, or get compost tea bags and brew your own from scratch. Spinach seedlings also love being fed with fish emulsion or liquid kelp, which are another two of my favorite organic liquid fertilizers to use in my garden.
Spinach plant spacing – Spinach doesn't need a ton of room, but overcrowded spinach seedlings can end up competing with each other for light, water and nutrients so it's best to give them plenty of room to grow.
Once your spinach seedlings start to grow their true leaves, thin them out so they are about 4-6″ apart.
Make sure to cut the plants off at the base rather than pulling them out so you don't damage the shallow roots of surrounding seedlings (you can eat the ones you thinned out, they're microgreens!).
Harvesting Spinach
Spinach is one of those vegetables that you can harvest over and over again. As long as the plant hasn't started bolting, you can harvest from it.
To harvest spinach, simply pinch or cut off the largest leaves from the plant. Don't remove all of the leaves, make sure to leave the smaller ones to continue to grow and mature for your next harvest.
Technically you could start harvesting spinach as soon as the true leaves start to grow. But, it's best to wait until there are several leaves before you start harvesting.
As soon as a plant starts to bolt, I will pull the whole thing and harvest all the leaves from it. Make sure you catch it right away though, spinach leaves turn bitter pretty quickly once the plant starts to bolt. If you allow the flower to grow, spinach will not taste very good.
Spinach freezes really well, and frozen spinach is perfect for smoothies and cooking. I make sure to grow as much spinach as I can during the cold months so I can stock my freezer and enjoy it year round.
Growing spinach from seed can be tricky, and timing is everything. The secret to success is planting spinach seeds as soon as you possibly can in the spring.
The biggest mistake gardeners make is starting spinach seeds too late, only to watch the plants bolt before they can harvest spinach.
If you want to learn more about growing your garden from seeds, check out my online seed starting course! It's a comprehensive online course that you can take at your own pace (and from anywhere in the world!), with lifetime access and step-by-step guidance so you can learn how to grow any plant you want from seed!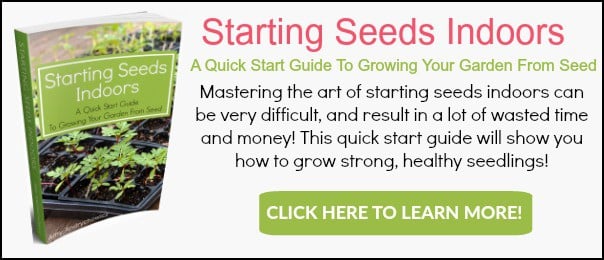 More Posts About Growing Garden Seeds
Share you tips for growing spinach from seed in the comments section below!