DIY grow lights for seedlings are surprisingly easy to make. In this post, I'll give you step by step instructions for how to make inexpensive seedling grow lights, and a simple stand for hanging the fixture too.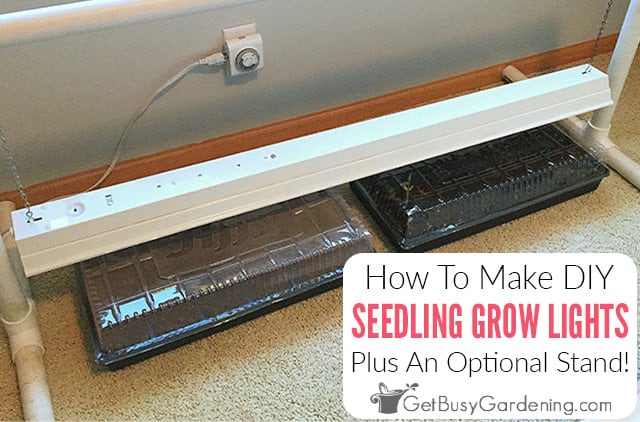 If you plan to grow seedlings indoors, then you will definitely need a grow light for them. The good news is that you don't have to spend a ton of money to get set up!
Believe it or not, making DIY grow lights for seedlings is a simple and very cost effective project.
You can hang them from any shelf or setup that you already have, or easily make your own stand.
Below I will show you how to make your own seedling grow lights, step by step. Plus, as a bonus, I'll share my instructions on building a custom stand for them.
Here's what you'll find in this step by step guide…
Inexpensive DIY Seed Starting Grow Lights & Stand
For this project, I used a 48″ light fixture, which offers a good amount of space. You can fit two standard sized seed trays end-to-end underneath this DIY seedling grow light, or four of them side-by-side.
But, if you prefer, you could make a shorter one, and adjust the measurements of the homemade stand to fit the size of your fixture. Since this project is so simple, it's easy to customize to your exact needs.
How To Make A Grow Light For Seedlings
You don't need any tools to make this grow light for seedlings, just a few inexpensive supplies. Everything you need can be found online, or at your local hardware or home improvement store.
Supplies Needed
Steps For Assembling The DIY Grow Light
Total time: 10-15 minutes
Step 1: Prepare the fixture – Remove the light fixture from the box, and lay it upside down on a flat, sturdy surface. If your fixture came with chains and S hooks for hanging, set them aside for now.
Step 2: Prepare the bulbs – It's safer and easier to work with one grow bulb at a time. Rather than unpacking them both right away, start by opening only one of them.
Step 3: Install the bulbs – It's very easy to install the fluorescent bulbs into the fixture. Take one bulb firmly in your hands and line up the ends with the mechanisms on both sides of the fixture.
Then gently press down on the ends to pop the bulb into place (do not push down on the glass part of the fluorescent bulb). Repeat to install the second light bulb into the fixture.
Step 4: Attach the hanging hardware – Carefully flip the fixture over. Find the two holes or slits located on either end of the top of the light fixture. This is where you will attach the hooks.
Slide one S hook into the hole on one end of the light fixture. Attach one piece of chain to the other side of the S hook.
Repeat on the opposite end of the fixture using one additional S hook and the other piece of chain.
Then attach the last two S hooks, so there is one on the opposite end of each piece of chain.
Step 5: Secure the S hooks (optional) – You can use pliers to clamp the S hooks where they're attached to the light fixture, if you prefer.
Do not clamp them to the other end of the chain however, or you won't be able to adjust the height of your DIY seedling grow lights.
Step 6: Attach the adjustable hanger – If you want something nicer and easier to use than chains and S hooks, I recommend getting an adjustable hanger.
Simply attach the S hook from the loose end of the chain onto the hook of the adjustable hanger, and use pliers to securely clamp the S hook in place.
Related Post: When To Put Seedlings Under Lights & How Much
How To Make A Simple DIY Grow Light Stand
If you're looking for a good way to hang your DIY seedling grow lights, I designed a custom stand specifically for them.
This homemade stand is very sturdy and simple to make, but also lightweight and easy to take apart for storage.
Supplies Needed
This DIY grow light stand is made from inexpensive materials that you can find online or at any home improvement store. I designed it specifically to hold one of my 48″ DIY seedling grow lights.
But again, you could easily adapt this design to fit the width of any sized light fixture that you have. Here's what you'll need to build it…
One 10 foot piece of 1 1/4″ PVC pipe
Marker or pencil
PVC glue (optional)
Steps For Assembling The DIY Grow Light Stand
Total time: 20 minutes
Step 1: Measure & cut the frame pieces – Using the 10′ PVC pipe, tape measure, and cutting tool, measure and cut seven pieces at the following lengths: one 50″, two 18″, and four 8 1/2″ pieces.
Step 2: Assemble the feet – Insert one 8 1/2″ piece of PVC into both ends of one of the Tee connectors, leaving the top part of the Tee empty. Repeat this step to assemble the other foot.
Step 3: Assemble the legs – Insert one 18″ piece of PVC into the top of each Tee connector. You should now have two large Ts for the legs.
Step 4: Assemble the top of the stand – Attach one elbow connector onto the top of each leg. Then attach the two elbows together using the 50″ piece of PVC. Now your grow light stand is fully assembled.
Step 5: Glue the pieces together (optional) – I like that I can take my grow light stand apart for easy storage. But, if you prefer, you can attach the pieces together using PVC glue for additional stability.
Just remember that this glue is permanent, so you won't be able to take the stand apart again after this step.
How To Attach Your DIY Grow Lights To The Stand
It's very easy to attach your DIY seedling grow lights to the stand using 8″ cable zip ties.
Secure the ties around the top pole at both ends of the stand. Attach them firmly, but not so tight that you can't slide them along the pipe.
Slide the cable ties to either end of the top of the stand. Then, simply hook the S hooks from the end of each grow light chain onto the ties. Use scissors to trim off the extra tab on the zip ties, if desired.
DIY grow lights for seedlings are fast and easy to make, and don't cost a lot of money. Plus, if you make the bonus grow light stand for them, you'll have a full set up that you can put anywhere in your home.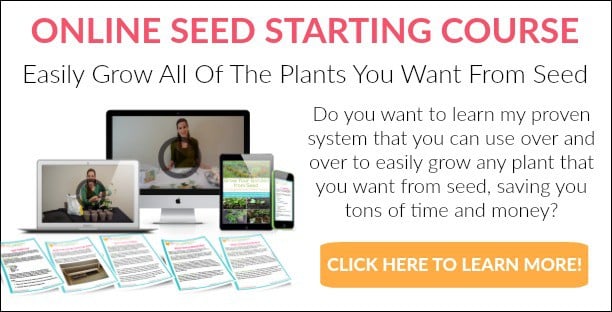 If you're tired of trying to figure out how to grow seeds by trial and error, then you need to sign up for my online Seed Staring Course! This fun and comprehensive self-paced course will teach you everything you need to know about growing any type of seed you want. Enroll and start today.
Otherwise, if you just need a quick refresher to get you going, then my Starting Seeds Indoors eBook is perfect for you! Download your copy right now.
Related Products
More About Seedlings
Share your tips or design for making DIY grow lights for seedlings in the comments section below!
Print Out This Tutorial