The good news is that you don't need to buy a ton of expensive equipment for starting seeds indoors. Awesome! But you will definitely needs a few things. To get you started quickly, I put together a list of seed starting supplies for you. Heck, you might already have some of these items on hand.
Please note that some of the links below are affiliate links. If you click on an affiliate link and buy the product, I receive a small commission at no extra cost to you. I only recommend products that I use and love, or that others have highly recommended to me.
Seed Starting Flats and Kits

Seed Starting Flat – There are tons of different types of containers you could use to start you seeds, but I highly recommend using commercial seed starting flats, especially if you're a beginner. These are the types of flats that I use.

Seed Pellet Starter Kit – Seed pellets make it really easy to start seeds, with less mess. You could use seed pellets in a regular seed starting tray, or you can buy a kit that comes with a tray specifically made for seed pellets, like this one. The tray is reusable too.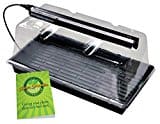 Dome starter kit with grow light – When you're starting seeds indoors, you'll need grow lights. If you're just starting out, this is a great starter kit. It comes with a grow light and a nice high dome with plenty of room for seedlings to grow. (seed starting cells not included)

Hydrofarm seed starting kit with heat mat – Here's another option for a starter kit. This one also has a nice high dome and comes with the seed starting cells. But this one includes the heat mat instead of the grow light.

Growing Trays – In my experience, the seed flat trays take the most abuse, and wear out faster than the cells and lids. Don't worry, you don't have to buy a whole new kit if you just need new trays. It's also nice to have extra trays on hand just in case one of yours springs a leak.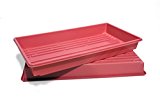 Pink Seed Trays – If you like to have some fun with it, and mix things up a bit, get some of these fun pink seed trays. How cute! Black seed trays are soooo last year! 😉

Seed Starting Cells – You can also buy replacement seed cells if any of yours break or you lose them. My seed cells last a long time, and I reuse them from year to year… but sometimes I give away seedlings to friends, or they wear out over time (or blow away or get stepped on – oops!).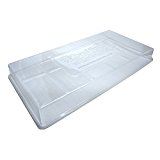 Seed Starting Dome Lids – Of course there will also come a time when you need new lids too. The lids are the part that will probably last the longest, since they are used the least and don't go through the abuse that the trays and cells do. These are the standard height dome lids.
Seed Starting Soil or Pellets

Seed Starting Potting Soil – A quality seed starting soil is the #1 most important thing you need to buy when starting seeds. If you're on a tight budget, then spend your money on soil first. Trust me, this is the one thing you don't want to go cheap on.

Seed Starting Peat Pellets –  Seed starting pellets are a great alternative to use for starting seeds (rather than soil). They really do make it easy to start seeds with less mess, and make it super easy to transplant your seedlings. If you're a beginner, peat pellets are a great way to get your feet wet.
DIY Seed Starting Soil Ingredients

Vermiculite is a naturally occurring mineral and is commonly found in potting soil mixes because it helps to keep the soil evenly moist. It's one of the ingredients I use in my recipe for DIY seed starting soil.

Perlite is a lightweight soil amendment; it retains very little moisture and prevents soil compaction. In other words, it helps the soil drain faster which is exactly what we want for our starting seeds.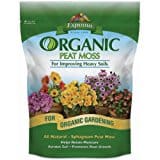 Peat Moss – I sometimes use this as an ingredient in my recipe for DIY seed starting soil, if I have some on hand. Peat moss is a renewable resource, but it is very slow to renew so it's not as environmentally friendly. Coco coir is a great alternative to peat moss, and it's much more sustainable.

Coco Coir is the by-product of coconut processing, which is why it's much more sustainable to use -vs- peat moss. It's a wonderful additive to any DIY soil mixes, and I really love the consistency of it. I've switched to using coco coir in my recipe for DIY seed starting soil instead of using peat moss.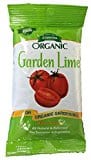 Garden Lime – Peat moss is slightly acidic, so if you choose to use peat moss for your DIY seed starting soil, then you'll need to add some garden lime to the mix to balance out the acidity.
Grow Lights For Seedlings

2ft Grow Light System – If you have a larger setup for your seed flats, then a grow light system would be the perfect way to make sure your seedlings are getting plenty of light while they're busy growing strong and tall. This 2ft grow light system is perfect for a couple of seed flats, and it's super easy to adjust the height of the light.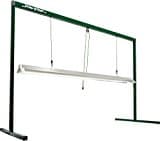 4ft Grow Light System – Want an even larger system? This 4ft grow light system has all the same features, but will accommodate more seed flats than the 2ft size above.

Shop Light Fixture – Another way to add the light your seedlings will need to grow big and strong is to buy an inexpensive shop light fixture, and add plant grow light bulbs to it (see next item).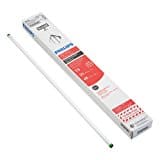 Fluorescent Light Bulbs – These are the grow light bulbs that you would add to your DIY grow light system (if you decide to use a shop light). Make sure to choose the right size to fit into whichever shop light fixture you decide to buy.

Adjustable Grow Light Hanger – If you want to make your own grow light system, these adjustable grow light hangers would be perfect. This way you can easily adjust the height of the grow lights as your seedlings grow taller.

Outlet Timer – An outlet timer is great to use for your grow lights. Set the timer so your seedlings will get 12-16 hours of consistent light every day. That way, you won't have to remember to turn the grow lights on and off every day. Just set it and forget it!
Organic Fertilizers

Fish Emulsion – In my quest to be 100% organic in my gardens, the hardest thing for me to find was a good organic fertilizer for my seedlings and gardens. I tried Neptune's Harvest Fish Emulsion a few years ago, and OH MY – I could not believe the difference it made in the health and growth of my seedlings and plants. (just know that it can get a stinky when used indoors, so you may want to save this for outdoor use only)


Pure Blend Tea is another awesome organic fertilizer I have used on my seedlings and garden plants. Fish emulsion can get a bit smelly when used indoors. Natural compost tea is a great alternative. I like to alternate, one feeding with fish emulsion, then water with pure water, then one feeding with compost tea, then pure water…etc. It's been an amazing combo for my seedlings, houseplants and containers.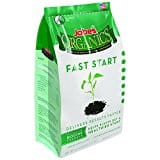 Fast Start fertilizer is another great organic fertilizer, and this one is specifically made for seeds and seedlings. It's granular rather than liquid, so you can add it right to your seed starting mix. Just be careful if you use granules to fertilize seedlings, you don't want to disturb their delicate roots.
Plant Pots For Potting Up Seedlings

Plantable Peat Pots (say that fast 3 times) – Using plantable pots makes it super easy to transplant seedlings into the garden, and also make the transition to the garden much less stressful for the seedlings. The 4″ size or the 3″ size are perfect for potting up seedlings.

Coco Coir Plantable Pots – If you're worried about the sustainability of peat moss, then coco coir plantable pots are the solution! Coco coir is a wonderful renewable resource, and these plantable pots are perfect for potting up seedlings. You could use the 3″ size or the 2″ size for your seedlings.

Plastic Nursery Pots – If you're worried about the cost of plantable pots and want something that's reusable, then I recommend getting a nice set of plastic nursery pots. These pots are the perfect size for potting up seedlings, and they don't take up much space in storage.
Plant Tags

4 Inch Plant Tags – You can never have enough plant tags on hand, and these 4″ plant tags are the perfect size to use inside your seed starting flats because they will fit under the standard sized lids of the flats. You can put them out into the garden too.

6 Inch Plant Tags – The 6″ plant tags are nice to use once you pot up your seedlings, or if you have a higher dome lid on your seed flat. I also use them for houseplants and out in the garden too.

Rainbow plant tags – How cool are these rainbow colored plant tags? This way you don't even have to worry about writing on them, you can just color coordinate your tags so you know what's growing based on the color of the tag. Love!
Optional Seed Starting Supplies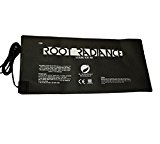 Heat Mat – Adding bottom heat under your seed starting flats will speed up germination, and also keep your seedlings toasty warm. A heat mat definitely makes starting seeds indoors much easier.
Plant Mister/Sprayer – Humidity is a crucial ingredient when starting seeds, and misting your seedlings is a great way to give them the humidity they need to stay healthy. This plant mister/sprayer is pressurized, which really saves on your hands when you have a lot of seedlings to spray.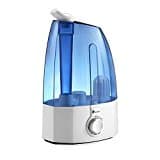 Humidifier – A humidifier is another great way to keep the humidity level high when you're starting seeds indoors. Heating your house during the winter sucks the humidity out of the air, and your seedlings will be much happier with the added humidity.

Indoor Humidity Monitor – If you're not sure whether the humidity is at the right level for your seedlings, a humidity monitor is a great tool to add near your flats. With this one, you'll be able to be sure that both the humidity level and the temperature are always kept at the perfect level for starting seeds and growing healthy seedlings.

Soil Moisture Gauge – It's important to keep the soil consistently moist in your seed flats. If it's too dry or too wet, the seedlings probably won't survive. A soil gauge like this one will keep you confident that your soil holds the perfect amount of moisture to ensure your seedlings will stay healthy. I highly recommend getting one if you struggle with watering (it also works great for houseplants!).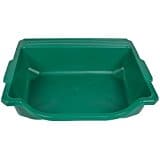 Table-top potting tray – I absolutely love my table-top potting tray. It's awesome for mixing your own DIY seed starting soil, and to use when filling your seed trays or potting up seedlings. It keeps the mess inside the tray, and it's portable so you could even use it for moving seedlings. (It's also excellent to use for repotting houseplants!)


Mini Greenhouse – I've had my mini greenhouse for several years and love it! I can fit 2 seed flats on each shelf, and hang my grow lights right above my flats. The plastic cover is easy to vent, or even remove if you want. Perfect for growing seeds indoors!
Storing Leftover Seeds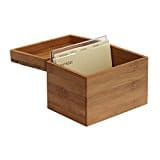 Fancy recipe box – You can use a recipe box to store your seeds alphabetically. The seed packets fit perfectly into a standard sized recipe box.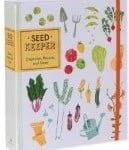 Seed Keeper – This Seed Keeper binder is specifically made for storing seeds and keeping them nice and organized.  This would fit nicely on a bookshelf.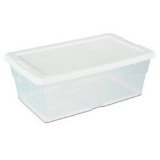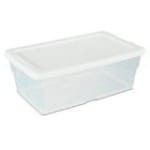 Clear shoe box – I store my seeds in a clear plastic shoe box. I like these because they stack nicely and fit perfectly on the shelve in my basement closet. I can also fit larger containers that I use to store my seeds, not just seed envelopes.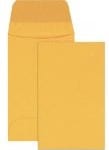 Small envelopes – These small coin envelopes are perfect for storing leftover seeds if you lost the original seed packet, or for storing seeds you collect from your garden. They're also nice for trading seeds with friends.