If you enjoy seed starting, you know that you hardly ever use up all of the seeds in every seed packet. It's nice to build up a stash of seeds, and to be able to use those seeds for a few years after you buy them. But when you have a bunch of old seed packets in your stash, how can you tell if the seeds are good or bad? Seeds don't last forever, so you should always test viability of garden seeds before you plant them so you don't waste time planting bad seeds.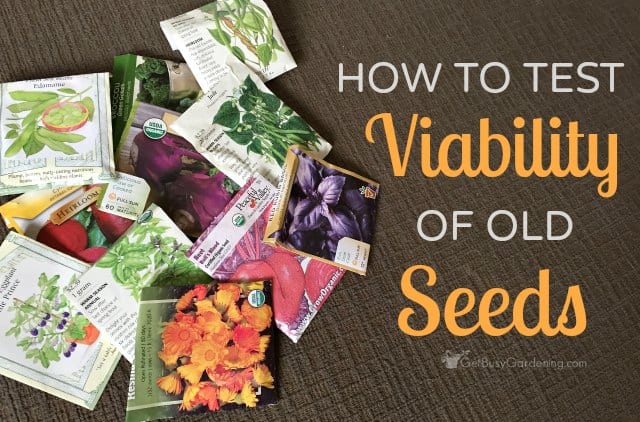 Seed Viability Definition
Seed viability basically means the seed is alive and able to germinate and grow into a plant. If a seed is not viable, that means the seed is dead and will never grow. Why are some seeds viable and others are not? Well, sometimes seeds aren't mature enough to become viable because they were harvested too early, or maybe they were harvested from sterile plants. Other times it's because seeds lose their viability over time, and eventually they become too old to germinate.

Seed Viability And Germination
Seed viability and germination go hand in hand. The more viable a seed is, the higher it's germination rate will be. This is important to know because we only want to use good seeds with high germination rates, otherwise we'll waste our time (and money) planting seeds that will never grow. And this is why it's important to always test viability of garden seeds before you plant them so you don't waste time planting bad seeds.
How Long Do Seeds Last?
One of the most comment questions I get from new gardeners is how long do seeds last? Many seeds can be stored for several years. Unfortunately, there's not a set amount of time that seeds will last. It depends on the type seed, and can also depend on how they are stored. But one thing is for sure, they don't last forever. The good news is that you can use this simple viability test for any type of garden seed you want.
Related Post: How To Store Garden Seeds
How To Test Viability Of Garden Seeds
A simple germination test for old seeds can be done using the paper towel germination and baggie test. Sprouting seeds in wet paper towels is super easy, and doesn't take very long. Plus, you don't have to worry that your sample seeds will go to waste, because you can plant them after they've sprouted.
Supplies Needed For Your Paper Towel Test:
Paper Towel Germination & Baggie Test
You can use as many seeds as you want for the seed testing, but I recommend using ten sample seeds for easy math. However, if you don't have that many seeds to spare, then you can use fewer seeds. But I wouldn't use less than five seeds otherwise your seed viability test won't be very accurate. Here's how to germinate seeds in a paper towel with the baggie test…
Wet down the paper towel, wring it out and lay it on a flat surface
Place sample seeds on paper towel so they aren't touching each other
Carefully fold the seeds into the paper towel
Write the name of the seed on the baggie (and the date if you're starting seeds on different days)
Place the moist paper towel into the baggie and seal it up
Put it in a warm location (out of direct sunlight)
Check the seeds every couple of days to see if any have sprouted. You can usually tell by looking through the baggie, but sometimes you have to remove the paper towel and unfold it to check the seeds.
Keep in mind that some seeds take longer to germinate than others, so be patient. In my seed viability test, it only took a couple of days for the green bean seeds to start sprouting. But green beans are fast sprouting seeds.
My marigold seeds and pepper seeds on the other hand were much slower to germinate, and I didn't see signs of life until the sixth day of my seed viability test. Most seeds will start to sprout within a week to ten days, but let them sit in the baggie for at least two weeks before you give up.

How To Tell If Seeds Are Good Or Bad
Use this seed viability chart to check how good your seeds are. This chart is if you used ten seeds for your seed viability test. Otherwise, you can adjust the math if you used a different amount of seeds.
Viability Of Seeds Chart
10 seeds sprouted = 100% viability
8 seeds sprouted = 80% viability
5 seeds sprouted = 50% viability
1 seed sprouted = 10% viability
You get the picture. So, after you test viability of garden seeds, you can plan to start more seeds to compensate for the low viability of old seeds. Plan to start more of the seeds with a lower germination rate (or toss them out and buy new seeds). For example, if your seed germination rate is only 50%, then you should plant twice as many seeds than you need. If the seed germination rates are in the 80-100% range, then you know the seed quality is good, so you can plant less seeds. Otherwise, if you don't want to mess with it, then I would consider any seed that's viability is less than 50% bad seed that can just be tossed out.
As for the test results of my old seeds… the green bean seeds were 100% viable, the marigold seeds were 60% viable, and the pepper seeds were 80% viable. Pretty good results for a bunch of old seeds – and that means I won't have to buy seeds this year! (if you need to buy garden seeds, Botanical Interests has a great selection of quality seeds!)
After you're done with your seed viability test, you can plant the seed that germinated if you want to. Just be careful not to break off any of the delicate roots.
Related Post: Tips For Starting Seeds Indoors
If you like to save seeds from your garden, or have a stash of old seeds sitting around, take the time to do this simple baggie test on them. Remember, seeds don't last forever, so it's best to test viability of garden seeds to make sure you're not wasting your time and money planting bad seeds.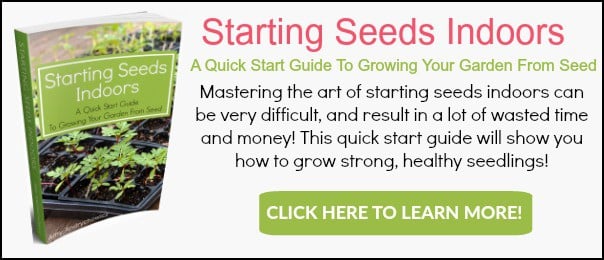 More Seed Starting Posts You Might Enjoy
For more information and tons of tips for starting your garden from seeds, click here… Growing Seeds
How do you test viability of garden seeds? Leave a comment below and share your experience.
Pin It!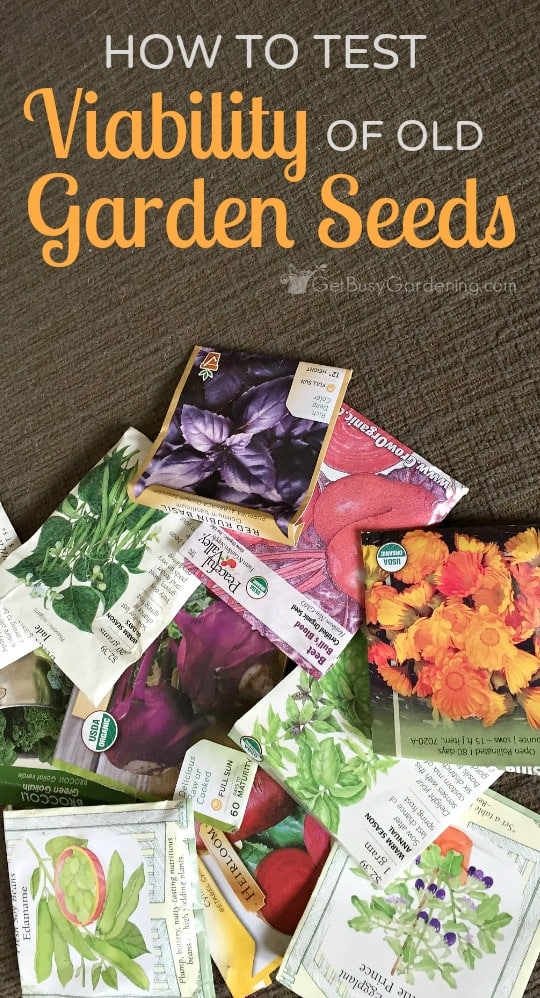 .