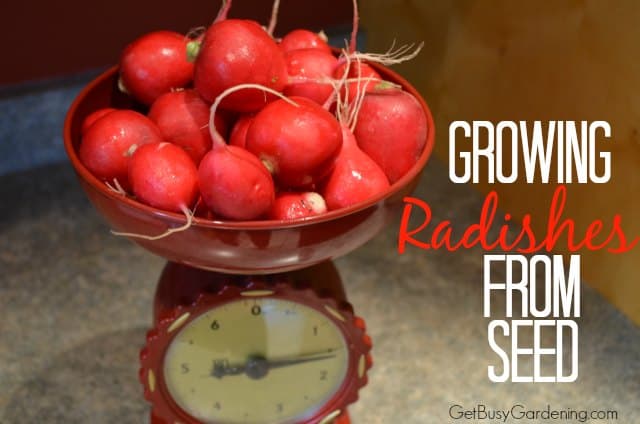 Growing radishes from seed is super easy, and radishes are one of the fastest growing vegetables out there. Garden fresh radishes taste a million times better than store bought radishes; they are delicious in salads and great for snacking.
I grow a few different varieties of radishes in my garden every year, and love trying new varieties. Some of my favorites so far are cherry radish, white radish, French Breakfast and Watermelon radish.
Since radishes grow so fast, you can plant them in a garden bed in the early spring and then plant a warm season crop later in the spring.
By the time the warmer season crops start to grow, you'll be done harvesting your radishes. For example, radishes are perfect for growing under pole beans or cucumbers on a lean-to trellis or an a-frame structure.
How to Grow Radishes From Seeds
Growing radishes from seed is easiest when you plant the seeds directly in the garden. It's nice too because you don't have to go through the fuss of starting radish seeds indoors.
If you can't plant radish seeds directly in the garden, you can start the seeds indoors just as you would with other seeds.
If you choose to start your radish seeds indoors, it's best to start them in peat pellets or plantable peat pots because they don't like to be transplanted.
But, if you don't like using peat, you can buy plantable pots made out of coco coir or cow manure, which are both more sustainable materials than peat.
Otherwise, if you prefer to use plastic seed starting trays, you should use a light-weight commercial seed starting soil mix, or you can make your own DIY seed starting mix and take care not to disturb their roots when you transplant them.
Radishes can be grow in anywhere from full sun to part shade. I grow my radishes in my part shade vegetable garden, and they do awesome there.
Radishes grow best in a light organic soil. If your soil is hard clay or really rocky, add compost to amend the soil and make sure to remove any large rocks before planing your radish seeds.
When To Plant Radish Seeds
Radishes are best when planted in either early spring or in the fall. They will bolt (start to grow a flower) and become inedible in the heat of the summer.
They can handle frost, so radish seeds can be sown (planted) directly in the garden as soon as the ground is workable in early spring.
Since radishes are so quick to grow and cold tolerant, they can be planted again in the late summer for a second harvest in the fall.
Planting Radish Seeds
Space your radish seeds about 2 inches apart. As for seed planting depth, the rule of thumb for planting any seed is to plant it twice as deep as the seed is wide. So, radish seeds should be planted about a half an inch deep.
You can lay the radish seeds on top of the soil and push them down with your finger or you can make a hole first and drop the seeds in, then lightly cover the seed with dirt.
Once all the radish seeds are sown, water them well and keep the soil evenly moist (but not soggy) until the seeds start to grow.
Radishes will grow faster if you keep them evenly watered, and they can crack if they aren't kept evenly moist. Do not overwater radishes.
Harvest radishes when they are young; if radishes are left to grow for too long, they will become woody. If you are new to starting vegetables from seed, I highly recommend trying to grow radishes.
Next up, learn how to save radish seeds from your garden to grow again next year.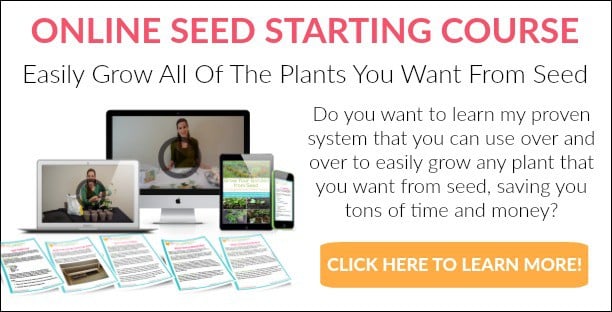 Are you tired of struggling with growing your garden plants from seed? Then you need to take my online Seed Starting Course! It's a fun, self-paced course that will show you everything you need to be successful, and walk you through it all step-by-step. Enroll and begin today!
Or, maybe you just need a quick refresher. Then download a copy of my Starting Seeds Indoors eBook instead.
More Posts About Growing Seeds
Have you ever tried growing radishes from seed? Tell me about your experience in the comments below.
Pin It!