Collecting seeds from your garden is not only fun, it's a great way to save yourself some cash! In this post, I'll show you everything you need to know about harvesting seeds, so you will have the best success.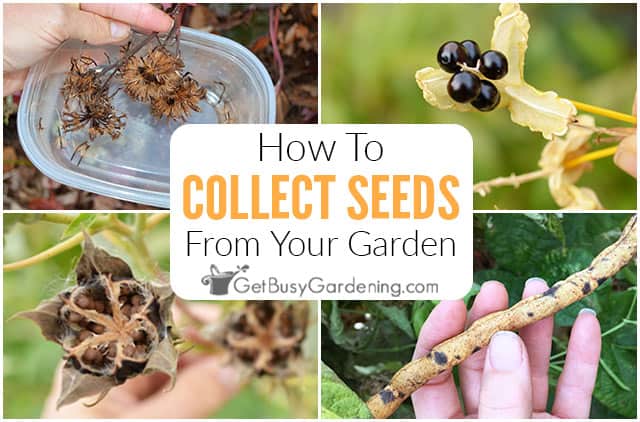 One of the best ways to save money on your garden is to harvest seeds from your existing plants.
I collect as many seeds from my garden as I can every year. It's a simple and fun way to get free seeds to keep year after year!
Plus, I use them to trade for other varieties that I don't already have, saving myself even more money!
Gathering seeds from your garden may seem tedious, but it is so much easier and faster than you might think.
In this comprehensive guide for collecting your own seeds, you will learn all of my tips and tricks. This will make the process go smoothly, and leave you with plenty of viable seeds with very little effort.
What Is Seed Collection?
Simply put, seed collection is the process of harvesting and saving seeds. And it's not something that can only be done by the experts, or large companies either.
Many home gardeners do it to save money, or keep their favorite varieties from year to year – or even passing them down for generations.
Once you know the rules to follow, and the techniques to use for collecting seeds from your backyard, you'll become a pro in no time.
Types Of Seeds To Collect
Before you go out and start gathering seeds, it's important to understand that not all of them are created equal.
Some plants won't produce viable seeds, which is a waste of your time. While others won't grow true from seed, leaving you with mystery specimens.
So, unless you like to experiment, it's best to only collect seeds from plants that are heirloom and/or open pollinated.
You certainly could gather seeds from hybrids. However, since they are a cross between two different parents, you don't usually get the same variety as the one the seeds came from.
Or worse, they could be sterile. And it's not just a problem with commercially produced seeds either. Cross pollination can happen in nature too.
While some plants self-pollinate, many need to be pollinated by others. So, unless you're sure yours was far enough away from other varieties that it could cross with, you may also end up with a mystery.
You can still collect seeds from cross-pollinated plants. But, if they were pollinated by other varieties (like squash crossed with cucumbers), then you may end up with something very different than you were expecting.
Easiest Seeds To Harvest For Beginners
Now that we've got all of the technical mumbo jumbo out of the way, let's move on to the fun part! Which seeds are the easiest to collect.
If you've never harvested seeds from the garden before, start with the easy stuff. Here's a list of some of the easiest ones to get you started…
Annuals – snapdragon, petunia, cosmos, castor bean, sunflower, morning glory, marigold, zinnia, nasturtium
Perennials – hollyhock, black-eyed Susan, gaillardia, butterfly weed, poppies, balloon flower, gaillardia, rudbeckia, cone flower, lupine, milkweed, liatris, clematis
Tropicals – canna lily, plumeria, spider plants, coleus, yucca, datura, hibiscus
Where Are The Seeds Located
There are three main spots on a plant where seeds can be found. They will either be located where the flowers once were, contained within a seed pod, or inside of the fruit.
Spent Flower Heads
Many types of annuals, perennials, herbs, and vegetables will produce seeds either inside of a flower head, or at the tips of the stem after the blossoms fall off.
These types of seeds are usually pretty easy to spot, and the best ones for beginners to start with.
Seed Pods
Some plants form pods after the blooms fade, which is where the seeds are located. These pods can come in many different shapes and sizes.
You'll find them anywhere from the tiny ball-shaped pods of morning glories, to the larger round pods on poppies.
There are even alien-looking ones, like those that form on snapdragons and petunias. These can be much harder to identify, and finding them can take some practice.
Inside The Fruits
The other common place where seeds are located is inside of the fruit. These are often the most difficult ones to harvest, and may require special treatment in order to be viable.
Also, some types of vegetables must become overly ripe in order for the seeds to mature, and they will no longer be edible. Which means you will have to sacrifice some of your crop in order to get seeds.
When To Collect Seeds
Timing is everything for success with harvesting seeds. If you collect them too early, they may not be mature enough to germinate.
But if you wait too long, they could drop, be eaten by the birds, or blow away in the wind. There's nothing more frustrating than being left with an empty stem or seed pod.
Don't worry, once you get the hang of collecting seeds, you'll be able to easily tell when they are ready to be harvested.
How To Tell When To Harvest Seeds
In general, you will know the seeds are ready when the pod or flower head is brown and dried out. Sometimes the pod will break open, and you can see the seeds spilling out.
If you're not sure whether they are ready to be harvested, it's probably best to wait. Keep checking every day until you see the seeds.
As for time of year… in general, fall is a great time for collecting seeds. However, many types of plants form them earlier in the season, so you can usually get started sometime in early to mid summer.
Oh, and you don't have to worry about the temperature either. You can keep harvesting seeds as long as the weather cooperates (even in the snow!).
Methods For Collecting Seeds
For home gardeners, there are two main methods for harvesting seeds. You can simply clip off the whole flower head, pod, or fruit, and bring them inside. Or, you can gather the individual seeds right in the garden.
There's really no right or wrong answer here. Many times it depends on the type of plant, where the seeds are located, and which technique is easiest for you.
How To Collect Seeds From Your Garden
The actual steps you take for harvesting seeds can be different, depending on the type of plant. So, below I will give you some tips and quick steps for how to retrieve seeds from your garden.
Supplies Needed:
Collecting Seeds From Flowers
Blooming plants will either have seeds in a pod, or right inside of the flower. Either way, they won't produce them until after the blossoms have faded and died.
So, if you want to collect seeds from flowers, don't deadhead them. Instead, leave a few on the plant, and allow them to die back. The pedals may or may not fall off, depending on the species.
Here are the quick steps for how to harvest seeds from flowers…
Wait until the head or seed pod is brown and completely dried out – some may even split open.
Cover the container, or fold over the top of the bag, and then shake it to release the seeds.
Alternatively you could pinch the seeds out of the pods or flower head, and drop them into your container.
Harvesting Seeds From Fruits And Vegetables
Some vegetables have seeds inside of the fruit, like squash, cucumbers, tomatoes, beans, and peas.
Others will form them after the plant has bolted (flowered), as is the case for leafy greens, root crops, and crucifers.
In most cases, the seeds won't be viable until after the vegetable is no longer edible. But some can be saved from ripe fruits before you eat them.
Here are the quick steps for harvesting seeds from vegetables…
Clip the fruit, pod, or seed heads off the stem, and bring them inside.
Cut or break it open to retrieve the seeds.
Alternatively, you could crack open the pods or pinch the seeds from the plant, and drop them into your collection container.
Collecting Herb Seeds
In order to produce seeds, herbs must bolt or blossom. Some will no longer be edible after they start bolting. But others you can continue to enjoy even after they bloom.
The process of gathering herb seeds is similar to other blooming plants. Simply clip off the dead flower, or pinch the seeds from the top of the stem.
What To Do With Seeds After Harvesting
Once you're done collecting all of the seeds you want, it's important to clean them properly, and allow them to dry out completely before storing them.
Separating Them From The Chaff
Chaff is the extra plant material that tends to be included when you collect seeds. This usually consists of stem, flower, and/or pod pieces.
If the seeds are located inside of the fruit, sometimes there is a gel coating around them, which also needs to be removed.
Drying Seeds After Collecting Them
Spread the seeds on a paper towel, screen, or newspaper, and allow them to dry out completely. Don't let them sit in the plastic bag or container, or they may get moldy.
The larger the seed, the longer it will take to dry. If they were wet when you harvested them, or inside of the fruit, then they will take longer to dry as well.
To ensure they are completely dried, let them sit out for at least a month.
How To Save Seeds For Next Year
Once your collected seeds are dry, you can store them in plastic, glass, or paper. I like to put mine into small containers or coin envelopes, and then keep them in a larger plastic box.
If you want to organize yours better than that, put them into pocket sheets and keep them in a 3-ring binder. Or organize your envelopes in a cute storage box.
Learn all about storing seeds the right way in this detailed guide.
Collecting seeds is fun, simple, and a great way to save money. Plus you'll be able to grow your favorite plants from year to year for free.
Up Next: Learn how to grow all of your seeds in this detailed guide.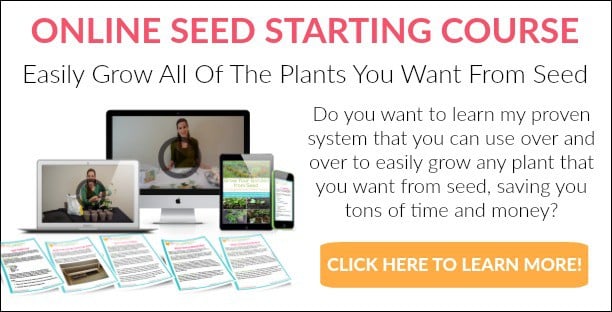 If you want to learn everything you need to know about how to grow any types of seed you want, you should take my Seed Starting Course! It's a comprehensive online course that shows you exactly how to start your seeds, step-by-step! Enroll and get started right now!
Otherwise, if you just need a quick refresher to get going, then download my Starting Seeds Indoors eBook! It's a quick-start guide for growing seeds indoors.
Recommended Seed Saving Books
More Seed Saving Posts
Share your tips for collecting seeds in the comments section below.