Growing cucumbers from seed is fun and easy! You can start them indoors, or direct sow them right into your garden. In this post, I'll show you exactly when and how to plant cucumber seeds, step-by-step.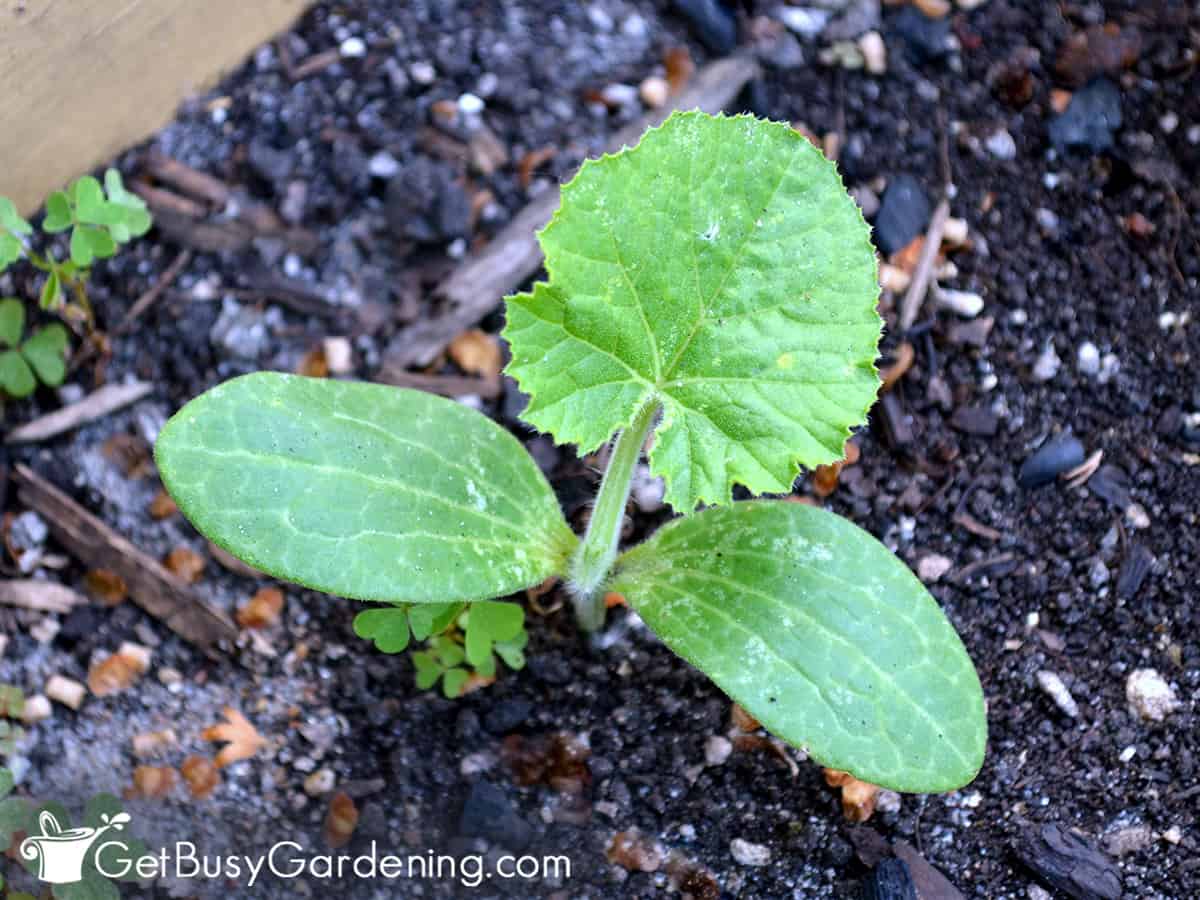 If you've never tried growing cucumbers from seed before, you're in for a real treat! It's simple to do, and they germinate very quickly.
In fact, cucumbers are one of the easiest vegetables to grow from seed. Once you learn how simple it is, you'll wonder why you ever bought starts before.
Even if you have struggled with it in the past, you're sure to be successful following this guide.
Keep reading to learn exactly how to plant and grow cucumber seeds, step by step.
Growing Cucumbers From Seed
If you want to try growing cucumbers from seed, you'll need to choose which type(s) you want to plant first. Then you can figure out what method to use for starting them, and how long it will take.
Types Of Cucumber Seeds To Plant
There are tons of different types, and the variety you choose depends on what you want to use them for, and your preferred flavor or texture.
A few of my favorites are Marketmore, Homemade Pickles, and Baby Persian. It's also fun to grow lemon cucumber.
Recommended Cucumber Seed Starting Methods
There are two methods you can use for planting cucumber seeds: direct sowing or starting them indoors.
Since they grow so fast, I prefer to plant them directly into my garden. But you can do it either way.
Direct Sowing – Sowing cucumber seeds in your garden makes it super easy, since you don't have to worry about caring for the seedlings indoors, or transplanting them later on.
Starting Indoors – You could start them inside instead. Some people prefer this method if they have a very short summer, or their garden soil isn't ideal for direct sowing.
Related Post: 3 Seed Starting Methods That Every Gardener Should Try
How Long From Seed To Harvest?
In general, the number days from seed to harvest is between 50-70. The exact days depends on the variety you have, as well as the growing conditions.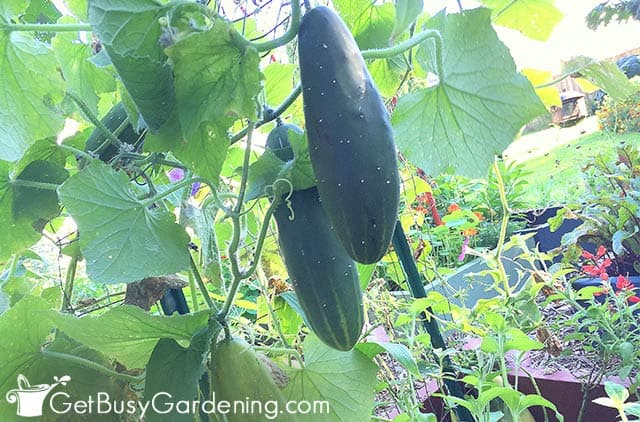 Planting Cucumber Seeds
Read through this section to make sure the conditions are right for planting, and that you follow the proper steps to be successful.
When To Plant Cucumber Seeds
Plant cucumbers seeds directly into your garden a week or two after your last frost, once the ground warms up to 60°F or higher in the spring. You can use a soil thermometer to check it.
If you want to start them indoors, then plan to do it 4-6 weeks before the average last frost date in your area.
Preparing Cucumber Seeds For Planting
There's nothing special you need to do to prepare cucumber seeds for planting, you can just sow them directly out of the packet.
However, soaking them in warm water for 12-24 hours beforehand can help them germinate faster.
Related Post: 13 DIY Cucumber Trellis Ideas For Small Or Large Spaces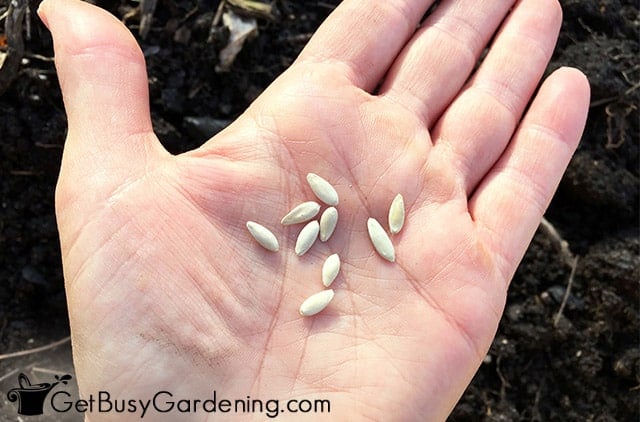 Cucumber Germination Time
One of the reasons it's so fun to grow cucumbers from seed is because they sprout very quickly. Their germination time can be anywhere from 3-10 days.
They will germinate faster in warm soil. So if you want to speed it up, then use a heat mat indoors to keep them warm, or wait to plant outside them until the ground has reached at least 60°F.
What Do Cucumber Seedlings Look Like?
The first two leaves that form right after germination are called the "seed leaves". Those are oval and slightly pointy at the tips.
All of the others that grow after the seed leaves are called "true leaves", and they look like tiny cucumber leaves.
Related Post: Why Do Cucumbers Turn Yellow & How To Prevent It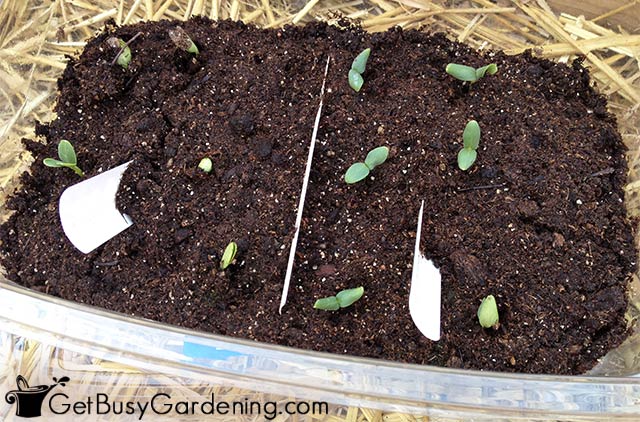 How To Care For Cucumber Seedlings
If you planted cucumber seeds right in the garden, then you can skip this entire section. But, if you started them indoors, it's important to properly care for the seedlings.
Light
Cucumber seedlings grow very fast. So it's important to use a grow light as soon as they germinate if you started them indoors, otherwise they will quickly get tall and leggy.
Water
They also need consistent waterings. Never let the soil dry completely, it should always stay moist. Use a moisture gauge to ensure proper watering.
Fertilizer
As soon as the seedlings get their true leaves, feed them with a 1/2 dose of organic liquid fertilizer. They love fish emulsion or compost tea as well.
Potting Up
It's essential to repot them as soon as the seedlings are twice as tall as the original pot or seed tray. Use a plantable pot made out of peat moss, coco coir, or dried cow manure.
Related Post: How To Grow Cucumbers Vertically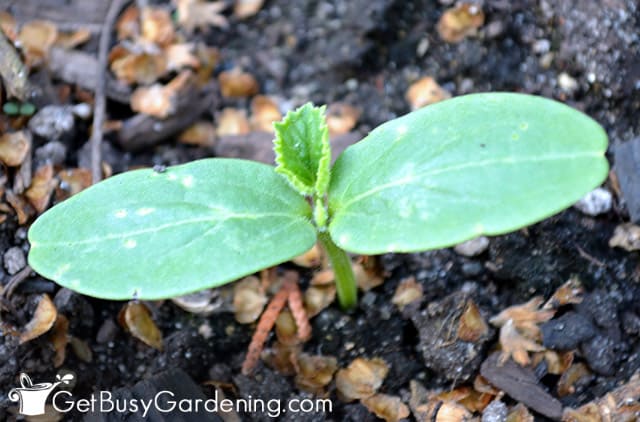 Transplanting Cucumber Seedlings Into The Garden
If you started cucumber seeds indoors, it's crucial that you take the proper steps to transplant them into the garden.
The first step is to harden them off to prepare them for the transition. Do not skip this step, or they may not survive.
They hate the cold, so wait until all chance of frost is gone, and the soil has warmed up before transplanting the seedlings into your garden.
Next: Learn all you need to know about caring for them after planting cucumbers in your garden.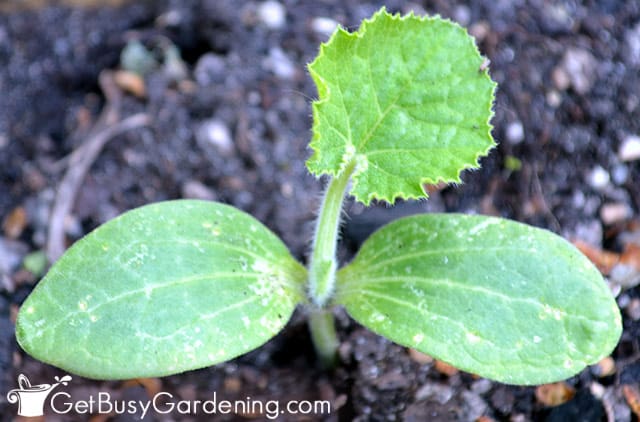 FAQs
You might still have a few more questions about growing cucumbers from seed. Here are answers to some of the ones I get asked the most. If you can't find yours here, ask it in the comments below.
What is the best way to plant cucumber seeds?
The best way to plant cucumbers seeds is to sow them directly into your garden. You can start them indoors if you prefer, but they don't like to be transplanted. So use either plantable pots or large pellets.
Why won't my cucumber seeds germinate?
If your cucumber seeds won't germinate, it is likely that the soil was too wet or too cold, and they rotted. Otherwise, the seeds were old and no longer viable. Wait to plant them until the soil has warmed to 60°F or more.
How many cucumber seeds do you plant per hole?
You should only plant one cucumber seed per hole if you're using a fresh new packet. For older ones, plant 2 per hole, and then thin them later if more than one germinates.
How deep do you plant cucumber seeds?
You should plant cucumber seeds twice as deep as they are wide. So, about one inch deep.
Can you plant cucumber seeds in the ground?
Yes, you can plant cucumber seeds in the ground. In fact, this is my preferred method. Just make sure to wait until the soil has warmed up to 60°F, and all chance of frost is gone in the spring.
Do cucumber seeds need light to germinate?
No, cucumber seeds do not need light to germinate. However, the seedlings need tons of light as soon as they begin to sprout, or they will quickly become leggy.
How can you germinate cucumber seeds faster?
You can germinate cucumber seeds faster by giving them plenty of warmth, keep the soil between 60-80°F at all times. You could also try soaking the seeds before sowing them, as that can also help to speed things up.
Planting and growing cucumbers from seed is simple and fast. No matter which variety you choose, you are sure to be successful if you follow these step by step instructions.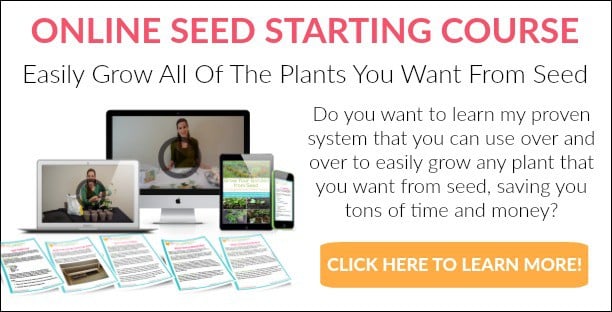 Do you want to learn all you need to know about how to start your own seeds? Then you need to take my online Seed Starting Course! It's a fun, self-paced, and very detailed step-by-step course that will teach you how to easily and successfully grow any type of seed you want. Enroll and get started today!
Otherwise, if you just need a quick-start guide that will give you what you need to begin growing your own seeds inside, then my Starting Seeds Indoors eBook is for you.
Recipes Using Cucumbers
More About Growing Seeds
Share you tips for how to plant cucumber seeds in the comments section below.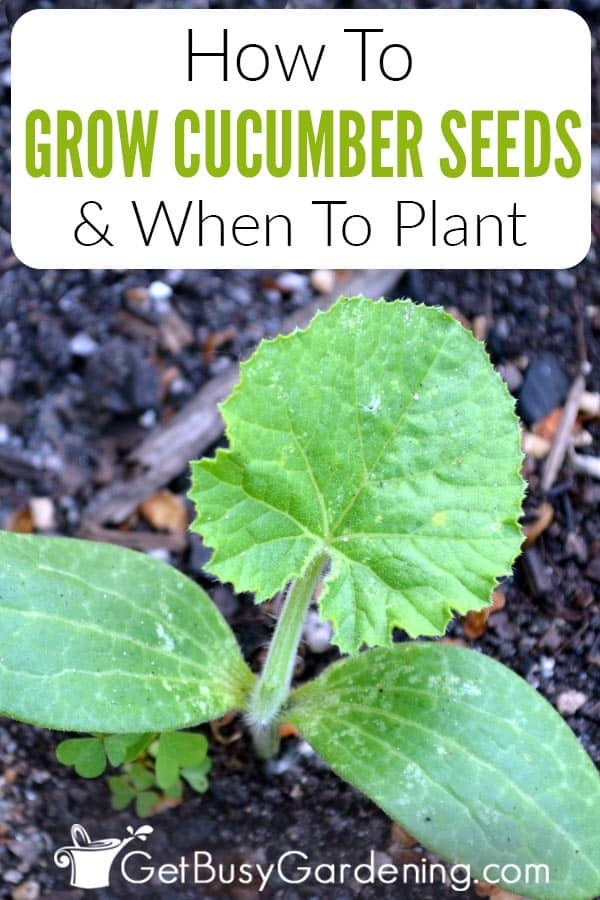 How To Plant Cucumber Seeds Step-By-Step