Starting plants from seed is fun, and it's also a huge money saver. When I talk about starting seeds indoors, one of the first questions new gardeners ask me is about the best seed starting mix to use. This is a very important question, because the type of soil you use to start your seeds really can make a huge difference!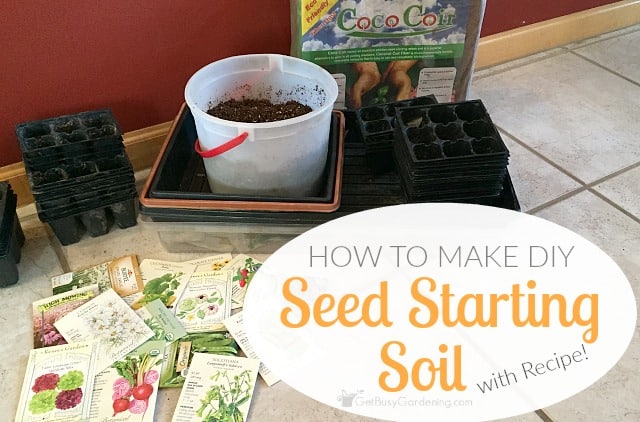 You can buy a commercial soil for starting seeds pretty much anywhere you can buy seeds, or you can make your own DIY seed starting mix. I love mixing my own soil for starting seeds, it's super easy and it gives me the flexibility to modify the ingredients and make it just how I like it. Plus I can make as much or as little as I need for starting my seeds, no need to have a big bag of seed starting mix lying around if I only need enough for one flat.

DIY Seed Starting Mix Ingredients
To make your own seed starting mix, you only need three ingredients:
Coco Coir -vs- Peat Moss
You can use either coco coir or peat moss as the base ingredient for your DIY seed starting mix, whichever you prefer. There are a couple of cons to using peat moss… one is that it's slightly acidic, so if you choose to use peat moss, add some garden lime to the mix to balance out the acidity. The other con to using peat moss is that it's not as sustainable as coco coir is. Peat moss is a renewable resource, but it is very slow to renew so it's not as environmentally friendly.

Related Post: Seed Starting Pellets -vs- Seed Cells
Coco coir on the other hand is very sustainable, it is the by-product of coconut processing. It's a wonderful additive to any DIY soil mixes, and I really love the consistency of it.
Vermiculite
Vermiculite is a naturally occurring mineral, and is commonly found in potting soil mixes, especially soil for starting seeds. The reason vermiculite is commonly found in potting soil mixes is because it help the soil retains water. Seedlings won't tolerate dried out soil, and vermiculite helps to keep the soil evenly moist so you won't have to water as often.
Perlite
Perlite is a very lightweight soil amendment. It's the white pieces that look like Styrofoam that you see in many commercial potting soils. It retains very little moisture and prevents soil compaction. In other words, it helps the soil drain faster. You can buy perlite in many garden centers or home improvement stores in the same section as you would find the potting soil.
DIY Seed Starting Mix Recipe
8 parts (pre-moistened) coir or peat moss
1 part vermiculite
1 part perlite
1/4 tsp lime per gallon (if you use peat moss)

(a batch using one cup measures is enough to fill one commercial seed starting flat)
How To Make Seed Starting Mix
Making your own soil for starting seeds is easy. First, dump all the ingredients into a bucket or bowl…
Then simply mix the ingredients with a spoon or trowel until they are well blended. Once the ingredients are blended together, you can fill you seed flats and start sowing your seeds.
That's it. Told you it was easy to make your own seed starting mix. You could mix a bunch ahead of time and store it for later use, or just mix up small batches as you need it. I like to mix up a big batch, and then I store it in a plastic bucket in the garage so I always have seed starting mix on hand when I need it.
Whether you make your own seed starting mix, or choose to buy a commercial soil for starting seeds… make sure to store your soil for starting seeds in an air tight container to avoid attracting soil gnats. A five gallon bucket with a tight fitting lid is perfect for storing soil for starting seeds.
Related Post: DIY Succulent Potting Soil
The best part about making your own soil for starting seeds is that you can experiment with different mixes. If you find that your seed flats are drying out too quickly, next time add more vermiculite to the mix. If your flats are staying too soggy, then add more perlite to your mix.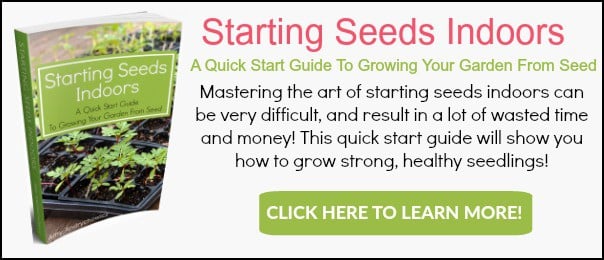 More Tips For Growing Seeds
Products I Use To Make DIY Seed Starting Mix:

For more information about how to start seeds inside, and tons of tips for starting seeds indoors, click here… Sowing Seeds
Share your favorite recipe for seed starting mix in the comments section below.
Pin It!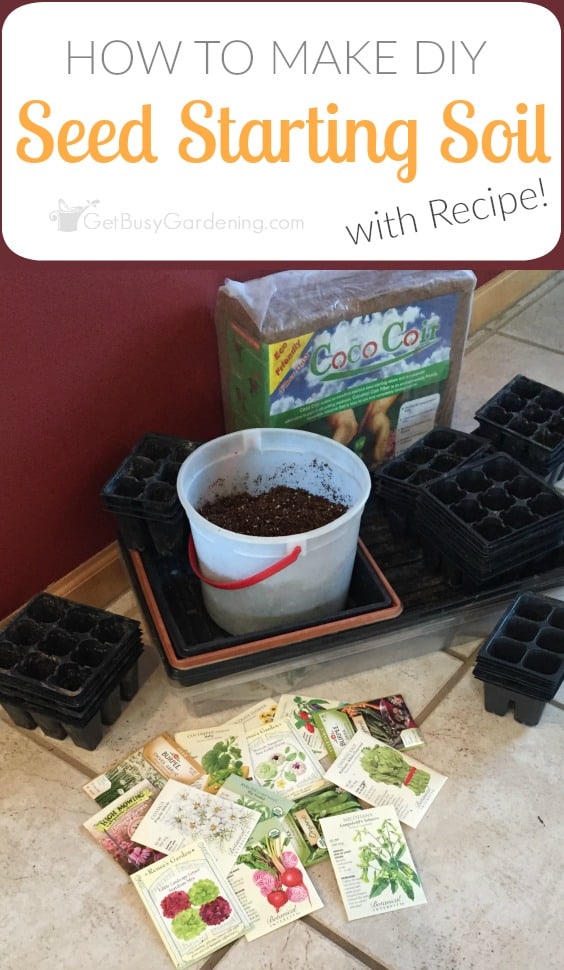 .