Seed starting mix can be expensive to buy, so I came up with my own recipe for homemade seed starting medium. This is the best seed starting mix, and it's super easy to make too! In this post, I will share my recipe, and show you exactly how to make seed starter soil from scratch.
When I talk about starting seeds indoors, one of the first questions new gardeners ask me is about the best potting soil mix to use.
This is a very important question, because the type of soil you use for growing seeds indoors really does make a huge difference – and it can make or break your seed starting success!
Using the wrong type of soil for planting seeds indoors is a common mistake. Many new gardeners think that "dirt is dirt", so they either buy cheap potting soil, or try to use garden soil to start seeds indoors. This my friend is just a recipe for disaster.
Seed Starting Mix -vs- Potting Soil
The reason you can't use cheap potting soil or garden soil to grow seeds indoors is because those types of soils will become compact in containers.
When that happens, it's extremely difficult (if not impossible) for seeds to germinate, and for the delicate seedling roots to grow.
Your seed starting medium should be porous so the soil stays light and fluffy, which makes it much easier for the seeds to germinate.
A porous seedling mix also allows plenty of air around the roots – which is super important for healthy seedling growth.
In fact, the best potting soil to use for starting seeds indoors shouldn't even contain soil at all.
What's The Best Soil For Seed Germination?
The best seed starting medium to use for growing seeds indoors is a soilless seed starting mix that is both fast draining, and also holds moisture (sounds like a funny combo, I know).
You can buy a quality seed starter mix pretty much anywhere you can buy seeds, or you can make your own DIY seed starting mix.
I love making my own homemade seed starter mix, it's super easy and it gives me the flexibility to modify the ingredients and make it just how I like it.
Plus I can make as much or as little as I need for starting my seeds, no need to have a big bag of seed starting mix lying around if I only need enough for one seedling tray.
How To Make Seed Starting Mix
When I came up with my own soilless seed starting mix recipe, it was mainly because I had a bunch of the necessary ingredients laying around from making other potting soil recipes… and because buying pre-made seed starting mix is expensive.
But I also wanted to make sure the ingredients were easy for you to find too, so that I could share my recipe.
These are all common ingredients that can be bought wherever you find potting soil for sale at your local garden center, or ordered online any time.
DIY Seed Starting Mix Ingredients
To make your own seed starting mix, you only need three main ingredients:
Coco Coir -vs- Peat Moss
You can use either coco coir or peat moss as the base ingredient for your DIY seed starting mix, whichever you prefer. There are a couple of cons to using peat moss rather than coco coir…
One con for using peat moss is that it's slightly acidic, so if you choose to use peat moss, add some garden lime to the mix to balance out the acidity.
The other con to using peat moss is that it's not as sustainable as coco coir is. Peat moss is a renewable resource, but it is very slow to renew so it's not as environmentally friendly.
Related Post: Seed Starting Peat Pellets Vs. Soil: Which Should You Use And Why?
Starting seeds in coco coir on the other hand is very sustainable, it is the by-product of coconut processing. It's a wonderful additive to any DIY soil mixes, and I really love the consistency of it. It's my top choice for adding to my homemade seed starting mix!
Vermiculite
Vermiculite is a naturally occurring mineral, and is commonly found in soil for starting seeds. That's because it helps the soil retain moisture.
Seedlings won't tolerate dried out soil, and vermiculite helps to keep it evenly moist so you won't have to water as often.
Perlite
Perlite is a very lightweight soil amendment. It's the white pieces that look like Styrofoam that you see in many commercial potting soils.
It retains very little moisture, and prevents soil compaction. In other words, perlite helps the soil drain faster, and makes the mix porous (which is ideal for germinating seeds).
You can buy perlite in many garden centers or home improvement stores in the same section as you would find the potting soil for sale.
A great alternative to perlite is pumice, just in case you have a hard time finding perlite in your local garden center.
Related Post: 7 Easy DIY Potting Soil Recipes To Mix Your Own
Supplies Needed:
Along with your seedling mix ingredients, you'll need a few other supplies to help you measure and mix your everything. So grab these items before getting started…
Measuring container (I usually use a 1 cup measure)
Trowel or large mixing spoon
Container for mixing (I use a bucket or my table top potting tray to mix mine)
DIY Seed Starting Mix Recipe
(a batch using a one cup measure as your "part" is enough to fill one commercial seed starting tray)
What is a "part"? – This is a question that I get asked a lot when I talk about how to make potting soil. A "part" is just a generic unit of measure for portioning your ingredients.
Use anything you want as your part, as long as you use the same thing for each "part". For example if you use a 1 cup measure as your part, then this recipe would convert to 8 cups coir, 1 cup vermiculite, and 1 cup perlite.
Related Post: How To Make Newspaper Seed Starting Pots
How To Mix Your Homemade Seed Starting Soil
Making your own mix for starting seeds is easy. First, dump all the ingredients into a bucket or bowl…
Then simply mix the ingredients with a spoon or trowel until they are well blended. Once the ingredients are blended together, you can fill your seedling trays and start planting seeds right away.
That's it. Told you it was easy to make your own seed starting mix. You could make a bunch ahead of time and store it for later use, or just mix up small batches as you need it.
I like to mix up a big batch, and then I store it in a plastic bucket in the garage so I always have seed starting mix on hand when I need it.
Related Post: How To Make Potting Soil For Indoor Plants
Storing Your Leftover DIY Seed Starter Mix
Whether you make your own seed starting mix, or choose to buy a commercial soil for starting seeds… make sure to store your leftover soil in an air tight container to avoid attracting bugs.
These air-tight seal lids work great to keep bugs out, and they fit on any standard five gallon bucket.
The best part about making your own soil for starting seeds is that you can experiment with different mixes.
If you find that the soil is drying out too quickly, next time add more vermiculite to the mix. If it's staying too soggy, then add more perlite to your mix.
Making your own DIY seed starting mix is easy and economical. Use it right away, or store it for later. There's no expiration date! Oh, and you can also use this homemade recipe for potting up your seedlings too!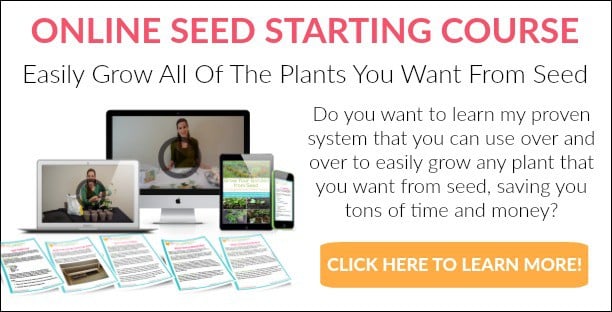 Looking for even more help with growing your own seeds? Then you should enroll in my Seed Starting Course. This fun, in-depth self-paced online course has everything you need to know about growing any plant you want from seed. Register and get started today!
Otherwise, if you just need a quick refresher, or want a quick-start guide, my Starting Seeds Indoors eBook is for you!
Products I Use To Make DIY Seed Starting Mix
More Seed Starting Tips
Share your favorite recipe for seed starting mix in the comments section below.
Print The Step By Step Instructions