Carrots are fun to grow, and homegrown carrots taste way better than store bought carrots. Growing carrots from seed can be a bit tricky, but it's worth it to have freshly harvested carrots from your garden! This post will show you the steps for planting carrot seeds the right way, so that you can grow straight, beautiful carrots every time.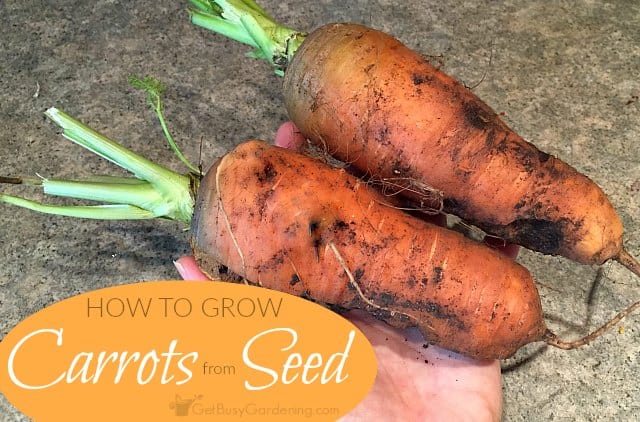 How To Grow Carrots From Seed
The key to successfully growing straight, beautiful carrots is planting the seeds directly in the garden in early spring. Carrot seedlings should never be transplanted. Why?
Well, have you ever harvested carrots that were deformed or had multiple roots? Yep, one of the things that can cause that is transplanting carrot seedlings.
Where To Grow Carrots
Carrots need a very loose and well draining soil in order to grow straight and beautiful too. Hard soils, as well as really rocky soils can also cause carrots for fork or become deformed.
Amend hard soils with rich compost and remove as many rocks, sticks and other large pieces as you can. Carrots grow best in full sun, but will also grow in part shade.
When To Plant Carrot Seeds
You can plant carrot seeds as soon as the ground is workable in the spring. Carrots are frost tolerant, so early frost won't hurt the seedlings as they start to grow.
Planting Carrot Seeds Step-By-Step
Since carrot seeds are so small, it's easiest to sprinkle the seeds rather than plant them one at a time. I take my finger and draw a shallow line in the dirt, then I thinly sprinkle the carrot seeds into the line I created.
Once I've got the line done, I push the dirt back over the seeds and gently pack it down. If you plant your carrot seeds like I do, keep in mind that you'll need to thin the seedlings out once they start to grow.
Thinning seedlings is really hard for some people (myself included!), so if you don't like doing that, I suggest taking a bit more time and planting the seeds about 3 inches apart.
After you're done planting carrot seeds, keep the soil evenly moist (but not soggy) until the seeds start to grow. Soon you'll have cute little carrot seedlings popping up.
Leave your carrots in the ground later in the fall, and let them be touched by the first few frosts before you harvest them. Frost makes them taste sweeter. So try it out and see if you can tell the difference.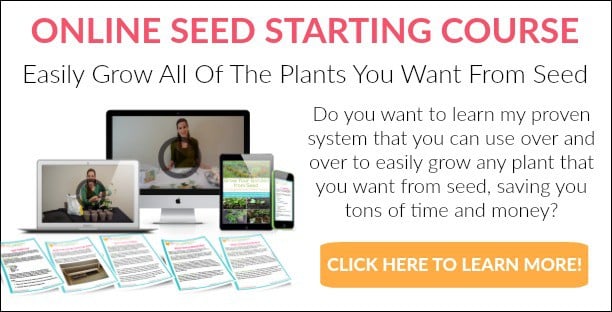 Do you want to learn how to easily grow any type of plant you want from seed? Then you should take my online Seed Starting Course! It's a fun, fully comprehensive course that you can go through at your own pace any time you want, and from anywhere. Enroll and begin today!
Otherwise, if you just need a quick-start refresher, then download a copy of my Starting Seeds Indoors eBook.
More Posts About Growing Seeds
Share your tips for planting carrot seeds in the comments below.