Growing lettuce from seed is not only rewarding, it's super easy too. In fact, lettuce is one of the easiest vegetables to grow from seed, and it takes very little effort to get a great crop of garden fresh lettuce. Successfully growing lettuce from seed is more about timing than anything.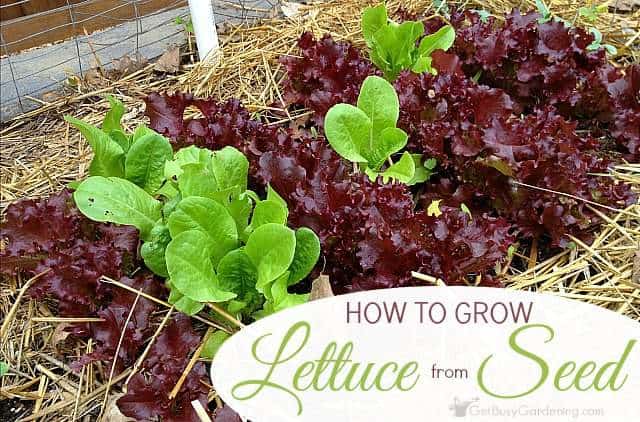 I plant lettuce seeds throughout the spring, summer and fall so I have a steady harvest of lettuce through the entire growing season.
I hate when winter comes and I have to buy the flimsy lettuce from the store that turns to mush in a matter of days.
So I grow as much lettuce as I can during the growing season, there's nothing like walking out the to garden to harvest a fresh delicious salad every day. Mmmmmm!
Lettuce is not only delicious, it can be beautiful too. I like to buy lots of different lettuce varieties and plant them throughout the garden.
Some of my favorite types of lettuce to grow in my garden are mesclun mix, Valentine mesclun and Romaine Rouge D'Hiver Lettuce.
How to Grow Lettuce From Seed
One of my favorite things about growing lettuce from seed is that I can plant it earlier than many other crops. Lettuce seeds can be started indoors, but I find it much easier to just sow the seeds directly into the garden in early spring.
If you can't plant lettuce seeds directly in the garden, you can start the seeds indoors just as you would with other seeds.
If you choose to start your lettuce seeds indoors, be sure to use a light-weight commercial seed starting soil mix, or you can make your own DIY seed starting mix.
Where to Grow Lettuce
Lettuce is great because it doesn't need a lot of space to grow, so you can tuck it in just about anywhere in your vegetable garden.
I plant my lettuce under an a-frame trellis or a lean-to type support, where I plant pole beans or cucumbers once the weather is warm enough.
By the time the beans and cucumbers start to grow over the trellis, my first crop of lettuce is done and I start sowing my second crops. Lettuce also grows very well in pots and container gardens.
Lettuce grows best in part shade, but will tolerate full sun in the spring. The intense summer sun will burn the leaves, and lettuce will bolt (start to flower) and become inedible in the heat of summer.
When To Plant Lettuce Seeds
It's best to plant lettuce in the early spring or late summer/fall because lettuce does best in cooler temperatures.
Plus, lettuce is hardy so it can survive minor frost in early spring and fall. I plant lettuce seeds as soon as the ground is workable in the spring.
Planting Lettuce Seeds Step-By-Step
Don't get too caught up on what the seed packet says about the proper way to plant lettuce seeds.
You don't need to worry about perfectly spacing those tiny seeds, making sure they are planted at a specific depth, or planting them in rows (unless you like orderly rows in your garden of course).
Just sprinkle the lettuce seeds over the top of the dirt. Lettuce doesn't need much space to grow, and it will be just fine even if it's a little crowded. That's it. It really is that simple.
Once all the lettuce seeds are sown, water them well and keep the soil evenly moist (but not soggy) until the seeds start to grow.
Soon you'll have cute little lettuce seedlings popping up. If you end up with lettuce seedlings that are overcrowded, then you can thin the seedlings to give each plant a bit more room to grow.
Lettuce can be harvested as soon as the seedling has more than three leaves, but it's best to wait until they start to get a bit bushy before harvesting. Lettuce is best when you harvest it when the leaves are young and tender.
Don't pull the whole plant when you harvest, just pluck a couple of leaves from each plant as you need it. You can keep harvesting leaves off of lettuce plants until the plant starts to bolt (or get tall and grow flowers).
Once lettuce starts to bolt, pull the whole plant and toss it into the compost bin, or you can let it go to seed and collect lettuce seeds for next year.
Growing lettuce from seed is fun and rewarding. If you are new to starting vegetables from seed, lettuce is a great one to start with.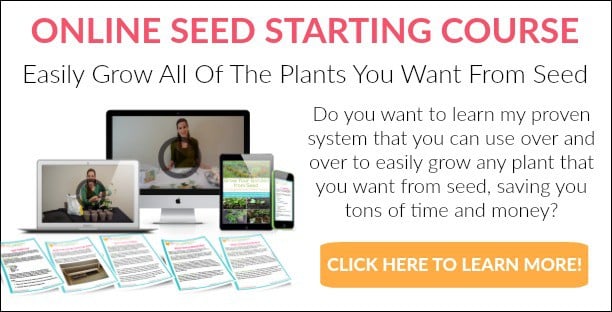 Would you like to learn how to finally be successful with growing your own seeds? Then you should take my online Seed Starting Course! It's a fantastic and fully comprehensive online course that you go through at your own pace. Enroll and begin today!
Otherwise, if you just need a little refresher, then you should download my Starting Seeds Indoors eBook for the perfect quick start guide.
More Posts About Growing Seeds
Share your tips for planting lettuce seeds in the comments below.