Have you ever had an entire flat of seedlings shrivel up and die on you? This is one of the biggest frustrations I hear people talk about when they are new to starting seeds indoors. There is nothing more frustrating than spending all that time starting your seeds, then getting super excited when they sprout and babying them for weeks… only to watch the entire flat of seedlings shrivel up and die. Ugh, it's not pretty!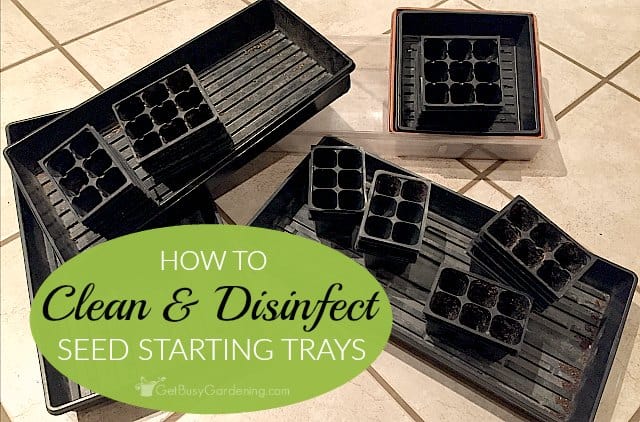 Why Are My Seedlings Dying?
The reason seedlings shrivel up and die off at the base is because they suffered from a common problem called damping off (also known as seedling blight). Seedling blight is a fungus that attacks and kills seedlings, and it is easily preventable.


How To Prevent Seedling Blight
When starting seeds indoors, it's essential that you disinfect the seed flats, trays and covers before you use them. It's fine to use brand new seed starting flats and trays out of the box, but dirty indoor seed starting equipment should be disinfected every time you reuse it. This is the easiest way to prevent seedling blight, and will save you tons of time (and heartache) in the long run. Washing and disinfecting your seed trays between uses also helps to prevent mold growth.
Related Post: Seed Starting Peat Pellets -vs- Soil Filled Seed Trays
How To Disinfect Indoor Seed Starting Equipment
Supplies Needed:
A bucket or large plastic bin
Paper towels or a small cleaning brush
Bleach
Dish soap (optional)
Steps:
Wipe the loose dirt out of the flats and trays using a paper towel or small cleaning brush.
If there's any dirt that is hardened on, wash the flats and trays in warm soapy water.
Disinfect seed flats and trays in a bucket (or plastic bin) of a water and bleach mix for 15-20 min. I recommend using a solution of 1 part bleach to 9 parts water.
Give them a quick rinse and let them air dry, now they are ready to use for starting seeds.
Related Post: Tips For Starting Seeds Indoors.
Ok, ok – I know what you're thinking. Yes, it will take you a little extra time to disinfect your seed flats and trays, but the effort is well worth it to ensure your seedlings have a healthy start. Trust me, it's not worth the risk to try to save yourself a little extra time.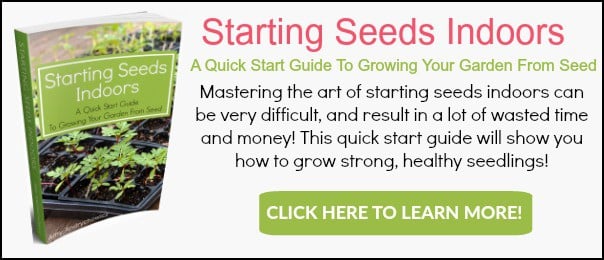 More Tips For Growing Seeds
Related Products
For more help with seedlings and seedling care, click here… Seedlings
Share your stories about dealing with seedling blight in the comments section below.
Pin It!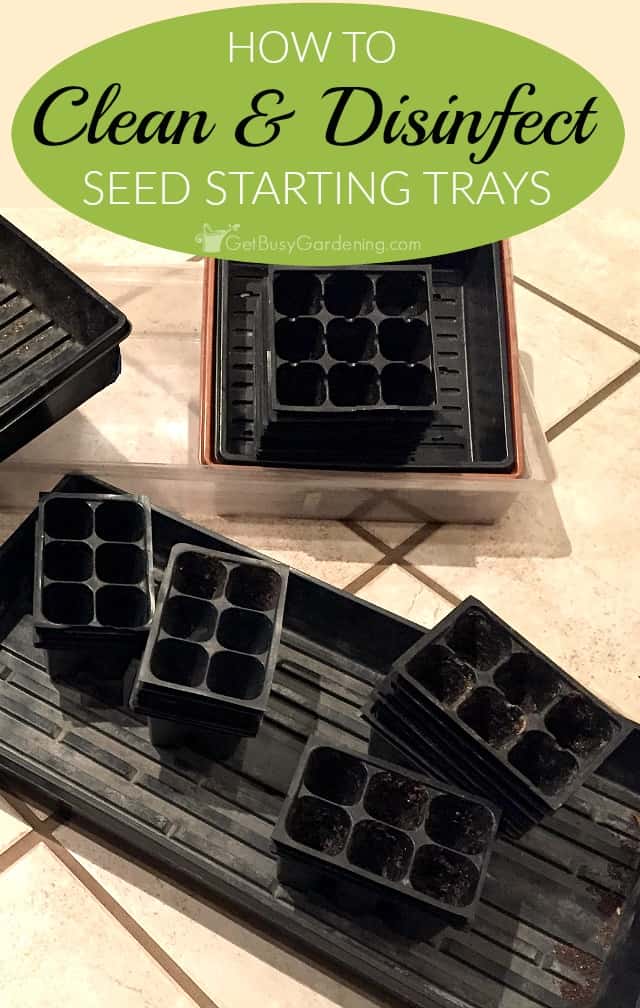 .