Growing seedlings is fun, but keeping them alive can be challenging. In this detailed seedling care guide, I will give you tons of information and tips for caring for seedlings. I'll also answer your questions, help you troubleshoot common problems, and show you everything you need to know about how to grow healthy seedlings for the garden.
Getting your seeds to germinate is one thing, but figuring out what to do with seedlings once they start to grow? That's a whole different ballgame…
There are tons of problems that can happen between the time that seeds germinate, and the time you actually plant the seedlings into the garden.
But, once you learn all about proper seedling care, you can easily grow your own seedlings. And you can feel confident that they'll be strong enough to survive the transition to the garden.
In this guide, I will teach you everything you need to know about growing seedlings, the next step after germinating seeds.
If you want to learn how to start seeds from the beginning, then get my best tips for how to grow seeds indoors here.
Here's what you'll find in this complete seedling care guide…
Growing Seedlings Indoors
I love growing my own seedlings! No matter how many times I do it, I always get super excited when I start to see the first signs of life in my seed trays. It's so much fun!
But after the elation of seeing your first sprouts popping out of the dirt wears off, reality sets in and you might suddenly wonder… Oh crap, my seedlings are growing! NOW what do I do?!? (gulp)
Don't panic, I've got you covered. Keep reading and I'll show you exactly what to do with seedlings after they start to germinate.
Seedling Care Instructions
Growing seedlings doesn't have to be a huge struggle! With the proper care, they will not only survive but they will thrive in your garden. Follow these instructions for taking care of seedlings after germination…
Light For Seedlings
Light is one of the most important pieces of seedling care, and that's why I've listed it first.
Starting seeds indoors without grow lights works OK for some types of seedlings. But most will require more light than that in order to grow their best.
When to put light on germinated seeds – You should turn the grow lights on as soon as the first seeds start to germinate in your seedling flats.
How much light should seedlings get – Ideally, the grow lights should hang 3-4 inches above the seedlings, and be kept on for 12-14 hours a day (an inexpensive outlet timer really comes in handy for this!).
Learn more about proper lighting for seedlings here.
Proper Seedling Watering
Proper watering is another extremely important part of successful seedling care. Seedlings need consistently moist soil. They can't survive long without water, and should never be allowed to dry out completely.
However, you don't want the soil to be soggy all the time either. Soggy soil promotes pest infestations, mold growth, and diseases that can kill your seedlings, like damping off.
Plus, too much water will ultimately kill your seedlings, and you don't want that. Here are some tips to get it right…
How often to water seedlings indoors – You should check on your flats a few times a day to see how moist the soil is. Once the top layer of soil starts to dry out, then it's time to water them. They will need to be watered more often as they grow larger.
How to water indoor seedlings – The best way to water seedlings is by pouring water into the bottom of the tray, and then allowing the soil to absorb it through the drainage holes. Bottom watering will help ensure the roots get plenty of water, and avoid disturbing or displacing the delicate seedlings. Be sure to dump out any water that's not absorbed after 30 minutes.
How much should I water seedlings? – Fill the tray just enough to cover the holes in the bottom of the seed cells so they can absorb it.
An inexpensive soil moisture gauge is a wonderful tool that will help you give your seedlings the perfect amount of water. I highly recommend getting one.
Seedling Ventilation & Airflow
A common question I get from newbies is when to remove the humidity dome for seedlings. Great question!
It's time to remove the dome lid once most of the seedlings in the tray have started to grow. But it's best to do this slowly by ventilating the lid rather than just removing it.
Start by propping the lid open an inch. Then keep propping it open an inch or so every few days until the lid is completely off. Once the humidity dome is off, you can leave it off.
Airflow is also important for growing seedlings and preventing some common problems (like mold growth and overwatering).
So, once the lid is off, I like to use an oscillating fan to provide additional ventilation, and help to strengthen the seedlings.
I keep my fan plugged into the same outlet timer as my grow lights. I set it on low so it rotates and gently blows on the seedlings all day long, then it automatically turns off at night.
Keep in mind that the soil can dry out very quickly after you remove the humidity dome, especially if you use a fan, so you should check the moisture level more often.
Thinning Overcrowded Seedlings
If there's more than one seedling growing per cell, then you will need to thin them. Thinning seedlings is really hard for some people, but it's very important for growing healthy seedlings.
Below are a few tips to get you started, but you can learn how to thin seedlings step-by-step here.
Why do seedlings need to be thinned? – If you don't thin them, they'll start to compete with each other for light, water and nutrients. It's also really difficult to give seedlings proper airflow when they're overcrowded.
How big should seedlings be before thinning? – You can start thinning them once your seedlings have a few sets of their true leaves. Thin out the weakest ones so that only the strongest seedling is left growing in each cell.
How to pick the strongest seedling – Keep the one that looks the healthiest and is the most compact, and thin out the leggy or weak looking seedlings. If they all look the same, then just choose one of them to keep per cell.
Fertilizing Your Seedlings
Once your seedlings begin to grow their true leaves, it's time to start fertilizing them as part of a regular seedling care routine. But you don't want to feed them a full dose of fertilizer, because they are just babies. Follow these tips…
How to fertilize seedlings – Start feeding seedlings with a weak dose of liquid fertilizer at first (about 1/4 of the regular dose). Then slowly increase the strength of the fertilizer as they grow larger.
The best fertilizer for seedlings – I recommend using natural, organic fertilizers rather than synthetic chemicals. Chemical fertilizers are notorious for burning seedlings, and they don't work as well as organic fertilizers do anyway.
I use (and highly recommend) an organic compost solution (you could also buy compost tea bags to brew your own) on all of my indoor seedlings.
Liquid kelp fertilizer and fish emulsion are also wonderful for fertilizing seedlings, and they absolutely love it… but beware that these can get a bit stinky when used indoors.
So you might want to wait until you move your seedlings outside before using them (that's what I do).
Transplanting Seedlings
Once your seedlings grow larger, it's time to start thinking about transplanting them.
Most types of seedlings will grow best when they're transplanted into larger pots rather than left growing in small seed tray cells.
That will give them plenty of room to grow before it's time to transplant them into the garden.
When To Transplant Seedlings To Pots
The general rule is that once the seedlings have grown to be about twice as tall as the height of the tray, then they should be transplanted into bigger pots. Learn all about repotting seedlings here.
Most seedlings can handle being kept in small containers for a few weeks, as long as you keep them watered.
But, if it's going to be more than a week or two before you're able to plant them into the garden, you should pot them up.
Plantable pots are a great option for repotting your seedlings, and make transplanting them into the garden super easy.
Peat pots are popular and fairly inexpensive, I recommend buying either the 3″ size plantable peat pots or 4″ peat pots for seedlings.
If you're worried about the sustainability of peat, then plantable pots made out of coco coir are a great alternative.
You can use either a 2.25″ size plantable pot, or a 3″ size pot for seedlings. Heck, these days you can even buy plantable pots made out of cow manure! Wow!
Of course you can always repot seedlings into reusable plastic pots to save yourself some cash.
They don't take up much room in storage, and you can clean them (as long as they're made of hard plastic) by putting them on the top shelf of the dishwasher, and running it on a "quick wash" cycle.
Preparing Seedlings For Planting Outside
Hardening off the seedlings to get them acclimated to living outside is a crucial seedling care step that many newbies miss.
If you planted your seedlings from your house directly into the garden, they would probably wither and die (eek!).
Seedlings growing indoors need time to get used to being outside before they are planted into the garden. So never skip this step!
Once the weather warms in the spring (above 50F), put your seedlings outside in a shady location for several hours each day. They should be protected from sun, wind and heavy rain.
Gradually expose them to the sun over several days. Keep in mind that the soil will dry out much faster outside, and the seedlings may need to be watered more than once a day, so check on them regularly.
When the weather is warm enough, they can be left outside overnight. Learn exactly how to harden off seedlings step-by-step here.
When To Plant Seedlings Into Your Garden
Ok, so you've got these seedling care steps figured out, and you've managed to keep your seedlings alive. That's awesome! Now you're probably wondering when you should plant them into the garden.
Cold weather plants like broccoli, cauliflower, carrots, radish, parsley, leafy greens (like lettuce) and others that can handle light frost can be planted as early as 2-4 weeks before your average last frost date.
Warm weather seedlings like tomatoes, cucumbers, basil, beans, squash and peppers shouldn't be planted into the garden until after all chance of frost is gone.
If you don't know your average last frost date, check with a local garden center. Get more details about how to figure out when to transplant seedlings into the garden here.
Troubleshooting Common Seedling Problems
Once you get the hang of it, you'll find that it isn't all that hard to grow seedlings. But it can be extremely frustrating when your seedlings start having problems, and you don't know why.
So to help you figure it out, here are a few of the most common seedling care problems, and their causes…
Leggy seedlings – The biggest problem with growing seedlings indoors is tall, leggy seedlings. This happens when they aren't getting enough light. Add a grow light, and hang it right over the top of the seedlings. Then leave it turned on for 12-14 hours a day.
Seedlings leaning over, stretching, or growing sideways – Inadequate light is the main cause, but it can also happen if the lights aren't positioned properly. If you're trying to grow seedlings in a window, then add a grow light. If you already have a grow light, then move it so that it is directly above the seedlings at all times.
Seedlings dying after sprouting – If your seedlings died shortly after they started growing, then it was likely because of seedling blight. Seedling blight is a disease that causes something called damping off, which kills seedlings at the base. The only way to prevent this is to disinfect your seed trays before planting your seeds.
Yellow seedlings – The main cause of yellow seedlings is overwatering. Be sure that the soil is never soggy, and allow the very top of the soil to dry out a bit between waterings.
Small seedlings or seedlings not growing – Seedling growth can be stunted when it's too cold in the room, if they are over or under watered, or if they aren't getting enough fertilizer.
Get even more help with troubleshooting and fixing seedling problems here.
Seedling Care FAQs
In this section, I will answer the most commonly asked questions about growing seedlings. If after reading this guide and these FAQs you still can't find the answer to your question, then please ask it in the comments below. I will answer it for you as soon as I can.
What are true leaves?
True leaves are the leaves that grow after the first two seedling leaves.
How long does it take for seedlings to grow true leaves?
That depends on the type of seedling. Some will start growing true leaves within a week of germination. Others can take several weeks to start growing them.
It's best to check the seed packet, or research the type of seedling you're growing for specific timing.
How do you make your seedlings grow faster?
Heat, light, and fertilizer are three ways to improve seedling vigor and make them grow faster.
If your seedlings aren't growing, then check the room temperature first. If it's below 65F degrees, then try keeping seedlings warm using a space heater or a heat mat.
Also be sure you're providing proper light and fertilizer to help speed up the growth of seedlings. See the"Light For Seedlings" and "Fertilizing Your Seedlings" sections above for more details.
When should I water my seedlings?
Water your seedlings when the tray is empty, and the top of the soil is starting to dry out. Never allow the soil to dry completely though. Read the "Proper Seedling Watering" above for more details.
How do you grow strong seedlings?
All of the factors in this guide are important for growing strong seedlings. But adequate lighting and proper watering are by far the most important to help them thrive.
Read the "Light For Seedlings" and "Proper Seedling Watering" sections above for all the information.
Can seedlings get too much light?
Yes. If you leave the grow lights on 24 hours a day, it can confuse seedlings, and cause problems later on when you move them outside.
It's best to simulate the natural sunlight pattern, and allow them a period of darkness each day. See the"Light For Seedlings" section above more more information.
How many hours of light do seedlings need?
Giving your seedlings 12-14 hours of light a day is ideal, and using an outlet timer makes it a snap.
When should I start seedlings?
It depends on the type of seeds. Follow the instructions on the seed packet to determine when to plant them. Learn all about when to start seeds indoors here.
Where Can I Buy Seedlings?
There's no shame in buying seedlings. So, if some of your seedlings died, or if you don't want to bother with all the fuss to grow your own seedlings, then you can buy them instead.
You can find seedlings for sale at your local garden center in the spring and summer. Be sure to shop early for the best selection though, cause they can sell out fast.
Planting seeds is easy! But learning what to do with seedlings after they start growing, and keeping them alive and healthy is the tricky part. If you follow the seedling care tips above, growing seedlings should be a snap! Plus, not only will they survive the transition into the garden, they will thrive all summer long!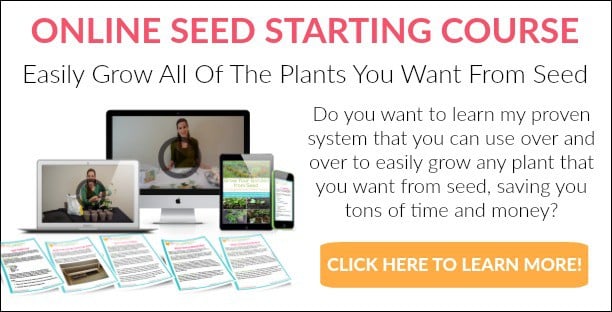 Looking for more more help growing any type of seed you want? Then you should take my online Seed Starting Course. It's a fun, comprehensive, and self-paced online course that will show you exactly how to easily grow strong, healthy seedlings for your garden. Enroll and get started now!
Otherwise, if you just need some tips for growing seeds inside, then my Starting Seeds Indoors eBook would be perfect for you! It's a quick-start guide to planting seeds indoors for beginners.
Recommended Seedling Care Products
Find even more useful and essential seed starting supplies & equipment I recommend here.
Leave a comment below and share your seedling care tips or ask your questions about growing seedlings.