When should you start seeds indoors? This is one of the most common questions I get from new gardeners. Figuring out when to plant seeds indoors is difficult, especially when you're new to seed starting. There are lots of different seed planting charts out there, and they can be helpful to use as a guide. But, there are so many factors involved in the timing of starting seeds that it's best to create your own personal seed planting schedule.
Why Do We Need A Seed Starting Timetable?
Timing is very important when it comes to starting seeds indoors. That's because if you start your seeds too early, you could end up with weak, leggy seedlings by the time it's warm enough to plant them into the garden. But if you start your seeds too late, the seedlings won't be mature enough for transplanting. It takes a little practice, but don't worry – in time you will be able to create your own seed planting schedule so you know exactly when to start your favorite seeds.

The Dilemma Of Figuring Out What To Plant When
The biggest problem with figuring out what to plant when is that every seed is different. Some seeds are fast growers, and it will only take a few weeks for the seedlings to grow large enough to be transplanted into the garden. But other seeds are very slow to germinate, and it take much longer for the seedlings to grow. So how can you figure out the best planting dates for seeds?
Finding Your Best Planting Dates For Seeds
Since every seed is different, and some have special planting instructions, we need to rely on the seed packets for help. Unfortunately, many seed companies give us very vague planting details (or no instructions at all), which is super annoying. But don't worry, I've got you covered. If you're just starting out, you can follow these simple guidelines to figure out a basic seed starting timetable…
Step 1: Find the seed starting dates on the seed packet – First, read the instructions on each of your seed packets to find the recommended planting dates for each type of seed. Most seed packets will give you recommendations for when to start seeds indoors.
Step 2: Sort your seed packets by best planting dates – Take all of the seed packets you plan to start indoors and sort them by the recommended seed starting dates shown on the packet. Generally, it will be something like "4 to 6 weeks before average last frost", or "6 to 8 weeks…" etc. But wait, what if your seed packets don't have any recommended planting dates on them?

Guideline For When To Plant Garden Seeds Indoors
Unfortunately, not all companies include seed starting dates on the packets for you (I guess they like to keep us guessing). So if your seed packet is less than helpful, then you should plan to start those seeds indoors 6 to 8 weeks before your average last frost date. (if you don't know your average last frost date, visit your local garden center and ask them, or look it up online). Our average last frost date here in zone 4b (Minneapolis, MN) is May 15th.
Once you have all of your seed packets sorted into piles, store them this way so when it's time for planting seeds, you know exactly which ones to start at the same time.
How To Create Your Own Seed Planting Schedule
When the time comes for you to start planting seeds indoors, keep track of the dates you started each type of seed and when the seeds sprouted. You should also keep a record of how well each of the seeds grew. Did the seedlings grow long and leggy before you could move them outside? Did they outgrow their containers? Or maybe they were too small to plant into the garden in the spring.
Related Post: How To Plan A Vegetable Garden Layout
This will give you a good start on your custom seed planting schedule. Then next year you can make adjustments. Any seedlings that became too large before you were able to move them outside should be started indoors a week or two later next year. On the other hand, seedlings that were too small to transplant into the garden should be started a couple weeks earlier next year.
Once you get the hang of knowing when to start seeds indoors, you will have your own custom seed planting schedule to go by year after year. Also, you'll begin to see patterns for certain types of vegetables and flowers, and know which seeds to plant at the same time – and this will make starting seeds much easier for you.
Related Post: Tips For Starting Seeds Indoors For Beginners
There are tons of garden seed planting guides online that can be helpful to give you an idea of what to plant when. But really, it's best to create your own custom seed starting timetable that you can use year after year.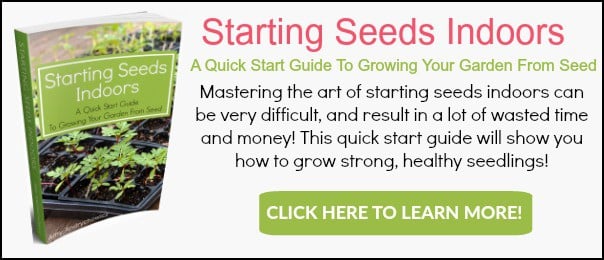 More Information About Growing Seeds:
For even more information and tons of tips for starting seeds indoors, click here… Growing Seeds
Have you created your own seed planting schedule so you know when to start seeds indoors? Share your experiences and tips in the comments section below.
Pin It!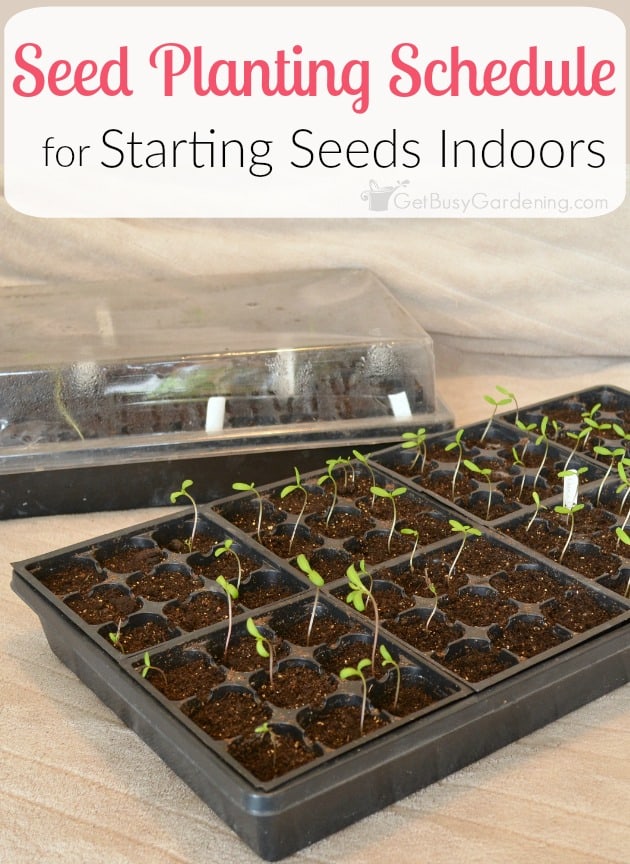 .