Winter sowing is a fun and easy way to start seeds outside during the winter. Seeds are sown in miniature greenhouses made from recycled plastic containers, and then put outside in the snow and freezing cold. The rest of the work is left to Mother Nature.
Once the weather starts to warm in the spring, the seeds will germinate at their own pace, just as in nature. Sounds cool, right? It gets better…

Benefits Of Winter Sowing Seeds
For me, the biggest benefit of winter sowing my seeds is space. You see, since the winter sown containers go outside, they don't take up space in the house. That is HUGE!
But there are lots of other BIG benefits of winter sowing too…
Plus, winter sown seedlings are hardier and more robust than seeds sown indoors, which means they have a much higher survival rate.
WOW! Are you ready to try winter seed sowing yet? Great, I will show you how.
Supplies For Winter Sowing
Drill or old metal knife
Pencil, permanent marker or paint pen
How To Winter Sow – Step By Step
Step 1: Choose your winter sowing containers – The containers can be made out of items you throw out every day; things like milk jugs, 2 liter bottles, restaurant/deli/bakery food containers, ice cream buckets…etc.
The shape and size of the container doesn't matter, but it must be made of transparent plastic, be deep enough to allow for 2-3 inches of soil in the bottom, and tall enough to allow a few inches of headspace for the seedlings to grow.
Read more about how to choose the best containers here… Choosing Winter Sowing Containers
Step 2: Prepare the winter sowing containers – To prepare your containers, you will first want to clean the containers. If you're using a tall narrow container like a 2 liter bottle or milk jug, you'll need to cut the container in half using a pair of scissors.
Next, poke holes in the top and bottom of the container. Heating a knife and melting the holes makes this task easier (use an old knife because it will turn black over time and have plastic residue on it), otherwise you can use a drill or something sharp to poke the holes.
Poke enough drainage holes in the bottom of the container to allow the water to drain out so the seeds won't drown. Add the same amount of holes in the top of the container (if you use milk jugs or 2 liter bottles, simply leave the caps off rather than poking holes).
The holes in the top are there to vent the containers so they won't overheat, and also to allow rain and moisture to enter the containers.
Step 3: Add soil to the winter sowing container – The best potting soil to use in the containers is all purpose potting soil. I've also used the seed starting potting mixes that are specifically made for starting seeds, but those are a little more expensive.
Just make sure you buy a good potting mix to use in your containers – don't go super cheap on the potting soil. Cheap dirt is too heavy and the seeds will have a hard time germinating, or may end up rotting.
Plus cheap potting soil could be full of weed seeds. Always use fresh, sterile potting soil when starting seeds; and never, never use soil from your garden in any of your containers.
Step 4: Plant the seeds – The best types of seeds to use for winter sowing are the seeds of cold hardy annuals, herbs and cold crop vegetables, or plants that are perennial in your zone.
If you're unsure, check the seed packets. Look for terms like "self sowing", "direct sow outside in the fall", "direct sow outside in early spring" or "cold stratification". Keywords like these are good indicators of seeds that will work well for winter sowing.
The number of seeds you add to each container is up to you, but I prefer to space them out a bit to make it easier to separate the seedlings for planting. If the seeds are sown too thick, they will be difficult to separate once they have grown into seedlings.
Read my post about how to choose the best seeds for winter sowing, a get list of seeds I've had success winter sowing.
Step 5: Label your winter sowing containers – When you plant seeds in the dead of winter, you will forget what's in the containers by spring (trust me on this one!), so you'll definitely want to label them. There are a few ways you could label your containers. Some people write on masking or duct tape, and others write directly on the top of the container.
However, if you use pencil or a permanent marker on top of the containers, the writing will eventually fade in the sun, and could be unreadable by spring. I recommend using a paint pen for writing on the tops of your containers.If you choose to use tape, put it on the bottom of the container so the writing won't fade in the sun.
My preferred method for labeling my containers is to use plastic plant markers (or make my own using cut up old vinyl mini blinds) and writing on them with pencil. Then I push the marker into the soil, and have never had one of them fade.
Step 6: Water the seeds – After you're done planting seeds in your containers, water the potting soil thoroughly, and allow the containers to drain before moving them outside.
I give mine a light shower with the sprayer in my kitchen sink because it won't disrupt the soil. If the soil is really dry, water the container a few times to make sure the soil is evenly moist.
Step 7: Put the lids on the containers – Putting the lids on your containers depends on what type of container you use. If the lid snaps on and fits tight, then you're done.
If you used a tall container that you cut in half (i.e.: milk jug, 2 liter bottle), then you can use duct tape (or other heavy duty tape) to attach the lid back onto the container (but leave the caps off).
You can tape the lids on any container if the lid doesn't fit tightly, just make sure you don't completely cover the transparent parts of the container, or the holes you made way back in step 2.
Step 8: Put the winter sown containers outside – Move your containers outside to a spot where they are protected from heavy wind, but will get moisture and full sun. If you have pets or children, put the containers on a table or other spot where they will be out of reach.
Step 9: Forget about them until spring – Once your winter sown seed containers are moved outside, you can pretty much forget about them until early spring. Don't worry, it's OK if they're completely covered by snow for a few months. Leave them be.
Winter Sowing Maintenance
Once the weather starts to warm up in the spring, check your winter sown containers regularly for any signs of seedlings. Hardy plants will start to germinate first, cold crop vegetables like broccoli, lettuce, spinach and spring blooming perennials.
The only maintenance you have to do in the spring is to make sure the winter sown containers don't overheat, and that the soil doesn't dry out. Those mini greenhouses can get pretty hot inside in the sun, so you may need to vent them more. Once the seedlings get tall enough where they are touching the top of the inside of the container, it's time to remove the lids.
Winter sown seedlings can dry out pretty quickly once you take the lids off, so check them at least once a day and water if necessary. Once the lids are off, keep an eye on the weather report. If there is a chance for freezing temperatures, cover the containers with a sheet or blanket overnight.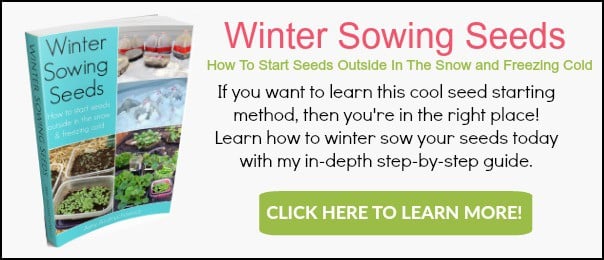 Next Steps: If you want more help learning how to winter sow, pick up a copy of my Winter Sowing eBook. It'll be your essential winter sowing guide that will walk you through every step of the process in detail.
If you want learn how to easily grow all of your plants from seeds, then the Online Seed Starting Course would be perfect for you! It is an in-depth online training that will walk you through everything you need to know about growing all types of seeds, step-by-step.
Products I Recommend
More Reading About Winter Sowing
Other Winter Sowing Resources
wintersown.org (THE official website started by the woman who invented winter sowing!)
Have you ever tried winter sowing yet? Share your tips in the comments section below.