There are tons of easy annuals to grow from seed. In fact, some of the most popular garden flowers can be started from seeds. In this post, I will share a list of my favorite easy-to-grow flower seeds.
Every year I grow tons of summer annual flowers in my gardens. The variety always changes, but there are several types that are staples in my garden.
The best part is that they also happen to be some of the easiest annual flowers to grow from seed.
I get a lot of questions from readers asking about the best flowers to plant, and which are the easiest to grow from seed. So I thought it would be fun to write a list to share with everyone.
If you're new to growing seeds, or simply looking for some ideas, then this list if for you!
13 Easy Annuals To Grow From Seed
There's no order to this list of annuals, but I've broken it down into two sections. First, I list the easiest flower seeds to grow indoors. The second section is for seeds that are easier to start outdoors by direct sowing them into the garden.
Easiest Flower Seeds To Grow Indoors
The annual flowers list in this section are the easiest flowers to grow from seed indoors. You certainly could direct sow some of the seeds in this section. But, over the years I have found that the best way to grow these flowers from seeds is to start them indoors. Here's my list of the best flowers to start indoors…
1. Marigold – Marigolds aren't only beautiful, they attract beneficial insects to the garden. They're also extremely easy annuals to grow from seed. To ensure that you have plenty of plants, it's best to start the seeds indoors 6-8 weeks before last frost in the spring. My favorite varieties to grow are french marigold and Crackerjack
2. Castor bean – Castor bean plants are stunning in the garden. They're really fast growing flower seeds, so wait to start them until 4-6 weeks before last frost. The seeds can be a bit tricky to germinate, but you can learn exactly how to grow castor bean seeds here. If you've never grown them before, definitely get some red castor bean seeds.
3. Celosia – There are tons of different types of celosia flowers (aka cockscomb), and they are all gorgeous in the garden! What I love the most about them is that there are some really cool and unique varieties to grow (pink flamingo and purple fan are a few of my go-tos). For best results, plant the seeds inside 4-6 weeks before your last frost date.
Related Post: Tips For Growing Seeds Indoors For Beginners
4. Zinnia – Zinnias make a wonderful addition to any garden. They add tons of color, and make great cut flowers too. Plus butterflies and hummingbirds can't resist them. They are quite possibly the easiest flowers to grow from seed. Plant them indoors 4-5 weeks before your last frost date. Two of the varieties I like the best are dwarf zinnia mix and the solar flare mix
5. Coleus – Coleus plants add a pop of color to shady spots in your flower garden, and they also grow very well in containers. Technically they're flowering plants, but the flowers are small and not very interesting to us (but the bees love them). The foliage is what stands out on this plant. Start the seeds indoors 8-10 weeks before your last frost date. I always plant a rainbow mix seeds for the best variety.
6. Cosmos – Cosmos flowers add bright pops of color to the gardens and the foliage is cool too. They're easy flowers to grow, and they explode with blooms in the late summer. The seeds will sometimes self-sow, and they could be direct sown. However, they can take a long time to flower, so I recommend planting seeds indoors 4-6 weeks before your last spring frost to give them a head start. My top picks to grow are Sensation and Sea Shells blend.
Easiest Annual Seeds To Start Outdoors
This section contains a list of easy annuals to grow from seeds planted directly in the ground. Annuals that reseed themselves are especially easy to grow in the garden.
Some of the seeds in this list will grow just fine if you plant them indoors. But it's more difficult to grow seeds inside, and also to care for the seedlings. Here's my list of direct-sow flower seeds…
7. Calendula – Not only are calendula flowers beautiful to grow in the garden, they're medicinal too. The seeds readily self sow in the fall in my garden. But if you want to make sure they grow for you every year, then direct sow the seeds either in the fall, or as soon as the ground is workable in early spring. Two varieties that I like to grow are Zeolights and Resina.
8. Snapdragon – No annual garden is complete without snapdragons. Hummingbirds and bees love them, and I do too. For many years I tried starting the seeds indoors with mixed success. But once I started planting seeds directly in my garden, they grew reliably every year. Sow the seeds directly in the ground in the fall or early spring. I always grow a snapdragon mix, and Night and Day are gorgeous too.
9. Moss rose – A cute little succulent ground cover, moss rose (portulaca) will create a carpet of flowers in your garden. The easiest way to grow them is to sprinkle the seeds over your garden in the fall, and then again in early spring for better coverage. I grow either a double mix blend, or a variety called Pastel Sundial.
10. Petunia – Petunias are annual plants that flower all summer, which is why they are so popular. Pollinators flock to them, and they're excellent for growing in containers or in the garden. They're also some of the easiest flowers to grow from seed. Sprinkle the seeds in your garden in either the fall or in early spring. There are tons of varieties, but Frappe Rose, Red Velour and Purple Wave are spectacular.
11. Sunflower – Who doesn't adore sunflowers? They make wonderful cut flowers, and are total bee magnets. If you have kids, these are one of the best flowers to start from seed. Sow the seeds directly into the garden as soon as the ground has warmed up in the spring. You can't go wrong with your basic Lemon Queen, but Drop Dead Red are beautiful too.
12. Nasturtium – If you want to grow edible flowers, then make sure to add nasturtiums to the top of your list. The spicy leaves and flowers taste similar to radishes, and are a yummy addition to salads. The seedlings hate to be transplanted, so the seeds must be sown directly into the garden. Wait until the soil is warm in the spring before sowing the seeds. I recommend Fiesta Blend, but be sure to also try climbing ones like Amazon Jewel or Spitfire.
13. Morning glory – Morning glories are climbing vines, and super easy annuals to grow from seed. I love them because they're fast growing, and will quickly cover a trellis. They tend to reseed themselves, but for best results, you should direct sow them in your garden before the ground freezes in the fall. I like planting a variety of mixed color seeds the best.
Growing annuals from seeds is fun, and it's a great way to save yourself some money every year. I hope that this list of easy annuals to grow from seed has helped give you lots of ideas for easy flowers to plant in your garden.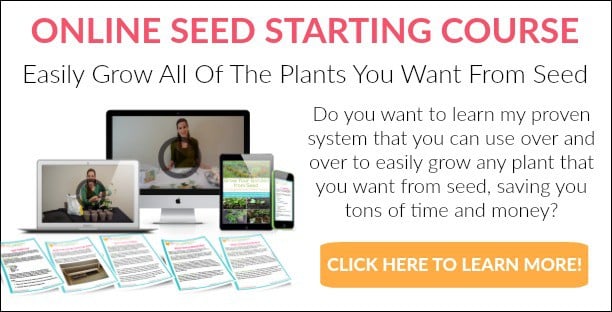 If you want to learn everything you need to know about growing any type of seed you want, then take my online Seed Starting Course! It's a fun, comprehensive, and self-paced online course for anyone who wants to be able to easily grow any seed they want for their garden. Enroll and get started today!
Otherwise, if you just want to the basics of how to grow seeds indoors, then my Starting Seeds Indoors eBook is perfect for you! It's a quick-start guide that will show you how to get going.
More Easy Plants To Grow From Seed
Share your top picks for easy annuals to grow from seed in the comments below.