I love starting my garden from seed, and I don't think I'll ever be able to NOT start my own seeds. Getting your seeds to germinate indoors is one thing, but figuring out what to do with seedlings once they start to sprout? That's a whole different ballgame…
Starting seeds indoors is a great way to save money on your garden. Plus it's really fun to watch those tiny little baby seedlings sprout out of the dirt, and then (amazingly) grow into mature plants in your garden.

I love growing seeds! I'm like a kid on Christmas morning when I start to see the first signs of life in my seed trays.
And, like a kid on Christmas morning running to see the tree, I can't wait to get home from work every day and go running upstairs to check to see if any of my seeds have sprouted. It's so much fun!
But after the elation of seeing your first sprouts popping out of the dirt wears off, reality sets in and you might suddenly wonder… Oh crap, my seedlings are growing, NOW what do I do?!? (gulp)
Don't panic, I've got you covered. Here's exactly what to do with seedlings after they start to germinate…
What To Do With Seedlings After They Sprout
Starting seeds indoors is one thing, but getting those delicate little seedlings to survive the 6-8 weeks before you can plant them into the garden is another thing.
There are tons of problems that can happen between the time that seeds germinate, and the time you actually plant them into the garden. If not given the proper care, your seedlings won't be strong enough to survive the transition to the garden.
But, if you follow the steps outlined below, you should be able to avoid any problems with your seedlings, and they should have no problem surviving the transition to your garden.

Grow Lights For Seedlings
A south facing window is the ideal spot for starting seeds indoors. If the seedlings start to grow towards the window, rotate your seed starting trays daily, and consider adding a grow light above the seedlings (this grow light system is really cool!).
You can buy seedling lighting just about anywhere these days, but they can be really expensive. To save money, I bought a couple of shop light fixtures (like this one), and added plant grow light bulbs (like these) into them as an inexpensive alternative to fancy grow light systems for seedlings.
Ideally, the grow lights should hang 3-4 inches above the seedlings, and be kept on for about 14 hours a day (an inexpensive outlet timer really comes in handy here!).
Proper Seedling Watering
Seedlings prefer consistently moist soil. Keep in mind that the soil can dry out very quickly after you remove the lid from the seedling tray. And seedlings can't survive long without water.
However, you don't want the soil to be soggy all the time either. Soggy soil promotes pest infestations (like soil gnats, ewe!), mold growth (double ewe!!), and diseases like damping off that can kill your seedlings (triple ewe!!!). Plus, too much water will ultimately kill your seedlings, and you don't want that.
The easiest way to properly water them is by pouring water into the bottom of the seedling tray, and then allowing the soil to absorb it.
This will help to make sure the roots are getting plenty of water, while also avoiding issues like soil gnats, mold and disease.
Never allow your seedlings to sit in water for too long though, empty any water that's not absorbed after 30 minutes.
Seed Tray Ventilation & Airflow
Once most of the seedlings in a seed tray have started to grow, begin ventilating them. Slowly acclimate the seedlings to the room by propping the lid open an inch.
Keep propping the lid open an inch every few days until the lid is completely off, and leave it off. At this point, an oscillating fan can be used if desired.
The fan will provide additional ventilation and help to strengthen the seedlings, and also ensure proper ventilation (which helps to avoid mold growth and overwatering!).
I keep my fan plugged into the same outlet timer as my seed starting grow lights, so it's blowing on them all day long.
Thinning Overcrowded Seedlings
If there's more than one seedling growing per seed cell or pellet, then you should thin your seedlings. Thinning seedlings is really hard for some people, but it's very important for growing strong seedlings.
If you don't thin your seedlings, they will start to compete with each other for light, water and nutrients. It's also really difficult to give your seed planting trays proper airflow when the seedlings are overcrowded.
You can start thinning them once your seedlings have a few sets of their true leaves, then thin out the weakest ones so that only the strongest seedling is left growing in each cell.
Fertilizing Your Seedlings
Once your seedlings begin to grow their true leaves, it's time to start fertilizing them, but you don't want to feed seedlings a full dose of fertilizer because they are just babies.
It's best to start with a weak dose of liquid fertilizer at first, and slowly increase the strength of the fertilizer as your seedlings grow larger.
I recommend using natural, organic fertilizers rather than chemicals. Chemical fertilizers are notorious for burning seedlings, and they don't work as well as organic fertilizers do anyway.
I use (and highly recommend) an organic compost solution (you could also buy compost tea bags to brew your own) on all of my seedlings.
Liquid kelp fertilizer and fish emulsion are also wonderful for fertilizing seedlings, and seedlings absolutely love it… but beware that these can get a bit stinky when used indoors, so you might want to wait until you move your seedlings outside before using them.
When To Transplant Seedlings To Bigger Pots
Once your seedlings start to grow larger, you can transplant each of them into their own seedling pot – but this step is optional.
The general rule is that once the seedlings have grown to be about twice as tall as the height of the seedling trays, then they should be transplanted into bigger pots.
Seedlings can handle being kept in small containers for a few weeks, as long as you keep them watered. But, if it's going to be more than a week or two before you're able to plant them into the garden, you might want to consider repotting seedlings into slightly larger containers to give them room to grow.
Plantable seedling pots are a great option for repotting your seedlings, and make transplanting seedlings into the garden super easy.
Plantable peat pots are popular and fairly inexpensive, I recommend buying either the 3″ size plantable peat pots or 4″ peat pots. Either of those are good sizes to use for transplanting seedlings.
If you're worried about the sustainability of peat, then coco coir plantable pots are a great option (and only slightly more expensive) – you can use either a 2.25″ size plantable pot, or a 3″ size pot sizes.
Heck, these days you can even buy plantable pots made out of cow manure! Wow!
Some people use disposable plastic or styrofoam cups as seed starter pots for repotting seedlings… but honestly, I find this wasteful.
If I don't use plantable pots, I prefer repotting my seedlings up in reusable plastic pots rather than using disposable cups.
Reusable seedling pots don't take up much room in storage, and you can clean them (as long as they're made of hard plastic) by putting them on the top shelf of the dishwasher and run it on a "quick wash" cycle.
Plus, in the long run it would be much cheaper to buy pots you can reuse year after year than buying disposable seedling cups every year.
Hardening Off Seedlings
Hardening off the seedlings to get them acclimated to living outside is a crucial step that many newbies miss. If you planted your seedlings from your house directly into the garden, they would probably wither and die (eek!).
Seedlings growing indoors need time to get used to being outside before they are planted into the garden.
Once the weather warms in the spring (above 50F), put your seedlings outside in a shady location for several hours each day. The seedlings should be protected from sun, wind and heavy rain.
Gradually expose them to the sun over several days. Keep in mind that the soil will dry out much faster outside, and the seedlings may need to be watered more than once a day, so check on them regularly.
When the weather is warm enough, the seedlings can be left outside overnight. Read more… How To Harden Off Seedlings
When To Transplant Seedlings Into The Garden
Ok, so you got your seedlings to live for 6-8 weeks, that's awesome! Now you're probably wondering when to transplant your seedlings into the garden.
Cold weather plants like broccoli, cauliflower, carrots, radish, parsley, leafy greens (like lettuce) and others that can handle light frost can be planted as early as 2-4 weeks before your average last frost date.
Warm weather seedlings like tomatoes, cucumbers, basil, beans, squash and peppers shouldn't be planted into the garden until after all chance of frost is gone.
If you don't know your average last frost date, check with a local garden center.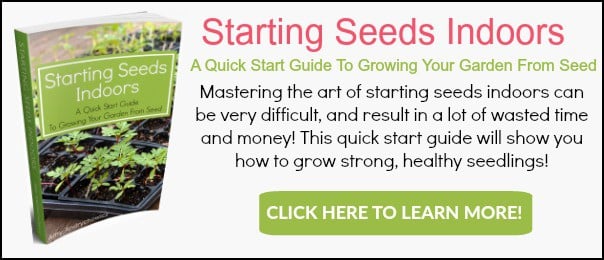 Starting seeds indoors is easy, but learning what to do with seedlings after they start growing is the tricky part. If you follow the tips above, caring for your seedlings indoors should be a snap! Plus, not only will they survive the transition into the garden, they will thrive all summer long!
If you're new to starting seeds, and you need more help, check out my online Seed Starting Course. It's a comprehensive online course that will show you exactly how to easily grow strong, healthy seedlings for your garden.
Recommended Products:
More Tips For What To Do With Seedlings
Leave a comment below and share your tips for what to do with seedlings after they germinate.