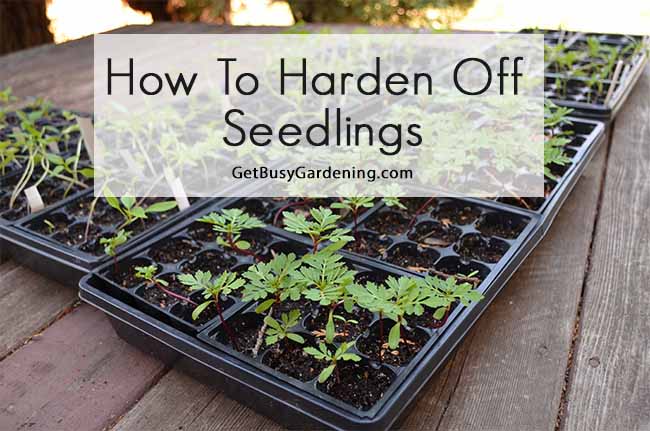 Growing plants from seed is fun and allows us to get our hands dirty weeks earlier than we can start digging in the garden. It's exciting to see the seedlings popping out of the dirt, and then watch them grow into plants. Soon the weather will warm up, and we'll be able to start planting those seedlings into the garden.
But you can't simply take them from their cozy indoor environment and plant them directly into the garden. You must first harden off seedlings, and this is a crucial step for successfully transplanting seedlings into the garden. When you harden off seedlings, you are toughening them up by acclimating them to life outdoors over a period of several days. Seedlings live a very protected life inside the house. They need to be slowly introduced to sun, wind, rain and fluctuating temperatures.

Related Post: Tips For Starting Seeds Indoors
How To Harden Off Seedlings
Before moving seedlings outside, the covers should be removed from the flats. Start by propping the lid open an inch the first day, then keep propping it open an inch every day until the lid is completely off. An oscillating fan can be used to provide additional ventilation, and help to strengthen the seedlings before they go outside.
You can start to harden off seedlings outside once they have grown their true leaves. When the weather warms in the spring, put the seedlings outside for a few hours a day in a shady location where they will be protected from wind and rain.
Every day you can leave them out a little longer, gradually exposing them to the sun. Keep in mind that the soil will dry out much faster outside, so check on them often. Don't allow the soil to dry out completely, but it can get a little drier than normal. This is part of the process to harden off seedlings; the plants need to get used to not always having consistently moist soil.

When the weather is warm enough, the seedlings can be left outside for good. But you may still want to protect them from heavy rains, or remove the bottom tray so they don't drown.
It can be a bit of work to harden off seedlings. Moving them in and out every day is a chore, especially if you have a lot of seedlings. But it is essential to ensure the survival of your seedlings. Taking the time to harden off  seedlings can ensure that your seedlings will survive the transplant to the garden.
More Tips For Growing Seeds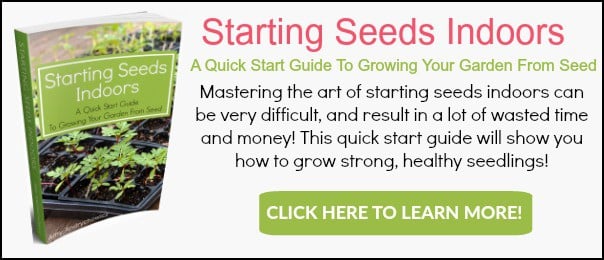 Tell me your stories about hardening off seedlings in the comments section below.
Pin It!