One of the most frustrating things about starting seeds indoors is finding mold growing in your seed trays. It's a super common problem that happens to everyone, and it's easy to fix! In this post, I'll show you step-by-step how to get rid of mold on seedlings, and prevent it from coming back.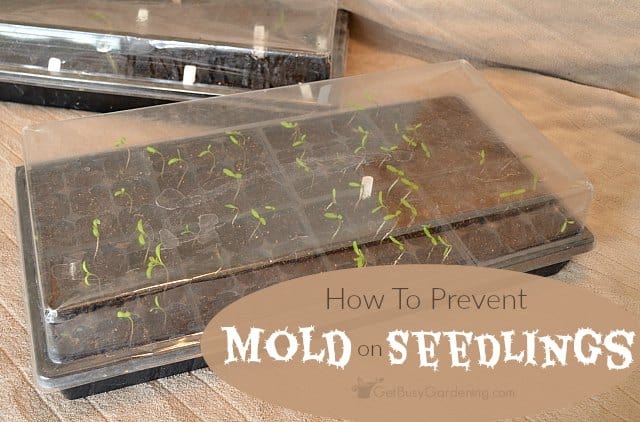 We all know that mold thrives in a warm, damp environment. So, if we're not careful, our seedling trays can become the perfect breeding ground for mold.
It can be super scary when you find mold on seedlings for the first time! But don't worry, it's a problem that's easy to fix with a few small changes.
Recommended Post: How To Care For Seedlings: The Ultimate Guide
Is Mold In Plant Soil Harmful To Seedlings?
There is a common misconception that white fuzzy mold will kill seedlings. But the good news is that mold itself isn't what causes seedlings to die.
If your seedlings suddenly topple over and die off at the base (i.e.: damping off), this is not cause by white fuzzy mold.
Damping off is caused by seedling blight, which is a different type of fungus (that you can't see). So don't worry, the white mold growing in your seed trays is not going to kill your seedlings.
It's what causes the mold growth in your seed planting trays that could eventually kill your seedlings…
What Causes White Mold In Seed Trays
Even though the mold isn't going to kill your seedlings, it is gross. I mean, who wants mold growing in their seed starting trays?
Plus it's a sign that something else is wrong and needs to be fixed ASAP.
The main causes of white mold on seedlings are overwatering, improper ventilation, too much heat, and/or overcrowded seedlings. And, if those things aren't fixed, then your seedlings will die.
How To Get Rid Of Mold In Seedling Soil
The good news is that it's easy to get rid of the mold growing in your seed trays, and you don't need to buy any chemical sprays or powders. Follow these steps to get rid of mold on seedlings…
Step 1: Remove the mold – The first thing you should do is carefully scrape or pull the mold off the top of the soil. I know, this sounds like a really disgusting job. But it's really not that bad.
I use a pencil or a small knife to gently get as much of the mold off the soil as I can, and wipe it into a paper towel.
Don't worry if you don't get every single bit of mold off the soil, or if you're too squeamish to do this part. Once you follow the rest of these steps, the mold will die anyway. This just helps to get rid of it faster.
Step 2: Ventilate your seedling trays – If the lids are still on your seed starting trays, then this is definitely part of the problem.
I usually try to keep the lids on my trays until the seedlings get tall, but if mold starts to grow, then it's time to vent them.
Use a pencil to prop open one end of the lid to get some fresh air into your trays. If all of your seeds have germinated, then you can just remove the lid completely.
Step 3: Allow the soil to dry out a bit – It's super important to make sure you're not overwatering your seedlings. You never want the soil to be soggy, or allow the seedling tray to sit in water for very long.
Ideally, you want to keep soil evenly moist, allowing it to dry out slightly on top between waterings. Never let the seedling soil dry out completely though.
Consistent overwatering will eventually kill the seedlings, so be sure to check the soil every time you water to ensure that you're not overwatering them.
Step 4: Turn off the bottom heat – Once your seedlings have germinated, be sure to turn off the seedling heat mat. Keeping the soil too warm will encourage mold growth, and could also harm your seedlings.
How To Stop Mold From Growing In Your Trays
Taking the steps above will get rid of the mold, but it can grow back at any time. To stop mold from growing again, you need to maintain an environment where seedlings will thrive, but mold won't.
It can be a bit of a balancing act, but you'll get the hang of it in no time. Here's how to keep mold from growing back…
Air Circulation
Providing good airflow is the first defense against mold growth. Keep an oscillating fan gently blowing and rotating over your seedlings during the day.
This gentle airflow also has the added benefit of strengthening the seedlings too! Just make sure to keep a close eye on the moisture level, because the fan will dry the soil out faster.
Water From The Bottom
Another great way to prevent mold growth in your seed trays is to water your seedlings from the bottom rather than the top.
Bottom watering makes it much easier to keep the top layer of soil on the dry side, while ensuring the seedlings are getting enough water. Just make sure to dump out any water that's not soaked up within 30 minutes.
Thin Crowded Seedlings
Like I mentioned above, it's very important that your seedlings get good airflow. Overcrowded seedlings can prevent proper airflow, which means the mold will likely grow back again.
So, if your seedlings are too small to pot up and are super crowded, then you need to thin them. Thinning your seedlings will also ensure that they have plenty of room to grow.
Pot Up Seedlings
If you don't have the heart to thin your seedlings, then you can pot them up instead. You can transplant seedlings into larger seedling pots once they start growing their true leaves.
Potting them up makes it much easier to maintain proper soil moisture, and prevent mold growth. I like to use plantable pots to make transplanting my seedlings into the garden a snap.
If you don't like using peat products and prefer more sustainable options, you could buy plantable pots that are made from coco coir or cow manure (yes, cow poop!!) instead.
Of course you could use plastic pots, and then reuse them year after year (just make sure to wash them between uses).
Add Lighting
Proper seedling lighting will also help to prevent the regrowth of mold on plant soil.
Position a grow light so it always hangs a few inches above your seedlings, and make sure they are getting 14-16 hours of light every day.
Plugging your lights into an inexpensive outlet timer makes it easy. You can buy a seedling grow light kit, or you can make your own seed starting grow lights using a shop light fixture and fluorescent grow light bulbs.
How To Prevent Mold On Seedlings
Now that you know how to get rid of white mold growing in your seed trays, let's talk about how we can prevent this from happing in the first place.
When it comes to any type of seedling problems, prevention is key. It's much easier to prevent it from happening again than it is to fix the problem once it happens. Here are some tips to prevent mold on seedlings…
Use The Right Soil
It's super important to use the right type of soil in your seed flats. Regular potting soil is too heavy for starting seeds, and can cause a whole bunch of problems (including mold growth).
Make sure to use a light, fast draining seed starting medium that is specifically made for growing seeds. You can buy a quality seed starting mix, or you can you can make your own.
Disinfect Your Seed Flats
Mold spores can lay dormant in seedling trays, and regrow year after year. So, it's always a good idea to wash and disinfect your seedling trays between uses.
Disinfecting your seed trays is the best way to prevent any type of mold or fungus from growing, including seedling blight (which causes damping off), so don't skip this step.
Use Seed Trays With Plenty Of Drainage
If you're just starting out, it's so much easier to be successful when you use equipment that was made for starting seeds.
I know this means spending a few extra dollars, but in the end it's worth the cost to avoid all the frustration (and added expense) of losing all of your seedlings.
You can use a seed tray that comes with individual cells like this one, or you could start with a seed pellet kit if you prefer.
Finding mold growing in your seed trays can be very scary and frustrating. It's good to know that the mold won't kill your seedlings, and it is a problem that's easily fixable.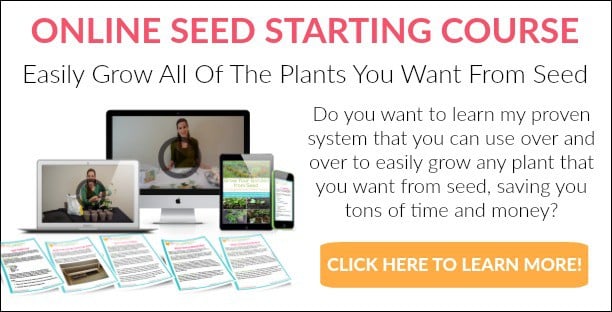 If you need more help and guidance with seed starting, you should take my online Seed Starting Course. It's a self-paced, comprehensive online course that will walk you through step-by-step, and show you exactly how to grow garden seeds, and care for your seedlings. Enroll and get started today!
Want to learn more about planting seeds indoors? Then pick up a copy of my Starting Seeds Indoors eBook. It's a quick-start guide for beginners.
Recommended Products
More Seedling Posts You Might Like
Share your tips for controlling mold on seedlings in the comments below.