Thin my seedlings?!? Eek! I know first hand that thinning seedlings can be a really touchy topic for new gardeners. But crowded seedlings will suffer from all kinds of problems if they aren't thinned out properly.
It can be difficult to hear, but it's something that must be done in order to grow strong, healthy seedlings. If you don't know when or how to thin seedlings (or why the heck you need to do it in the first place), then this post is for you!
In a perfect world, every single seed we plant would grow, and it would be super easy to space all of those seeds correctly in the garden from the start.
But, here in the real world, planting seeds is not an exact science. We know that some of our seeds won't germinate, so we plant more than one seed per cell to make sure there's a seedling growing in each one.
Plus, it's pretty much impossible to plant tiny little seeds one by one, so we sprinkle them over the top of the dirt instead. Then we end up with crowded seedlings!
That's why learning how to thin seedlings is a necessary seed starting evil, and a very important part of successful seedling care.
What Does "Thinning Plants" Mean Anyway?
Thinning simply means removing some of the plants that are growing too close together so that only one plant is left to grow.
Thinning seedlings is a common method that's used to ensure the proper spacing of plants in your garden.
Why Are Seedlings Thinned Out
Thinning crowded seedlings ensures that plants have plenty of room to grow. Thinning is necessary when seedlings are growing in a tight group, or there's more than one seedling growing in a seed tray cell, pellet, or seedling pot.
Seedlings that are growing too close together will eventually end up competing with each other (just like weeds compete with our garden plants).
This means that, as the seedlings grow into mature plants, their growth will be stunted.
Vegetable plants that are overcrowded don't produce as much food as ones that have plenty of room to grow, or they might not produce any food at all.
Also, crowded seedlings started indoors won't get enough air circulation, which can cause mold growth in your seed trays.
Do I Have To Thin My Seedlings? Can't I Just Separate Them?
Yes, you certainly can try to separate some types of seedlings instead of thinning them out. I have had luck with separating some of my seedlings.
But I don't do this much anymore. It's too risky, and it's a total waste of time to plant damaged seedlings that won't amount to much.
Plus, the task of carefully separating crowded seedlings is way more tedious than just thinning seedlings.
If you really, really hate the thought of thinning your plants and removing perfectly good seedlings, then the best way to avoid it in the future is to take extra time to space the seeds apart properly when you plant them.
But even so, don't underestimate the importance of thinning seedlings when it becomes necessary.
When To Thin Seedlings Indoors & Out
When it comes to thinning seedlings, the sooner you do it the better. To give your plants a healthy start to life, they need plenty of growing space right from the beginning.
The longer you wait to thin them, the more you risk stunting the growth of your plants (and, when you have a super short growing season like we do here in MN, plants need all the time they can get to grow to maturity).
If you decide to wait, then plan to thin out seedlings once they get a few sets of their true leaves, but not more than 3-4 sets.
How To Choose Which Seedlings To Thin Out
Find the strongest, healthiest, and most compact seedling in the group, and that's the one you want to keep. Then thin out the others.
If all the seedlings look healthy, then cut the smallest ones off at the base. Keep in mind that the tallest seedlings aren't always the healthiest.
Seedlings will grow weak and leggy when they don't get enough light. So thin out any seedlings that have started to grow tall and leggy.
If the seedlings are all the same size, you can just randomly thin them out, or you can give it a bit more time to see if one of them starts to grow larger (but really, in this case, you can't make the wrong choice, so thin away).
How Much Thinning Do I Need To Do?
If you're thinning seedlings that were started indoors, then you want to thin them so that there's only one seedling left growing per cell, pellet, or seedling pot.
Not only will this give them plenty of room to grow, but it also makes it much easier when it comes time to plant them in the garden.
Seedlings that were sown directly into the garden rather than started indoors should be thinned to the spacing requirements on the seed packets.
How To Thin Seedlings Step-By-Step
Sometimes it can be tough to visualize how to thin seedlings correctly. So, I thought I'd break it down into simple steps for you to follow, with pictures too (because I'm a visual learner, and some of you probably are too). Here are the steps…
Step 1. Decide which seedlings to thin out – Choose the strongest seedling in the bunch to keep, and then thin the rest.
See the "How To Choose Which Seedlings To Thin" section above to figure out which seedlings to thin, and which ones to keep.
Step 2. Use the right tool for thinning seedlings – Garden pruning shears are way too big and clumsy to use for this delicate job, and it's easy to accidentally damage other seedlings in the process. A micro-tip pruning snip or bonsai pruning shears are perfect for thinning seedlings.
Be sure to disinfect your tool before thinning. Disinfect them by dipping the blades into rubbing alcohol, or use a cotton ball soaked in rubbing alcohol to wipe the blades.
Step 3. Cut the seedlings off at the base – Never try to pull the seedlings out of the soil or you could damage the delicate roots of the other seedlings, which could end up killing them too.
This is especially important for carrots and other root crops. One of the main causes of deformed carrots and other root crops is damage to seedling roots when the plants are young.
Step 4. Fertilize the remaining seedlings – Once you're done thinning your seedlings to the proper spacing, give them a shot of plant fertilizer to give them an extra boost!
It's best to use natural fertilizers on seedlings rather than chemical ones. Chemical fertilizers can cause damage to seedlings, and burn their tiny tender roots.
You should use a good quality compost fertilizer on seedlings, which you can get in liquid form or buy compost tea bags to brew your own. Seedlings also love liquid kelp fertilizer or fish emulsion.
Thinning seedlings is a necessary evil when it comes to growing seeds. Even though the thought of thinning seedlings can be really hard, learning how to thin seedlings is important.
Proper plant spacing is crucial for growing healthy plants (and harvesting tons of amazing food!).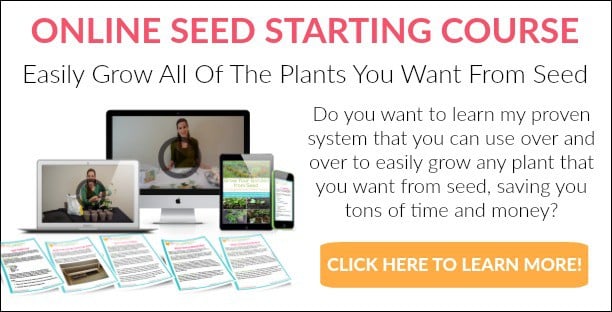 If you're new to growing seeds and want to learn how to grow any plant you want from seed, check out my online Seed Starting Course! It's a wonderful, comprehensive and completely self-paced online course that will teach you everything you need to know about successfully growing garden seeds. Enroll and get started today!
Otherwise, if you just need a quick refresher for growing them indoors, then my Starting Seeds Indoors eBook is exactly what you need.
More Posts About Caring For Seedlings
Share you tips about how to thin seedlings in the comments section below.