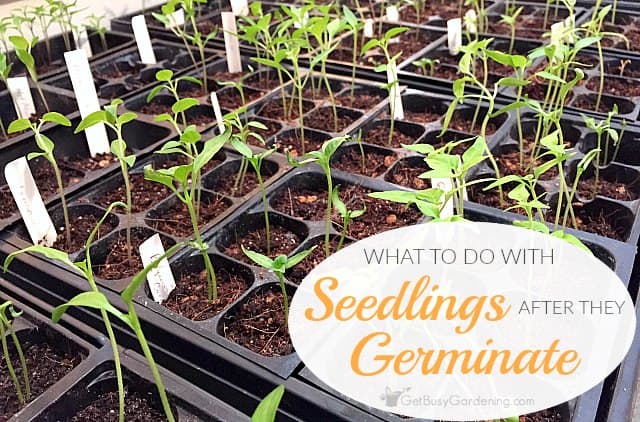 Starting seeds indoors is a great way to save money on your garden. Plus it's really fun to see those tiny little babies sprout and then (amazingly) grow into plants in your garden. I love starting my garden from seed, and I don't think I'll ever be able to NOT start my own seeds.
Related Post: Tips For Starting Seeds Indoors
I'm like a kid on Christmas morning when I start to see the first signs of green in my flats. And, like a kid on Christmas morning running to see the tree, I can't wait to get home from work and go running upstairs to check to see if any of my seeds have sprouted. It's so much fun!
But after the elation of seeing your first sprouts popping out of the dirt wears off, reality sets in and you might suddenly wonder… Oh crap, my seedlings are growing, NOW what do I do?!? (gulp) Well, you're in the right place so keep reading…
What To Do With Seedlings After They Sprout
Starting seeds is one thing, but getting those delicate little seedlings to survive the 6-8 weeks before you can plant them into the garden is another thing. Don't worry, I've got you covered, here's what they need…

Light, light and more light: A south facing window is the ideal spot for starting seeds. If the seedlings start to grow towards the window, rotate the flat daily and consider adding a grow light above the seedlings (this grow light system is really cool!). You can buy a grow light for seed starting just about anywhere these days, but they can be really expensive. To save money, I bought a couple of shop light fixtures (like this one), and added plant grow light bulbs (like these) into them as an inexpensive alternative to fancy grow lights for seed starting. Ideally, the grow lights should hang 6-8 inches above the flats, and be kept on for about 14 hours a day.
Seedling Watering: Seedlings prefer consistently moist soil. Keep in mind that the soil can dry out very quickly once the lid has been removed from the flat. Seedlings can't survive long without water. However, you don't want the soil to be soggy all the time. Soggy soil promotes pest infestations (like soil gnats), mildew and disease, and too much water will ultimately kill the seedlings. The best type of water to use to water your seedlings is rainwater or melted snow warmed to room temperature.
Related Post: Melt Snow to Water Houseplants
Ventilation: Once most of the seedlings in a flat have started to grow, begin ventilating them. Slowly acclimate the seedlings to the room by propping the lid open an inch. Keep propping it open an inch every few days until the lid is completely off, and leave it off. At this point, an oscillating fan can be used if desired. The fan will provide additional ventilation and help to strengthen the seedlings.
Feeding/Fertilizing: The first set of leaves that grow from a seeding are just the seed leaves. As seedlings mature, they will start to grow what's known as their "true leaves", which are all the other leaves that grow on the seedling. Once your seedlings begin to grow their true leaves, it's time to start fertilizing them, but you don't want to feed seedlings a full dose of fertilizer because they are just babies. It's best to start with a weak dose of fertilizer at first, and slowly increase the strength of the fertilizer as your seedlings grow larger. I recommend using a natural, organic fertilizer rather than chemicals. I use (and highly recommend) fish emulsion and an organic compost solution on all of my seedlings – they work better than chemical fertilizers and are much healthier for the environment. Win, win!
Potting up: Once your seedlings start to grow larger, you can pot them up into larger containers – but this step is optional. The general rule is that once the seedlings have grown to be about twice as tall as the height of their container, they should be potted up into bigger containers. Seedlings can handle being kept in small containers for a few weeks, as long as you keep them watered. But, if it's going to be more than a week or two before you are able to plant them into the garden, you might want to consider potting them up into slightly larger containers to give them room to grow.
Plantable pots are a great option for potting up your seedlings, and make transplanting seedlings into the garden super easy. Plantable peat pots are popular and fairly inexpensive, I recommend buying either the 3″ size plantable peat pots or 4″ peat pots for potting up your seedlings. If you're worried about the sustainability of peat, then coco coir plantable pots are a great option (and only slightly more expensive) – you can use either a 2.25″ size plantable pot, or a 3″ size pot. Some people use disposable plastic or styrafoam cups to pot up their seedlings… but honestly, I find this wasteful. If I don't use plantable pots, I prefer potting my seedlings up in reuseable plastic pots rather than using disposable cups. Reuseable plastic pots don't take up much room in storage, and you can clean them (as long as they are made of hard plastic) by putting them on the top shelf of the dishwasher and run it on a "quick wash" cycle. Plus, in the long run it would be much cheaper to buy pots you can reuse year after year than buying disposable cups every year.
Related Post: Easiest Seeds To Start Indoors
Hardening off: Hardening off the seedlings to get them used to living outside is a crucial step. If you planted your seedlings from your house directly into the garden, they would probably wither and die (eek!). The seedlings need time to get used to being outside before they are planted into the garden. Once the weather warms in the spring (above 50F), put the seedlings outside in a shady location for several hours each day. The seedlings should be protected from sun, wind and heavy rain. Gradually expose them to the sun over several days. Keep in mind that the soil will dry out much faster outside, and the flats may need to be watered more than once a day, so check on them regularly. When the weather is warm enough, the seedlings can be left outside overnight. Read more… How To Harden Off Seedlings
Transplanting seedlings into the garden: Ok, so you got your seedlings to live for 6-8 weeks, that's awesome! Now you're probably wondering when you can start to plant your seedlings out into the garden. Cold weather plants like broccoli, cauliflower, carrots, radish, parsley, leafy greens (like lettuce) and others that can handle light frost can be planted as early as 2-4 weeks before your average last frost date. Warm weather seedlings like tomatoes, cucumbers, basil, beans, squash and peppers shouldn't be planted into the garden until after all chance of frost is gone. If you don't know your average last frost date, check with a local garden center.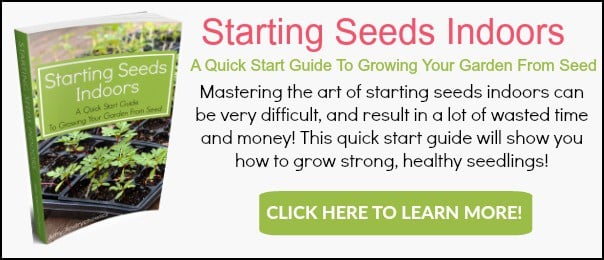 More Tips For What To Do With Seedlings
For more help with seedlings and seedling care, click here… Seedlings
Leave a comment below and share your tips for what to do with seedlings after they sprout.