Most of the common houseplants sold in garden centers are actually tropical plants. Tropical plants make excellent houseplants because they are very easy to care for, and most of them have the same basic needs. That's great new for us, and it makes tropical houseplant care much easier!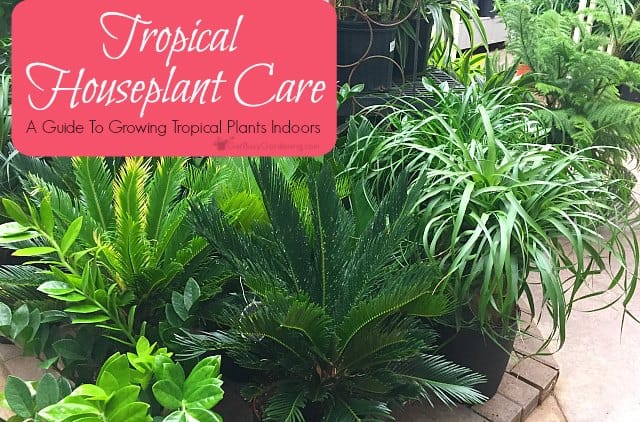 Growing Tropical Plants Indoors
When you go shopping for a new houseplant, you might notice that most garden centers carry a lot of the same varieties of indoor tropical plants. Well, the reason for that is because those are the types of tropical plants are the easiest indoor plants to grow. Tropical plants make excellent houseplants because many of them can easily adapt to growing indoors. Many of these plants come from tropical forests where they live under the shade of large trees. That means they don't need a lot of light, which is perfect since most of us don't have a lot of sun in our homes anyway. Plus, the reason they're so popular as houseplants it that most tropical plants don't require a ton of special care. That makes keeping them alive so much easier!

Best Indoor Tropical Plants
There are hundreds (probably even thousands) of different types of tropical plants for indoors, so there's no way I could come close to naming them all here (besides, who would want to read all of that anyway?). So, I've put together a list of some of the most common indoor tropical plants found for sale at garden centers, and also some of my personal favorites.
Spider plants
ZZ plants
Chinese evergreen
Peperomia
Alocasia
Pothos
Money tree plant
Rubber tree plant
Philodendron
Ferns
Croton
Dracena
Tropical Houseplant Care Tips
Like I mentioned above, most common tropical indoor plants have similar growing requirements. That's awesome for us, and it makes tropical houseplant care so much easier! Of course, every plant is different so it's best to look up the exact type of tropical plant you're growing to make sure it doesn't have any special needs. But here are some general guidelines for the best care of tropical plants.
Watering Indoor Tropical Plants
Most tropical plants like their soil to stay evenly moist, but not wet. This can be tricky to get just right. Many common houseplants will tolerate being under watered once and a while, but overwatering is the number one cause of death for tropical indoor plants. So, try not to allow either extreme to happen. Check your plants regularly, and only water them if they need it. To see if a plant needs water, stick your finger down about an inch into the soil. If the soil feels wet, then it doesn't need to be watered. If you struggle with watering plants correctly, I highly recommend using a soil moisture gauge so you know how often to water tropical plants.
Humidity And Houseplants
Humidity can be another big factor when it comes to tropical houseplant care. Tropical plants like it humid, which makes sense if you think about where they're from (the humid tropics). The good news is that most common tropical houseplants will easily adapt to living indoors where the air isn't usually very humid. Some plants are more sensitive to it than others though, and it never hurts to add more humidity to the air when it's dry.
There are several things you can do to help increase the humidity level around your tropical houseplants. You can run a humidifier near them, put your plants on pebble trays filled with water (don't allow the plant to sit in the water though) grow small plants in a decorative plant cloche or put a bunch of them into a mini indoor greenhouse. Grouping the plants together also works pretty well. Put an indoor humidity monitor near your tropical plants to keep an eye on the humidity level.
Light Requirements For Tropical Indoor Plants
There are many types of tropical houseplants that adapt well to the low light conditions indoors… but there are some that need bright light to grow their best. Again, it's best to look up the specific type of plant you have so you know for sure. If you put a plant that prefers low light in a sunny window, it can burn their leaves and could kill the plant. On the other hand, if you try growing plants like croton, rubber tree, and some varieties of dracenas without much light, they will start to grow long and leggy. So, if any of your tropical plants have started to grow leggy and are reaching for the window, that means they need more light. Move the plant to a sunnier spot, or add a grow light. On the other hand, if you have a tropical plant growing in a sunny window and the leaves start to burn, then move it to an area where it's protected from the hot sun.
Best Soil For Potted Indoor Plants
When it comes to soil, most indoor tropical plants aren't super picky, they will grow just fine in a general purpose potting soil. If you usually end up overwatering plants, then I would recommend adding extra perlite or pumice into the potting soil so that the water will drain out faster. On the other hand, if you often forget to water your plants, then you can mix some peat moss and/or vermiculite into the general purpose potting soil to help retain moisture longer.
Natural Indoor Plant Fertilizer
Tropical plants will benefit from being fed during the spring and summer, so be sure to make it a regular part of your tropical houseplant care routine during those months. I recommend using organic plant fertilizer on tropical plants because many of them are sensitive to chemical fertilizers, and can burn easily. A good, organic general purpose compost fertilizer is a great choice. You can use a pre-made compost liquid fertilizer, or you can buy compost tea bags and brew your own. You could also add a slow-release organic granular fertilizer to the soil if you prefer doing that. Don't fertilize tropical plants during the winter months unless you're growing a plant that requires it.
Insect Pest Control For Tropical Plants
Houseplant pests can be a major pain, and dealing with them is no fun. The best thing you can do is keep your tropical plants healthy and thriving, because healthy houseplants don't usually have insect pest issues. But, inevitably, if you grow houseplants, you'll probably have to deal with pests at some point. Spider mites and soil gnats are two of the most common types of houseplant pests, and they love tropical plants. If you find that a plant has bugs, begin treatment immediately. Don't use chemical pesticides on houseplant pests though, they aren't very effective (plus they're harmful to us and our pets!). I recommend using organic neem oil, which is a natural pesticide. I also like to use a mixture of 1 tsp Dr. Bronner's Baby-mild Liquid Soap per 1 liter of water to kill houseplant pests. Insecticidal soap or horticultural oil also work great.
Related Post: How To Control Houseplant Pests
There are tons of cool, unique tropical plants that make excellent indoor plants. Common plants sold in garden centers are easy to grow, and have the same basic tropical houseplant care requirements. Tropical plants are awesome, and it's fun to collect them (I know I have quite the collection myself!). They're definitely some of the best indoor potted plants to grow, and who doesn't love to add a little bit of the tropics into their house?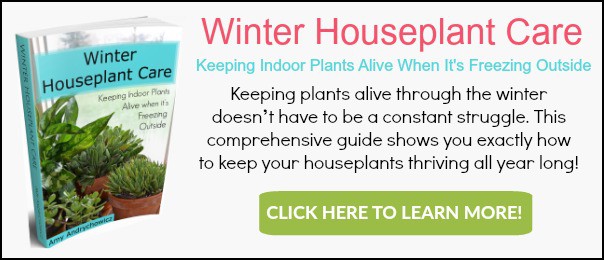 More Posts About Tropical Indoor Plant Care
Share your tropical houseplant care tips in the comments section below.
Pin It!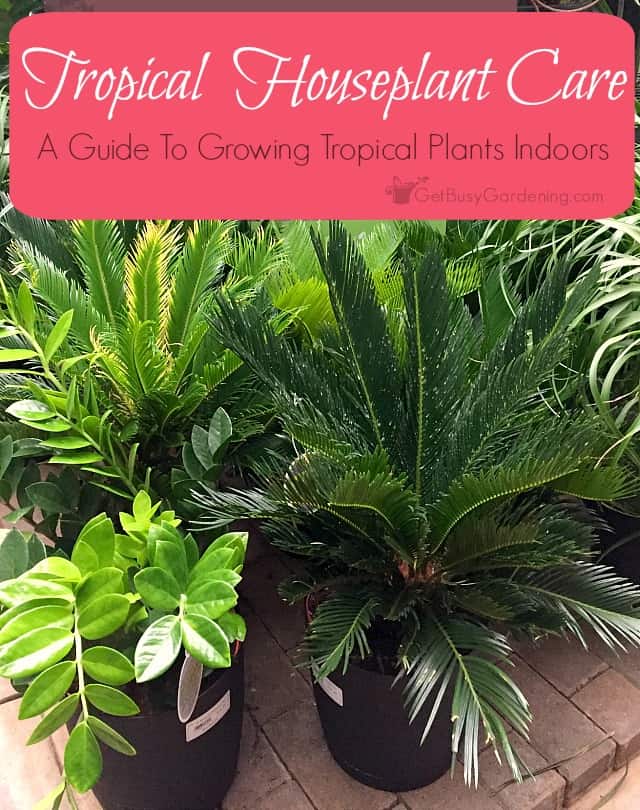 .