Plumerias are wonderful tropical plants that grow gorgeous, and very fragrant flowers. You might know them better as a Hawaiian lei plant (plumeria flowers are used to make leis), or maybe by their proper name frangipani.
You can only find them growing outdoors in the warm tropics, but did you know that they can easily be grown in pots in cold climates too! With the proper plumeria plant care, a potted plumeria plant can thrive and bloom year after year.

When I think back to my trips to Hawaii, one thing that I remember the most was all of the gorgeous plumerias growing and blooming everywhere! It made the air smell amazing, and made me feel like I was in a flowery wonderland.
So of course, I just had to bring a plumeria plant home with me when I came back to Minnesota. My new baby Hawaiian plumeria plant was only about a foot tall when I got it, and it bloomed shortly after I brought it home.
The blooms were beautiful and smelled fantastic!
Since plumerias are so exotic, and only grow in tropical places, most of us only get to see them when we're on vacation.
The thought of growing them in a place like Minnesota sounds like it would be really hard. But plumerias are actually pretty easy to grow in pots, and require very little care.
Tips For Plumeria Plant Care
With the proper plumeria plant care, these wonderful tropical plants can live for many years in pots. My plumeria is more than 15 years old (!!), and for most of those 15 years I was clueless about how to grow it.
So trust me, they're pretty easy to keep alive (even if you're clueless about how to grow them!). But, now that I've had plenty of experience growing them, I get to make it much easier for you!
So follow these plumeria plant care tips to keep your plumeria growing and blooming year after year.
Watering Plumeria Plants
Plumerias like a lot of water during their active growing season (spring and summer), but won't tolerate being overwatered. If a plumeria plant is consistently overwatered, the stem will rot and it will kill the plant.
It's kind of a funny combination, give it a lot of water… but don't overwater it? I know it sounds hard but don't worry, it's actually pretty easy.
During the summer months, give your plumeria a really good drink of water, and then allow the soil to dry out between waterings. If you tend to overwater plants, make sure to check the soil each time before you water your plumeria.
To check the soil, stick your finger about an inch into the soil and if it's wet, don't water it. You can use a soil moisture gauge to help maintain the right level of moisture.
You might also want to grow your plumeria in a terracotta pot, which will help the soil dry out faster.
Plumerias go dormant during the winter, so it's best not to water them at all during those months.
Now that sounds easy, right?
Plumeria Light Requirements
Plumerias will grow just fine in low light or shady conditions, but they need full sun in order to grow their best and also to bloom.
If you're growing your plumeria outside, keep it in a full sun location. I put my potted plumeria outside during the summer in the full sun, and then bring it back indoors during the winter.
Be careful if you move it outside for the summer, because the leaves and stems can get sunburn. In order to avoid sunburn, put it in a shady spot for a few days, and gradually introduce it to a full sun location.
Best Soil For Plumeria Plant
Potted plumeria plants need to be planted in a fast draining soil, one that doesn't hold much moisture.
You don't necessarily need to buy a special plumeria potting mix, they will grow just fine in a general purpose potting soil (and that's what mine is growing in).
But if you're worried about overwatering, then I recommend mixing some perlite, pumice or coarse sand into your plumeria potting soil to help with drainage.
Otherwise, you can use a regular succulent potting soil, or even a super coarse succulent soil if you're really worried about overwatering.
Plumeria Fertilizer Schedule
When I first brought my plumeria home from Hawaii all those years ago, it bloomed almost right away! I was very excited, and thought that getting my plumeria to bloom on a regular basis would be easy.
As it turns out, it is NOT easy when you have no clue what you're doing.
It actually took me years to figure out why my plumeria wouldn't bloom. Turns out, I was missing one key ingredient… fertilizer!
Plumerias are heavy feeders, and plumerias growing in pots will for sure need fertilizer to bloom. Most of the time a potted plumeria won't bloom without it.
Now that I've learned this key plumeria plant care fact, it will be super easy to get my plumeria to bloom consistently every summer.
Yippie!!
The trick is to fertilize them every 1-3 weeks during their active growing season (spring through summer). It sounds like a lot, right!? But like I said, they are heavy feeders.
And just like with watering, you should plan your plumeria fertilizer schedule around the seasons.
So, fertilize them from spring through summer, stop in the fall, and don't fertilize them at all during the winter when the plant is dormant.
That's pretty straight forward!
As for what is the best plumeria fertilizer to use, you can buy organic plant fertilizer specifically made for plumerias and other topical plants.
If you'd rather stick to using a more generic type of houseplant fertilizer, compost tea is always a great option. You can buy compost fertilizer in liquid form, or you can buy tea bags and brew your own.
Other great options for plumeria fertilizer are fish emulsion or liquid kelp (but only use these two on plants growing outside, they can get a bit stinky when used inside).
Plumerias also love it when you spray the liquid fertilizer solution on their leaves, so don't hold back! Just make sure to spray it on either in the morning or evening, because spraying plants in the hot sun could damage the leaves.
Propagating Plumeria Plants
Plumeria plants are pretty easy to propagate by stem cuttings. It's actually very similar to propagating succulents if you know how to do that.
Here are the quick steps for propagating plumeria cuttings:
After taking the cutting, remove the largest leaves from the cutting
Allow the cut end to callus over for a few days before trying to root it, or it may rot
Dip the cutting into rooting hormone, then stick it into a propagation soil made with perlite, soil and sand, or use a gritty succulent soil mix
Mist the cutting regularly, or put it in a humid environment – but don't water it
Once you see new growth on your plumeria cutting, that's a sign that it has grown roots
Now you can water it, fertilize it, treat it like you would the parent plant
Related Post: What Is Plant Propagation (and how to get started)
Insect Pest Control
I've never had any plumeria pest issues while my plant is outside during the summer. But, bringing the plant inside for the winter is a whole different story.
Over the years, I've only had problems with spider mites and whiteflies attacking my plumerias.
I used to battle the whiteflies, and get super frustrated by them until I learned that the best way to avoid plumeria pest problems is to allow the plant to go completely dormant during the winter.
When it goes completely dormant, it will drop all of it's leaves. And guess what… no leaves, no bugs!
But, that's no guarantee. So, if you still have issues with houseplant pests, I recommend using neem oil, which is a natural pesticide. It works like a charm, and I haven't had a problem with whiteflies since using it.
If you don't want to worry about mixing your own, you can buy a pre-mixed horticultural oil spray instead.
A soapy water spray is also very good for controlling plumeria pests like spider mites. I use a mixture of 1 tsp Dr. Bronner's Baby-mild Liquid Soap per 1 liter of water, or you can buy an organic insecticidal soap if you prefer.
Be sure to spray both the tops and undersides of all of the leaves. Bugs (especially whiteflies) like to hide under the leaves.
Related Post: How To Control Houseplant Pests
How To Prune Plumeria Plants
Plumeria plants will grow tall and leggy over time, so it's best to prune them regularly to keep them looking their best (and to encourage tons of flowers!).
Pruning your potted plumeria helps to keep it small, and maintain a compact, fuller shape. Plumerias can handle a pretty severe pruning, but never cut them all the way down to the ground.
Also, keep in mind that heavy plumeria pruning will probably keep your plant from blooming for a while, so I don't recommend it unless it's totally necessary.
It's best to prune plumeria plants in the spring, or right after they're done blooming. Pruning plumeria encourages the plant to put on new growth, and you don't want that in the fall or winter months.
Use sharp (and sterile) pruning shears to prune your plumeria, so you make sure to get a nice clean cut. You can wash your pruners with soap and water, or dip them into rubbing alcohol to sterilize them.
Also, plumerias are very sensitive to tip rot, so make sure to make your cuts at an angle where water can't settle into the cut and cause the branch to rot.
Don't forget to keep your plumeria cuttings and propagate them for new plants (see the section on propagation above)!
Overwintering Potted Plumerias and Dormancy
If you live in a cold climate like I do, you can't grow plumerias outside year round. Plumerias are tropical plants (one of the best tropical plants if you as me!), and won't tolerate the cold.
But, as I've already mentioned a few times, plumerias go dormant during the winter. This makes them super easy to overwinter indoors!
Once the temperatures start to cool in the fall, and there's less sunlight, your plumeria will start to go dormant naturally. This is the time to stop fertilizing, and slow down on watering.
As your plumeria starts to go dormant, it will begin dropping it's leaves. This is totally normal, so don't panic. Your plant might not drop all of it's leaves, and that's ok too.
If you moved your plumeria outside during the summer, make sure to bring it back inside before the temperature gets below 40F.
Then you can simply store your potted plumeria in a room that doesn't get much light through the winter, and ignore it until spring.
Well, don't completely ignore it.
You should keep an eye out for bugs, and also check it a few times during the winter to make sure there aren't any signs of tip rot.
Troubleshooting Problems
Potted plumeria plant care can be a bit tricky if you tend to overwater your plants, and plumerias don't take kindly to being overwatered.
Other than rotting, the other main problem you'll probably have to deal with are houseplant pests. (See the pest control section above for information about bug problems.)
Tip rot (the stem is rotting from the top) – In my experience, tip rot is a pretty common problem with plumerias, especially during the winter. Tip rot can happen if water somehow gets into the top of a branch, or there was some kind of a wound. The tip of your plumeria will turn gray, brown or black and be mushy. It's not always easy to spot, so I try to check my plumeria for signs of tip rot a few times during the winter. If left untreated, tip rot will spread, and could eventually kill the plant. You can save your plumeria by pruning off all of the rotted pieces of the stem.
Stem rot (the stem is rotting from the bottom) – If the stem is mushy and rotting at the base, then you have a more serious problem. Plumeria stem rot is caused by overwatering. If left untreated, your plumeria will die for sure. If the rot isn't too severe, you can save your plant by taking cuttings of the healthy stems or branches and rooting them (see the propagation section above for details).
My plumeria won't bloom – This is probably the #1 question I get asked about growing plumerias, and there is one simple answer… fertilizer! Plumerias need fertilizer in order to bloom, and lots of it. The good news is that it's such an easy fix. And, once you get the hang of it, your plumeria will flower from spring through fall. Wow! That's what we want, and it's why we love them so much, right! See the plumeria fertilizer section above to learn more about how to make feeding a regular part of your plumeria plant care routine.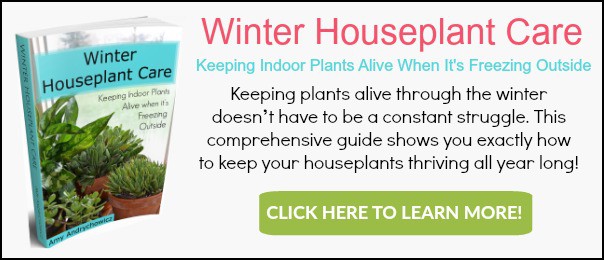 Plumerias are wonderful, tropical plants that are easy to grow in pots! And that's great news for those of us who live in a cold climate, so we can enjoy these amazing beauties too!
Once you know the tricks for plumeria plant care, you'll be rewarded with yummy smelling flowers all summer long!
Products I Recommend
More Posts About Flowering Houseplants
Do you grow plumeria? Share your plumeria plant care tips in the comments section below.