Pothos are wonderful, classic houseplants to grow, and the care could not be easier! In this article, I am going to tell you everything you need to know about pothos plant care. I'll also give you tons of information about them, answer your FAQs, help you troubleshoot problems, and so much more!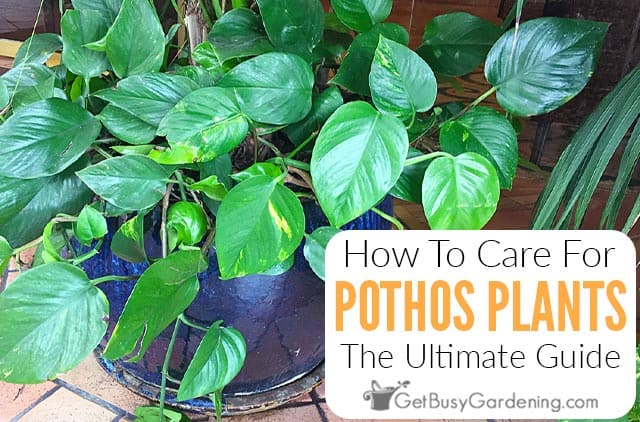 Pothos plants have a special place in my heart, because I grew up surrounded by them. My mother loves indoor plants, and this has always been one of her favorites.
In fact, my very first houseplant was a pothos. I don't remember it, but my mom likes to tell the story about how I brought a few rooted cuttings home from nursery school one day.
Those small cuttings flourished under her loving care and, over the years, have turned into dozens of new plants (which she keeps trying to pawn off on me, haha!).
I was super excited to write this post, so that I can share all of the knowledge I have learned over my lifetime of growing pothos plants with you.
I'll cover everything from their hardiness, to light, water, and soil requirements, fertilizing, repotting, pruning, propagation, fixing common problems, and much more!
Here's what you'll find in this detailed pothos plant care guide…
Information About Pothos Plants
Pothos (Epipremnum aureum) might just be the most common indoor plant that there is! That's because they are simple to care for. In fact, it's one of my top picks for the easiest houseplants that you grow.
There are numerous names that you may have heard for this plant, including: golden pothos, devil's vine, devil's ivy, silver vine, and taro vine.
Regardless of what you like to call it, pothos is identifiable by its waxy, heart-shaped leaves, and interestingly patterned foliage.
In its native habitat (the Solomon Islands, just off the coast of Australia), it grows on the forest floor. But the vines often climb up nearby trees or other taller plants, and can reach as long as 30 feet.
Different Types Of Pothos
There are numerous devil's ivy varieties available, and their differences are primarily in the leaf color. The most common is the Golden Pothos, identifiable by its speckled green and yellowish colored foliage.
Other varieties include Marble Queen, Pearl & Jade, N-Joy, neon, or Manjula, which are all more profoundly variegated, and require increased sunlight.
Pothos Toxicity
Devil's ivy plants of every variety are toxic to cats and dogs (source: ASPCA plant list). So be very careful where you place it if you have pets or small children in your home.
How To Grow Pothos
Before diving into the details of pothos care, it's important to understand a few basic things about them. That way, you'll be setting yourself up for the best success.
Hardiness Of Pothos
Though they are most commonly sold as houseplants, pothos is actually a tender perennial in its native climate. But, they're only hardy down to zone 10.
They thrive in temperatures between 60-90F, and will start to suffer if it gets colder than that. Pothos will not survive if it gets below freezing.
Where To Grow
Unless you live in a warm and tropical climate, you'll need to grow pothos exclusively indoors. They definitely benefit from spending the summer outside though.
You could plant pothos outdoors during the summer months as an annual vine. It makes a great filler in containers and hanging baskets too.
But, if you want to keep it alive for the long term, then be prepared to move it inside before it gets too cold in the fall.
Otherwise, if you live in a warm enough climate, they make a wonderful ground cover in the garden, climbing a trellis, or trailing over a retaining wall.
If you do grow it outside, be sure to put it in a shady spot where it will be protected from the full sun.
Pothos Plant Care & Growing Tips
The good news is that all types of devils's ivy plants have the same basic growing requirements. So you can follow these pothos plant care instructions no matter what type you have!
Sunlight
One of the reasons pothos makes such an excellent houseplant is that it thrives in a wide range of light levels. But ideally, they prefer bright, indirect sunlight.
All varieties can adapt to less sunlight, but the intensity of the leaf color and the variegated contrast won't be as strong.
Keep them out of the full sun though, or it will burn their tender leaves. A spot near a sunny window where they will get dappled or filtered light, or a shady location outside would be perfect.
Watering
Pothos enjoys drying out a bit between waterings. That's right! They thrive on occasional neglect. However, never let the soil dry out to the point where the plant starts wilting.
This habit is very stressful for them. If it dries out severely too often, then the foliage will begin to turn yellow or brown, and could start dropping.
You can remedy this by giving your pothos a good soaking drink until water starts running out of the drainage holes. Then dump out the excess, and never allow the pot to sit in water.
Keep in mind that they strongly dislike soggy or saturated soils, so avoid overwatering. If you struggle with giving them the perfect amount, then get yourself an inexpensive soil moisture gauge to make it super easy.
Fertilizer
Pothos is a light feeder, so it's not necessary to fertilize them very often. For best results, use a water-soluble fertilizer or compost tea (either a concentrate or tea bags) monthly during the spring and summer.
If you prefer, you could add slow release granules to the soil a few times during the warm months instead of feeding with a liquid. Stop fertilizing in the late summer, and don't feed them during the winter at all.
Potting Soil
Pothos plants aren't super picky about the type of soil they're growing in, so you don't need to buy a special mix for them.
However, the best type of soil is one that is soft and workable, and allows for proper drainage. So, be sure to use a good quality potting mix for them.
If you're someone who tends to overwater, then I recommend mixing some pumice or perlite into the soil before planting. This will add extra drainage, and help prevent overwatering.
Repotting
Another thing that makes pothos care so easy is that they don't need to be repotted very often. They can happily grow in the same container for many years.
Actually, they prefer to be pot-bound, so it's best not to repot them too often. However, if the growth becomes slow, or they start to suffer, then it may be time to move them into a new pot.
The best time to repot pothos is in the spring or early summer. Be sure to always choose a container that has drainage holes in the bottom, which will help to prevent overwatering.
It's also best not to go too big on the pot. So, choose a planter that is only 1-2 sizes larger than the one it's currently growing in.
Pruning
One of the coolest things about this beautiful plant is that they have long, vining stems. However, when the vines are left to grow super long, many times they can become bare and leggy.
This isn't pretty, and is a common complaint I hear from newbies. So, in order to keep them full and lush, you'll need to prune the vines as a regular part of your pothos plant care routine.
Pruning will trigger fresh new growth, and encourage branching, resulting in a fuller plant. Once a vine starts to look bare, simply cut it off using a sharp pair of micro snips.
For best results, make your cuts just above an existing leaf and stem joint. Shortly after pruning devil's ivy, new growth will begin to form right below the spot where you made the cut.
Oh, and be sure to keep the clippings so you can propagate them. We'll talk about exactly how to do that a little later in this article.
Pest Control
It's not very common for pothos to have problems with bugs. However, they can occasionally become infested with mealybugs, which feed on the leaves, and can cause stunted growth.
These insects leave behind a white, waxy residue. If you see evidence of mealybugs, treat your plant with organic insecticidal soap or use neem oil.
You could also try dipping a cotton ball in rubbing alcohol, and wiping the underside of each leaf weekly until all evidence of the insect disappears.
Another common bug you may encounter is fungus gnats. They are tiny black gnats in the soil, and are caused by overwatering. So, if you see those, then allow the soil to dry out more between waterings.
The best prevention for these insects is keeping your pothos healthy. Plants suffering from neglect or too much water are more susceptible to pest infestations.
Pothos Plant Propagation Tips
One of the best things about growing pothos is that they are ridiculously simple to propagate. In fact, this is one that many people use when they try propagating plants for the very first time!
As I mentioned above, you should prune devil's ivy vines to keep them growing full and vigorous. Then you can place those cuttings in a vase of water to root them.
The cut-off pieces will begin to root in the water after only a couple of weeks. Once the roots are a few inches long, you can pot them up into a container, creating a brand new plant.
Place these new plants all over your house or office. Or give them away to friends and neighbors so they too can enjoy them in their homes too.
Troubleshooting Pothos Care Problems
The most frustrating part of pothos care is when your plant starts having problems, but you have no idea what is wrong! Or worse, how to fix it.
So, in this section, I will list a few of the most common problems you may have. I'll also tell you what could be causing it, and give you tips for how to fix it.
Yellowing leaves – While the most common cause is overwatering, yellow leaves can also be caused by consistent under watering. Always check the soil before adding more water, and never allow it to dry to the point where the plant starts drooping.
Brown leaves or edges – When the leaves or edges turn brown and crispy, that is almost always caused by under watering. Be sure to keep the soil evenly moist, and never let it become bone dry.
Leggy vines with no leaves – This is very common for pothos, and happens as the vines grow longer with age. The best way to avoid (or fix) this problem is with regular pruning.
Stems turning yellow – If the stems begin to turn yellow, it is because of inconsistent watering – most likely too much. Unfortunately, once the stems turn yellow, you can't save them. So just prune them out, and keep any healthy clippings for propagating.
Brown spots on leaves – The main cause of brown spots on the leaves is either sunburn, or exposure to extreme heat (like sitting next to a fireplace or heat vent). Check the environment, and move the plant to a different location if necessary.
Leaves turning black – When the leaves suddenly turn black, that means they have been exposed to extreme cold. This could happen when the leaves are touching a window during the winter, are near a drafty window or door, or if they are left outside during freezing temperatures. Check the location, and move your plant if necessary.
FAQs About Pothos Care
Here I will answer some of the most frequently asked questions about pothos plant care. If you can't find an answer to your question after reading through all of this, then ask it in the comments section below.
How often do you water a pothos plant?
Rather than watering on a set schedule, it's best to only water devil's ivy when they need it. Monitor the soil weekly, and only water when it's dry to touch. Check it by sticking your finger one inch into the soil. If it feels dry, then water it. If it feels wet, then wait.
Do pothos plants need sunlight?
Though they adapt very well to low light conditions, pothos needs bright, indirect sunlight in order to grow their best. When kept in the shade, the intensity of the variegated colors will fade, and the leaves tend to turn more green.
Why are the leaves on my pothos plant turning yellow?
The most common cause of yellow leaves on a devil's ivy is overwatering. However, the leaves can also turn yellow if the soil dries out too much. To prevent this problem, allow the soil to dry slightly between waterings, but never to the point where the plant starts to droop.
Why is my pothos plant dying?
The number one cause of death for pothos is root rot from consistently overwatering. However, if they are neglected on a regular basis to the point where they wilt, this could also cause them to die. Other common reasons are exposure to freezing temperatures, or sitting in direct sunlight for too long.
Can pothos be grown in water?
Yes, devil's ivy can be grown in water, and this is an easy way to propagate them. But, it's not a good practice to keep them in water long-term. If left in water for too long, the stems could start to rot. Also, the longer they stay in water, the harder it will be for them to adapt to growing in soil again – and the shock could be fatal.
Why is my pothos not growing?
If your devil's ivy seems to have stopped growing, then it could be a couple of things. The most common reasons are lack of light, lack of nutrients (i.e.: fertilizer), or your plant is completely pot-bound. Give it bright, indirect sunlight, feed it regularly, and/or repot if it's been in the same container for a long time.
Pothos are the perfect houseplant for beginners and experts alike (and definitely a must for me!). With minimal maintenance, you'll have a beautiful indoor plant that you can easily share with all of your friends. Follow these pothos care instructions, and yours will flourish for a lifetime.
Are you tired of struggling to keep your indoor plants alive during the coldest months of the year? Then you need a copy of my Winter Houseplant Care eBook! It will show you all that you need in order to maintain healthy houseplants all year round. Download your copy today.
Related Products
More About …
Tell us your best pothos plant care tips in the comments section below!