One of the biggest frustrations an indoor gardener can face is dealing with houseplant pests. It's very frustrating, and can even be devastating to find bugs on a beloved houseplant. Sometimes it feels like it's a constant battle to keep your houseplants healthy and bug free all winter.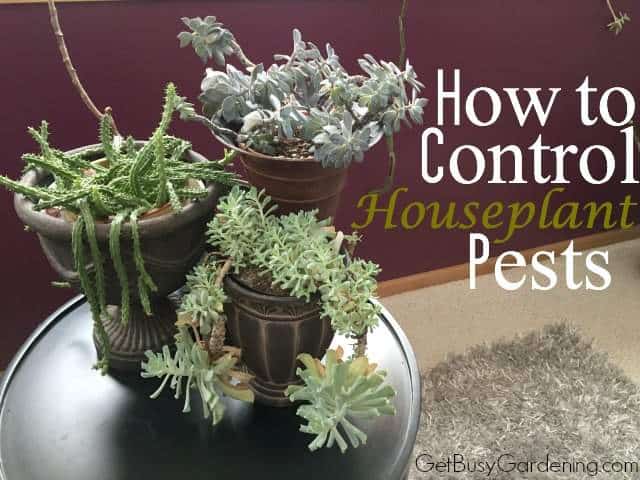 Yep, I can relate! Confession time… there have been winters where I have felt like giving up and just tossing all of my houseplants out into the snow. Ugh! But we can win the battle, and get rid of those pesky bugs for good!

Houseplant Pests Love The Winter
Though houseplants can become infested with pests any time during the year, they are most vulnerable in the winter. Here's why…
Houseplants go into a state of dormancy during the winter, which can make them more prone to attacks from pests.
Winter growth on a many houseplants is weaker than it is in the summer, making it more vulnerable to infestation.
Humidity levels are much lower in the house during the winter, which is the perfect breading ground for pests like spider mites. Plus, your plants don't get any fresh air.
Pest infestations are worse in the house than they are outside because there are no natural predators to control the pest population (unless you raise lady bugs, or other beneficial bugs – which some people do!).
Related Post: Keeping Houseplants Happy During The Winter
Many of you may have already had issues with a houseplant pest infestation, and never realized it. Maybe you had a plant that seamed perfectly healthy one day, then the next day it started to die and you couldn't figure out how to save it.  Or maybe you had a plant that you knew was infested, but you didn't know what to do – so you really did just throw it out into the snow. (how you like me now bugs!?) Don't despair my friends! There are many ways to deal with houseplant pests, and we can win this battle.
If you have houseplants, at some point you will probably have to deal with houseplant pests. It just goes with the territory. The best defense against any houseplant pest infestation is prevention. Over the years, I have dealt with many houseplant pest infestations, and have learned ways to prevent and control them.
How To Control Houseplant Pests
Keep it sanitary – Always clean and disinfect pots before reusing them. I like to use the dishwasher for this task.
Keep it fresh – If you're repotting a houseplant, it's fine to reuse the soil in the new container for the same plant. But you should never reuse potting soil from one houseplant to repot another plant. If the houseplant that you are repotting has recently had bugs, it is a good idea to remove and throw out as much of the dirt as you can, and replace it with fresh potting soil. This can help prevent a future infestation. But don't repot a plant just because it has a pest problem. Repotting can further stress an unhealthy houseplant, which could end up being fatal to the plant.
Keep it sterile – Always use sterile, commercial potting soil when you pot your plants; and never, never use garden soil! Most common houseplant pests live and breed in soil. Also be sure to sterilize your clippers and other tools each time you use them. You can wash them with soap and water, or you can dip them in rubbing alcohol between uses. And don't forget to wash your hands after handling an infested plant.
Keep it in check – Check your plants on a regular basis for signs of pest problems, I usually do this each time I water my plants.
Keep it clean – If you find any pests on your houseplants, be vigilant in fighting them. Inspect your houseplant daily and continue to treat the plant until all signs of the infestation are gone. Most common houseplant pests multiply very quickly, and it takes several treatments to control or eliminate them. I recommend investing in some organic neem oil. and some mild liquid soap (I use Dr. Bronner's Baby-mild Liquid Soap).
Keep it isolated – If one of your houseplants has a pest problem, isolate it for several weeks during treatment. Also, when you bring home a new plant, make sure that you inspect it closely for any signs of bugs. It's good to isolate new houseplants for a few weeks to make sure no infestation shows up.
Types Of Houseplant Bugs
If you suspect that you have pest problems on your houseplants, here's a quick guide to help you identify which houseplant pests are bugging them. Click on the links to read detailed information about each of these common houseplant pests, and how to kill them…
Houseplant pest infestations are no fun, but you can win the battle!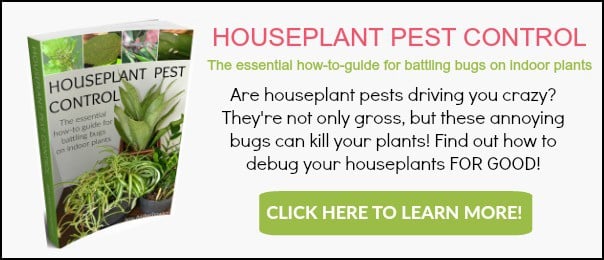 More Information About Houseplant Pest Control
Products I Recommend
For more information and tips for how to combat those super annoying indoor garden pests, click here… Houseplant Pests
How do you control houseplant pests? Leave a comment below and share your own experiences.
Pin It!