Peace lily (Spathiphyllum) plants are one of the most common (if not THE most common) houseplants out there. It seems like everywhere you go, you see peace lilies growing as office plants or houseplants. Well, that's because they are super easy to care for! Follow these simple peace lily plant care tips to keep your plant thriving year round.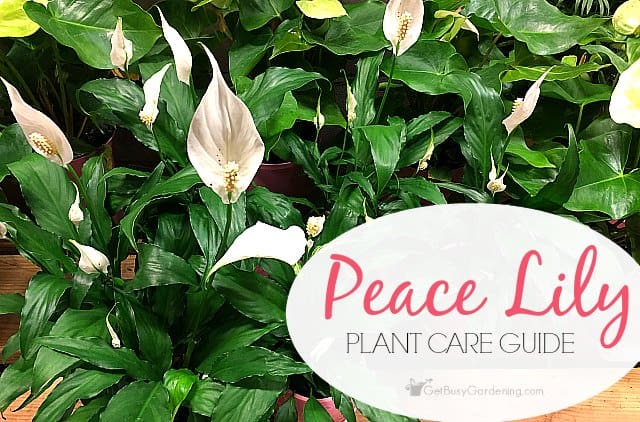 Tips For Peace Lily Plant Care
Peace lilies are perfect for growing indoors as houseplants or office plants because they prefer an environment where these's no direct sunlight, and they can easily adapt to an indoor growing environment.
Not only are they easy to grow indoor plants, they are also air purifying house plants, pretty amazing right?! Plus they are one of my top picks for the best flowering houseplants!
One thing to keep in mind though… peace lilies can be harmful if eaten. So, if you choose to grow them at home and you have pets or small children around, then it's best to treat your peace lily as you would any other poisonous house plants, and keep it out of reach.
Watering Your Peace Lily
Overwatering is a common problem with peace lily plant care. They do not like to be overwatered, and prefer their soil on the dry side.
If you forget about it, your plant will let you know when it needs water because it will droop (they're a bit of a drama queen that way). But don't worry, a good soaking will make the plant pop back up in no time, and it will be just fine.
When you water your peace lily, give it a good drink of water and allow the water to drain out of the pot before putting it back into it's cachepot or plant tray. Never allow your peace lily to sit in water.
If you're worried about watering your plant, I recommend getting a soil moisture gauge to make sure you're giving your peace lily the perfect amount of water.
One important thing to keep in mind is that peace lilies are very sensitive to chemicals, including chlorine and other chemicals in tap water. It's best to use rainwater on peace lily plants (or room temperature melted snow!).
If rainwater isn't an option, then make sure to allow the chlorine to evaporate out of your tap water by leaving it sit in an open container for at least 24 hours before using it on the plant.
Always use room temperature water on peace lilies because they are also very sensitive to extreme temperatures, including hot or cold water.
Ideal Lighting For Peace Lilies
If you're worried about growing houseplants because your house doesn't get much natural light, then a peace lily plant is perfect for you!
Peace lilies make great low light house plants because they actually don't like it when they get too much light, especially direct sunlight.
Too much light will cause the leaves to fade, turn yellow and/or burn. So, keep them off the window ledge unless it's a north facing window.
Peace Lily Potting Soil
Peace lilies aren't fussy about the type of dirt they're planted in, so a general purpose potting soil will work just fine.
But the best soil for peace lily plants is a fast draining one. If you tend to overwater plants, you can mix perlite or pumice into the potting soil to increase the drainage. And make sure to always plant your peace lily in a pot that has drainage holes.
If you tend to neglect your houseplants, and you find that your peace lily is constantly drooping, then add a little peat moss, vermiculite or coco coir into the potting soil to help it retain moisture.
Related Post: Tips For Repotting Houseplants
Peace Lily Houseplant Fertilizer
Peace lilies don't need to be fed very often, and should only be fertilized during the spring and summer months.
Be very careful about which type of houseplant fertilizer you use though, because peace lilies are very sensitive to chemical fertilizers. It's best to use a natural fertilizer on them to avoid fertilizer burn.
I recommend using a compost fertilizer, which you can get in liquid form or buy compost tea bags and brew your own.
You can also give your plant a foliar spray using compost tea, just put it in a spray bottle and spray the leaves of the plant. They will love the added humidity, and it will also help to keep spider mites away!
This general purpose indoor plant food is another awesome organic liquid fertilizer that houseplants love, and will work great on your peace lily.
The best part about using organic plant fertilizer is that you can't accidentally over-fertilize and burn your sensitive peace lily plant (which is another common problem!).
Peace Lily Houseplant Pests
Healthy peace lily plants rarely have problems with houseplant pests. Spider mites are the most common pests that you might have trouble with. Mealy bugs could also attack peace lilies, but it's very uncommon.
If you do find bugs on your plant, organic neem oil is a natural insecticide that is very effective at controlling these houseplant pests, and I highly recommend it. A horticultural spray oil also works very well.
A soapy water spray is also very good for controlling pests like spider mites. I use a mixture of 1 tsp Dr. Bronner's Baby-mild Liquid Soap per 1 liter of water. You can also buy an organic insecticidal soap if you don't want to mix your own.
Troubleshooting Peace Lily Plant Problems
Peace lilies are easy to grow houseplants, but they are notorious for brown leaves and tips! Sometimes the leaves will turn yellow and look sickly too.
Peace lily plant care can be a bit daunting when your plant becomes fussy and starts turning brown – and you don't know why.
Brown leaves and tips are probably the main problem you will have with your peace lily, and it can be caused by just about anything…
over or under-watering
lack of humidity
too much light
using chemical fertilizers
chemicals in the water
cold or hot drafts
houseplant pests
… you name it
Brown leaves and tips are the plants way of responding when something (pretty much anything!) is wrong, so pay attention to how you're caring for it. After a little bit of investigating, the problem (or combo of issues) will probably become pretty obvious.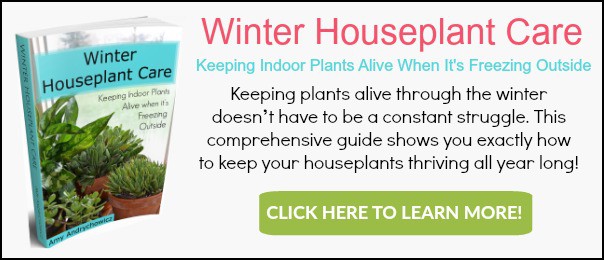 More Posts About Growing Houseplants
Do you have any peace lily plant care tips to add to my list? Share them in the comments section below.