Peace lily plants are by far one of the most popular houseplants there is because they are easy to care for and gorgeous. In this detailed peace lily care guide, I will give you tons of information and care tips, answer your questions, help you troubleshoot common problems, and show you exactly how to grow peace lilies.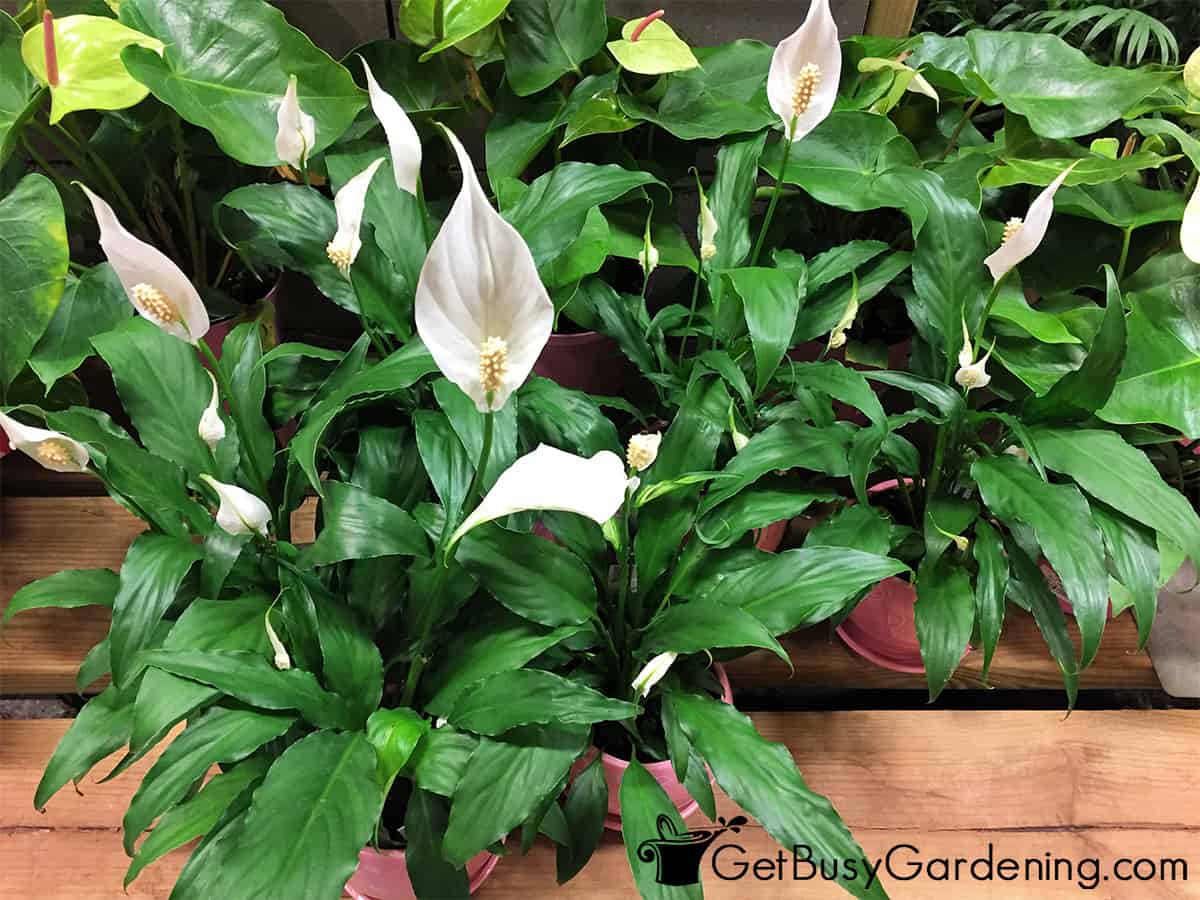 Peace lily (Spathiphyllum) plants are one of the most common (if not THE most common) houseplants out there.
It seems like everywhere you go, you see peace lilies growing as office plants or in someones home. Well, that's because they are super easy to care for!
Commonly given as sympathy gift plants, this gorgeous indoor plant with white flowers and dark green foliage adds life and vibrance to any room.
It's also a very forgiving plant that has many benefits. Add that to the ease of peace lily plant care, and it's an ideal plant that anyone can grow.
Here's what you'll find in this comprehensive peace lily care guide…
What Is A Peace Lily?
The peace lily plant (Spathiphyllum) is a very popular tropical houseplant with big green leaves and white flowers. It's so common that some people even go as far as calling it boring and overused. Well excuse me, but I happen to love them!
Peace Lily Benefits
Peace lilies are perfect for growing indoors as houseplants or office plants because they prefer an environment where these's no direct sunlight. They can easily adapt to indoor growing conditions.
Not only are they easy-to-grow indoor plants, they are also air purifying houseplants, pretty amazing right?!
Plus they are one of my top picks for the best flowering houseplants! So many wonderful benefits for one plant!
Different Peace Lily Varieties
There are tons of different types of Spathiphyllums, and they are all equally gorgeous. Sizes range anywhere from the small varieties that only grow to be a few feet tall, to the huge floor plants that can be several feet tall.
Don't worry, no matter how small or large your is, peace lily plant care is the same for all of the different varieties.
Peace Lily Toxicity
One of the most common questions I get asked is "are peace lilies poisonous". Yes, all parts of the plant can be harmful if eaten. According to aspca.org, peace lilies are toxic to cats and dogs.
So, if you choose to grow them at home, and you have pets or small children around, then it's best to treat it as you would any other poisonous houseplants, and keep it out of reach. Otherwise, check out my list of pet friendly houseplants.
Can A Peace Lily Live Outside?
Yes, as long as you keep them in the shade and protect them from the cold you can grow your peace lily outdoors. If you live in a very warm climate, you may even have luck growing them in your shade garden.
You can move a peace lily plant outdoors during the summer to give it a boost. However, they can be very finicky.
So be sure to bring them back indoors well before it starts to get cold outside in the fall. (And be prepared for them to droop and pout for a few days after you move them back inside.)
Peace Lily Care Instructions
Even though they are touted as super easy-to-grow houseplants that thrive on neglect, that doesn't mean they don't require any care at all.
Taking care of a peace lily plant isn't difficult, but proper peace lily plant care is very important in order to keep your plant thriving. Here's how to take care of a peace lily plant…
How To Make A Peace Lily Bloom
With the proper peace lily care, most will bloom constantly spring through summer. That's part of what makes them such a popular houseplant.
Once they're done blooming, they usually have a rest period (typically during the fall and winter).
In order to bloom, they need lots of light. The more light they get, the more they will bloom. But be careful, because they will not tolerate direct sunlight.
If you want flowers, then put them in a spot where they get tons of bright, indirect light, or add a grow light. Feeding peace lilies during the spring and summer also helps to encourage blooming.
Peace Lily Water Requirements
Proper watering is one of the most important parts of peace lily plant care, and overwatering is the most common problem. They do not like to be overwatered, and prefer their soil to dry out slightly between waterings.
If you forget about it, your plant will let you know when it needs water because it will droop (they're a bit of a drama queen that way). But don't worry, a good soaking will make it pop back up in no time.
However, it's not a good idea to let them dry out to the point of wilting. I weakens the plant and can cause problems down the line. Here are my tips for how to water a peace lily plant…
How often should you water a peace lily?
When it comes to watering, one of the most common questions I get is "how often do I water a peace lily?". It's a good idea to create a peace lily plant care schedule, but never automatically water based on a timeline.
That is a sure way to overwater your plants! Always, always check the soil to make sure it actually needs water first.
Check the soil every few weeks by pushing your finger one inch down. When it's time to water, the soil should no longer feel damp.
Give it a good drink of water, and allow the excess to drain out of the pot before putting it back into its cachepot or plant tray. Never allow your plant to sit in water.
If you're worried about watering peace lilies, I recommend getting a soil moisture gauge to make sure you're giving your plant the perfect amount of water.
The type of water you use matters!
Proper watering is an essential part of peace lily care, but the type of water you use is also very important. Peace lilies are sensitive to chemicals found in tap water, including salts, chlorine and others.
So it's best to use rainwater on them if you can. Salts and chemicals can build up in the soil causing problems like yellow or brown tips and leaves.
If rainwater isn't an option, then make sure to allow the chlorine to evaporate out of your tap water by leaving it sit in an open container for at least 24 hours before using it on the plant, or use filtered water instead.
Always use room temperature water on peace lilies because they are also very sensitive to extreme temperatures, including hot or cold water.
Peace Lily Light Requirements
If you're worried about growing houseplants because your home doesn't get much natural light, then this is the perfect plant for you!
Peace lilies make great low light houseplants because they actually don't like it when they get too much light, especially direct sunlight.
Direct sunlight will cause the leaves to fade, turn yellow and/or burn. So, keep them off the window ledge unless it's a north facing window.
However, they do need some light to grow their best, and won't do as well in a dark room. They also won't bloom if they don't get enough light.
So put them in a place where they will get bright, indirect sunlight. If your peace lily won't bloom, and you can't give it more natural light, then you can add a grow light.
Repotting Peace Lily Plants
When it comes to repotting peace lily houseplants, just remember this one thing – they like to be pot-bound. In fact, they really don't like to be repotted at all.
So don't make repotting part of your regular peace lily plant care routine! Only repot them when it's absolutely necessary.
When to repot a peace lily
Spring is the best time to repot peace lilies, but don't just do it because you think you should. The only time you need to worry about repotting your peace lily is when it's completely pot-bound.
For some reason, when there's any type of problem with a plant, the first instinct people have is to repot it to try to fix the issue.
The worst time to repot a plant is when it's ailing. Repotting is really hard on plants, and many times a sick peace lily plant won't survive the transplant shock.
How to repot a peace lily
When the time does come for you to repot your peace lily, make sure the pot size isn't too big. They don't like having too much space.
It's best to only go one to two pot sizes up (e.g.: go from a 4″ to a 6″ pot; or from a 10″ to a 12-14″ pot). And always be sure to use a pot that has drainage holes to prevent overwatering.
Also, keep in mind that it's very common for a peace lily to droop after repotting. So don't panic!
Just treat them as you normally would (but don't fertilize until they recover), and they should pop back in no time. Learn more about repotting houseplants here.
Best Potting Soil For Peace Lily
Peace lilies aren't fussy about the type of dirt they're planted in, so a general purpose potting soil will work just fine.
But the best soil for peace lily plants is a fast draining one. If you tend to overwater plants, you can mix perlite, pumice, or coarse sand into the soil mixture to increase drainage.
If you tend to neglect your houseplants, and you find that your peace lily is constantly drooping, then add some peat moss, vermiculite or coco coir into the potting soil to help it retain moisture.
Fertilizer For Peace Lily
Peace lilies don't need to be fed very often, and should only be fertilized during the spring and summer months.
Be very careful about which type of houseplant fertilizer you use though, because they are very sensitive to synthetic chemical fertilizers.
Using a harsh chemical fertilizer or over-fertilizing are two big mistakes people make with peace lily plant care.
Both can cause major problems, like making the leaves and tips to turn brown or yellow. So it's best to use a natural fertilizer on them to avoid fertilizer burn.
I recommend using a compost fertilizer, which you can get in liquid form or buy compost tea bags and brew your own.
You can also give your plant a foliar spray using compost tea, just put it in a spray bottle and spray the leaves of the plant. They will love the added humidity, and it will also help to keep spider mites away!
This indoor plant food or a general purpose one are a few other awesome organic liquid fertilizer that houseplants love, and will work great on your peace lily.
The best part about using organic plant fertilizer is that you can't accidentally over-fertilize and burn your sensitive peace lily plant.
Peace Lily Pests
Healthy peace lily plants rarely have problems with bugs. Spider mites are the most common pests that you might have trouble with. Mealy bugs could also attack peace lilies, but it's very uncommon.
If you do find bugs on your plant, organic neem oil is a natural insecticide that is very effective at getting rid these types of houseplant pests, and I highly recommend it. A horticultural spray oil also works very well.
Soapy water spray is also great for controlling pests like spider mites. I use a mixture of 1 tsp mild liquid soap per 1 liter of water.
You can buy an organic insecticidal soap if you don't want to mix your own. Learn all about how to get rid of houseplant bugs naturally.
Pruning Peace Lilies
To keep your plant looking its best, you can prune it as part of your regular peace lily plant care maintenance routine.
Trimming peace lily plants not only helps keep them looking nice, it also improves flowering. Here are some tips for how to prune a peace lily…
Brown leaf tips and edges can be removed by cutting them off at an angle following the natural shape of the leaves. Dead or dying leaves can be pruned all the way down to the base of the plant.
It's normal for peace lily flowers to turn brown or green once they start to die. Pruning out these faded and dead flowers will help encourage new blooms.
To prune peace lily flowers, simply cut the stalks all the way back to the base of the stem.
Peace Lily Propagation Methods
Dividing peace lily plants is the only method of propagation. Splitting peace lily plants is pretty easy, and can be done at any time. But it's easiest to do it when you're already repotting the plant.
To divide your plant, remove it from it's pot and gently untangle the roots – carefully separating peace lily offshoots from the main rootball.
If the rootball is really thick and dense, then you may need to use a knife to cut them apart. Just be sure that each individual stem has roots, or it will not survive on its own.
Troubleshooting Common Peace Lily Problems
Peace lily plant care can be a bit daunting when your plant becomes fussy and starts having problems – and you don't know why.
Many common problems are the plants way of responding when something (pretty much anything!) is wrong.
So pay attention to how you're caring for it, and the location you have it growing. After a little bit of investigating, the issue (or combo of issues) will probably become pretty obvious.
Here's a list of some of the most common peace lily care problems, and tips for how to fix them…
Peace lily leaf tips turning brown (or brown leaves) – This is almost always caused by a watering problem. Usually too little or too much water, lack of humidity, or a chemical buildup in the soil. A yellow or white crust on top of the soil or around the pot edges are telltale signs of a salt or chemical buildup. Try watering with rainwater or filtered water instead, and switch to using an organic fertilize rather than a synthetic one.
Peace lily leaves drooping – Drooping is usually caused by over or under watering. But it can also be caused by sudden changes in temperature, or transplant shock after repotting. Check the soil, and only water if it's dry. Move the plant if it's in direct sun, near a heat source, or exposed to a cold draft. Then monitor the plant until it recovers.
Peace lily leaves turning yellow – A peace lily with yellow leaves isn't usually a huge concern. Old leaves turn yellow as they die, which is normal. Prune the yellow leaves down to the bottom of the stem as part your regular peace lily plant care.
Peace lily not flowering – The most common cause of a peace lily not blooming is inadequate lighting, they need bright light in order to flower. Feeding your plant during the spring and summer, and regularly deadheading spent flowers will also help encourage blooming.
Peace lily flower turning brown – The flowers naturally turn brown and die back when they are spent, this is normal. Simply prune them back to the base of the flower stem.
Peace lily flowers turning green – It's normal for the flowers to turn green as they age on many types of peace lily plants. Prune the green flowers out to encourage fresh new white flowers.
Peace lily leaves turning black – If the leaves turned black suddenly, then it was likely caused by freezing, extreme heat, or sunburn. Otherwise, if they turn brown first and slowly progress to black, then see the first point above to find out what causes brown leaves.
Peace Lily Plant Care FAQs
In this section, I will answer some of the most frequently asked questions I get about peace lily plant care. If you can't find your answer after reading through these, then leave a comment below and I'll answer it as soon as I can.
Do peace lilies need sunlight?
Peace lilies grow well in low light conditions, and will suffer if they are exposed to direct sunlight. That being said, they do need some light in order to grow their best and produce flowers.
When Do Peace Lilies Flower?
It's not uncommon for them to bloom at different times throughout the year, but they usually flower more prolifically during the spring and summer months. See "How To Make A Peace Lily Bloom" above to learn more.
How often do you water a peace lily?
I don't like to give a definitive answer for how often to water because it depends on the growing conditions. Rather than watering on a set timeline, you should check it every few weeks, and water it when the soil no longer feels damp. See the "Peace Lily Water Requirements" section above for more details.
Why is my peace lily plant drooping?
There are several things that can cause your plant to droop. Basically, it's what they do whenever they're unhappy.
The most common causes are over or under watering, repotting, or extreme temperature or environmental changes.
See "Troubleshooting Common Peace Lily Problems" above to help you figure out what's causing your plant to wilt.
Why is my peace lily dying?
The most common cause of death is an overwatered peace lily. So be sure to always check the soil before you water it.
See the section called "Peace Lily Water Requirements" for detailed watering instructions. Other common reasons it may be dying are fertilizer burn, sunburn, or prolonged exposure to hot or cold drafts.
How do you save a dying peace lily?
That depends on what's causing it to die. The first thing to do is check the soil. If it's wet, then wait until it's dry to the touch before watering it again.
If watering isn't the problem, then inspect the leaves for signs of bugs. Also check the area where the plant is sitting to make sure there aren't any cold or hot drafts, or that it's not getting too much sunlight.
Read the "Troubleshooting Common Peace Lily Problems" section to help you figure out why it's dying.
Is the peace lily plant poisonous?
Yes, so it's best to keep this one out of reach of your pets and the kiddos. See the "Peace Lily Toxicity" section above for more details.
Where To Buy Peace Lily Plants
If you looking for where to get a peace lily… it's pretty easy to find peace lily for sale at any garden center, especially during the fall and winter months.
Since it's such a common houseplant, you could probably find them for sale at stores most of the year. Of course, you can always order peace lily online any time.
Growing peace lily plants is fun, and rewarding. Now that you've learned exactly how to maintain a peace lily, you can easily care for your favorite plant. Plus you'll know exactly what to do if something goes wrong. I know it can seem overwhelming, but peace lily plant care really isn't that difficult, and you'll get the hang of it in no time.
Are you tired of watching your houseplants thrive during the summer, then slowly die during the winter? Then my Winter Houseplant Care eBook is just what you need! It will show you everything you need to know in order to keep your indoor plants thriving all year long! Download your copy today!
Recommended Peace Lily Care Products
More Plant Care Guides
Share your peace lily plant care tips in the comments section below.