I love being surrounded by plants all year round, and that's one reason why I have a large collection of houseplants. I like to grow a variety of plants, but I especially appreciate easy to grow houseplants. Well guess what, the dumb cane houseplant (Dieffenbachia) is one of the easiest plants to grow indoors!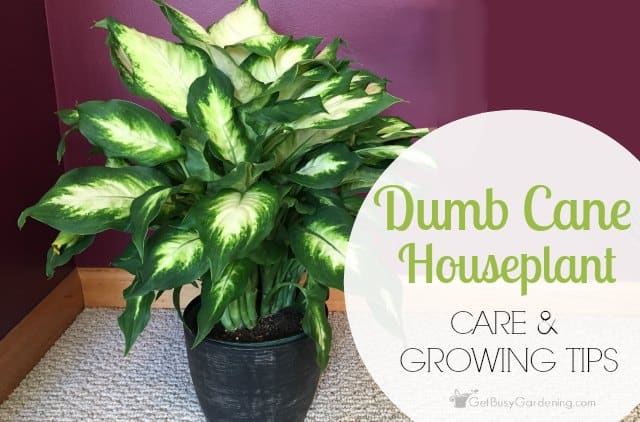 What's With The Name?
Dumb cane is a really weird name, right? Well, there's a reason for that funny name! The dumb cane got it's name because there is a chemical in the sap that can cause temporary loss of speech if any part of the plant is chewed or eaten.

If you have pets or small children around, then it's best to treat dumb cane as you would any other poisonous house plants, and keep it out of reach.
Caring For Your Dumb Cane Houseplant
It's no mystery why dumb cane plants are one of the most common houseplants you see for sale at garden centers and big box stores. They are pretty tolerant of any indoor environment, and are super easy to care for (they practically take care of themselves).
Dumb cane plants can live for many years, and some varieties can grow to be several feet tall, creating a very large, stunning floor plants.
Water
The number one cause of dumb cane houseplant death is overwatering!! <dramatic pause> Ok, ok, I just made that up to sound cool, I don't know if there are any actual stats about the causes of dumb cane death. But overwatering really is the main thing you need to worry about when growing this plant (although they are pretty forgiving about being overwatered now and then).
Just make sure you check the soil before watering by sticking your finger about an inch into the dirt. If it's dry, then it's time to water the plant. If it's wet, wait to water it. You could also use a soil moisture gauge to help you monitor the moisture level and ensure you're watering the plant at the right time.
Light
Dumb cane are perfect low light house plants because they actually don't like it when they get too much light, especially direct sunlight. Direct sunlight will cause their leaves to fade or burn.
On the other hand, if the room they're growing in is too dark, then they will start to grow tall and leggy. If you don't have a bright room to grow your dumb cane, then you could add a small grow light to help keep the plant from growing leggy.
It also helps to rotate the plant once and a while so it doesn't reach toward the light. (like this neglected one that was growing in my dark kitchen…oops!)
Soil
Dumb cane houseplants aren't super fussy about the type of soil they're grown in. Any general purpose potting soil will work just fine.
However, if you're a person who tends to give your houseplants TOO much love in the form of water… then you're better off using a well draining soil mix for them. Simply add some perlite or pumice to regular potting soil to help with drainage.
If you tend to overwater, make sure you grow your dumb cane in a pot that has drainage holes, and never allow the pot to soak in water.
Related Post: Tips For Repotting Houseplants
Fertilizer
Another great thing about easy to grow indoor plants like dumb cane is that they can grow just fine without fertilizer. But, like any houseplant, a dumb cane plant will definitely benefit from a being fertilized.
I recommend using an organic houseplant fertilizer rather than using chemical ones. I use compost tea, which you can get in liquid form or buy compost tea bags and brew your own. You can also give your plant a foliar spray using compost tea, just put it in a spray bottle and spray the leaves of the plant – they will also love the added humidity!
Only fertilize during the summer months (their active growing season). They go into a dormant state during winter, so it's best to let them rest.
Houseplant Pests
It's rare for a healthy dumb cane houseplant to have problems with insect pests, but sometimes spider mites, aphids or mealy bugs can attack the plant.
Organic neem oil is a natural insecticide that is very effective at controlling these houseplant pests. A soapy water spray is also very good for controlling pests like spider mites and aphids. I use a mixture of 1 tsp mild liquid soap per 1 liter of water.
Never use chemical pesticides on houseplant pests because they can build up a resistance to chemicals, making pest problems worse. Plus, who wants to spray toxic chemicals in their house? Not me! Learn all about how to get rid of houseplant bugs naturally here.
Troubleshooting Problems
It's normal for the lower leaves to turn yellow or brown, and eventually die. Simply trim them off when they appear to keep your dumb cane houseplant looking it's best.
But if the leaves are curling up, have brown or yellow spotting on them, or the top leaves are dying, then there's probably something wrong.
The first thing to do is check for houseplant pests, like I described above. A few other things to check for are overwatering and over use of chemical fertilizers.
Also, houseplants don't like extreme temperature changes. If you notice that the leaves on your dumb cane houseplant are suddenly burning or shriveling, and you can't figure out any other reason for that, then look at the area you have the plant growing.
Is it near a heat source such as a heat vent or fireplace? Is the cold air from the A/C vent blowing directly on your plant? Is it sitting right next to a door during the winter (so it gets a freezing cold blast of air every time the door is opened)? Being too close to cold or hot drafts can cause major damage to the plant, so make sure to keep it away from drafts.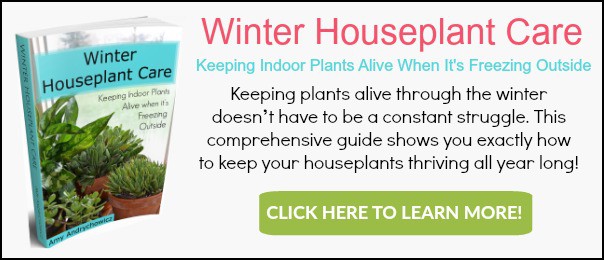 More Indoor Plant Care Guides
Do you have a dumb cane houseplant? Share your tips for growing them in the comments section below.
Pin It!