Learning how to treat your Thanksgiving cactus after blooming is important so it will continue to display its colorful flowers every year.
In this guide, I'll show you how to save your Schlumbergera truncata when it's done flowering, and provide aftercare tips for keeping it healthy.
Although it's a popular holiday plant, you'll be glad to know there's no need to discard it once the blooms fade.
Continue reading to learn everything you need to know about caring for your Thanksgiving cactus after it blooms, including tips for deadheading the flowers, watering, fertilizing, and more.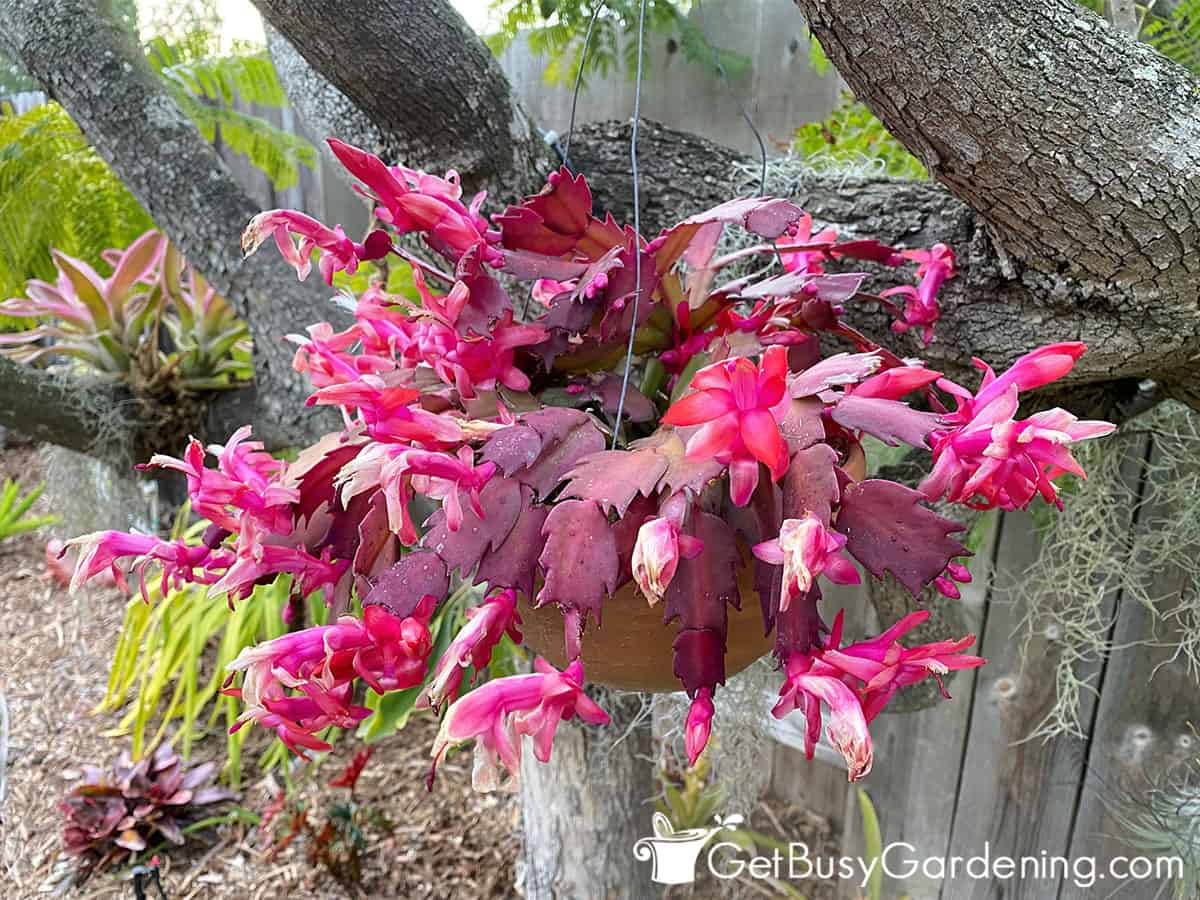 Can You Keep Thanksgiving Cactus After Flowering?
It might surprise you to learn that you can indeed keep your Thanksgiving (aka: November) cactus after it has bloomed.
People often mistakenly assume they must discard holiday gift plants after the blossoms fade.
But if you care for it properly, your plant will thrive and may provide an even better display of blooms the following year.
What To Do With Thanksgiving Cactus After It Blooms
After the flowers are completely gone, your plant will need a brief rest period. So reduce the amount of water you give it, and move it away from bright light.
In about a month or so, when you begin to notice new leaves, you can return to your regular care routine.
Related Post: How To Care For Thanksgiving Cactus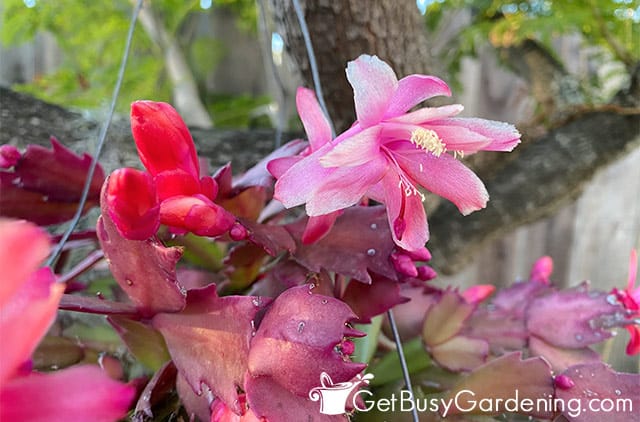 5 Tips To Care For Thanksgiving Cactus After Blooming
You'll need to give your Thanksgiving cactus a little bit of TLC as the blooms begin to fade, as well as after it's done blooming.
Simply pinch off the spent flowers as they die, give your plant a little less light, let the soil dry more between waterings, and hold off on fertilizing. Below are the exact details of what to do.
1. Pinch Off Dead Flowers
As the flowers begin to fade and shrivel, you can either deadhead them (by pinching or cutting them off) or allow them to drop off naturally.
Either way is fine and won't affect future blooming, although I personally recommend deadheading them.
Not only does removing the spent blossoms keep the plant looking neat, but it may also help encourage more buds to open.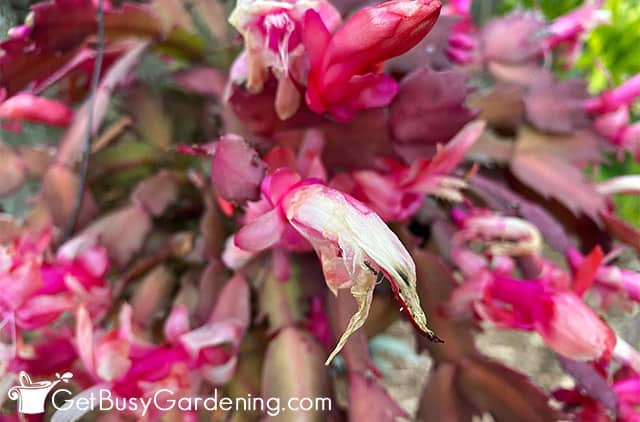 2. Protect It From Bright Light
You don't need to place your plant back in the dark after blooming, but you should give it less light than usual while it recovers.
Simply move it to a shady location outdoors, or place it further away from the bright window indoors for a few months.
Once you start to see new leaves, move your plant to an area with plenty of bright, indirect light, and leave it there throughout the summer.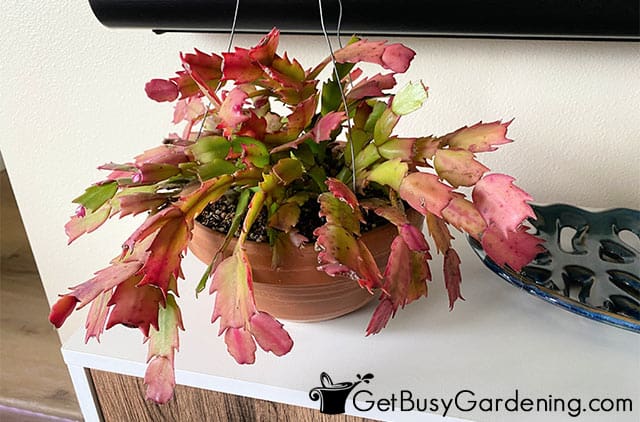 3. Reduce Watering
You should also water your Thanksgiving cactus less often after it's done flowering, so allow the soil to dry out a little more. However, it's crucial not to let it dry out completely or to the point where the plant wilts and shrivels.
To get the balance right, test the soil with your finger, and only water again when the top 1" is dry. An easier method is to use a moisture gauge probe and ensure the reading stays between 3 and 4.
Return to your regular watering schedule after about a month or two, or once new leaves begin to form.
Related Post: How To Water Thanksgiving Cactus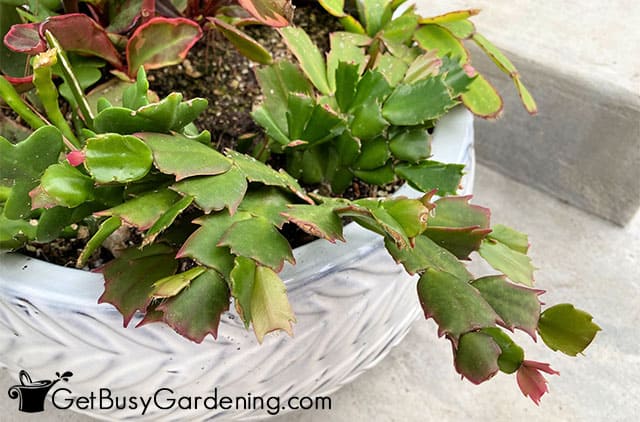 4. Wait To Fertilize
Stop fertilizing your Schlumbergera truncata after the blooms have faded, and wait until you can see new leaves emerging at the ends of the branches before feeding it again. This usually happens at some point in late winter or early spring.
Then continue to fertilize your plant throughout the summer using a flowering plant food, a liquid compost tea, or a general houseplant option.
Regular feeding will help restore the plant's nutrients and support reblooming next year.
Related Post: How To Get Your Thanksgiving Cactus To Bloom Again (3 Steps!)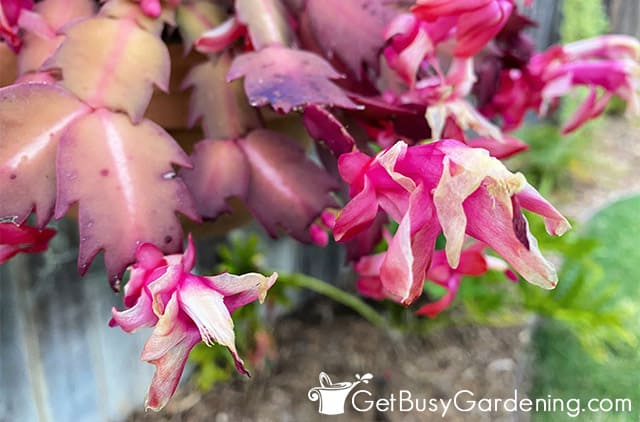 5. Cut Back The Foliage (Optional)
Pruning isn't necessary, but if you wish to trim back the foliage to maintain your plant's appearance, I suggest waiting until 1 to 3 months after flowering.
I like to snip or pinch off the tips and segments to encourage my plant to branch out and become fuller, which means even more flowers next year.
FAQs
Here you'll find my answers to the most commonly asked questions about caring for a Thanksgiving cactus after flowering. If you don't see yours listed, please ask in the comments below.
Should I remove dead flowers from my Thanksgiving cactus?
You can remove dead flowers from your Thanksgiving cactus, but it's not necessary. They will eventually drop off they themselves. However, deadheading the spent ones keeps the plant looking tidy, and may stimulate more buds to open.
Do you cut back a Thanksgiving cactus after it blooms?
You don't need to cut back your Thanksgiving cactus after it blooms. But pruning does encourage the plant to branch out, for even more flowers next year. Wait until 1 to 3 months after blooming before trimming it back.
Where do you put Thanksgiving cactus after blooming?
After it's done blooming, put your Thanksgiving cactus in a shaded spot if it's outside, or move it farther away from the window indoors where it won't get any direct sunlight. After a month or so, or once new leaves begin to appear, move it back to its normal location.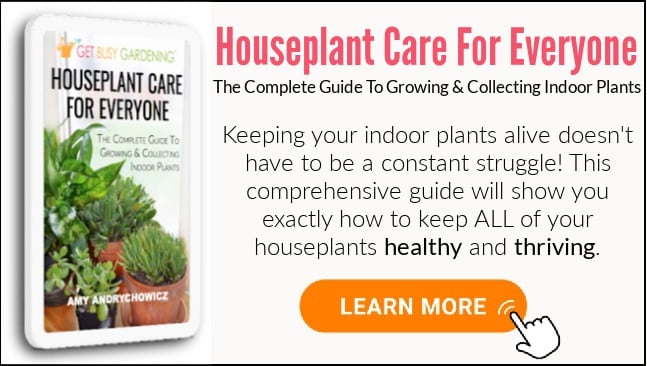 If you want to learn all there is to know about maintaining healthy indoor plants, then you need my Houseplant Care eBook. It will show you everything you need to know about how to keep every plant in your home thriving. Download your copy now!
More About Houseplant Care
Share your tips for what you do with your Thanksgiving cactus after it blooms in the comments section below.