Bromeliads are unique houseplants that make gorgeous additions to any indoor plant collection. They are pretty easy to grow indoor plants, but caring for bromeliads is quite different than caring for your average houseplant. Don't worry, bromeliad plant care isn't difficult, it's just… well, different.
Bromeliad house plants make wonderful flowering houseplants that grow well in low light conditions. There are tons of different types of bromeliads, and many of them will grow well indoors as houseplants.

I love the variety of colors that bromeliads add to my houseplant collection, and they are very exotic looking plants too.
Bromeliad Plant Facts
Like orchids, bromeliads are epiphytic, which means they grow on trees, rocks or other plants, and they get their water and nutrients from the air and rainwater.
Unlike most plants, they don't get their nutrients from their roots, their roots are what they use to attach themselves to the growing support.
Some types of bromeliads can be difficult to grow as houseplants, because they like humidity and can dry out too quickly in the average home (especially during the dry winter months).
But for the most part, bromeliads make great low maintenance houseplants.
Bromeliads are slow growing plants, and most of them will only bloom once in their lives. They are also short lived plants, and most bromeliads will die after flowering.
Sad I know, but they usually have lots of babies before they die so you'll get even more plants out of the deal (but more on that later).
Bromeliad Plant Care Guide
If you're new to growing these tropical beauties, you'll find that bromeliad plant care is much different than any other houseplant you probably have.
Since they take up nutrients and water through their leaves, you'll need to take special care in watering, feeding, and potting your bromeliad house plants.
Don't panic, I've got you covered…
Bromeliad Watering
One thing that's different about bromeliad plant care than other houseplants is that you don't want to water your bromeliads through the soil, instead you should keep their center cup filled with water and their soil dry.
As long as there's fresh water in the center cup, your bromeliad will be happy.
It's also important to keep the water in the cup clean and fresh, you don't want stagnant water sitting in the cup. Dump out the water and refresh it every week or so to keep the water from going stagnant.
Also, be careful about the type of water you use on your bromeliad house plants, because they are very sensitive to the chemicals in regular tap water.
Using tap water on bromeliads can damage or even kill the plant. Rainwater (or melted snow warmed to room temperature) or filtered water are the best types of water to use on bromeliads.
Bromeliad Humidity Requirements
Bromeliads like humid air, so consider misting your plants on a regular basis if the air in your home is dry.
You could grow your bromeliad house plant in rooms that are more humid, like a bathroom or in the kitchen close to the sink.
You could also run a humidifier near your bromeliads during the winter to help keep the humidity level consistent in the room. An indoor humidity monitor is handy to help you give your bromeliads the perfect amount of humidity.
Lighting For Bromeliads
When it comes to light, bromeliads aren't super fussy, and they make great low light indoor plants.
Direct sunlight can burn the leaves, but some bromeliads grown indoors can suffer it they're not getting enough light too.
For best results, put your bromeliad in a spot where it gets medium to bright light. A small grow light helps a ton if you don't have any natural light.
Best Potting Mix For Bromeliads
Technically speaking, bromeliads don't need to be potted in soil at all. They don't get their water or nutrients from the soil, their roots are only used to hold onto trees, plants or other growing supports in the wild.
Bromeliads could be mounted on logs, wood or rocks, or they can be grown in a pot. If you prefer to grow them in a pot, you can buy bromeliad soil mix, or use an orchid soil mix.
Otherwise, if you want to create your own growing medium, the best potting mix for bromeliads would be a fast draining soilless mix made with sphagnum moss, bark, perlite and/or other coarse organic materials.
If your bromeliad house plant is potted in regular potting soil, take care to keep the soil dry or your bromeliad could rot.
Bromeliad Houseplant Fertilizer
Bromeliads don't really need to be fertilized. They are naturally slow-growing plants, and fertilizer isn't going to help them grow much faster.
But, like any plant, bromeliads will benefit from getting some added nutrients – just make sure to fertilizer sparingly.
If you'd like to fertilizer your bromeliads, use a half strength houseplant fertilizer during the spring and summer (don't fertilizer bromeliads during the winter). Be sure to use a natural organic liquid fertilizer, because bromeliads are very sensitive to chemicals.
Propagating Bromeliad Plants
Like I mentioned above, most bromeliads will eventually fade and die after they're done flowering.
This is a sad fact of life, but the good news is that they usually have lots of babies before they die. Bromeliads that are coming to the end of their life will grow tiny baby pups around the base of the main plant.
To propagate your bromeliad, you can simply remove these pups from the mother plant, or just allow them to grow after the main plant has died back and been removed.
Bromeliad Houseplant Pests
Bromeliads don't usually have too much trouble with houseplant pests, but houseplant scale and mealybugs can be a problem.
Organic neem oil is a natural insecticide that is very effective at getting rid of these nasty houseplant pests. Horticultural oil also works great.
You can also use a cotton swab dipped in rubbing alcohol to kill mealybugs and houseplant scale on contact, and to remove them from the plant.
Never use chemical pesticides on houseplant pests because they can build up a resistance to chemicals, making pest problems worse, and chemical pesticides can also damage your bromeliad house plant.
If you're thinking about buying a bromeliad house plant, I recommend giving it a try. They look like they'd be harder to grow than they actually are, and bromeliad plant care is pretty easy once you get the hang of it!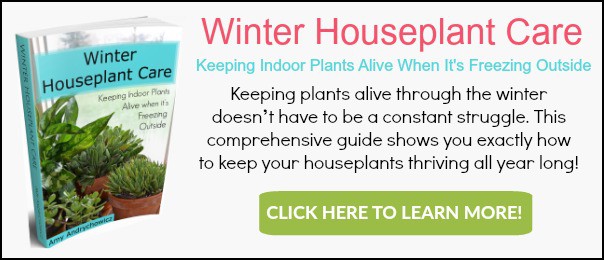 Products I Recommend
You Might Also Enjoy These Posts About Growing Houseplants
For more information about even more houseplants to add to your collection, click here… Houseplant Types
Do you have any bromeliad plant care tips to add to this list? Please share them in the comments section below.