Bromeliad care isn't difficult, but it's quite different than your average houseplant. Once you understand what they need, you'll be able to keep yours thriving for years to come.
In this post I'll show you everything you need to know about how to care for bromeliads so you can be successful.
From watering to humidity, soil, light, and flowering, to pruning, fertilizing, pest control, and much more, you'll find it all right here.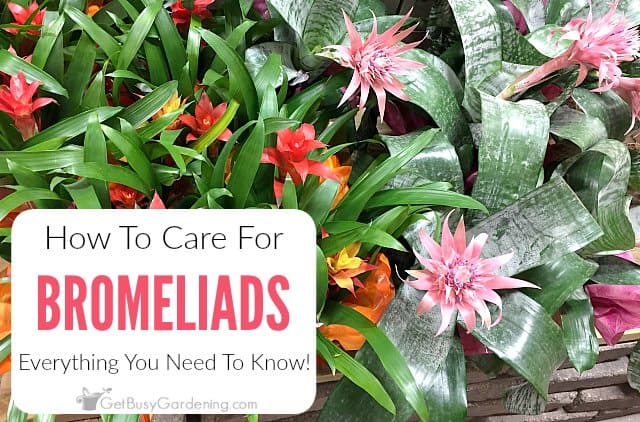 If you're lucky enough to live in a tropical climate where the temperatures never get below freezing, then you can grow bromeliads outside in your garden! The rest of us have to stick to them indoors.
Bromeliads make wonderful flowering houseplants that grow well in low light conditions. They are also pet friendly houseplants that are safe to grow if you have cats or dogs! Woohoo!
There are tons of different varieties, and many of them will grow well indoors as houseplants. In this comprehensive bromeliad plant care guide, you'll learn how to grow any type that you have.
Bromeliad Plant Facts
Like orchids and staghorn ferns, bromeliads are epiphytic, which means they grow on trees, rocks or other plants, and they get their water and nutrients from the air and rainwater.
In many ways, caring for bromeliads is similar too, so if you already have either of those plants then this will be a snap!
Unlike most plants, they don't get their nutrients from their roots, their roots are what they use to attach themselves to the growing support.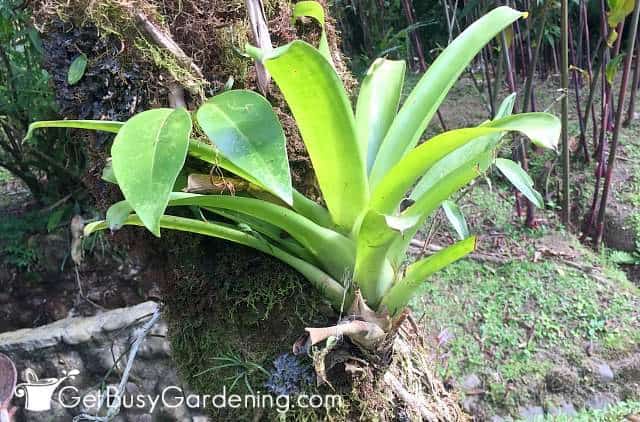 Some types of bromeliad types can be difficult to grow as houseplants, because they like humidity and can dry out too quickly in the average home (especially during the dry winter months).
But for the most part, bromeliads make great, easy-care houseplants.
Bromeliads are slow growing plants, and most of them will only bloom once in their lives. They are also short lived plants, and most bromeliad varieties will die after flowering.
Sad I know, but they usually have lots of babies before they die so you'll get even more plants out of the deal (but more on that later).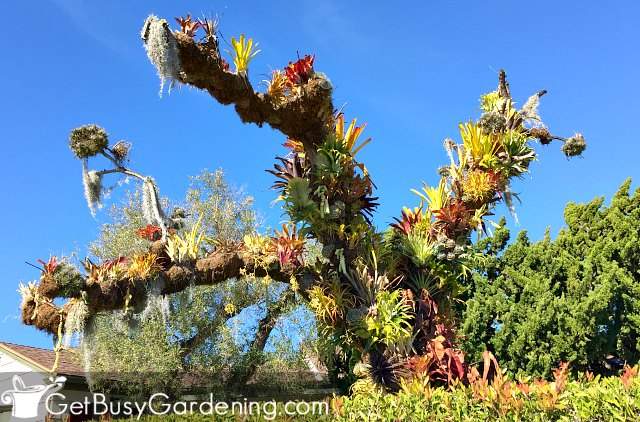 Bromeliad Flower -vs- Flower Bracts
Many people think that the large colorful growth that makes bromeliads so popular is the flower, which is a common misconception.
But that is the flower bract, and not the actual flower. Bromeliad flowers grow out of the floral bracts. Some are large beautiful spikes, and others are tiny and insignificant.
Many people are confused when theirs starts to bloom, since they thought the bracts were the flowers all along.
Another common question I get is "how long does it take for bromeliad pups to flower"? The babies have to grow to full maturity before they will bloom.
So, depending on the variety you have, it'll likely take 1-3 years for the pups to reach their full maturity.
Learn all about bromeliad flowers, including when, how often, and how long the bloom, and much more.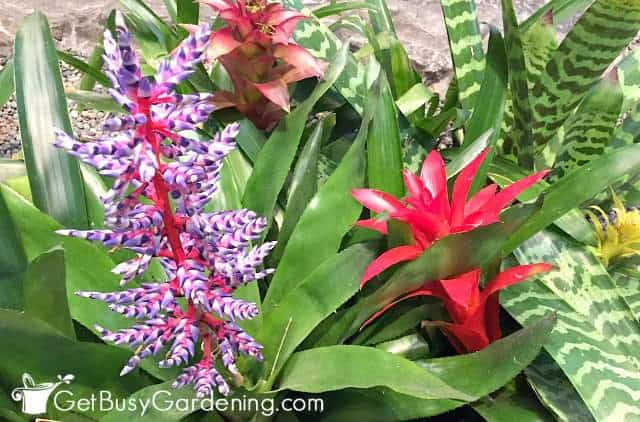 Bromeliad Plant Care Guide
If you're new to growing these tropical beauties, you'll find that bromeliad plant care is much different than any other plant you probably have.
Since they take up nutrients and water through their leaves, you'll need to take special care in watering, feeding, and potting your bromeliads.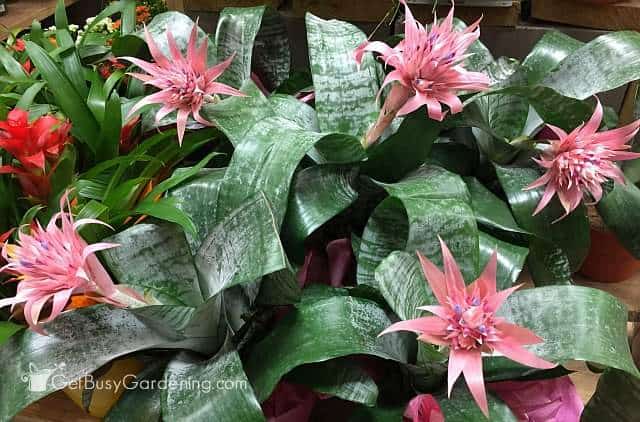 Bromeliad Plant Watering Tips
One thing that's different about bromeliad plant care is that you don't water through the soil. Instead you should keep their center cup filled, and the medium on the dry side.
Indoors, dump out the central vase and refresh it every week or so to keep it from going stagnant. Outdoors, you can flush it regularly to keep it clean, if necessary.
Also, be careful about the type you use, because they are very sensitive to the chemicals in regular tap. Rainwater, distilled, or filtered are the best types to use.
Learn more about exactly how to water them here for the best success.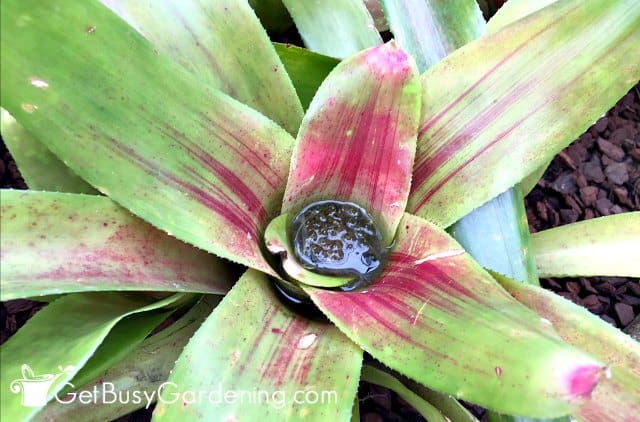 Bromeliad Humidity Requirements
Bromeliads like humid air, so consider misting your plants on a regular basis if the air in your home is dry.
You could grow your bromeliad houseplant in rooms that are more humid, like a bathroom or in the kitchen close to the sink.
You could also run a humidifier near your bromeliads during the winter to help keep the humidity level consistent in the room.
An indoor humidity monitor is handy to help you give your bromeliads the perfect amount of humidity.
Lighting For Bromeliads
When it comes to light, bromeliads aren't super fussy, and they make great low light indoor plants.
Direct sunlight can burn the leaves, but some bromeliads grown indoors can suffer it they're not getting enough light too.
For best results, put your bromeliad in a spot where it gets medium to bright light. A small grow light helps a ton if you don't have any natural light.
Best Bromeliad Potting Mix
Technically speaking, bromeliads don't need to be potted in soil at all.
They don't get their water or nutrients from the soil, their roots are only used to hold onto trees, plants or other growing supports in the wild.
Bromeliads could be mounted on logs, wood or rocks, or they can be grown in a pot. If you prefer to grow bromeliads in pots, you can buy bromeliad soil mix, or use an orchid soil mix.
Otherwise, you can make your own potting soil. The best homemade mix is a fast draining soilless medium made with sphagnum moss, bark, perlite and/or other coarse organic materials.
If your planting bromeliads in regular potting soil, take care to keep the soil dry or your plant could rot.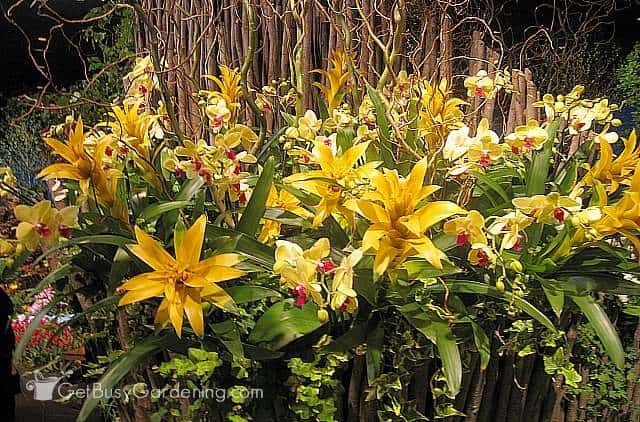 Best Fertilizer For Bromeliads
Bromeliads don't really need to be fertilized. They are naturally slow-growing plants, and fertilizer isn't going to help them grow much faster.
But, like any plant, bromeliads will benefit from getting some added nutrients – just make sure to fertilizer sparingly.
Also, be sure to always use a natural organic liquid fertilizer, because bromeliads are very sensitive to chemical plant fertilizer.
If you'd like to fertilizer your bromeliads, use a half strength liquid organic houseplant fertilizer or compost tea during the spring and summer (don't fertilizer bromeliads during the winter).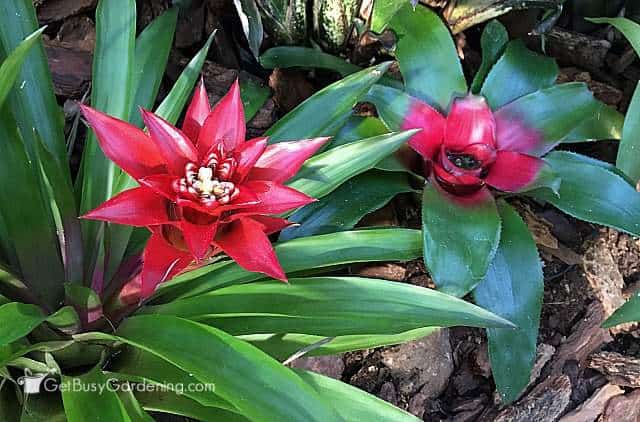 Bromeliad Houseplant Pests
Bromeliads don't usually have too much trouble with bugs, but houseplant scale or mealybugs can be a problem, so be sure to keep an eye out during your regular bromeliad plant care routine.
Organic neem oil is a natural insecticide that is very effective at getting rid of these nasty houseplant pests. Horticultural oil or organic insecticidal soap also works great.
You can also use a cotton swab dipped in rubbing alcohol to kill mealybugs and houseplant scale on contact, and to remove them from the plant.
Never use chemical pesticides on houseplant pests because they can build up a resistance to chemicals, making pest problems worse, and chemical pesticides can also damage your bromeliad plant.
Pruning Bromeliads
For the most part, you don't need to worry about pruning your bromeliad plants. Dead or dying leaves can be pruned off at any time.
Trim off the flower spike after it dies back, but keep the plant growing as long as you can so that it will have plenty of time to grow pups.
Once the main plant dies back, you can prune it out and leave the pups growing in the pot. Otherwise, you can remove the pups from the dead mother plant, and pot them up on their own.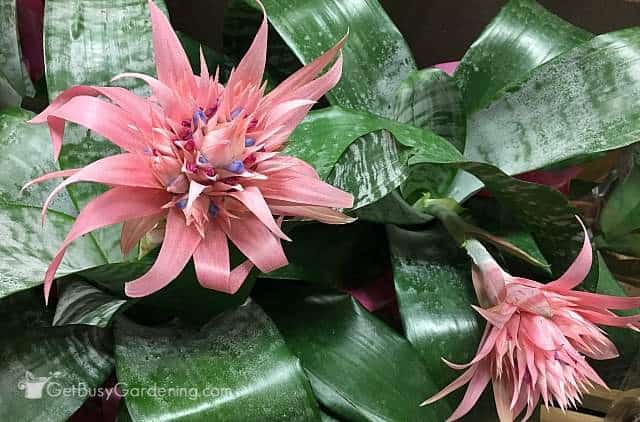 Propagating Bromeliad Plants
Like I mentioned above, most bromeliads will eventually fade and die after they're done flowering.
This is a sad fact of life, but the good news is that they usually have lots of babies before they die.
Bromeliads that are coming to the end of their life will grow tiny baby pups around the base of the main plant.
To propagate your bromeliad, you can simply remove these pups from the mother plant, or just allow them to grow after the main plant has died back and been removed.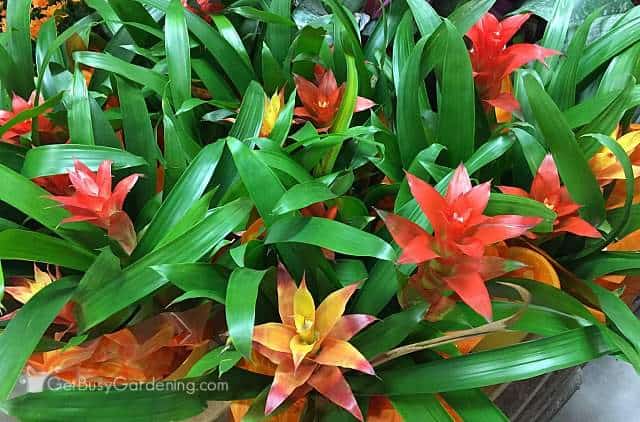 Troubleshooting Common Problems
There's nothing worse than watching your bromeliad plant die, and you have no idea what's wrong with it. So in this section, I'll list some of the most common problems, and give you tips to fix them.
Bromeliad flower turning brown, or the color is fading
Once the flower bract (what most people refer to as the flower) starts to turn brown or the color fades, it's a sign that the plant is done blooming and is starting to die, which is a normal part of the bromeliad life cycle.
Unfortunately, there's nothing you can do to save the plant once it starts dying. But, before you toss it out, be sure to check around the base of the plant to see if there are any bromeliad pups growing.
If so, you have lots of new plants to replace the dying one! Leave the pups growing, and trim away the mother plant once it has completely died back.
Small, hairlike blossoms growing out of the flower
This actually IS the flower! What most people refer to as the bromeliad flower is the floral bract, and not the actual flower.
Many types of bromeliad flowers are tiny and insignificant, and can look weird once they start to grow – which can be alarming if you've never seen a bromeliad flower before!
Why are the leaves of my bromeliad turning yellow?
The leaves of your bromeliad are turning yellow because it may be receiving too much light, not enough light, or too much or too little water.
Why are the leaves on my bromeliad brown, dry, and crispy?
The leaves of a bromeliad may start to look dry and crispy due to a lack of water. The leaves can also get brown if the plant is not getting enough sunlight.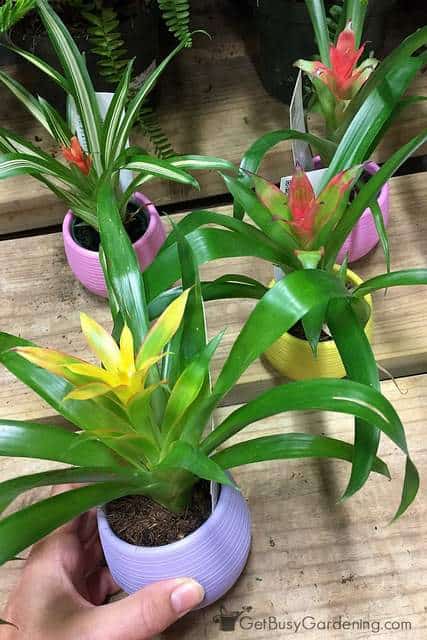 If you're wondering where to buy bromeliads, you're in luck! They are one of the most common plants sold in the houseplant section at most garden centers, or you can buy bromeliads online.
If you're thinking about buying a bromeliad, I recommend giving it a try. They look like they'd be harder to grow than they actually are, and bromeliad plant care is pretty easy once you get the hang of it!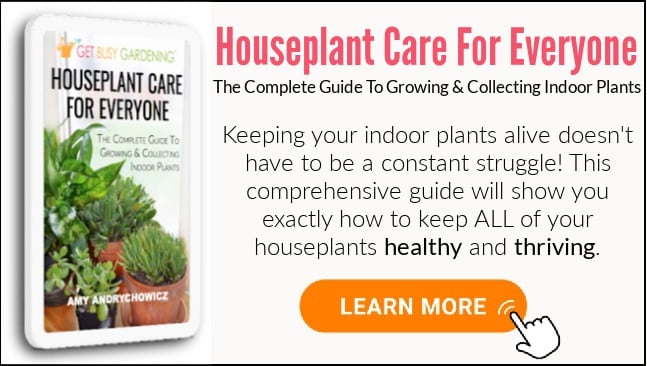 If you want to learn all there is to know about maintaining healthy indoor plants, then you need my Houseplant Care eBook. It will show you everything you need to know about how to keep every plant in your home thriving. Download your copy now!
More Posts About Growing Houseplants
Do you have any bromeliad plant care tips to add to this list? Please share them in the comments section below.