One of the biggest problems that many indoor plant growers face is the lack of light in their home. I mean, wouldn't it be great if every room in your house had huge south-facing windows? …Dreamy! But, back in the real world, nobody has that much sunlight in their house, and many rooms don't get any direct sunlight at all. Ipf this sounds familiar to you, and you're wondering which houseplants you can grow, I've put together a low light indoor plant list to get you started.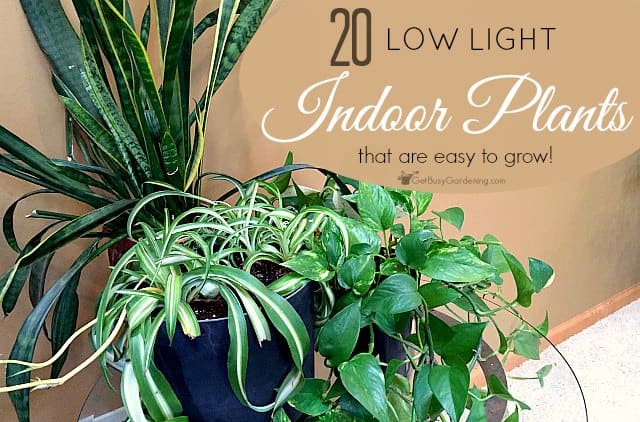 There's no such thing as a live plant that will thrive in complete darkness. So I hate to be the bearer of bad news, but if you're looking for a plant you can grow in your basement that has no windows, or the windowless kitchen or bathroom that is completely dark most of the time… well, then it's time to go shopping for silk plants. But most rooms in the house get some natural light, and there are lots of houseplants that will grow and even thrive in these low light areas of the average home. Here are a few of my favorites!

Low Light Indoor Plant List
Cast Iron Plant (Aspidistra elatior) – Named for the fact that it's an extremely tough plant, cast iron thrives on neglect, and will happily grow in any low light area of your home. Stick it in a corner and keep the soil on the dry side, and it will happily grow for years with little care.
Philodendron – There are tons of different varieties of philodendron houseplants out there, and they are some of the best low light house plants you can grow! Keep your philodendron out of the sun, water it regularly (but don't overwater it), and it will thrive for you.
Lucky bamboo – Commonly sold growing in vases of water, lucky bamboo is a perfect low light indoor plant that you can grow just about anywhere. Keep the water fresh and your indoor bamboo plant will thrive for years.
Prayer Plant (Maranta leuconeura) – A cute little houseplant that prefers to be grown in a low light area, prayer plants are super fun to grow! Their leaves are open during the day and then close up at night like prayer hands, which is where they get their name. Prayer plants will even get tiny flowers on them when they're happy.
Corn Plant (Dracaena fragrans) – The first time you see this plant, you'll understand why it's nickname is "corn plant". It looks a lot like a corn plant that you'd grow in your garden. Dracaena fragrans are beautiful, super easy to grow indoor plants that do well in low light areas. I've had one growing in the corner of my kitchen next to a north facing window for years!
Snake Plants (Sansevieria trifasciata) – There's no such thing as a "no-care" houseplant, but snake plants are about the closest thing you can get. They will grow in just about any low-light spot, and they thrive on neglect. Only water your snake plant when the soil is dry and keep it out of direct sunlight, and your snake plant will grow for years to come!
Dragon tree (Dracaena marginata) – One of the things I love the most about dragon trees is all the colors! Dracaenas look dramatic in a pot by themselves, but also make a wonderful addition to a mixed planter. They would add a very nice contrast to any of the houseplants on this list.
Chinese Evergreen (Aglaonema commutatum) – Another one of my favorite easy to grow houseplants, Chinese evergreens make great low light indoor plants. Not only is the foliage gorgeous, but they also get pretty little white flowers when they're happy, and bright red berries after the flowers die.
Parlor Palm (Chamaedorea elegans) – A popular low light indoor plant that's also pretty easy to care for, parlor palms make gorgeous houseplants. Palm houseplants are also one of the best air purifying house plants for your home, a double bonus!
Pothos (Epipremnum aureum) – One of the all-time easiest plants to care for, pothos plants are also super easy to propagate and rarely have any problems with houseplant pests. This is one of the first houseplants I've ever owned, and pothos will always have a spot in my houseplant collection. Pothos are perfect for growing in hanging baskets, or just allowing the vines to cascade over a coffee table or bookshelf. Heck, you can even train the vines to grow vertically on a mini obelisk, climbing plant stake, or moss pole. Pothos plants are perfect houseplants for beginners!
ZZ plant (Zamioculcas zamiifolia) – Often thought of as a no-care houseplant, zz plants are another low light indoor plant that's super easy to care for. Treat your zz plant just like you would treat your succulents, but keep it out of direct sunlight, and your zz plant will look amazing!
Spider Plant (Chlorophytum comosum) – One of the most classic houseplants, spider plants are great low light indoor plants. There are a few different varieties of spider plants, and all of them look gorgeous in hanging baskets or set atop a pedestal. The variegated varieties are my favorites, especially the curly leaf variety called "Bonnie".
Dumb cane houseplant (Dieffenbachia) –  A common low light indoor plant that's pretty tolerant of any indoor environment, dumb cane plants are beautiful too. Plus they're super easy to care for, just keep it out of direct sunlight and water when the soil is dry.
Peace Lily (Spathiphyllum) – As flowering low light air purifying house plants, peace lilies have a lot going for them. They're also pretty easy to grow indoor plants, and one of the most commonly sold houseplants on the market. peace lilies are a staple in any houseplant collection.
Arrowhead Vine (Syngonium podophyllum) – Arrowhead vines are another easy to care plant that thrives in low light areas. They look great in mixed containers or in a pot by themselves. Arrowhead vines also fun to propagate, and it's fun to collect all the different varieties.
Bromeliads – If you're looking to add some tropical color to your home, but you don't have a ton of light then bromeliads are perfect for you! Bromeliads grow their best in low light conditions, and they come in tons of different colors.
English Ivy (Hedera helix) – Another low light indoor plant that's commonly sold in garden centers, ivies make great houseplants! Grow them in hanging basket, on top of bookshelves or cabinets, or you could train the vines to grow vertically on this one too by growing them on a mini obelisk, climbing plant stake, or moss pole. Watch out though, spider mite houseplant pests love them and can quickly infest an indoor ivy plant.
Ferns – Another classic houseplant, ferns are such gorgeous plants. Ferns are perfect to grow in just about any room of your house. As long as they get the right amount of water and are kept out of direct sunlight, ferns will grow for many years.
Peperomia – There are tons of different varieties of peperomia plants, and they all make wonderful houseplants. Peperomias look great in a hanging basket, or in mixed containers and they are super easy to grow houseplants too. Water your peperomia regularly, but don't overwater it, and keep it out of directly sunlight.
Wandering Jew (Tradescantia zebrina) – Most purple houseplants need tons of light to keep their color when grown indoors, but wandering jews will only suffer in a sunny window. Give them bright, filtered sunlight and lots of humidity, and they will happily grow into beautiful houseplants.
I hope this list will give you an idea of some of the best houseplants you can grow in low light conditions. Now you can spruce up that dull boring corner, and give it some life with low light houseplants!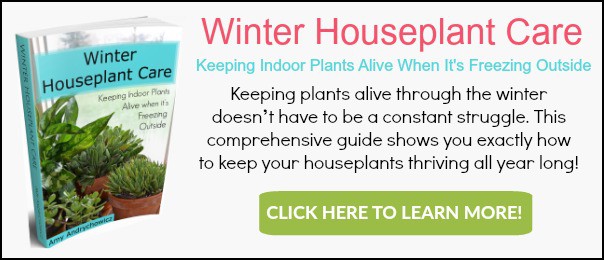 Recommended books…
More Tips For Growing Houseplants
For more information about growing different types of houseplants, click here… Houseplant Types
What low light indoor plants would you add to this list? Share your favorites in the comments section below.
Pin It!