Fertilizing houseplants is important for their health and vigor. In this post, I'll give you tons of tips for choosing the best fertilizer for indoor plants.
Then I will show you when, how often, and how much food to give them, and how to apply it.
Fertilizing is one of the most (if not THE most) intimidating parts of growing houseplants. I get it, I was totally hesitant about it when I was a newbie too.
But feeding houseplants doesn't need to be scary or complicated! In this article, I am going to make it super easy for you.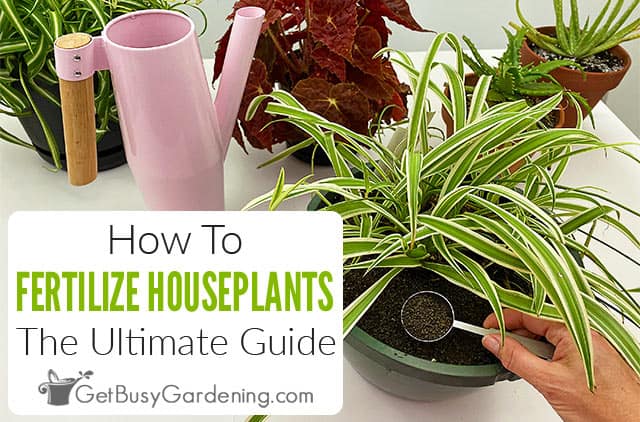 Do Houseplants Need Fertilizer?
In this comprehensive guide, I will explain everything you need to know about how to fertilize indoor plants, using simple terms that anyone can understand.
Since they are kept inside, many people wonder if houseplants even really need to be fertilized. This is a great question, and the short answer it yes. Let me explain…
When you first pot up an indoor plant, there are only so many nutrients present in the soil. Those limited nutrients are used up fairly quickly, or are flushed out of the pot each time you water.
If you never replenish them with fertilizer, then most houseplants will start to suffer. Lack of proper nutrients can slow or stunt their growth, cause them to lose their vigor, or prevent them from blooming.
Some indoor plants are heavier feeders than others. For example, ones that flower usually need to be fed more often than foliage houseplants.
Best Fertilizer For Indoor Plants
Before I get into the details here, I want to mention that I always recommend using organic fertilizer for houseplants, rather than synthetic chemicals.
Those harsh chemicals can build up in the soil, and cause major damage over time. It's also much easier to overuse them, which can quickly cause fertilizer burn.
So, stick to using natural, organic products to fertilize houseplants. They work much better, and are just as easy to use!
To choose the best option, check the N-P-K numbers on the package. Those stand for nitrogen, phosphorus, and potassium. Here's how to make the decision super simple…
Best Fertilizer For Flowering Houseplants
If your houseplant gets flowers, then you should look for a fertilizer that has a higher phosphorus (P) number. You can use either high-phosphorus granules, or a liquid concentrate.
Best Fertilizer For Foliage Houseplants
For foliage only indoor plants (non-flowering), choose a fertilizer that has a higher nitrogen (N) number, or one where all the numbers are the same. A general-purpose liquid plant food is a great choice. Or you can get a slow release type.
Different Types Of Houseplant Fertilizers
At a very high level, there are basically three different kinds of products you can use for fertilizing houseplants: granules, liquids, or spikes. When it comes to choosing between them, there really is no right or wrong answer.
They all have their own unique benefits and convenience factors. It really comes down to your preference. You certainly could start with one, and then switch it up to find the one you like the best.
Related Post: Guide To Choosing The Best Fertilizer For Your Vegetable Garden
Slow Release Granules
Just as the name suggests, granules add nutrients to the soil over a longer period of time. The tradeoff of using granular fertilizer is that the nutrients aren't instantly available to your houseplant.
But the biggest benefit is that they work over an extended period of time, and feed houseplants longer. So, you don't need to apply them as often as liquids. Here are a few of my favorites…
Liquid Fertilizers
If you'd rather give your houseplants a fertilizer that works faster, then liquid varieties are the best choice. Since they are water-soluble, they're absorbed by the roots very quickly.
The downfall is that they don't feed houseplants for very long, so you need to apply them more often. Liquid varieties usually come either ready-to-use, in a concentrate, or as a tea bag for brewing your own. Here are some great options…
Fertilizer Sticks Or Spikes
Just like the granules, fertilizer spikes slowly release nutrients into the soil over time. They aren't immediately available to the houseplant, but will feed it for longer.
The benefit of using a spike is that you can just push it into the soil. No measuring, mixing, or mess. But you really need to read the label carefully so you don't accidentally add too many of them.
Related Post: The Best Indoor Houseplant Supplies, Tools & Equipment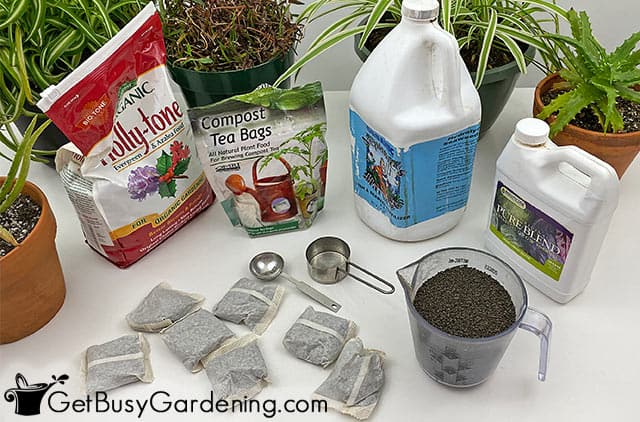 When To Fertilize Indoor Plants
You should only fertilize houseplants during their active growing season, and that can be different for each one. But for most, this is during the spring through summer.
Most houseplants go into a state of dormancy in the winter. Fertilizing them during that time can cause problems, like weak or leggy growth.
Also, never add fertilizer to a houseplant that is drooping or otherwise stressed. This could end up causing major damage, or even be fatal.
If the soil is dry, or your houseplant is droopy, then water it well, and allow it to recover before feeding it.
How Often To Fertilize Houseplants
Since all houseplants can be different, it's best to research the recommended feeding schedule for each one. But in general, you can give them liquid fertilizer every 2-4 weeks during their active growing season.
If you prefer, you could feed them with a diluted (1/2 – 1/4 strength) liquid houseplant food every time you water. Granules and feeder stakes only need to be applied once or twice per season.
Always read the label on the package to find out exactly how often to fertilize indoor plants. Those are always the best instructions to follow.
How Much Indoor Plant Food Should You Use?
The exact amount varies depending on the kind of product you're using, as well as the size of the pot. Since products can differ greatly here, it's best to check the label to see how much fertilizer to use on indoor plants.
Whatever you do, make sure you don't over feed them. Even though it's much harder to burn houseplants with natural fertilizers, it is still possible for some. So always use the recommended ratios listed on the package.
How To Fertilize Houseplants
Below I'm going to give you quick tips for using all three types of houseplant fertilizer (liquids, granules, and spikes). These are just general guidelines, so be sure to read the label for the exact instructions.
Using Liquid Fertilizer On Houseplants
Mix the recommended amount of liquid fertilizer into your watering can. Then use it to water you plants as you normally would.
Feeding With Slow-Release Granules
Sprinkle the recommended amount of granules evenly over the top of the soil, then use a fork to gently mix it in. Water the soil to activate the granules.
Adding Fertilizer Sticks Into The Soil
Gently press the recommended number of sticks into the soil, spacing them evenly around the edge of the container. Push each one down about an inch into the soil. Then cover it up, and add water to activate the spikes.
Related Post: How & When To Fertilize Your Vegetable Garden
FAQs About Fertilizing Indoor Plants
In this section, I will answer some of the most frequently asked questions about fertilizing houseplants. If you still have a question after reading this guide, then please ask it in the comments below. I'll be happy to answer it as soon as I can.
Is coffee a good fertilizer for houseplants?
I do not recommend using coffee or coffee grounds to fertilize indoor plants. First, coffee is acidic, and most houseplants prefer alkaline soil.
Second, coffee grounds mold very quickly, which causes mold to grow in the soil. You definitely don't want that happening in your home. So, save the coffee grounds for the compost bin instead.
How do I know if my plants need fertilizer?
If your houseplant is very slow to grow, looks dull, or won't flower, those are sure signs that it could use some plant food. Since they can live in the same pot for many years, it's a good idea to fertilize indoor plants on a regular basis, rather than wait until their health declines.
Fertilizing houseplants is important, but doesn't need to be difficult. Now that you know all about it, you'll see just how easy it is. Just be sure to stick to using natural fertilizer, and your indoor plants will be happy and healthy for the long term.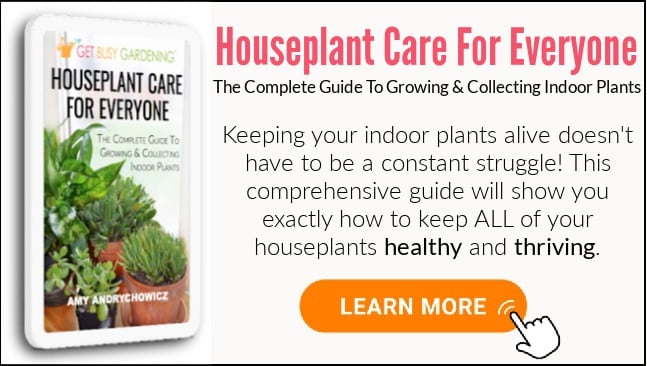 If you want to learn all there is to know about maintaining healthy indoor plants, then you need my Houseplant Care eBook. It will show you everything you need to know about how to keep every plant in your home thriving. Download your copy now!
More Houseplant Care Posts
Share your best tips for fertilizing houseplants in the comments section below!