Nothing screams "tropical indoor plant" quite like palm plants. If you want to create an indoor jungle, then you'll definitely need to add a few of these beauties to your collection. There are lots of different varieties that are commonly sold as houseplants, but don't worry. Keeping these elegant plants thriving is easy with these basic indoor palm plant care tips.
Palms make excellent houseplants because they are very tolerant of neglect, but they will grow their best when given the proper indoor palm plant care.

They make ideal houseplants because they don't like a lot of light, and will easily adapt to growing indoors.
Palm plants can live for many years when they're cared for properly, and some varieties can grow into huge palm trees in containers indoors.
You can even move your palm plant outside (in a shady spot) during the summer to give it a boost if you want.
Different Indoor Palm Plant Types
Like I mentioned above, there are tons of different palm plants that make excellent houseplants.
They don't all look exactly the same, and some of them don't even look like what you would imagine. So, keep that in mind while you're out shopping for new indoor tropical plants.
Here are a few of the most common types of palms for indoors that you might find.
Areca palm tree
Ponytail plant
Parlor palm
Majesty palm tree
Fan palm
Cateracterum palm
Sentry palm
Yucca palm
Butterfly palm
Tips For Indoor Palm Plant Care
Even though there are tons of different varieties of indoor palm plants, they all require the same basic conditions to grow their best.
That's great news, and makes indoor palm plant care so much easier!! Here are some basic tips for caring for a palm plant indoors.
Water
Palm plants are tolerant of being under watered, but they will grow their best when watered on a regular basis.
Ideally, palm plants prefer it when their soil is kept evenly moist, especially during the summer months (their active growing season).
Allow the soil to dry out only slightly between waterings in the summer. During the winter, you can let the soil dry out a bit more between waterings.
Be very careful not to overwater though, this is the number one killer of palm plants.
If you struggle with giving your plants the right amount of water, I recommend getting an inexpensive soil moisture gauge to help you get it just right.
Light
One of the reasons palm plants are such common houseplants is that they can easily adapt to low light conditions indoors.
In fact palms prefer the shade, and will suffer if they get any direct sunlight. This is perfect, since most of us don't have a ton of direct sunlight in our homes anyway!
Palm plants prefer bright indirect light, but will tolerate less light, especially during the winter.
If you put your palm plant outside during the summer, make sure to keep it in the shade.
Soil
When it comes to soil, palm plants aren't super picky. Ideally, they prefer a loose, porous soil mix, such as a combo of peat moss, leaf mold, and shredded bark. But, they will grow just fine in a general purpose potting soil.
If you're one of those people who tends to forget to water your plants (ehem, not that I would know anything about that), then you can mix some peat moss and/or vermiculite into the general purpose potting soil to help retain moisture.
Keep in mind that palm plants don't like to be repotted, and can be grown in the same pot for several years. So, it's best to wait to repot your palm plant until it's pot-bound.
Fertilizer
Indoor palm plants don't really need to be fertilized, but of course the plants will benefit from being fed.
However, they are very sensitive to chemical houseplant fertilizer, and using synthetic fertilizers can do more harm than good.
It's best to stick with using an organic plant fertilizer to feed your indoor palm plants.
The good news is that there are organic palm fertilizers on the market that are specifically made for palm plants, which make feeding them super easy! My favorite brands of organic palm fertilizers are Jobe's, Espoma, and Dr. Earth.
Whatever you decide to use, only fertilize your palm plants during their active growing period. Don't fertilize your indoor palm plants during the fall and winter.
Palm Houseplant Pests
Spider mites are the most common pest that can attack indoor palm plants. Keeping the humidity level high in the air around the plant will help to fend off spider mites, and will also benefit the plant. Houseplant scale and mealy bugs can also be a problem, but are much less common.
If you find that your palm plant has bugs, begin treatment immediately. Don't use chemical pesticides on houseplant pests though, they aren't very effective (plus they're harmful to us and our pets!).
I recommend using organic neem oil, which is a natural pesticide. I also like to use a mixture of 1 tsp Dr. Bronner's Baby-mild Liquid Soap per 1 liter of water to help control houseplant pests. Insecticidal soap or horticultural oil also work great.
Related Post: How To Control Houseplant Pests
Common Indoor Palm Plant Care Problems
One of the most common problems that indoor palm plants have is brown leafs and tips. There are a few things that can cause a palm plant to start turning brown…
Lack of water
Overuse of chemical fertilizers
Spider mites
Keep in mind that if you just brought the plant home from the garden center, it will take some time for the chemical fertilizers to wash out of the soil (but it doesn't hurt to check to make sure you're watering it enough, and that it's not infested with spider mites).
If you've had the plant for a while and don't use chemical fertilizer, then take a close look to see if the plant has spider mites. If the plant is clean, then check the soil and make sure it's not too dry.
To keep your indoor palm plants looking nice, simply trim off the brown tips.
Indoor palm trees and plants are very low maintenance, easy to grow houseplants that will thrive for years when you give them the proper care. Indoor palm plants are also beneficial to us because they are one of the best houseplants that help to purify the air in our homes! If you ask me, they might just be the perfect houseplant.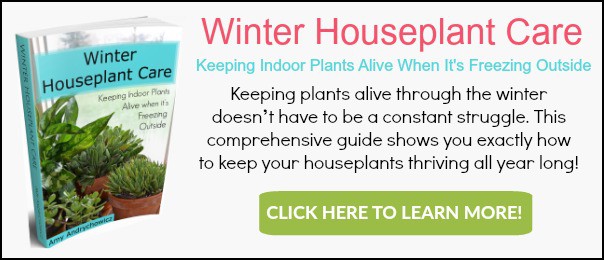 Products I Recommend
You Might Also Enjoy These Posts About Growing Houseplants
Do you grow palm plants in your home? Share your indoor palm plant care tips and advice in the comments below.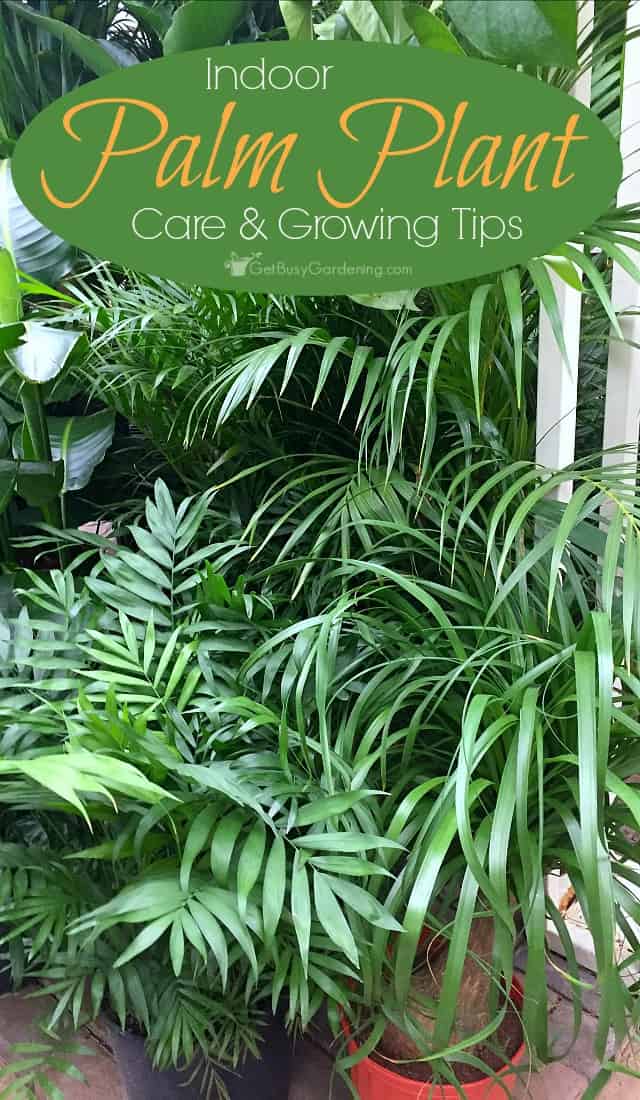 .