Basil is a fast growing herb, and is definitely one of the the most popular herbs grown by gardeners everywhere. It's easy grow basil from seed, and you'll have a lot more varieties to choose from than if you buy plants.
I love having fresh basil ready to harvest any time I want, and I eat it almost every day during the summer. In this post, I'm going to show you exactly how to grow basil from seed, and give you some tips for caring for basil too.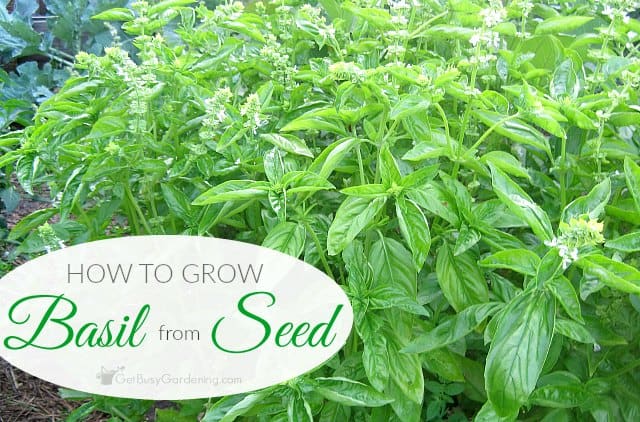 Information About Basil Plants
Basil plants are in the mint family, but they're not invasive like many types of mint plants are. They're an annual herb, so they will only survive one growing season in the garden.
Basil makes a wonderful addition to any garden, and when grown near tomatoes, is said to make them taste sweeter. It's easy to grow basil from seed, and there are lots of varieties to choose from.
Some of the best basil varieties (and my personal favorites) are Genovese, lemon basil, Italian large leaf, Dolce Vita blend, and purple basil seeds (which is super fun to grow and adds wonderful color to the garden too!).
How To Grow Basil From Seed
People who live in a warm climate can plant basil seeds directly into their garden in early spring. But, basil plants won't tolerate the cold, and they need warm soil to germinate.
So, if you live in a cold climate like I do, it's best to start basil seeds indoors. Basil is super easy to grow from seed, and basil seeds will germinate pretty quickly in the right conditions.
It's not frost hardy, so it's best to plant basil a little later in the spring than planting it too early only to lose it to a late frost.
Ideal Basil Growing Conditions
One of the things I love the most about basil is that I can grow it just about anywhere. I love growing it in pots and mixed containers, and I also tuck it into areas of both my vegetable garden and my annual flower gardens (you can never grow too much basil!).
Basil prefers to be grown in full sun, but I've had no problems growing it in partial shade too. The best soil for growing basil is a rich, organic, well-draining soil that's kept evenly moist.
But basil won't tolerate sitting in soggy soil for very long, so make sure the soil is fast draining. To give my basil plants a boost, I like to add an organic granular herb fertilizer to the soil before planting my seedlings.
When To Plant Basil Seeds
Basil seeds should be started indoors 6-8 weeks before your average last frost date. If you live in a warm climate, you can plant them directly into your garden 1-2 weeks after last frost when the soil temperature is warm.
How To Start Basil Seeds Step-By-Step
Fill your seedling trays with seed starting medium, or you can use seed pellets if you prefer
Plant 1-3 basil seeds per cell/pellet (if more than one seed grows, you'll need to thin the seedlings)
Sprinkle the seeds over the top of the dirt, and gently work them into the soil. Basil seeds are tiny, and should only be planted 1/4″ deep.
Water your seed trays from the bottom rather than the top so you don't displace the tiny seeds
Cover the seedling tray with the plastic lid to keep the soil moist and warm during germination
Caring For Basil Seedlings
Germination time for basil – The seeds will usually germinate in about 5-10 days. Basil seeds need warm soil to germinate, so be sure to use a seedling heat mat to speed things up.
Basil seedling lighting – Basil seedlings growing indoors need a lot of light to keep them from getting long and leggy. As soon as the first seed has sprouted, add a seedling grow light a few inches above the seed tray.
If you're a DIYer, you can make your own seed starting grow lights using an inexpensive fluorescent light fixture and plant grow light bulbs.
Keep the light 1-2 inches above the seedlings at all times (adjusting the height of the light as the seedlings grow), and leave it on for 14-16 hours a day. Use an inexpensive outlet timer to make it easy to give your basil seedlings the perfect amount of light.
Related Post: A Beginner's Guide To Grow Lights For Seedlings
Watering basil seedlings – Always keep the soil in your seed starting trays consistently moist, and never allow it to dry out completely.
Basil seedlings don't like to be sitting in soggy soil though, so make sure you don't overwater them. Watering seedlings from the bottom will help prevent mold growth.
Potting up basil seedlings – Basil seedings grow fast and can quickly outgrow the seed planting trays. It's best to pot them up to give them plenty of room to grow and mature before it's time to plant them into the garden.
I like to use plantable pots to make transplanting my seedlings easier (and lower the risk of transplant shock). If you don't like using peat products, and prefer a more sustainable option, coco coir pots or cow pots are both really great choices.
Of course, you could also use plastic seedling pots (which are reusable) instead of plantable ones. Whatever you prefer.
Learn more about caring for seedlings here.

Planting Basil Seedlings Into Your Garden
You can't plant basil seedlings grown indoors directly into the garden, they must be hardened off first. This is a crucial step to ensure the survival of your seedlings.
Basil won't tolerate cold weather or cold soil, so make sure you wait to transplant your seedlings into your garden until the weather has warmed up in the spring. Once the soil has warmed up and all chance of frost is gone, plant basil seedlings spacing them 6-12 inches apart.
Giving basil plants plenty of room to grow will allow for ample airflow between your plants, and help to prevent powdery mildew. Find out the timing for when to transplant seedlings into the garden.
How To Care For A Basil Plant
Like most herbs, basil plants are pretty low maintenance and a full grown basil plant won't really need any special care. The main things you need to worry about are making sure you don't overwater your basil plants, and looking out for powdery mildew.
Watering basil plants from the bottom rather than from the top helps to prevent powdery mildew. Wet leaves are a breeding ground for disease. Proper plant spacing (allowing for good airflow between plants) will help too.
Basil plants aren't heavy feeders, but like any plant, they will benefit from being fed once and a while. I like to top-dress the soil with an organic granular herb fertilizer, and I also feed them with an organic liquid fertilizer once or twice throughout the summer. I use (and recommend) either an organic compost fertilizer, which you can get in liquid form, or buy compost tea bags and brew your own. Fish emulsion or liquid kelp are both great organic liquid fertilizers too.
Pinch off basil flowers as they start to grow to encourage new leaf growth, and to keep the plants bushy. If you allow the flowers to grow, you can collect the seeds and save them to grow basil from seed for free next year.
How To Harvest Basil
Pinching and harvesting basil leaves encourages new growth, and makes the plant bushier. You can harvest basil leaves any time you want, and continue harvesting the largest leaves throughout the entire summer.
Right before the weather starts to cool down in late summer, I harvest all of my basil at once and use it to make fresh pesto. It's amazing (and easy to freeze too)! I also like to dry some of the leaves to fill my spice jar to use all winter long. Basil leaves also freeze well.
Related Post: Harvesting And Storing Basil Leaves Fresh From The Garden
If you've never grown herbs from seed before, I recommend starting with basil. Basil seeds are one of the easiest herbs to grow from seed. This easy to grow herb is a staple in my garden, and I grow basil from seed ever year.
If you want to learn how to grow all of your garden plants from seed, check out my seed starting course. This is a comprehensive online course that will give you step-by-step guidance and support for growing any plant you want from seed.
More Seed Starting Posts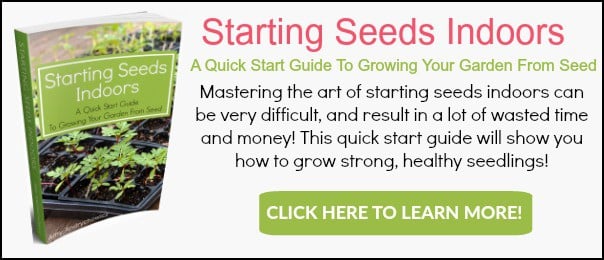 Share your tips for how you grow basil from seed in the comments section below.
Pin It!