Storing basil is very easy, and a great way to utilize an overabundance from your garden! There are several ways you can preserve basil for later use. In this post, I will walk you through each method in detail.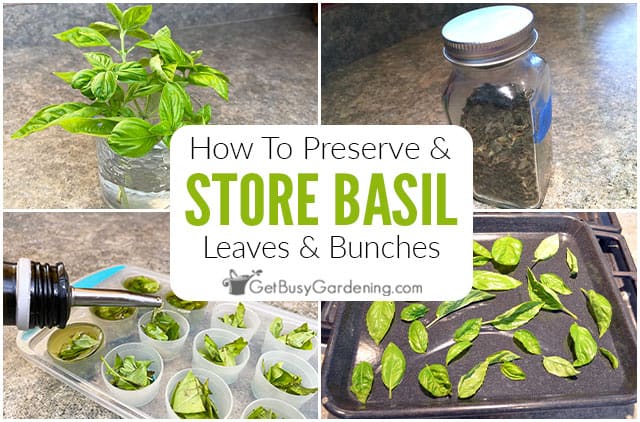 Basil is such a great crop in the summer, but you can also store it for the winter. With the right methods, you can keep that fresh flavor to enjoy all year long.
There are plenty of easy ways to store basil for the short or long term that don't require any fancy equipment or planning.
Over the years I've experimented to find all the best methods to preserve basil for use later. Now I want to share them with you.
Here's what you'll find in this detailed guide for preserving and storing basil…
How Long Does Basil Last?
When properly stored, fresh basil can last up to 10 days. However, when you preserve it, you can keep it for much longer.
Even though well preserved basil doesn't really go bad, it will start to lose its flavor over time. So, no matter which method you use to store it for the long term, it's best to use it up within one year.
Related Post: How To Preserve Herbs Fresh From The Garden: 9 Best Ways
How To Keep Basil Fresh
Basil does not store very well for the short term. So, it's best to use it up within a few days. There are a couple of methods you can use to keep it fresh as long as possible.
But whatever you do, do NOT wash it before storing fresh. If you have already washed it, make sure to completely dry the leaves as quickly as you can, or they will start turning brown.
How To Store Fresh Basil Leaves In The Fridge
If you want to keep basil in the fridge, make sure the leaves are completely dry before storing it. Wet leaves will turn brown very quickly.
Also, do not wrap them in plastic, because the condensation will cause them to turn brown, black, or get spots on them.
Store the leaves just like you would your salad greens. Pack them loosely into a container, and place them into the fridge.
I use my salad spinner to spin dry the leaves, then I store them in the fridge right in that. It works great, and they will stay fresh for a few days. An herb keeper also works very well.
But honestly, putting basil into the refrigerator is the worst way to store it. So, if you want to keep it for longer than a few days, put it on the counter in a vase of water.
Related Post: How & When To Harvest Basil Leaves
Storing Basil In Water
The best way to store basil for the short term is to put the stems into a vase of water, and keep it at room temperature.
First, remove the lower leaves, and use those up first. If any of the leaves are touching the water, they will quickly turn black.
Leave it uncovered, and place it in a spot where it will get bright, indirect light, but keep it away from heat.
Then simply treat it like you would a flower bouquet. Change the water every few days, and snip off the bottom of the stems as they get slimy.
Related Post: How To Grow Basil: The Ultimate Guide
Preserving & Storing Fresh Basil
If you aren't going to eat up your basil within a couple of days, then you need to use one of the methods below for storing it long term.
How To Dry Basil
One of the most popular ways to preserve basil is to dry it. You can use a dehydrator, warm oven, microwave, or lay them out on an herb drying rack. Then crush or grind them, and fill a spice jar for your pantry.
I use my mini food processor to crush the leaves for my spice rack, but you could use an herb grinder instead.
Like I said earlier, the dried leaves don't retain their flavor as well as they do when you freeze them. But it still adds a nice flavor and aroma to your favorite dishes. Plus, it keeps my spice rack full!
Learn about all the ways you can dry herbs from your garden here.
How To Freeze Basil
The easiest way to store basil for the long term is to freeze it. You don't even have to chop them up first.
Once frozen, they become very brittle, and you can crush them up really easily right in the baggie if you want.
Basil freezes very well, and it doesn't take much prep time either. All you need to do is put the leaves into storage bags, and pop them into the freezer.
Again, it's best to make sure your basil isn't wet before preserving it this way (or you might end up with one giant popsicle).
You could also flash freeze individual leaves on a cookie sheet for 10-20 minutes before putting them into the baggie. That way they won't stick together at all.
But if you do want popsicles, you can use an herb freezer tray or mini ice cube trays to preserve them. Just remember that anything in ice water needs to be well sealed to prevent freezer burn.
Learn more about how to freeze herbs from your garden here.
Make Pesto
You could also make a batch of homemade basil pesto, and freeze that for later use in your recipes. Simply put all your favorite ingredients into a food processor, and mix until smooth.
Pesto stores just as well as the leaves do, and you can use the herb trays or a mini ice tray to keep pesto in perfect portions for cooking.
Preserving Basil In Oil
Preserving basil in oil is also a great way to store it for later. I prefer to use an ice cube tray for this, because I can measure out the exact amount I need in my favorite recipes.
Simply chop up the leaves, and fill your trays. Then, pour olive oil over the top to cover the leaves, and put the trays into the freezer.
Once they're completely solid, pop them out of the trays, and store them in a freezer safe baggie.
Related Post: How To Grow Basil From Seed: Complete Guide
FAQs About Storing Basil
Still have a few questions that need to be answered? Here are a few common ones about storing basil. If you can't find an answer to your question here, ask it in the comments below.
Does stored basil expire?
Fresh basil doesn't expire per-say, but it will start to rot or mold if you don't preserve it. If well preserved, it will last for a long time.
But it's best to use stored basil within a few months, and replenish your stash with a new batch from your garden every year.
Is it better to dry or freeze basil?
There are pros and cons to both methods, so it really comes down to personal choice. Frozen basil keeps its flavor better than dried.
However, it takes up precious freezer space. I personally like to do both, so that I have some on hand whenever I need it.
With so many options, storing basil for winter use is well worth the effort. Trust me, you'll want to savor that amazing flavor, because there's nothing else like it. By preserving basil, you can bring a bit of your summer garden into the coldest part of the year.
Related Products
More About Food Preservation
Tell us your favorite way to store basil for long term use in the comments below.