Does your houseplant have bugs? Are they tiny and white and look like miniature flies? Yep, those are whiteflies, and they are one of the most common houseplant pests around. Don't worry, you don't have to live with these annoying plant bugs. You can kill whiteflies and get rid of them for good!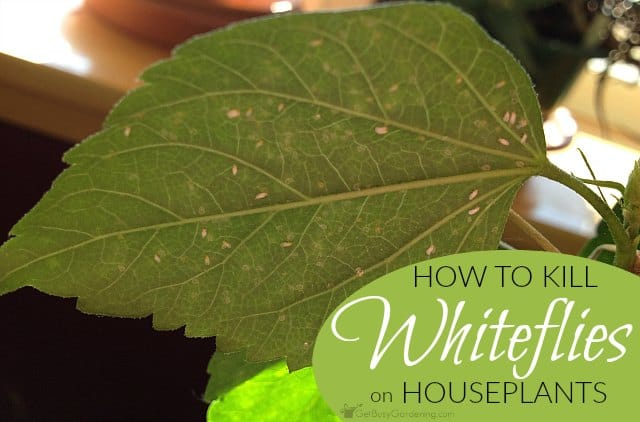 Whitefly Plant Pest Identification
Whiteflies are easy to identify, the adults will fly around when the leaves of the infested plant are disturbed. You probably won't even notice the infestation until you disturb the plant, and start choking on a cloud of tiny white bugs.

<cough, cough>
There are three stages in a the whitefly life cycle; egg, nymph and adult. The full life cycle takes a couple months. Whiteflies lay their eggs on the underside of the leaves. Flip a leaf over and take a close look; the eggs, nymphs and adults are easy to see.
Related post: How To Kill Mealybugs On Houseplants
Whitefly Damage To A Houseplant
Whiteflies harm a houseplant by sucking the juices out of the leaves and flower buds, causing them to turn yellow and drop from the plant. This feeding occurs during both the nymph and adult stages of these plant bugs. Unfortunately, the nymph whiteflies cause the most damage to the plant. So, by the time you notice the adult whiteflies buzzing around, there's already been major damage to the leaves.
Related Post: How To Control Spider Mites On Houseplants
Heavy whitefly infestations can cause severe damage to the houseplant. If left untreated, whiteflies will eventually kill the plant. It would take a long time for whiteflies to kill a large plant, this is more of a concern on small or weak plants and seedlings. Where do whiteflies come from? More than likely, they were brought into the house on a newly purchased plant, or from putting a houseplant outside during the summer. Whiteflies could also easily come through window screens, since they are so small.
How To Kill Whiteflies On Houseplants
As with any houseplant pest infestation, once you discover whiteflies, you'll want to take action immediately. There are several ways to control whitefly infestations using all natural pest control methods. I don't recommend using synthetic chemical pesticides on any houseplant pests because they aren't as effective (and they are toxic to us and our pets too!). Plus, houseplant pests can actually build up a tolerance to chemicals over time, making the problem even worse.
Whatever types of pest control products you decide to use, you have to be diligent because whiteflies are difficult to get rid of – especially if you have several houseplants. Here are my recommendations for safe pest control methods you can use for fighting indoor plant pests.
Use a solution of soapy water and spray it on the leaves of your infested plant (I use 1 tsp of Dr. Bronner's Baby-mild Liquid Soap per 1 liter of water). If you don't want to mix your own, you can buy an organic insecticidal soap instead. If the plant is small enough, bring it to the sink or shower and wash the leaves with this soap and water solution. Keep in mind that soap can damage the plant, so it's best to test it on a few leaves before spraying the entire plant.
Neem oil is very effective to control whitefly infestations, and has a residual effect to keep them from coming back quickly. You can buy neem oil for pretty cheap, and a big bottle will last a long time. It works wonders for eliminating a whitefly infestation, and helps with pest prevention as well. A pre-mixed horticultural oil or hot pepper wax spray can also be affective when used directly on whiteflies.
Be sure to focus your sprays on the undersides of the leaves, this is where whiteflies lay their eggs. These treatments will only be effective on the eggs and nymphs, the adults will fly away from the spray.
Trim heavily infested leaves from the plant and throw them into the garbage (outside the house). This will help get the infestation under control faster by eliminating many of the nymphs and eggs. Don't cut all of the leaves off your plant though.
To control the adult whiteflies, you can use a yellow sticky trap to catch them. Hang the sticky trap from the top branches of the plant, near the infested area.
In very heavy infestations, you can use a vacuum to capture the adults as they fly from the plant, but be careful not to suck up your plants leaves in the process.
Don't forget to inspect houseplants that are near the infested plant. Whitefly adults can fly around and lay their eggs on other nearby houseplants, especially when you start treating the infested plant. Continue to monitor other plants in the area until the infestation is gone.
Pest infestations on houseplants are no fun, and dealing with whiteflies can be difficult. Persistence will pay off, so keep fighting the good fight!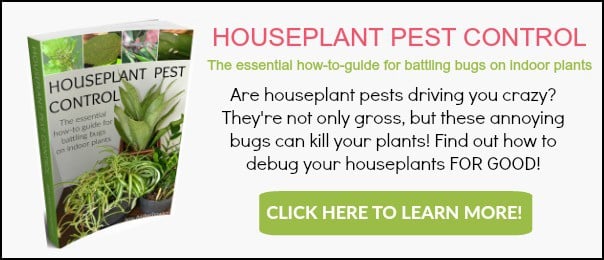 More Information About Plant Pest Control
Indoor Pest Control Products I Recommend
For more information and tips for how to combat those super annoying indoor garden pests, click here… Houseplant Pests
How do you control whiteflies on your houseplants?
Pin It!