Succulents are by far my favorite type of plant. They are easy to maintain, easy to propagate, and best of all, they are unique and beautiful! Succulents make excellent houseplants because they are very low maintenance. But succulent plant care can be a bit tricky when you're growing succulents as houseplants. When grown indoors, succulents will need a bit of special care.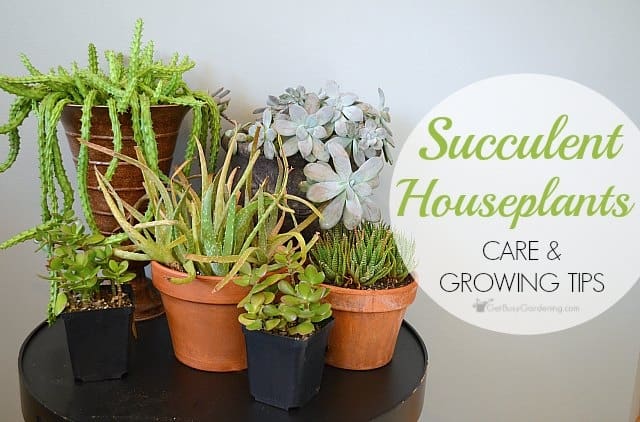 I have a large collection of indoor plants, and over the years I find myself with more and more succulents as houseplants, and less of the higher maintenance tropical plants. Succulents don't mind it one bit if I ignore them for months at a time, which is perfect for someone who's busy like me!

I like to put my succulent plants outside during the summer, where they will thrive without any help from me. Then I bring them indoors during the winter, where they also require very little care. In fact, succulents might just be the most awesome houseplant ever!! (ok… maybe that's just me)
Growing Succulents As Houseplants
What makes them such awesome houseplants you ask? Well… they store water in their leaves, so they can go much longer between watering than other types of houseplants. Plus, most succulents are more tolerant of being overwatered than cactus plants. And, maybe the best part about them is that, if you do overwater them, many succulent plants can be saved. That's right, if a succulent plant starts to rot at the base, you can cut them off above the rot and propagate your succulents to save the plant. How can you fail?! (ha, ha, OK, reality check… yes, yes, I've killed my fair share of succulents)
Indoor Succulent Plant Care Tips
Growing succulents as houseplants can be tough if you're not familiar with their needs. Like I already mentioned, they are easy to grow indoor plants, but some people might find them much more difficult to care for than other types of houseplants. Succulent plant care isn't difficult, but it's different than caring for your typical houseplant. Don't worry, I've got you covered. I have many years of experience growing (ehem, and killing) succulent plants, so I have a pretty good feel for what works and what doesn't. Here are my succulent plant care tips.
Light For Growing Succulents Indoors
Some succulent plants require full sun to grow their best, but others prefer indirect light, and full sun will only burn their leaves. In general, most indoor succulents will grow best in a south facing window during the fall and winter, and then with filtered light during the hot summer months (if you don't move them outside). If your plants have started to grow leggy and are reaching for the window, that means they need more light. Move the plant to a sunnier spot, or add a grow light. On the other hand, if you're growing a succulent plant in a sunny window and the leaves start to burn, then move it to a filtered light location.
If you do end up moving your succulents outside during the summer, that's great! Just make sure you don't put them in a full sun location right away. Succulents grown indoors will need time to adapt to the sun again, so it's best to move them to full sun slowly in the spring. Moving succulent plants directly from being indoors all winter to full sun could burn the leaves, which can be fatal for small plants.
How To Water Succulents Indoors
Succulents like to be watered more in the summer than in the winter. They will go into a dormant state during the winter, and therefore will require less water. With succulent plants, it's best to err on the side of under watering. Consistently overwatering succulent plants will cause them to rot and die. Keep the soil on the dry side, and wait until it is completely dry before watering again. Water succulent houseplants very sparingly during the winter months. If you are the type of person that tends to overwater plants, then I recommend growing them in a clay pot with drainage holes. Terracotta pots are good pots for succulents; the dry clay helps to wick the moisture out of the soil faster, which means that overwatering will be less of a risk.
Best Potting Soil For Succulents
When it comes to indoor succulent plant care, one of the most common questions I get is regarding what type of soil to use for succulents. It's best to use a fast draining, sandy potting soil for succulents. You can buy commercial succulent soil specifically made for growing succulents and cacti, or you buy a gritty succulent soil mix which will make it even easier to ensure you don't overwater your succulents. I like to make my own succulent soil, using a mix of perlite or pumice, sand, and regular potting soil, which tends to be cheaper than buying the commercial stuff.
Related Post: DIY Succulent Potting Soil
Fertilizer For Succulent Potted Plants
Succulent plants in pots will benefit from being fed during their active growing period. You can buy special succulent plant fertilizer that's made specifically for feeding cacti and succulents. If you'd rather use something that's more of a general purpose houseplant fertilizer so you can use it on your other plants too, I recommend getting an organic liquid fertilizer like fish emulsion, liquid kelp, or compost fertilizer tea.
You could also add a granular fertilizer to the soil if you prefer. Whatever you use, only fertilize your succulents during the spring and summer months. Start by giving them a weak dose of liquid fertilizer in early spring, and then continue feeding them until fall. Don't fertilize succulent plants during the fall and winter months. Succulent plants go into a state of dormancy during the winter, and winter growth is usually very weak and leggy. So you really don't want to encourage new growth during the winter.
Succulent Houseplant Pests
Healthy succulents don't have many issues with houseplant pests, but sometimes aphids, mealy bugs or houseplant scale can become a problem. Be careful what you use to treat insect pest infestations on your succulents though. Some succulent plants can be very sensitive to insect sprays, so be cautious using any type of chemicals, soaps or oils to control pests on succulents. Some of these products can do more damage to the plant than the pest does! Test it out by spraying one leaf, and wait a few days to make sure there's no damage before you spray the whole plant. You can spot-treat succulent plants too by dipping a cotton swab into rubbing alcohol and using it to kill and remove the bugs.
If your succulent plant is tolerant, then I recommend using neem oil to fight houseplant pests. which is a natural pesticide. I also like to use a mixture of 1 tsp Dr. Bronner's Baby-mild Liquid Soap per 1 liter of water to help control succulent pests. Insecticidal soap or horticultural oil also work great.
Related Post: How To Control Houseplant Pests
Succulent Propagation
Succulents are very easy to propagate. Many can be propagated by leaf or stem cuttings, and several other types can be propagated by division. The key to successfully propagating succulents from cuttings is to keep the soil on the dry side, but the air around the cutting humid. Succulent cuttings can rot easily, so be sure to use a sand and perlite or pumice mixture to root the cuttings. To increase your changes of success, dip the cutting in rooting hormone before sticking it in dirt. Rooting hormone helps the cuttings grow roots.
Related Post: How to Propagate Succulents
Pruning Leggy Succulent Plants
Many types of succulents will grow leggy when they are kept indoors as houseplants. You can keep succulents from getting leggy by making sure they get enough light. See the details about how to prevent succulents from getting leggy in the light section above. But, if your succulents are already leggy, you can prune or pinch them to help them keep their compact shape. Prune off weak and leggy growth by pinching it off with your fingers, or snipping it off with a sharp pair of pruners.
Indoor Succulent Plants List
There are lots types of good indoor succulents that can be grown as houseplants. I won't attempt to list them all here, but these are my top picks for some of the best succulents to grow indoors (and some of my personal favorites!). Don't worry, I'll list even more good succulent plants for indoors below in my list of indoor succulents that flower.
Agave
Ghost plants (though they do tend to get pretty leggy indoors)
Euphorbia
Aeonium
Burro's tail
Echeveria
Panda plant
Pencil cactus
Indoor Succulent Plants That Flower
Many types of succulent plants will flower on a regular basis when they're grown outdoors in their native habitat. But succulents that flower indoors are an extra special treat, especially when they're winter blooming plants! A few of the succulents I listed above will flower outdoors, but it's pretty rare for them to bloom when they're grown as houseplants. Here is a list of some common succulent plants I grow as houseplants that bloom indoors on a regular basis, and all of these are also super easy to grow houseplants.
Jade plants (yes! Jade plants can flower!)
Gasteria
Haworthia
Starfish cactus (Carrion plant)
Huernia (Dragon flower)
If you love houseplants, but don't love the maintenance of growing tropical plants indoors, try growing succulents as houseplants! They're fun to collect and can even be a little addictive (not that I would know anything about that). And if you follow these succulent plant care instructions, you can't go wrong!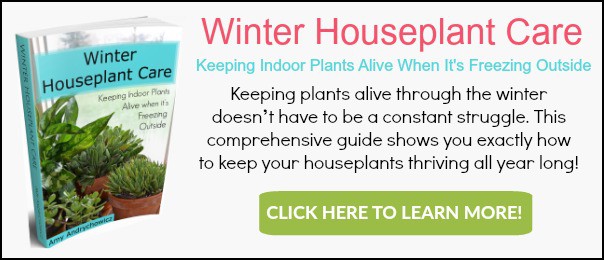 More Posts About Succulent Plant Care
For more information about different types of houseplants for your home, click here… Houseplant Types
Do you grow succulents as houseplants? Leave a comment below and share your indoor succulent plant care tips.
Pin It!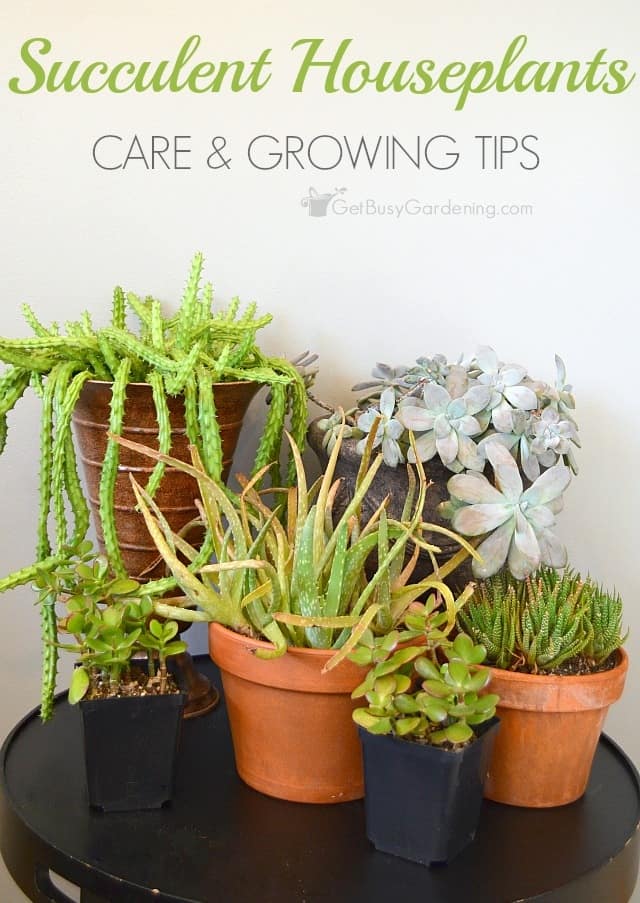 .