Succulents are my favorite type of houseplant, and I love to propagate them. They can be propagated at any time during the year, but I find that it's easiest to propagate succulents during the summer. Most succulents can be propagated by leaf or stem cuttings, but it will take longer to get a nice sized plant from a leaf cutting.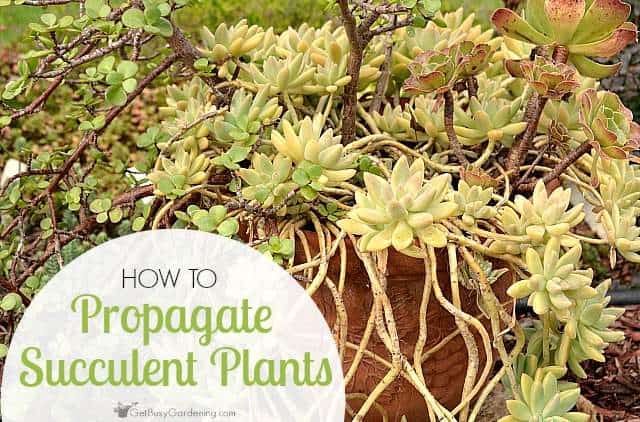 Some types of succulent plants are so easy to propagate that they propagate themselves when a piece breaks off the plant. Others will need a little more help.
But, generally speaking, succulents are very easy to propagate.
The biggest mistake made when attempting to propagate succulent plants is over watering them. If the soil is too wet, the cutting will just rot.
The key to successfully propagating succulents is to keep the soil on the dry side, but the air around the cutting humid.
How to Propagate Succulents
Succulent Propagation by Leaf Cuttings: If you want to try to propagate your succulent plant using some of the leaves, carefully remove them from the stem of the plant.
Gently take hold of the leaf you plan to propagate and wiggle it until it breaks off.
Sometimes the leaves on succulent plants will break off easily when you disturb them, but others may take a bit more work to remove from the plant.
The entire succulent leaf must be cleanly broken off the plant or it won't root. If the part that was attached to the stem is broken off, discard the leaf and try again.
Related Post: Propagating Jade Plants
Succulent Propagation by Stem Cuttings: If you're planning on propagating your succulent plant from a stem cutting, decide where you want to make the cut.
Then use clean, sterile clippers or a sharp knife to make the stem cutting. You can dip your clippers in rubbing alcohol or wash them with soapy water to sterilize them.
Many times you can simply break off the stem of the succulent plant you want to propagate, but using a good pair of precision clippers or bonsai shears will ensure a clean cut.
After taking a cutting, allow the ends of the succulent cuttings to cure (dry out and callus over) for a few days before propagating them.
This will help prevent rotting of the succulent cuttings.
Dip the cutting or leaf ends into rooting hormone. The rooting hormone will help the succulent plant cuttings root faster, but you don't have to use it if you don't want to.
I find that my succulent cuttings will not only root faster when I use rooting hormone, but I have more success with propagating my succulents when I use it.
Fill a container with the rooting mixture. All types of succulents will root (and grow) best in a light, sandy soil mix.
You can purchase succulent soil that's specifically made for succulents, a gritty succulent soil mix, or make your own using a mix of sand, potting soil and perlite.
Make a hole in the rooting mixture with a pencil or your finger for the stem of the succulent cutting.
Gently place the stem of the succulent cutting into the hole so the rooting hormone won't rub off.
Then lightly pack the soil around the base of the succulent cutting so it stays in place and the soil is in contact with the stem.
Succulent leaf cuttings can be laid on top of the soil, or stuck into the very top layer of soil. You can put several succulent cuttings into one pot, or put them into individual pots if you prefer.
Related Post: DIY Succulent Potting Soil
Put the succulent cuttings in a spot where it will be protected from full sun.
Don't water your succulent cuttings until they have roots.
If there's not much humidity in the air, lightly mist the succulent cutting daily using a plant sprayer/mister filled with water.
Succulent plant cuttings only take a few weeks to form new roots. Once you start to see new growth on the top of the succulent cuttings, that's a good sign that they have started to grow roots.
Leaf cuttings laid on top of the soil will sprout roots and start growing a tiny new succulent plant at the base of the leaf cutting. You can bury the exposed roots with a thin layer of succulent soil.
Related Post: Succulent propagation during winter
Once the roots have formed on your succulent cuttings, you can water the cuttings like you would any succulent plant. Succulent plants don't need a lot of water, allow the soil to dry out completely between watering.
If you tend to over water plants, put your succulent plant into a clay pot rather than a plastic pot. Always use a clean pot and sterile succulent soil when potting your succulents.
Related Post: Succulents As Houseplants
Look at all these cute little succulent plants I have now. Succulent plants make great gifts, and are fun to collect and share with friends. Don't forget to add a plant tag to each plant so you remember which variety it is.

Products I Recommend
Recommended Reading:
More Posts About Plant Propagation
More Posts About Growing Succulent Plants
For more details about propagating your favorite houseplants, click here… Houseplant Propagation
Do you propagate any plants? Tell me about your favorites in the comments section below.