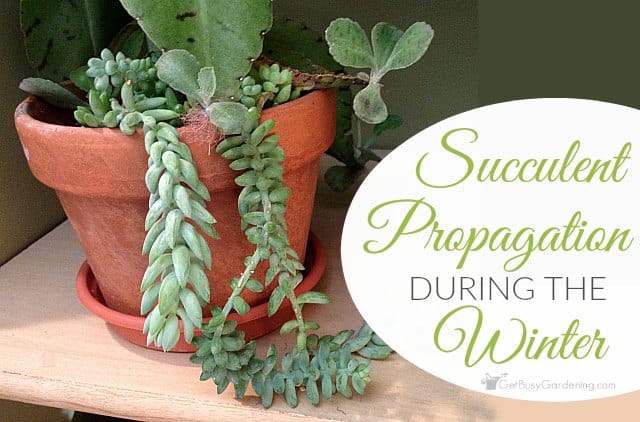 It's extremely easy to propagate succulent plants in the summer. All you have to do is stick a succulent cutting in dirt and walk away. It's so easy that sometimes succulents don't even need your help. During the summer, the succulent leaves that fall from the plant will root themselves in the dirt.
Succulent propagation during the winter is a different story. This time of year, succulents are in a dormant state and getting the cuttings to root is much more challenging. Well, I recently discovered a way to propagate succulent cuttings during the winter – and it was completely by accident. Here's how it happened.

Related Post: Growing Succulents As Houseplants
How To Propagate Succulents During The Winter
As you can see, I have this wonderful ledge next to my south facing window where my succulent collection lives during the winter. One day, I found a leaf that had fallen off one of these succulent plants had roots and new growth!
When the leaf fell from the succulent plant, it landed on the adjacent window frame. It's a cold but sunny spot, where the succulent leaf received moisture from condensation on the window. I was intrigued, I wanted to see if this was a fluke or something that would work all the time. So I took a few more pieces that had fallen off various succulent plants and put them on the window frame. Sure enough, those succulent leaves all rooted too.
After a few weeks, these succulent leafs started to put on new growth and the roots became fuller. Woohoo!! This is going to be my new method of succulent propagation during the winter.
Related Post: Propagating Jade Plants
Planting Succulent Cuttings
Once the succulent cuttings have sprouted roots, I pot them up in succulent soil. Succulent plants are very sensitive to being overwatered, so it's important to use potting soil that is specifically made for growing succulents. You can buy succulent soil, or you can make your own succulent soil.
If you find it difficult to propagate succulents during the winter, give this method a try. If it works for you, stop back and let me know.

More Information About Plant Propagation
Related Products
For more details about propagating your favorite houseplants, click here… Houseplant Propagation
Do you propagate succulents in winter? Leave a comment below and share your tips for propagating succulents.
Pin It!