Can I propagate succulents in winter? Yes you can! I discovered an easy trick that makes propagating succulents in the winter almost as easy as it is during the summer. Keep reading and I will show you exactly how to do it step by step.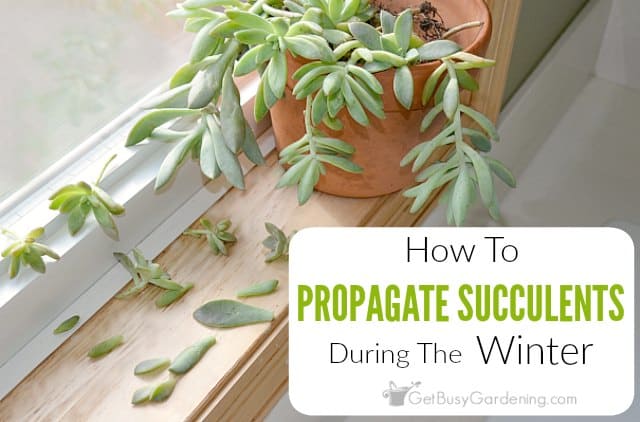 It's extremely easy to propagate succulents in the summer. Heck, with all that warmth and humidity, they sometimes even root themselves without any help from us at all.
Succulent propagation during the winter is a different story. During the colder months, they go into a dormant state, and rooting them is much more challenging.
But don't worry, you won't need to buy any special equipment for this fun project. I'll show you exactly how I do it step by step, so you can try it for yourself.
Can You Propagate Succulents In Winter?
Yes, you CAN propagate succulents in winter… and it doesn't have to be difficult either! I found a way of doing it very easily, with no equipment or supplies necessary – and it was completely by accident. Here's how it happened.
I have a wonderful ledge next to my south facing window where my plants live during the winter. One day, I found a fallen succulent leaf that had roots and new growth!
When it fell from the plant, it landed on the adjacent window frame. It's a cold but sunny spot, where the leaf received moisture from condensation on the window.
When I found it sprouting on the window ledge, I was intrigued. I wanted to see if this was a fluke, or something that would work all the time.
So, I took a few more that had fallen from others, and put them on the window frame too. Sure enough, it worked! After a few weeks, they started to put on new growth, and the roots became fuller.
Woohoo!! This is going to be my new method of propagating succulents in the winter.
Related Post: How To Make An Indoor Succulent Garden
How To Propagate Succulents In Winter
The best part about my method of propagating succulents in winter is that they don't need any help or special care. When given the right conditions, they will root just fine on their own.
Here are the step so you can try it yourself. All you need are either leaves or stem cuttings, and a sunny, cool, windowsill that gets a bit of condensation.
Step 1: Cut a stem or break off a leaf – All you need to do is carefully break off a leaf or cut a piece of the stem.
When you break off a leaf, make sure you get the whole thing. A half broken one won't root. You can see in the photo below examples of both a bad break (on the left), and a good one (on the right).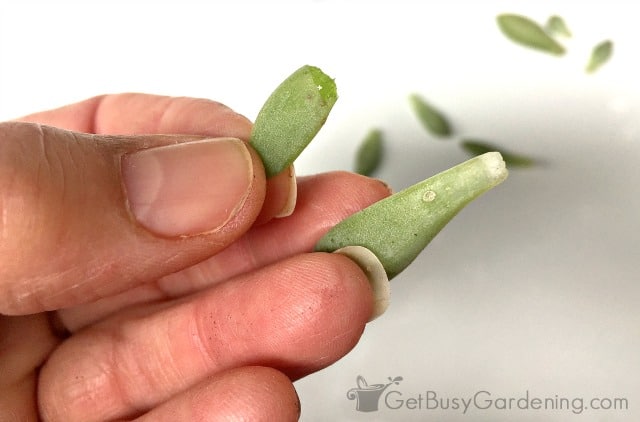 Step 2: Dust the end with rooting hormone (optional) – If you would like to get them to root faster, try dusting the cut end with rooting hormone before putting it by the window. This is completely optional though.
Step 3: Let them sit – Now you have to play the waiting game. It can take a few weeks or longer to propagate succulents in winter, so be patient. The fun part is that you get to watch the roots forming the entire time, which is always very exciting!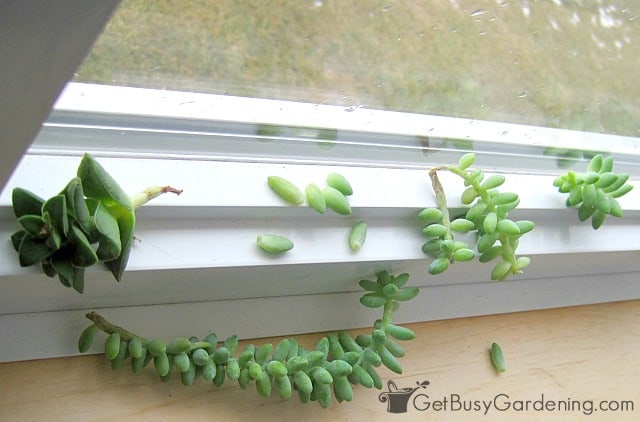 Step 4: Pot them up – Once the roots are one inch or longer, then you can plant them in a pot. Make sure to either use a fast-draining mix, or a gritty one.
Leaves with tiny roots or babies at the bottom can just be laid on top of the soil, with the roots pointing down.
Related Post: How To Make Your Own Succulent Soil (With Recipe!)
Keep them on the dry side through the winter, and be very careful not to overwater. If this is a problem for you, then get an inexpensive moisture gauge to help you get it right. Read my detailed succulent plant care guide for more info.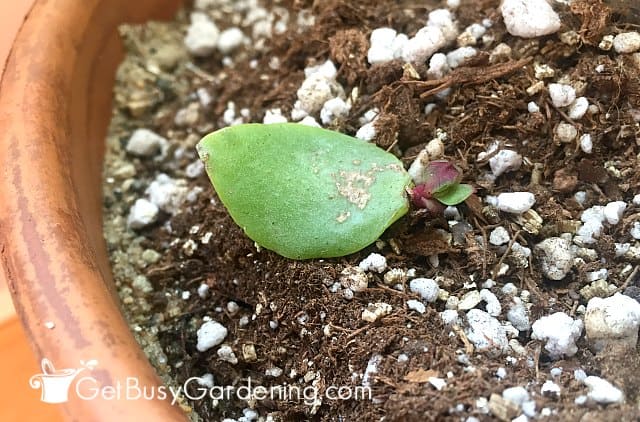 If you find it difficult to propagate succulents during the winter, give this method a try. It's a fun experiment, and a great way to keep busy during the long winter months. If it works for you, stop back and let me know.


Do you want to be able to propagate any plant you want? Then you'll love my Plant Propagation Made Easy eBook! It will teach you all the basic methods so you can have the best success. Download your copy today!
More About Plant Propagation
Do you propagate succulents in winter? Leave a comment below and share your tips.