Jade plants are a mainstay in my plant collection, and they are one of my favorite indoor plants! They are easy to care for succulents, and they make great houseplants. There are several different types of jade plants too, I have four in my collection (and I love every one of them!).
I get tons of questions from readers asking for details about how to grow a jade plant, so that's why I wrote this post!
The great news is that no matter what varieties you're growing, the care instructions are the same. Keeping these gorgeous plants thriving for years to come is easy with these detailed jade plant care tips.
Different Jade Plant Types
Like I mentioned above, there are lots of different types of jade plants, and I grow a few myself.
In addition to the common jade plant (crassula) variety, I have the 'Gollum' variety which has really cool leaves that are long, narrow and rounded. I've also heard this variety of jade plant called E.T. fingers or baby toes.
I have a dwarf jade succulent too (this one didn't have a tag when I got it so I'm not sure of the variety). It looks very similar to the regular one, but it's much smaller (as the name would suggest).
The other type of jade plant I have is called 'Jitters', and it has wavy leaves.
Jade Plant Care Tips
In my experience, the two main keys to successfully growing jade plants indoors are jade plant watering and light.
Below I will discuss both how often to water a jade plant, and how to water a jade plant.
Then I will give details about jade plant light requirements, and also answer your questions about how much light does a jade plant need.
Jade Plant Watering
One of the most common questions I get is "how often do you water a jade plant?". First, and probably the most important jade plant care tip is watering – they do not like to be over watered.
Consistently over watering jade plants will kill them. If the plant is over watered on a regular basis, it will start to rot at the base.
So, always be sure to always check the jade plant soil before watering it, and water only when the soil is completely dry.
To check if your jade succulent needs water, stick your finger one inch into the soil. If the soil is damp, don't water it. You could also use a soil moisture gauge to help you monitor the moisture level.
It's better to err on the side of under watering this plant. I put my jade plants outside during the summer and only water them if we're in a drought.
During the winter, I water my jade plants about once a month, if they need it.
As for how to water a jade plant, simply pour water into the top of pot until it starts to drain out the holes in the bottom of the pot.
Be sure to allow the water to drain completely, and always empty the drip tray or cache pot. Never allow the pot to sit in water.
Jade Plant Light Requirements
Another very common question I get asked by readers is "how much light do jade plants need?". So, the second most important indoor jade plant care tip is light.
Do jade plants need a lot of sunlight? Yes, you bet they do! Jade plants need a lot of light in order to grow strong and thick. They will start to grow weak and leggy if they aren't getting enough light.
To avoid a leggy jade plant, you'll want to give it as much light as possible. It's best to place jade plants next to a south facing window inside the house. If it isn't getting enough light, consider adding a grow light.
Indoor plant grow lights will help to give your jade plant enough light to thrive if you don't have a sunny window to put it in.
When jade plants get enough sunlight, the stem of the plant will grow thick start to look woody. Also, the leaf tips of the jade plant will turn red, making these plants even more beautiful.
Jade plants kept as houseplants will benefit from being moved to a full sun location outside during the summer.
However, they are sensitive to sunburn, so it's important to move them into the sun gradually over several weeks.
Sun burned leaves will turn brown and the damaged area will die; most likely the leaf will eventually drop off. Severe sunburn may be fatal to jade plants.
If you put your plant outside during the summer, be sure to bring it back inside before any chance of frost.
Related Post: Debugging and Cleaning Potted Plants Before Bringing Them Indoors
More Tips For Jade Plant Care
Like I said, water and light are the two most important things to pay attention to when it comes to successfully growing a jade plant indoors. But, caring for a jade plant is a bit more involved than just those things.
So here are even more tips for how to take care of a jade plant that will help your plants not only survive, but thrive (and live for years to come)!
Best Potting Soil For Jade Plant
General potting soil is adequate for growing jade plants, but sometimes regular potting soil can hold too much moisture. The best soil for jade plant is a porous and quick draining succulent soil.
You can buy succulent soil online, or anywhere general potting soil is sold. I make my own succulent soil mix, using a light mix of coarse play sand, potting soil and perlite.
The best pot for jade plant houseplants is a clay pot, especially if you tend to overwater your plants. Clay pots will help to wick the water out of the soil, allowing it to dry out faster and lowering the chance of over watering.
Jade Plant Flowers
Whenever I post a photo of a jade plant blooming on social media, I get a ton of comments on it from people who had no idea that jade plants bloomed!
It's funny, because when you travel to the south during the winter, you see jade plants blooming all over the place. But here in the north where we have to grow jade plants indoors, it's very rare to see a jade plant flowers!
In order to get your jade to bloom, you need to give it similar conditions to what it experiences when it's grown outdoors.
The trick is to expose it to cooler (but never freezing!) temperatures, allow the soil to dry out, and make sure it gets tons of light!
I've had luck getting mine to bloom after bringing it indoors (by accident the first time!). I used to bring it in as soon as the heat of summer was over, but now I leave my jade outside until right before our first frost in the fall.
Then I bring it inside, put it in a sunny spot, and allow the soil to dry out. That usually does the trick!
Propagating Jade Plants
Jade plants are extremely easy to propagate. They can be propagated from stem or leaf cuttings in slightly moist, well drained soil.
I have found that summer is the easiest time for jade plant propagation. During the summer, many times a leaf will break off and start to grow roots in the soil without any help from me.
If the stem of your jade is mushy and rotting due to over watering, you can save the plant by cutting off the stem a few inches above the rot, and then propagating it.
Allow the cut area to dry for a few days before attempting to propagate the plant.
Dipping the cutting in rooting hormone helps to speed up the process of propagating jade plants (and all plant cuttings), I highly recommend it.
If you want to learn more about how to propagate your jade, then check out my detailed, step-by-step jade plant propagation instructions.
Jade Plant Fertilizer
Jade plants will definitely benefit from being fed now and then, just like any other plant. But there are a few things you'll want to keep in mind.
First, don't fertilize them during the fall and winter months, they go into a dormant state during the winter and you don't want to force new growth.
Also, make sure the jade plant soil is moist before you add any houseplant fertilizer. If you add fertilizer when the soil is completely dry, you can damage your plant. Water it first, then give it some liquid fertilizer.
And make sure you use an organic plant fertilizer on your jade plant. Chemical fertilizers can build up in the soil and damage sensitive plants.
To make it super easy to fertilize, you can buy succulent plant food specifically made for fertilizing cactus and succulent plants.
If you prefer something more general purpose, I recommend using a compost fertilizer. You can use a pre-made compost tea, or you can buy compost tea bags and brew your own.
Fish emulsion and liquid kelp are also fantastic liquid fertilizers, but should only be used on outdoor plants (they can get a bit stinky when used indoors).
Jade Plant Pests
With proper jade care, your plant will grow healthy and strong. Healthy jades don't usually have problems with pests, so hopefully you'll never see any bugs on your jade plant.
Mealybugs, houseplant scale and spider mites can become a problem on jade plant houseplants if not treated early.
My largest jade had a minor infestation of mealybugs one winter. I treated it by dabbing a cotton swab in rubbing alcohol, and using that to remove the bugs.
After several weeks of doing this daily, the mealybugs were gone and I haven't had a problem since (WHEW!).
Neem oil is also very effective at controlling houseplant pests. When my small jade was attacked by mealybugs, I used neem oil to get rid of them, and it worked like a charm.
Organic insecticidal soap or a horticultural oil spray can also help to control houseplant pests.
Be careful spraying anything on your jade though. Jade plants are sensitive to sprays, which could end up causing more damage than the bugs.
If you choose to use a spray to treat a pest infestation, test a small area of the plant first, then wait a few days to make sure there's no damage before spraying the whole plant.
Jade Plant Pruning
Pruning is another important part of regular jade plant care. Regularly trimming your jade will keep the plant compact, and allow the stem to grow thicker.
Pinch off new growth or prune off leggy growth to encourage the plant to grow fuller and thicker. Be sure to use a sharp pair of pruning snips for the job, or get yourself some bonsai pruning shears.
If you want, you could use the cuttings you trim off your jade plant succulent to make new plants (see the propagation section above).
Jade plants are one of my favorite houseplants. They are low maintenance indoor succulent plants, easy to take care of, and they're beautiful too.
There are several varieties of jade plants, and it's fun to collect them. If you follow these jade plant care tips, you'll have no problem keeping your plant alive and thriving indoors!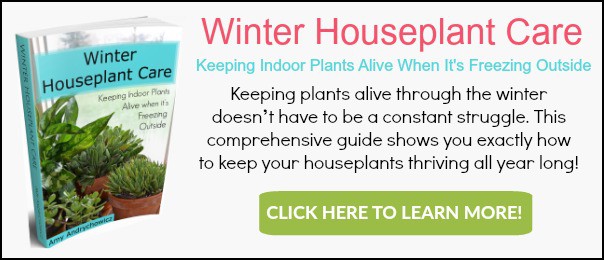 If you struggle to keep your beloved houseplants alive during the long winter months, then my Winter Houseplant Care eBook is for you! It has everything you need to keep all of your houseplants thriving all year long! Download your copy today.
Recommended Reading
Products I Recommend
More Posts About Growing Succulents
Share your jade plant care tips in the comments section below.