Jade plants are easy to care for, even for beginners, and they make great houseplants. Find out how to care for jade plants the right way. We'll explore how and where to grow jade, watering, propagation, repotting, fertilizing, and troubleshooting. You'll be a jade plant expert in no time.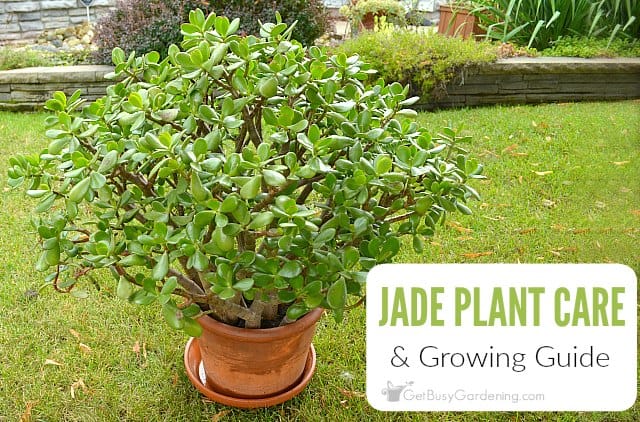 Jade plants are a staple in my indoor plant collection, and are super easy to care for!
I get tons of questions from readers asking for details about how to grow a jade plant, so I thought I'd answer them all in this post.
Some people really struggle with keeping them alive, and many think they are difficult to grow. On the contrary, growing a jade plant indoors couldn't be easier – as long as you give them the proper care.
Even growing a jade plant outdoors isn't that challenging, as long as you live in the right hardiness zone and give it a little more attention.
The great news is that, no matter what variety you have, the growing instructions are the same for all crassula.
Keeping these gorgeous specimens thriving for years to come is simple if you follow the tips in this article.
Jade Quick Care Overview
| | |
| --- | --- |
| Scientific name: | Crassula |
| Classification: | Succulent plant |
| Common names: | Jade plant, Money plant |
| Hardiness: | Zones 9-11 |
| Temperature: | 55-85°F |
| Flowers: | White or pink, blooms in winter |
| Light: | Full sun to partial shade |
| Water: | Allow soil to dry between waterings, do not overwater |
| Humidity: | Little to none |
| Fertilizer: | General purpose plant food in spring and summer |
| Soil: | Fast-draining, sandy soil |
| Common pests: | Mealybugs, scale, spider mites |
Information About Jade Plants
Jade plant (Crassula) is a perennial succulent often grown as a houseplant. In their native habitat, these plants can reach 6′ tall, and are often used as shrubs in warm climates.
In colder areas, if you want to grow jade outside, keep them in roomy pots and move them indoors once temperatures approach 45­°F (7°C).
Grown in pots, either outdoors or in, jade plants adapt to the conditions by staying smaller.
They're also known by the common name "money plant". But don't confuse it with other plants that go by the same common name, because they require very different care…
Different Types Of Jade Plants
Like I mentioned above, there are lots of different types of jade plants, and I grow a few myself. I have several in my collection, and I adore every one of them! Here are a few of my favorites…
Crassula ovata – This is the common jade plant variety that everyone knows and loves. It has wide, flat leaves, and can grow to become a large shrub with a very thick trunk.
'Gollum' Jade plant – Also called E.T. fingers or baby toes, this variety has really cool tubular shaped leaves that are long, narrow, and rounded.
Crassula ovata 'Hobbit' – Often used interchangeably with the one above as they look very similar, this is commonly called "Shrek Ears" or "Ogre Ears" because the tubular leaves are wider on top as if they are tipped with suction cups.
Dwarf Jades – As the name suggests, dwarf varieties are simply a smaller version of the regular one. They look exactly the same, but stay compact.
'Jitters' Jade – A unique variety that has thin, wavy, rippled leaves that are lighter green than the other types.
Crassula arborescens – Also called a "Silver Dollar" jade plant, this gorgeous specimen has wide silver/gray leaves with red tips.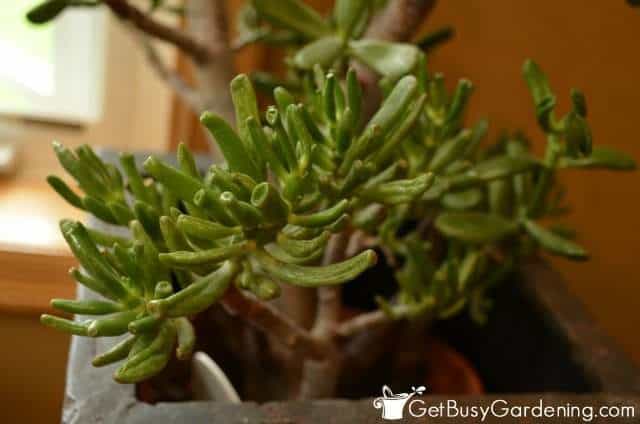 Jade Plant Flowers
Did you know that jade plants can flower? In warmer climates where they grow outside year-round, they flower during the winter. But it's very uncommon for them to bloom indoors without help.
To get your jade plant to bloom, you need to give it similar conditions to what it experiences when it's grown outdoors.
The trick is to give it tons of light during the summer. Then, expose it to cooler (but never freezing!) temperatures in the fall, and allow the soil to dry out.
When you bring your jade back inside in the fall, put it in a sunny spot, and keep the soil dry. You should start seeing flower buds in a few weeks.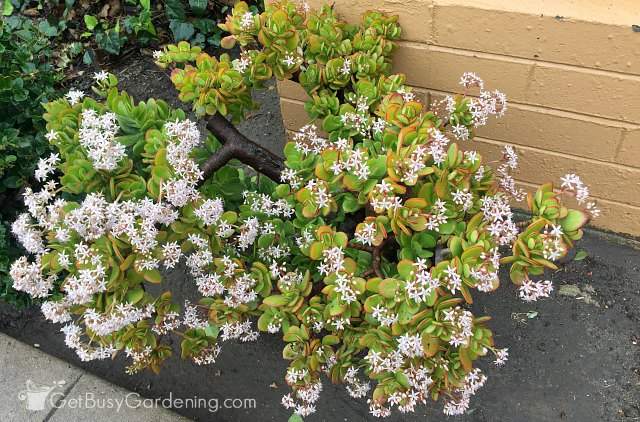 Crassula Toxicity
According to the ASPCA website, jade plants are toxic to dogs and cats if they ingest them.
My cats have never touched mine, but it's a good idea to keep them out of reach if your pets like to snack on plants, just in case.
How To Grow Jade Plants
Before diving into the details of how to care for a jade plant, first let's talk about where to grow them. Choosing the perfect spot will set you up for the best success.
Crassula Hardiness
Jade plants can actually handle a bit of cold, and are even tolerant of light frost. They are hardy down to zone 9.
However, if you live in an area with harsh winters like I do, then it's best to bring them indoors before it gets below 45°F (7°C).
Where To Grow Jade Plants
Indoor jade plants benefit from being outdoors in full sun during the summer.
However, they are sensitive to sunburn, so it's important to move them into the sun gradually over several weeks.
Sunburned leaves turn brown, the damaged area dies, and, usually, the leaf drops off. Severe sunburn may be fatal to jade plants.
If you put yours outside during the summer, be sure to bring it back inside before any chance of frost in the fall.
Related Post: Debugging and Cleaning Potted Plants Before Bringing Them Indoors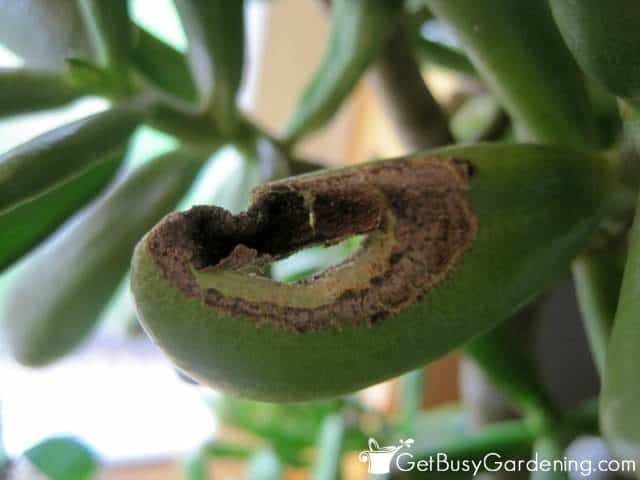 Jade Plants Care & Growing Instructions
For the most part, caring for jade plants is easy. But they do have some pretty specific growing requirements in order to thrive. So, for best success, follow these instructions.
Jade Plant Watering
First, and probably the most important jade plant care tip I can give you is about watering. They do not like very much at all.
Consistently overwatering jade plants will kill them. If it stays wet on a regular basis, it will start to rot at the base.
So, always be sure to check the soil first, and only add more when it's completely dry. It's better to err on the side of underwatering with this plant.
To check if it needs it, stick your finger one inch into the soil. If it's damp, don't water it. You could also use a soil moisture gauge to make monitoring water requirements easy.
I put my jade plants outside during the summer, and only water them if we're in a severe drought. During the winter indoors, I do it about once a month, but only if they need it.
Related Post: How To Properly Water A Jade Plant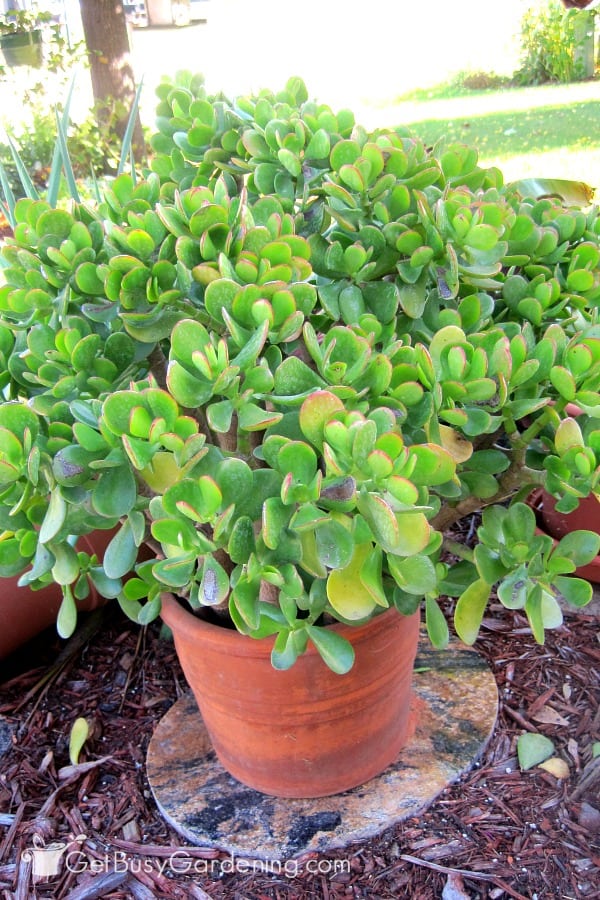 Jade Plants Light Requirements
Another very common question I get asked by readers is "how much light do jade plants need?". So, my second most important jade plant care tip is sunlight.
Do jade plants need a lot of sunlight? Yes, you bet they do! They need a ton of light in order to grow strong and thick. They'll start to grow weak and leggy if they aren't getting enough light.
To avoid legginess, give as much direct sunlight as possible. Place them next to a sunny, south-facing window inside the house.
If it isn't getting enough natural light indoors, consider giving it a bit of artificial help. This grow light is good value and easy to install. This helps to make up for a lack of direct sunlight.
With enough sunlight, a jade plant's trunk and stems grow thick and start to look woody. Also, the leaves or tips turn red, making them even more beautiful.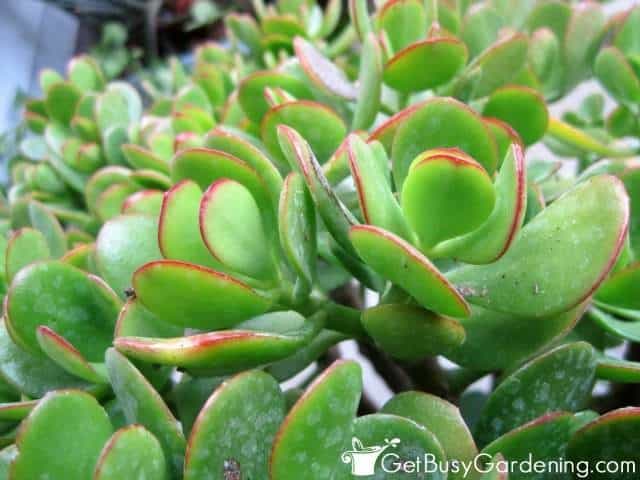 Temperature
Though they can survive light frost, jade plants aren't very cold hardy. Ideally, they prefer it to stay between 55-85°F. They can handle the heat in the summer, but may need more frequent moisture.
They can also survive brief periods of freezing temps, but will start to suffer if it's cold for too long. So make sure to protect them or move them inside if it's going to be below 45°F (7°C) for a long time.
Best Potting Soil For Jade Plants
A general-purpose mix is adequate for growing jade plants, but sometimes regular potting soil can hold too much moisture. The best soil for jade plants is a porous and quick-draining mix.
You can buy succulent soil or use a gritty mix. Or you can make your own succulent potting soil, using a light mix of coarse sand, potting soil and perlite.
The best pot for a jade plant is clay, especially if you tend to overwater. Clay pots will help to wick the moisture out of the soil, allowing it to dry out faster, and lowering the chance of overwatering.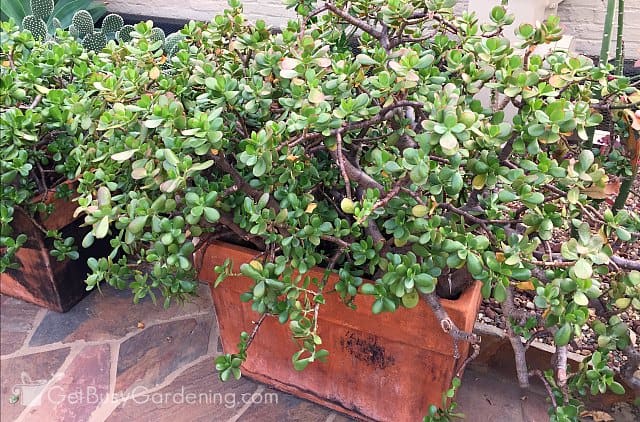 Tips For Repotting A Jade Plant
Jade plants have very shallow roots. So, they can live in the same container for many years without being repotted. In fact, it's better to keep them a bit root-bound rather than put them into a pot that's too large.
Signs that your plant needs repotting are that the jade is top-heavy and keeps falling over, roots are growing out of the drainage holes, the pot looks as if it's about to bust open, or your jade has stopped growing after many years of thriving in the same container.
Jade Plant Fertilizer
Jade plants will definitely benefit from being fed now and then, just like any other plant. But there are a few things to keep in mind.
First, don't fertilize them during the fall and winter months. Like many succulents, jade plants go into a dormant state during the winter and you don't want to force new growth.
I also recommend using organic products on jade plants. Chemical fertilizers can build up in the soil, and cause damage over time.
To make it super easy, you can buy organic plant food specifically made for feeding cactus and succulent plants, like this one from Espoma, which is biologically active, planet-friendly, and pet-safe.
If you prefer something more general purpose, I recommend using a compost fertilizer. You can use a pre-made compost tea, or buy tea bags and brew your own.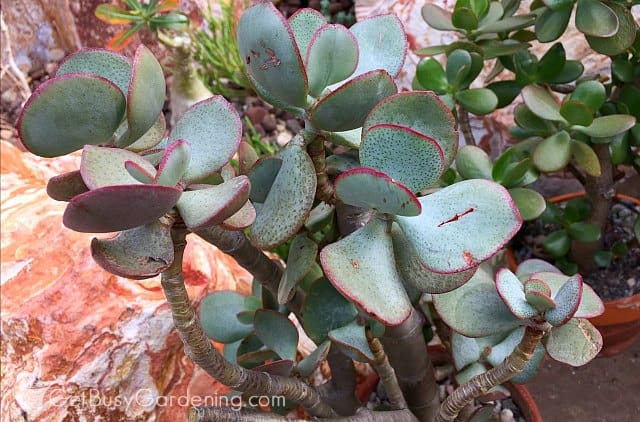 Controlling Jade Plant Bugs
With proper jade care, your plant will grow healthy and strong. Healthy plants don't usually have problems with pests, so hopefully, you'll never see any bugs on your jade plant.
Mealybugs, houseplant scale, and spider mites are fairly common jade plant pests, especially indoors.
You can spot-treat small infestations by dabbing a cotton swab in rubbing alcohol and using that to remove the bugs.
Neem oil is very effective at controlling insect pests and has a residual effect. Organic insecticidal soap or a horticultural oil spray can also help to get rid of bugs.
Be careful when spraying anything for the first time. Jade plants are sensitive to sprays, which could end up causing more damage than the bugs.
If you choose to use a spray, test it on a couple of leaves first. Then wait a few days to make sure there's no damage before treating the whole plant.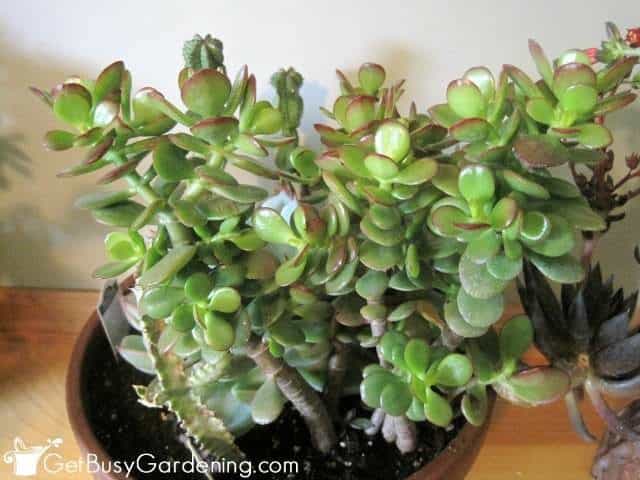 Jade Plant Pruning
Pruning is another important part of jade plant care. Regular trimming keeps the foliage compact, and allows the stem to grow thicker.
Pinch off new tips and trim leggy growth to encourage branching, and your plant will grow fuller and thicker.
Use a sharp pair of pruning snips (you can't go wrong with these ones from Fiskars), or get yourself some bonsai pruning shears. Learn exactly how to prune jade plants step by step here.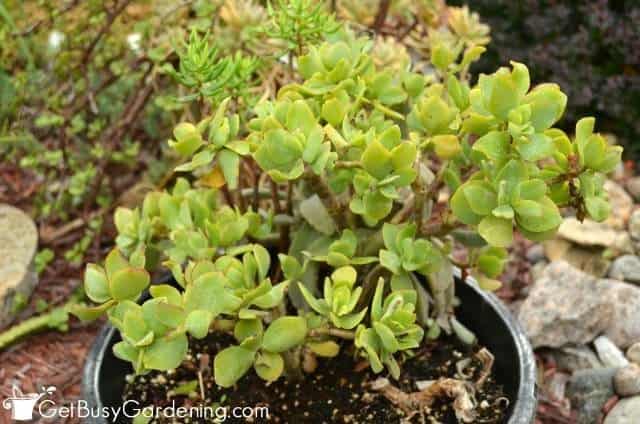 Tips For Propagating Jade Plants
Jade plants are extremely easy to propagate. They can be grown from stem or leaf cuttings in slightly moist, well-drained soil.
Allow the cut area to dry for a few days, then dip it in rooting hormone. This helps to speed up the process, and I highly recommend it.
If you want to learn more about how to do it, then check out my detailed step-by-step jade plant propagation instructions.
Troubleshooting Common Jade Plant Problems
In this section, I'll help you troubleshoot some of the most common problems you may have with growing jade plants. Plus I'll give you tips for how to fix it.
Leaves Or Branches Falling Off
When jades start dropping leaves or branches, it's usually caused by improper watering (usually too much).
Ensure the soil dries completely before giving more, and use a soil moisture gauge to make things a little easier.
Mushy Or Rotting Stem Or Leaves
If the stem, branches, or leaves are mushy, then it usually means they are rotting because of excessive water. Either prune off the rotted tips, or take healthy cuttings to start new plants.
Leaves Turning Brown
This could be caused by either under or overwatering (which has lead to root rot), or sunburn.
Ensure you're giving your jade the correct amount of moisture, and harden it off before moving it into the full sun.
Trunk & Stems Turning Brown
A jade plant trunk and stems normally start turning brown and become woody as they age. However, if smaller stems suddenly turn brown after moving them into the direct sun, it is from sunburn.
In that case, move the plant back to the shade and slowly acclimate it to the full sun over a period of a few weeks.
Shriveling Or Drooping Branches Or Leaves
When jade leaves or branches shrivel, that usually means they aren't getting enough moisture.
However, it can also be a sign that the stem has rotted. If the base is not mushy, then water the plant more often. Otherwise, treat it for rot.
Roots Growing On The Stem Or Branches
When roots grow on the stem or branches, they are called aerial roots. Though it's not always a problem, this can be triggered by under watering, and also happens when the main stem is rotting.
Ensure they're getting enough moisture, and check the entire stem for signs of rot. If all is good, then you can just prune off the stems with aerial roots if they bother you, or leave them be.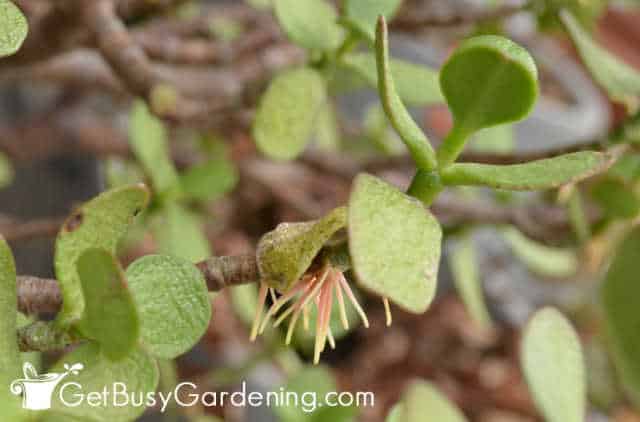 FAQs About Jade Plant Care
Below I will answer some of the most frequently asked questions about growing jades. If you can't find the answer to your question here, ask it in the comments below.
Is a jade plant indoor or outdoor?
You can grow jade plants either indoors or outdoors, depending on where you live. They aren't cold hardy, and must be brought indoors in freezing weather (anywhere less than zone 9).
Do jade plants go dormant?
Though jade plants don't go fully dormant, they do go into a state of dormancy in the winter. During this time, growth will slow and they don't require as much water.
Does a jade plant like to be root-bound?
Yes, a jade plant likes to be root-bound and can live in the same pot for several years. Their root system isn't very large, so keeping them in a smaller pot will help prevent overwatering.
Is jade easy to grow?
Jade plants are very easy to grow with the proper care. Keep the soil on the dry side, give them plenty of light, pinch them back if they get leggy, and they will thrive for decades.
Jade plants are one of my favorite houseplants. They are low maintenance, easy to take care of, and beautiful too. There are several varieties to choose from, and it's fun to collect them. If you follow these jade plant care tips, you'll have no problem keeping yours thriving for decades!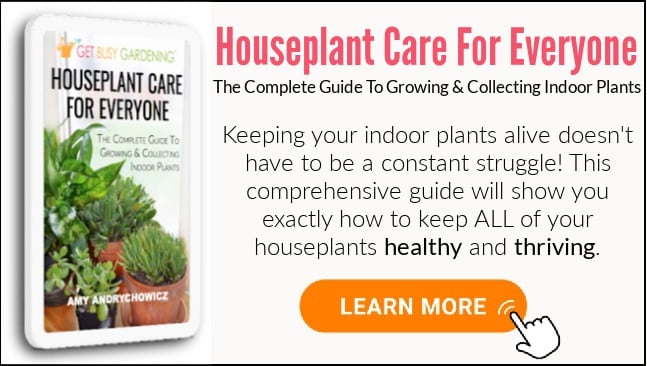 If you want to learn all there is to know about maintaining healthy indoor plants, then you need my Houseplant Care eBook. It will show you everything you need to know about how to keep every plant in your home thriving. Download your copy now!
More Posts About Growing Succulents
Share your jade plant care tips in the comments section below.