Echeverias are unique and gorgeous, and can survive for many years with the proper care. In this post, I'll show you everything you need to know about how to grow echeveria, so you can have the best success.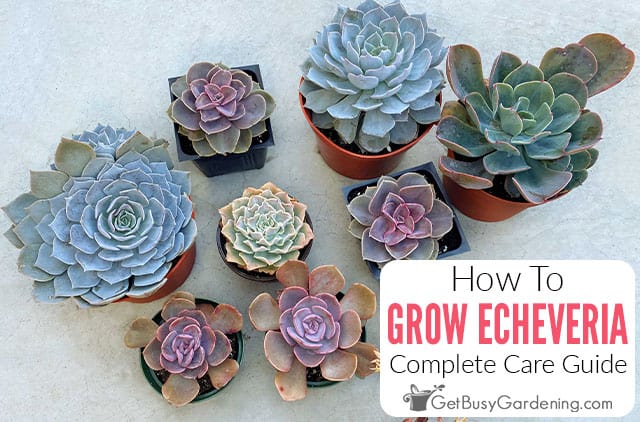 Beautiful and colorful echeverias are fun to collect, and make a lovely addition to any indoor houseplant collection or outdoor garden area.
There are so many to choose from, it's easy to find one that you love. They do equally well in containers as they do in the ground, so you're only limited by your climate.
Below you'll learn all about how to care for echeveria. Discover how much sun, water, and attention they need. Plus get tips on how to prune, propagate, and so much more.
Echeveria Quick Care Overview
| | |
| --- | --- |
| Scientific name: | Echeveria |
| Classification: | Kalanchoe species |
| Common names: | Numerous varieties |
| Hardiness: | Zones 9-11 |
| Temperature: | 55-80°F |
| Flowers: | Color and bloom time vary by species |
| Light: | Full sun to partial shade |
| Water: | Allow soil to dry between waterings, do not overwater |
| Humidity: | Little to none |
| Fertilizer: | General purpose plant food in spring and summer |
| Soil: | Fast-draining, sandy soil |
| Common pests: | Mealybugs, scale, aphids |
What Is An Echeveria?
An echeveria is a succulent plant native to the desert regions of the American Southwest and Central America.
Though there are hundreds of varieties to choose from, they all have similar rosette-shaped foliage made up of thick, fleshy leaves.
They are slow-growing and, though size can vary by species, they typically get no larger than 12".
Different Echeveria Types
There's a huge range of echeveria varieties, but they all require the same general care.
Some have different leaf shapes, and they come in assorted colors like blue, green, purple, silver, pink, or red. Here's just a small sampling of the diversity.
Echeveria 'Black Knight' – Large rosettes feature an ombre hue that begins green in the middle, deepens to pale magenta, then dark purple on the outermost leaves.
Echeveria 'Chroma' – These have small rosettes with pointed foliage that range in color from a dusty rose to maroon.
Echeveria 'Afterglow' – Wide lavender leaves form the rosette, each tipped with a pink edge.
Echeveria 'Mexican Snowball' – This compact variety has spoon-shaped leaves that are the classic blue-green echeveria is known for. In full sun, they can change to a delicate pinkish hue.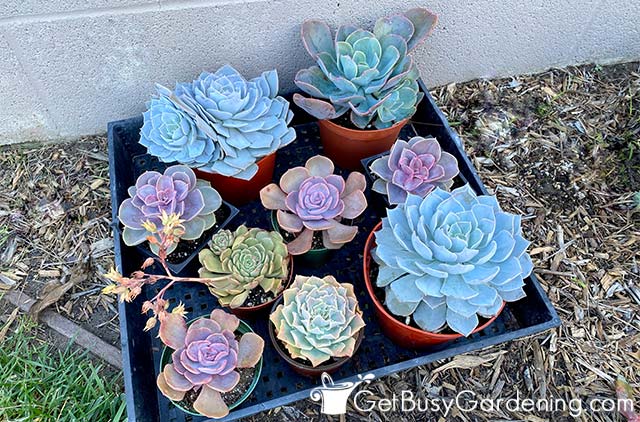 Flowers
When given enough intense sunlight, they will bloom in the summer or early fall. The beautiful blossoms form on tall, arching flower stalks.
The flower colors range as much as the foliage does. They're often bell or urn shaped, and can be pink, red, orange, or yellow.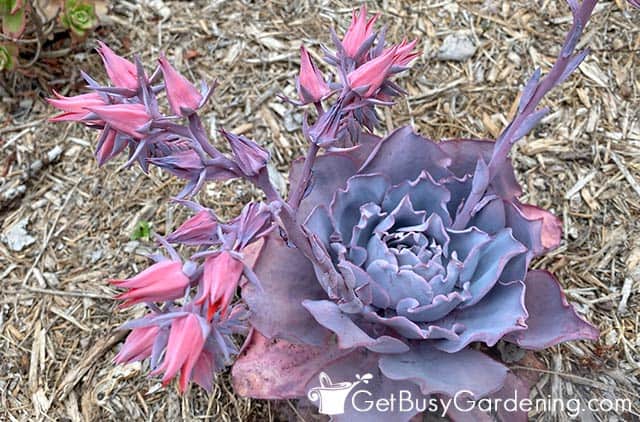 How To Grow Echeveria
Before we talk about how to care for echeveria, first let's chat about where to grow them. Choosing the best location is key for their color, health, and longevity.
Hardiness
Echeveria is hardy only in growing zones 9-11. They don't tolerate freezing temperatures, and should be moved indoors before it drops below 55°F to prevent damage.
They do very well outdoors in warm, arid environments, but also make excellent year-round houseplants.
Where To Grow Echeverias
If you live in a desert or other warm, dry region, echeverias make a great outdoor plant. They're drought tolerant and love sandy terrain.
For the rest of us, they must be kept indoors during the cold months of the year. They'll enjoy spending the summer outdoors once nighttime temps rise above 60°F, especially in full, bright sun.
Indoors, they'll be happiest in the sunniest window you can give them. Choose a terracotta or clay container to wick away extra moisture faster.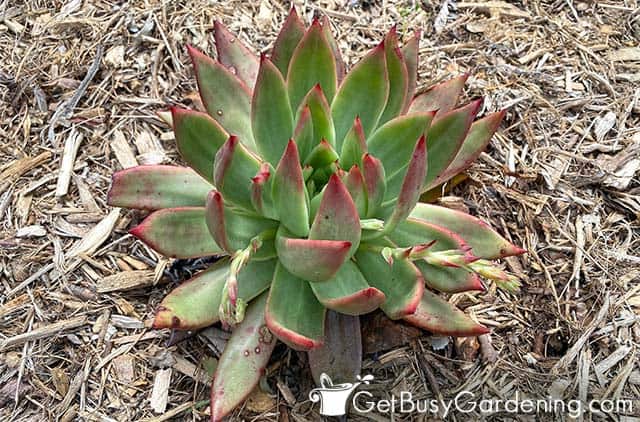 Echeveria Plant Care Instructions
Now that you've chosen the perfect spot for growing your echeveria, it's time to learn how to care for it. In an ideal environment, they'll actually thrive with a little neglect.
Light
Whether indoors or outside, echeveria will grow best in a spot that gets direct sunlight.
Outdoors they'll do fine in partial shade, as long as it's very bright, and they get at least 6 hours of filtered or direct exposure per day.
But if they don't get enough light inside, they'll stretch in search of more. Eventually they'll get leggy and the leaf clusters won't be as tight. If this starts happening with yours, add a grow light to supplement.
Water
Proper watering is a very important part of successful echeveria care. They don't need it often, in fact too much is a common cause of root rot.
It's best to water only when the soil has dried out. Give it a thorough drink, and let the excess drain completely from the bottom of the pot.
Don't pour water over the top of the plant either. Rot can form among the foliage if droplets get caught in the rosette. If you struggle with getting it just right, a moisture gauge is a great tool to have.
Related Post: When & How To Water Succulents
Temperature
Echeverias will grow best in temperatures ranging from 55-80°F. If it gets much colder, it can cause foliage damage, and the plant will eventually die.
In hotter temps, they'll need more frequent watering. If the foliage looks wrinkled, that's a good sign it's hot and thirsty.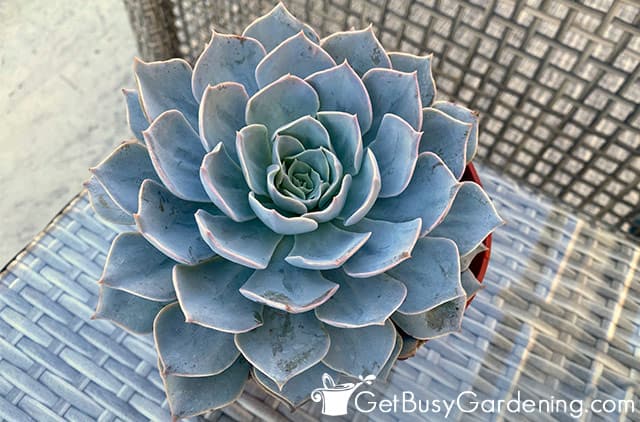 Fertilizer
Fertilizing is not a necessary part of routine echeveria care. But the occasional feeding will keep the colors vibrant and encourage more robust growth and flowering.
Work slow-release granules into the soil during the spring, then again in the summer. Or, use a diluted liquid fertilizer, or a general one like compost tea once a month spring until the fall.
Don't add any during the winter. I also recommend avoiding any chemical options, as they can burn the foliage more easily.
Soil
Echeveria grow best in a sandy, well-draining soil, just like you'd find in their native habitat. You can use a commercial mixture, or make your own.
Try mixing general potting soil with half coarse sand and perlite. Otherwise, use a gritty mix if you struggle with overwatering.
Repotting
Slow growing plants like echeveria don't need frequent repotting. Most varieties can go years in the same pot.
If yours is severely pot-bound, you can size up to a container that's just slightly larger than the diameter of the rootball, or one size larger than the current one.
Gently loosen it from the pot and place it at the same depth in new one. Give it a drink and set it back in the sun.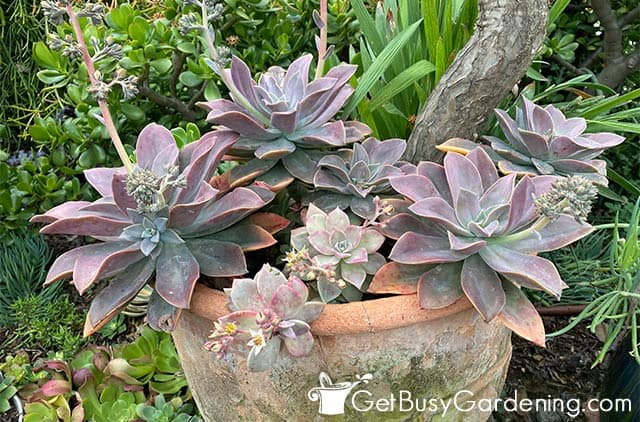 Pruning
It's not often necessary to prune echeveria as part of your care routine. They'll naturally drop their older bottom leaves as they age.
Pinch or trim them off as they start to fade to keep the plant looking tidy. If you have damaged leaves however, you can cut them off at any time.
You can also cut the bloom spikes down to the base once the flowers have faded. Always use sharp and clean precision pruners or micro snips.
Pest Control Tips
When give the proper care, healthy echeverias are usually free of most pests. But occasionally mealybugs, aphids, or scale can become a problem.
To control them, simply dab any visible bugs with a cotton swab dipped in rubbing alcohol.
Then treat the plant with a neem oil solution or insecticidal soap to stop the spread, and prevent recurring issues.
Echeveria Propagation Tips
There are a few ways to propagate echeveria. While it is possible to take a cutting, you'll need to top the entire plant. Don't worry, they're easy to root, and the remaining stem will grow new rosettes.
Individual leaves can be propagated as well, but this can take a very long time to produce a sizable plant. Dip the leaves or stem cuttings in rooting hormone first for best results.
The most common method is to carefully remove the pups that form around the base. Plant them in a well-draining, loose soil, and water lightly until you begin to see new growth.
Troubleshooting Common Echeveria Care Problems
Echeveria will grow fairly easily with very little care. But over the years you may experience some common issues. These are my best tips for getting them back into good health.
Shriveled Leaves
Shriveled leaves on echeveria usually indicate improper watering. Too much and they'll shrivel, then turn yellow and mushy. Dehydrated plants will have shriveled brown leaves instead.
Be sure you're only watering when the soil is dry, but never to the point of making it soggy. Always remember to drain the tray of any excess too.
Black Leaves
If you begin to see black leaves, it's an unfortunate sign of root rot. Overwatering is the main cause.
Try removing the dying leaves and letting the soil dry out. If the problem continues, you'll either need to propagate a few of the healthy leaves, or cut the stem above the rot in order to save the plant.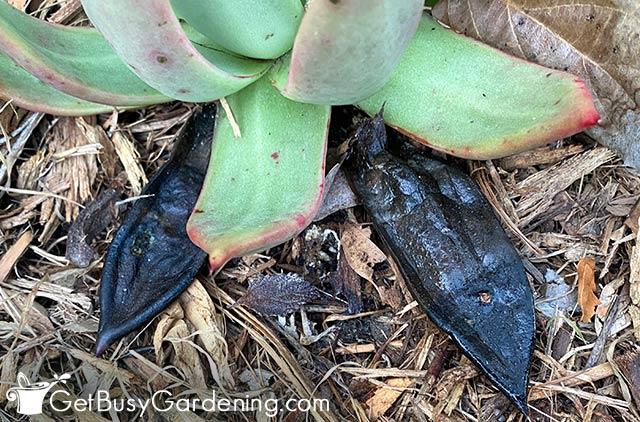 Echeveria Growing Tall
When echeveria grows tall instead of wide, it's usually because it's searching for light. They need at least 6 hours of bright light per day, preferably direct sun.
If you're having trouble finding a natural spot indoors, try adding a grow light to supplement.
Leaves Falling Off
When echeveria leaves begin to fall off it's usually caused by extreme temperatures, or periods of extended drought.
If it's above 80°F, monitor how quickly the soil dries out. Then, if possible, move it indoors or to a shadier spot to protect it from the hot afternoon rays. Long periods of drought can stress the plant as well. Try not to let it be bone dry for too long.
If only the occasional old leaf is dropping, that's a normal part of their life cycle, and nothing to worry about.
Brown Leaves
Brown spots or whole leaves are usually caused by moisture issues, but it could be a sign of sun damage.
Most varieties prefer direct sun. But if yours is experiencing dry brown spots or edges, it may be getting too much, or was moved into the sun too quickly. Try reducing its exposure, or protecting it from the harshest afternoon rays.
If the brown leaves are also mushy, that's a sign of rot. Allow it to dry completely, and ensure you're watering near the base to prevent moisture from sitting on the foliage.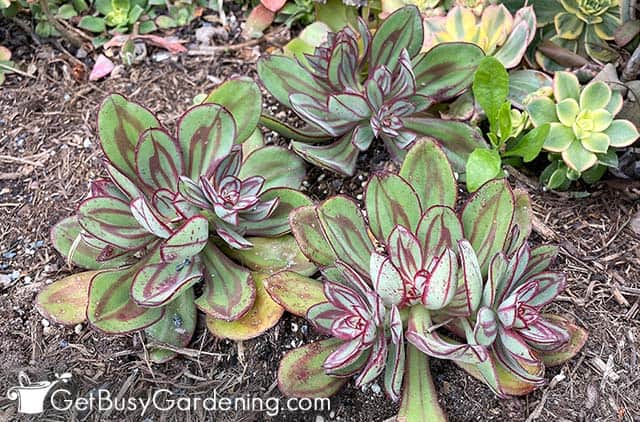 Echeveria Care FAQs
Here I've answered some of the most frequently asked questions about echeveria care. If yours isn't listed, please ask in the comments section below.
Are echeverias hard to grow?
No, echeverias are not hard to grow, they are actually quite easy to care for. They require very little hands-on maintenance, and will do best with a bit of neglect.
Does echeveria grow fast?
No, echeveria does not grow very fast. They're fairly slow-growing, and it can take years to reach full size. Giving them the best care possible will help them grow faster.
Is echeveria an indoor plant?
Yes, echeveria is a great indoor plant, especially for gardeners who experience cold or humid weather.
Does echeveria need sun?
Echeveria needs sun to grow their tight rosettes and to maintain the color of the leaves. They do best in partial shade to full sunlight, or in very bright indoor settings.
The easy to care for echeveria is excellent to add to your houseplant collection or for growing your garden. Even beginners will be able to keep any variety thriving with the detailed tips in this guide.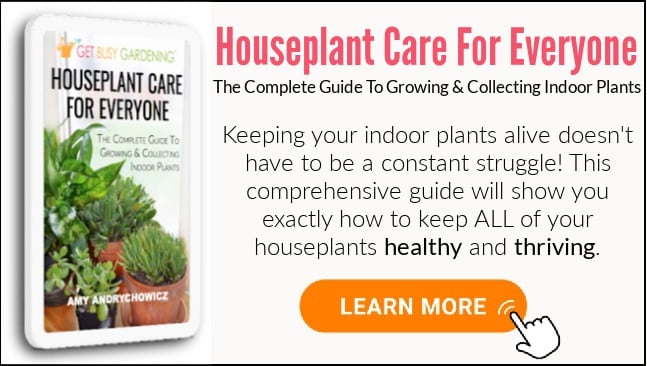 If you want to learn all there is to know about maintaining healthy indoor plants, then you need my Houseplant Care eBook. It will show you everything you need to know about how to keep every plant in your home thriving. Download your copy now!
More Houseplant Care Guides
Share your own echeveria care tips in the comments section below.