Repotting succulents doesn't require any special skills, and it's pretty easy once you know how. In this post, I'll show you exactly how to replant your succulents step by step.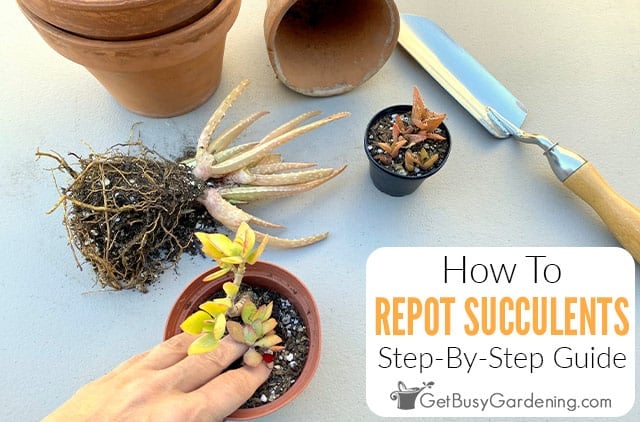 If your succulents are no longer flourishing, or they are too big for their pot, then it may be time to replant them.
Repotting succulents at the right time is an important part of their care, and can help to rejuvenate them.
This step-by-step guide will answer all of your questions and show you exactly how to pot up all kinds of succulent plants.
Is It Bad To Repot Succulents?
It is not bad to repot your succulents as long as you do it the correct way, and at the right time.
In fact, it can be very good for those that are too big for their pot, and doing so will help to reinvigorate them.
When To Repot Succulents
The best time to repot succulents is in the spring or early summer, right before their active growth period.
Avoid doing it in the fall or winter because it triggers new growth, which can cause them to become weak and leggy in winter.
Related Post: How To Repot Aloe Vera
Should You Repot Succulents When You Buy Them?
You should not repotting succulents right after you buy them, this is a common mistake that many people make.
Moving them to a new location is stressful enough, and replanting them right away could be too much for them.
Instead, give them a few weeks to adjust to their new environment before moving them to a new pot.
How Often To Repot Succulents
There is no set timeline for how often to repot succulents. Rather than doing it on a set schedule, you should only replant them when they need it to avoid any problems.
You'll know your baby is ready for a new container if it's growth has slowed, the soil dries out way too fast, roots are coming out of the drainage holes, or it has gotten too big for the current pot.
Related Post: How To Repot Plants: A Helpful Illustrated Guide
What To Do After Repotting Succulents
After potting them up, give them a drink to remove any air pockets and help to settle them them into their new home.
You may need to add a little more soil if there are any large holes once everything settles.
Then place it back in it's spot, and leave it alone until the soil dries out. Monitor it for any signs of stress, and take great care not to overwater during this recovery time.
Most succulents can handle repotting with no issues, but slight drooping for a few days is common for some.
Related Post: How To Repot A Snake Plant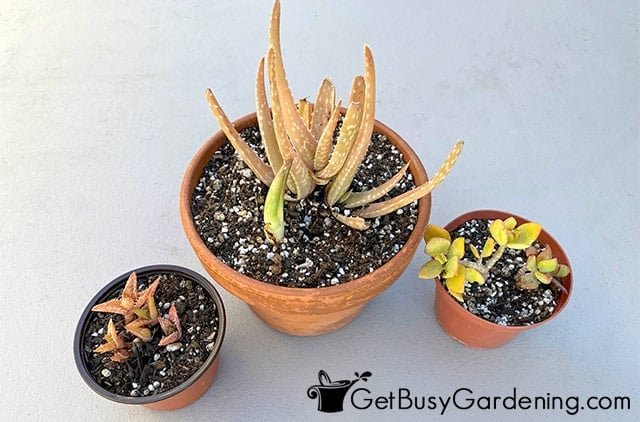 FAQs About Repotting Succulents
In this section I will answer the most common questions I get about repotting succulents. If you don't see yours here, ask it in the comments.
Can you repot succulents in regular potting soil?
I don't recommend repotting succulents in regular potting soil. It's too heavy and holds too much moisture for them, which is especially dangerous right after replanting. Use one made specifically for succulents instead.
Do you need to dry out succulents before repotting?
No, there is no need to dry out succulents before repotting, and doing so can cause added stress. If the soil is soggy, then replant them into a dry mix.
Can repotting succulents kill them?
While it's not very common, repotting succulents can certainly kill them if it's done improperly. To avoid that, only replant healthy succulents, and make sure they are well hydrated before you start.
Can you repot succulents in fall or winter?
I do not recommend you repot succulents in the fall or winter. Doing so can cause weak or leggy growth, resulting in unhealthy plants.
Do you water succulents after repotting?
Yes, you can water succulents after repotting as long as the soil isn't already wet. Giving them a light drink of water will help them settle into their new home.
Repotting succulents is easy to do, even if you're a beginner. Follow the steps above for the best results, and you'll be rewarded with a healthy and happy collection.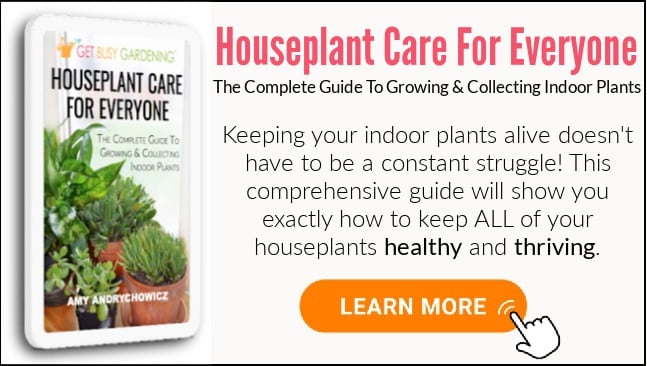 If you want to learn all there is to know about maintaining healthy indoor plants, then you need my Houseplant Care eBook. It will show you everything you need to know about how to keep every plant in your home thriving. Download your copy now!
More Posts About Succulents
Share your tips for repotting succulents in the comments section below.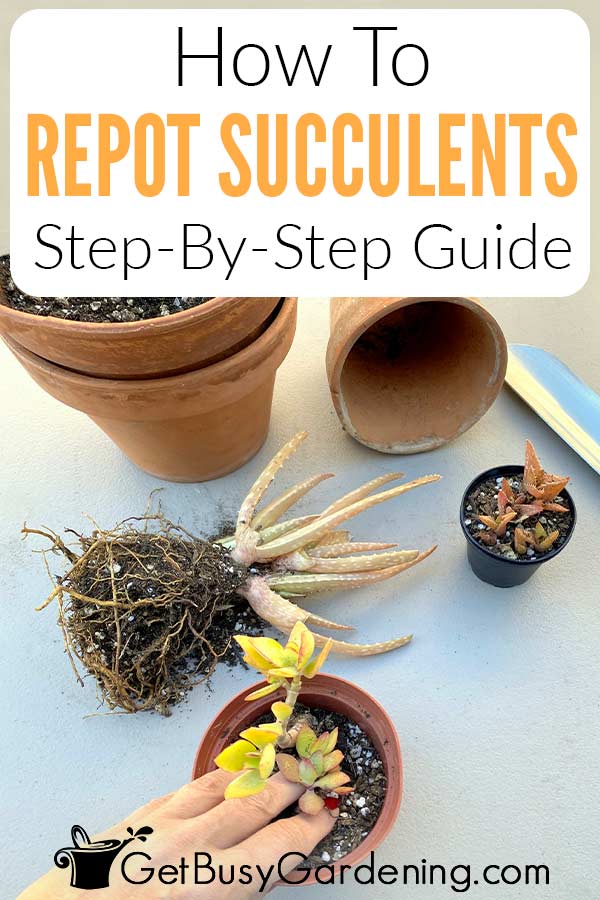 How To Repot Succulents