Two of the most popular holiday cactus varieties are Thanksgiving cactus and Christmas cactus. They are both easy to grow, and will rebloom year after year during the cold winter months! In this post, I show you how to tell the difference between these two popular plants, and share my holiday cactus care tips.
Once the summer is over, most of my houseplants are done with their active growing period and will rest during the winter.
But, there are a few that are just beginning to come into their active growing season in the fall. Mainly the holiday cactus.
One of my favorite and easiest to care for houseplants are my holiday cactus plants. I love that they flower at an opposite time as most other plants.
They add so much cheer and color into my house during the darkest, coldest months of the year! That's why they made my list of the best indoor flowering plants!
Holiday Cactus Varieties
There are three main types of cactus plants that fall under the "holiday cactus" umbrella: Christmas cactus, Thanksgiving cactus, and Easter cactus.
Many people don't know that there are two types of cactus houseplants that will start to bloom during fall and winter: Thanksgiving cactus and Christmas cactus.
People get Christmas and Thanksgiving cacti confused all the time because they look very similar.
However, there are subtle differences between these two common varieties. Once you know what to look for, it's easy to tell them apart.
What's The Difference Between Christmas Cactus and Thanksgiving Cactus?
Once you learn how to tell the difference between these two holiday cactus plants, you might be surprised to discover that the plant you've always referred to as your Christmas cactus is actually a Thanksgiving cactus (or visa versa).
One main difference between them is the shape of the leaf segments. Christmas cactus leaf segments are rounded, and Thanksgiving cactus leaf segments have sharper points.
Another difference between them is the timing of when they flower (which is how they get their common names!).
Thanksgiving cacti bloom in November, right around Thanksgiving time. Christmas cactus plants bloom sometime in December, close to Christmas time.
How To Care For Holiday Cactus Plants
Winter cactus plants have an opposite growing season than most houseplants do. They like to rest during the summer, and they flower in the fall or winter.
Usually, I will move my holiday cacti to a south facing window and start watering it more often in late August or early September in order to trigger the blooms.
After a few weeks, I will fertilize my winter cacti and leave them in the sunny location until after they're done blooming.
I recommend using an organic plant fertilizer for potted cactus plants, rather than a harsh chemical one.
A general purpose indoor liquid fertilizer works great, or you could use compost fertilizer tea.
Once my plants are done blooming, I will slowly reduce the amount of water I give them and keep the soil on the dry side for the rest of the year.
In the early spring, I move my holiday cacti away from the sunny window so they can rest all summer.
How To Rebloom A Holiday Cactus
Cool nights and shorter days in the fall induce the blooming process to start for both Thanksgiving and Christmas cactus plants.
They should start flowering around the holiday they are named for, but sometimes they'll bloom earlier or later if the timing is off. This is common, but don't worry, it won't hurt your plant.
Here are a few extra steps you can take when fall comes to help ensure that your holiday cactus will bloom beautifully…
Keep the plant in an area where it gets bright, indirect light during the day, and complete darkness for at least 12 hours at night.
Ideally, the temperature should remain around 50F degrees. But it's more important that the evening temperature is cooler than it is during the day (aim for a 10F degrees or more lower at night).
Reduce watering during this time, and allow the soil to dry out slightly (but never let it dry out completely).
When flower buds begin to form, go back to watering the plant as you normally would.
If your holiday cactus plant is outside, be sure to protect it from frost, or the flower buds could get zapped.
More Holiday Cactus Care Tips
Keep your plants out of the sun in the summer, hot sun could damage the leaves.
The best time to take cuttings for propagation is after your plant is done blooming.
Never overwater your plant. Keep the soil on the dry side when its not actively growing. During their active growth period (fall-winter), the soil should be kept evenly moist. If you struggle watering correctly, I recommend buying a soil moisture gauge to make it easy.
These tough plants thrive on neglect most of the year.
If you love winter blooming plants, then you should definitely add these gorgeous cactus plants to your collection. They make excellent office plants too! Follow these easy holiday cactus care tips, and you'll enjoy flowers year after year!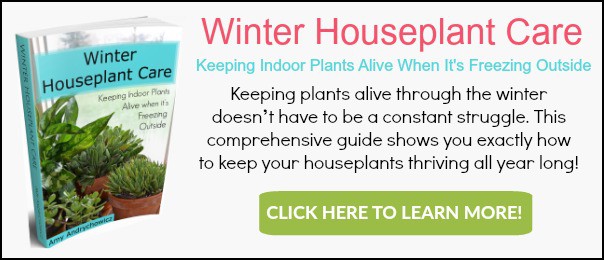 Keeping houseplants alive during the winter is a struggle for many gardeners. If this sounds familiar, then pick up a copy of my Winter Houseplant Care eBook. It has tons of information about how to care for plants (including fun winter flowering plants!) through the long winter months, so they won't only survive, they will thrive!
Products I Recommend
More Posts About Holiday Plant Care
Share your holiday cactus care tips in the comments section below!