Getting rid of mealybugs on houseplants can be tough, but it's not impossible! Follow these tips and treatment methods to kill them, and learn how to prevent mealybugs from ever coming back!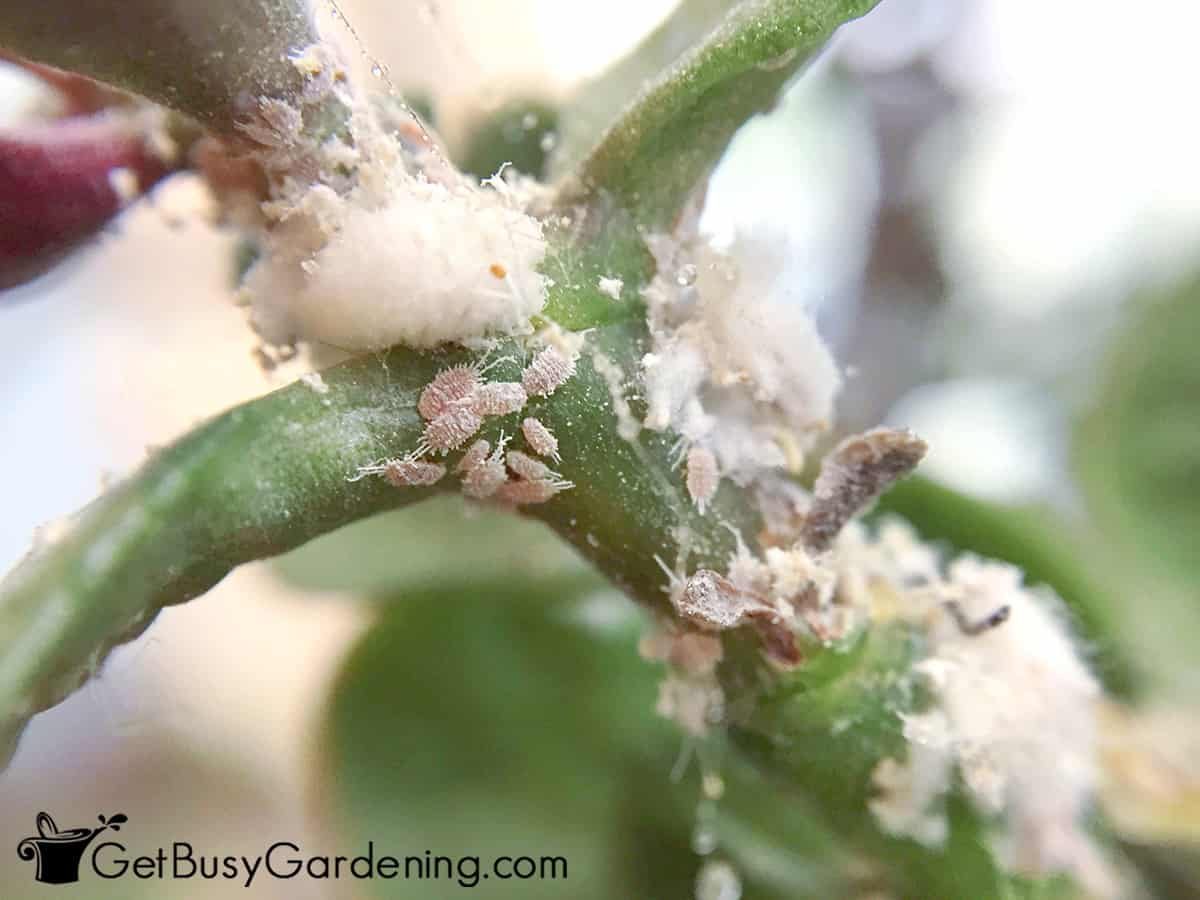 If you see what looks like white fluffy cotton on your houseplant, then it's a sure sign that you have a mealybug infestation. Booo!
Mealybugs are clever little devils, they like to hide and then come in for the sneak attack. It seems like overnight there's white cottony growth on plants that appeared out of nowhere.
Fighting these persistent pests is very frustrating, and takes some time, but it IS possible to get rid of them for good! Below I will show you how.
Here's what you'll find in this detailed guide for eliminating mealybugs from your plants…
What Are Mealybugs?
Mealybugs are scale insects that suck the sap out of the leaves and stems of plants, resulting in stunted or deformed leaf growth, yellowing of the leaves, and leaf drop.
These little white bugs on plants are most commonly found on new growth, along the veins of leaves, and at the leaf joints, but they can be found anywhere on the plant.
Mealybug damage is not as quick to occur or as devastating as it is when you have spider mites on houseplants.
But if a mealybug infestation goes left untreated, the plant will eventually die. Although it will usually take a long time for them to kill a plant.
What Do Mealybugs Look Like?
Mealybugs are tiny white bugs on houseplants, and most commonly look like white fuzzy stuff on plants leaves and stems. Mealybugs can also appear brown or cream colored, and waxy in immature stages.
At first glance they don't look like insects, and are commonly mistaken for fungus or mildew rather than plant bugs.
Gross!
If the white bugs you see on your houseplants look more like tiny white flies that fly around when the plant is disturbed, then those are whiteflies instead of mealybugs.
Here's how to get rid of whiteflies on your houseplants. Otherwise, if they look like fuzz on your plants, those are definitely mealybugs so keep reading…
Related Post: How To Get Rid Of Aphids On Houseplants, For Good!
Mealybug Life Cycle
The full mealybug life cycle is about 7-10 weeks. It takes a week or two for the eggs to hatch into nymphs, and then another 6-9 weeks for the nymphs to mature into adults.
There can be several generations of mealybugs, and their life cycles can overlap, meaning that once they get started, the population can grow very quickly.
Since the eggs and nymphs are so small, and it takes a while for the population to become large enough to be noticeable, most people don't discover mealybugs on their houseplants until after the population explodes.
Where Do Mealybugs Come From?
Like I said before, mealybugs are sneaky. One day everything is fine, and the next day your plant is covered with with sticky white cotton, leaving many people wondering what causes mealybugs in the first place?
As with any other plant bugs, mealybugs can come from anywhere. The most common causes are…
Bringing home a new plant
Using contaminated potting soil
Putting houseplants outside during the summer
Fresh flowers, fruits or vegetables brought in from the garden
Mealybugs can even come from fresh produce or flowers from the grocery store!
Ants sometimes bring mealybugs to a houseplant so that they can feed off of the honeydew residue that's produced by the bugs.
Read more about where houseplant bugs can come from.
How To Get Rid Of Mealybugs On Houseplants
As with any houseplant pest infestation, when you first spot a problem, begin mealybug treatment immediately.
The first thing to do is quarantine the affected plant(s) so that you can prevent mealybugs from infesting your other houseplants.
The next thing to do is to kill mealybugs using organic pest control products and methods. I don't recommend using synthetic pesticides, because mealybugs are resistant to most chemical pesticides.
They also have the ability to develop a resistance to any chemicals they are exposed to on a regular basis.
So, skip the toxic stuff and use the safer pest control methods listed below instead! Learn more about natural houseplant pest control methods and remedies here.
How To Treat Mealybugs On Plants
One way to kill mealybugs on houseplants is by touching them with a cotton swab that's been soaked in rubbing alcohol.
The rubbing alcohol will kill the bugs on contact, but in order for it to be effective, it must come in direct contact with the mealybugs.
As you treat a houseplant, make sure to inspect underneath all of the leaves, around the leaf joints, in folds and at the base of the plant for mealybugs.
These elusive plant pests like to hide, so check the plant from several angles, and also under every leaf. Also, brush away a little dirt to check the base of the stem at the point where it sticks out of the soil.
They can hide around the edges of the pot, as well as on the bottom. So be sure to thoroughly inspect that too, you may find some mealybugs hiding there.
It will take several treatments to get rid of all of the mealybugs, so be sure to treat your plant daily and kill any bugs that you see.
Make Your Own Homemade Mealybug Spray
You can buy an organic insecticidal soap spray, or make your own. My recipe for homemade mealybug spray is 1 tsp of Dr. Bronner's Baby-mild Liquid Soap per 1 liter of water. The soap kills the bugs on contact.
If the plant is small enough, bring it to the sink or shower to wash the leaves with this soap and water solution, and then give it a good rinse. This will kill a large number of the mealybugs, and help to give you the upper hand.
Keep in mind that some types of soap can damage sensitive plants, so it's best to test the solution on a few leaves before spraying the entire plant.
Insecticidal soaps don't have any residual effect to prevent houseplant pests from coming back, so it's important to continue to spray regularly until there are no more signs of bugs.
Mealybug Control Using Neem Oil
Neem oil is a natural pest control product that is a very effective for getting rid of mealybugs on houseplants. Not only will it kill the bugs, it's also great for residual pest prevention as well.
You can buy concentrated neem oil for pretty cheap, and a big bottle will last a long time. Just be sure to follow the instructions on the label.
If you get the concentrate, you'll need to mix in a little bit of soap to help the oil mix with water (I always use Dr. Bronner's Baby-mild Liquid Soap since it's so mild).
Even though neem oil has a residual effect to help keep houseplant pests from coming back, it can still take several applications to get rid of mealybugs.
It can also take several days of using neem oil to treat mealybugs before it starts to kill them, so be patient, and continue to reapply until the bugs are gone.
As an alternative to neem oil for mealybugs, a pre-mixed horticultural oil or hot pepper wax spray, and they also work very well when used directly on mealybugs.
Learn more about neem oil insecticide.
My Proven Process For Long-Term Mealybug Control
Mealybugs are tough to get rid of, and the process can be super frustrating (trust me, I've been there many times myself)!
The best advice I can give you when trying to get rid of mealybugs on your houseplants is to use a combination of the methods I've outlined above, and be relentless in your fight.
You can't just spray a plant once, and expect the bugs to disappear. It can take several weeks, or even months to kill the entire population.
Here is the process I use to get rid of these pesky white fuzzy bugs…
Step 1: Immediately bring the infested plant to the sink and thoroughly wash the leaves and stems with my soapy water solution (1 tsp of Dr. Bronner's Baby-mild Liquid Soap per 1 liter of water), and give the plant a good rinse.
Then I inspect the pot from top to bottom, and along the soil line to see if there are any hiding mealybugs, and wash the drip tray with soapy water.
Step 2: Next I will wash the area where the plant was sitting with soapy water, and then use a cotton ball soaked in rubbing alcohol to disinfect the area.
If there are other plants nearby, I inspect them thoroughly for any signs of bugs (after washing my hands).
Step 3: Once everything has been cleaned and disinfected, I spray the plant with neem oil and move it to a location far away from any other plants.
Step 4: I check the infested plant daily for any signs of mealybugs, and kill each one that I see using a cotton swab dipped in rubbing alcohol.
I will spray the plant with neem oil again after a week if I'm still killing mealybugs on it daily.
I also inspect any plants that were sitting nearby the infested plant every day to make sure there aren't any bugs on those plants (being sure to wash my hands after touching each plant!).
Step 5: If there are no new mealybugs found after several weeks of inspecting the plant, I'll add it back to my collection, but try to put it in a new spot just in case.
How To Prevent Mealybugs From EVER Coming Back
Most of the time mealybugs don't appear to move, but mealy bugs can crawl around on a plant and move to other houseplants in the area.
The worst part is that mealybugs will leave the houseplant to hide, and can live for a long time in spaces and crevices without having a host plant.
So just when you think you have conquered the beast, they will come out of hiding and re-infest your houseplant when you're not looking.
Here are a few things you can do to prevent mealybugs from ever coming back…
Mealybugs can live in the soil of a houseplant, so if a plant is plagued by recurring infestations, you could try removing the top inch of dirt from the pot and replacing it with fresh potting soil. I recommend washing the inside rim of the pot after removing the layer of soil using soapy water and/or a cotton ball soaked in rubbing alcohol to be sure to kill any bugs that are hiding there.
Remove the plant from the area and clean any crevices where mealybugs could be hiding. Be sure check around the outside lip and inside edges of the pot and tray, and also the bottom of the pot for hiding mealybugs.
Once you have the infestation under control, move your plant to a new location to get it away from any mealybugs that might be hiding in the spot where the plant was sitting before.
It's hard to get rid of all of the mealybugs the first few times you try. Even if you are able to kill all of the adults, the eggs and babies are tiny and easily overlooked.
It can be frustrating, but it's worth it to save your favorite houseplants.
If you are tired of constantly battling bugs on your indoor plants, then my Houseplant Pest Control eBook is for you! It will help you identify the bugs that are infesting your houseplants, show you exactly how to get rid of them, AND arm you with the tools you need to keep those nasty pests away FOR GOOD! Download your copy today!
Organic Pest Control Products I Recommend
Recommended Reading
More Info About Indoor Plant Pest Control
How do you get rid of mealybugs on houseplants? Share your mealybug treatment tips in the comments below.