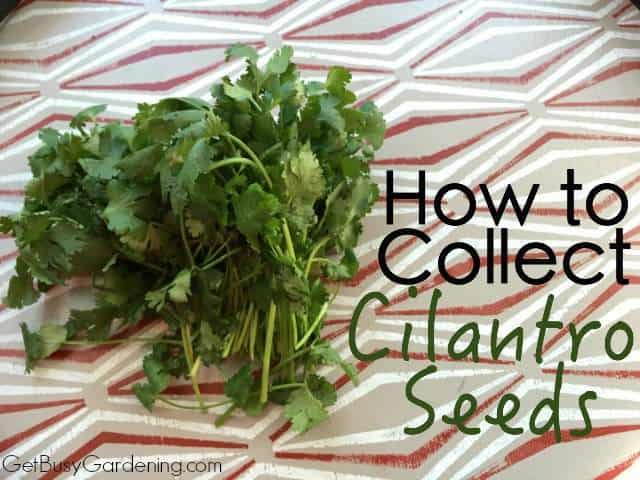 I'm a huge fan of Mexican food, and the more cilantro the better! Not only do I cook with it, I make tons of salsa during the summer, so growing cilantro is a must in my garden. Cilantro seeds are one of the many types of seeds I collect from my garden every year.
If you're interested in collecting cilantro seeds from your garden, don't pull the whole plant when you harvest cilantro. Simply snip off the leaves that you want to use. You can make several harvests off one plant this way.
How To Collect Cilantro Seeds
Cilantro must bolt (i.e.: flower) before it will set seed. The flowers are tiny and barely noticeable. Cilantro flowers will then form small green balls which will become the seeds.
Once cilantro seeds turn brown, they are ready to be collected. Allow cilantro seeds to dry on the plant before collecting them.
Cilantro seeds are very easy to collect – simply pinch the seeds off the plant, and drop them into a container or a paper bag.
Related Post: Saving Radish Seeds From The Garden
Cilantro seeds are round, brown and very light weight. They don't look like they'd be viable, they look dried out and dead.
Once you've collected cilantro seeds from the garden, allow them to dry completely before storing seeds.
You could store cilantro seeds in a plastic container, paper bag or small envelope until spring. Learn how to make your own seed envelopes here.
Tips For Growing Cilantro Seeds
Cilantro seeds can be started using the winter sowing method, they can be sown directly in the garden, or started indoors.
Even if you collect all the seeds from your cilantro plants, you will probably find some self sowers. Don't worry, volunteer plants are easy to pull out if they become a nuisance.
If you collect and sow your own seeds, you'll always be able to grow tons of fresh cilantro in the garden. Plus cilantro seeds are great for trading or sharing with friends.
If you don't have cilantro growing in your garden, here are some great, quality seeds you can buy to get started… Cilantro Seeds. You can also learn exactly how to grow cilantro here.
Do you grow cilantro in your garden?