It's super easy to make DIY seed envelopes out of paper! These are the perfect size for sharing, gifting, trading, or storing. In this post, I will show you exactly how to make your own DIY seed packets, step-by-step.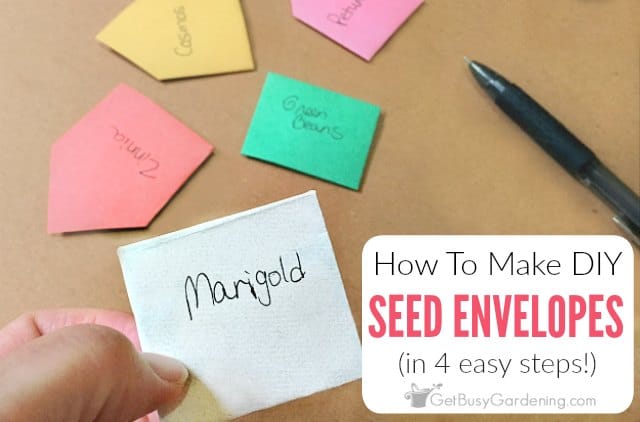 One of my favorite activities in the fall is collecting seeds from my garden. I use them to grow my annuals and vegetables every year, which saves me tons of money.
I also love to share them with friends, and use them to trade for other varieties I don't already have. For sharing and trading, I like to make my own DIY seed envelopes.
It's very easy to make your own paper seed packets, and inexpensive too! Below I will show you how to make them, step by step.
Here's what you'll find in this guide…
Easy DIY Seed Envelopes
These instructions are for making 2″ x 2″ square envelopes (approximately), which work great for most types of seeds. It's simple to adapt the instructions to make your own custom sizes though.
Simply cut the square bigger for larger envelopes (which would work better for bigger seeds). Or cut it smaller if you want tiny ones. Basically, as long as the paper is cut into a square, you can make any size you want.
Supplies Needed:
How To Make Your Own Seed Packet Envelopes
I encourage you to get creative by using different types of paper, like a mix of bright colors or cute patterns. Just be sure to use something that's fairly thick, like craft paper.
Thin papers such as newsprint, magazine pages, and wrapping paper are too thin and can break open. Here are the steps for making basic seed envelopes…
Step 1: Measure and cut the paper – Cut the paper into 4″ x 4″ squares. You could cut it with scissors of course.
But if you plan to make a lot of these handmade seed envelopes (and you want them to be straight), I recommend using a paper cutter. That way you can cut several pieces at once too.
Step 2: Fold the paper square in half – First you should fold the square of paper in half, corner to corner. Be sure to take your time lining it up so that the edges are straight.
Step 3: Fold in the bottom corners to form the envelope – Fold the two bottom corners of the paper in so they overlap evenly.
Take care that they align with the bottom of the envelope. Also make sure they are even on both sides so that your packet is square.
Step 4: Tuck in the flap to hold it in place – Tuck the corner of one flap into the fold of the other to securely hold it in place. The harder you make the creases, the tighter the hold of your DIY seed envelope will be.
Customizing Your DIY Seed Packets
Now comes the fun part… making your own custom seed envelopes! This is where you can get really creative, and design your own unique packets.
You can make super fancy ones using stickers, stencils or stamps. Or simply write on your color envelopes like I did.
If you want to decorate them, or you're planning to write on plain envelopes, it's much easier to do that before filling them.
Write the plant name on the front of the envelope using a pen, or get creative use fun markers. Or if you want your seed packets to look a bit more formal, use printable labels with your computer instead.
Don't forget to also include who they are from, and the date they were collected. I like to write that information on the back of my seed envelopes to make it easier to read.
Once you're done labeling your DIY seed packets (or decorating them if that's what you want to do) then you can fill them with up.
If the seeds are super tiny, then fold them into a small piece of paper or tissue before putting them into the envelope so they won't leak out.
When you're done filling your seed packets, simply fold down the top flap to close it. You can either tuck it into the back of the envelope, or tape the flap shut.
Use some decorative tape or a small sticker to seal them, and dress them up a bit.
Storing Your Seed Envelopes
You can use these as DIY seed envelopes for trading and sharing with friends, or use them for storage.
I like to keep mine in a small plastic bin, like this one. I used to put them in a recipe box back when my stash was much smaller, and that worked great too!
You could also use an old photo album to hold your homemade seed envelopes (the type that has the pockets) if you have one of those.
Otherwise you can get a Seed Keeper, which is specifically made for storing and organizing packets and envelopes!
Where To Buy Small Envelopes For Seeds
Don't worry if you don't have time to make your own seed envelopes, it's pretty inexpensive to buy them online.
You can use these small brown ones, or even get them in other colors like blue or green! Basic coin envelopes also work great.
Making your own DIY seed envelopes is a good way to use up all kinds of scrap paper. Your friends and fellow traders will love the cute packets their seeds come in, and they can throw the envelope into the compost or recycling bin when they're empty.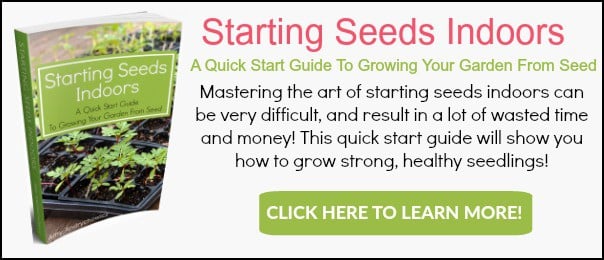 Do you want to learn how to start your seeds indoors? My Starting Seeds Indoors eBook is just what you need! It's a quick-start guide that will get you growing in no time! Download your copy today.
If you want to learn everything you need to know about growing all of your plants from seed, then enroll in the Online Seed Starting Course! This comprehensive and fun course will guide you every step of the way!
Related Products
More Seed Saving Posts
Share your steps for how to make seed packets, or your favorite types of seed envelopes in the comments section below!
Print The Step-By-Step Instructions