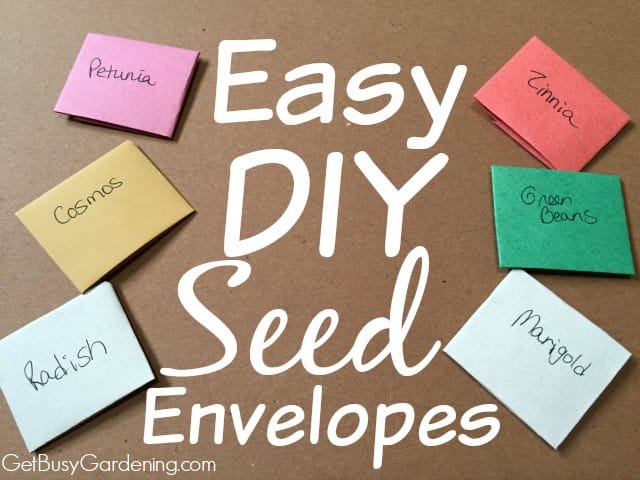 One of my favorite activities in the fall is collecting seeds from my garden. I use these seeds to grow my annuals and vegetables every year, which saves me tons of money.
I also love to share seeds from my garden with friends, and use them to trade for other seeds. For sharing and trading, I like to pack my seeds into small envelopes. You could buy seed envelopes, or you could make your own out of scrap paper. It's a fun way to share or store seeds.

How To Make DIY Seed Envelopes
Supplies Needed:
Step 1: Cut the paper into squares. You could cut the paper with scissors, but if you plan to make a lot of these (and want them to be straight), I recommend getting an inexpensive paper cutter. Cutting the paper into 4″ x 4″ squares work great for most seeds. You might want to make the square bigger for larger seeds. Basically, as long as the paper is cut into a square, you can make it any size you want.
Step 2: Fold the paper in half, corner to corner.
Step 3: Fold the two bottom corners so they overlap evenly.
Step 4: Tuck the corner of one flap into the fold of the other.
Step 5: Write the name of the seeds on the front of the envelope.
Step 6: Don't forget to write who the seeds are from and the date they were collected. I like to write that on the back to make it easier to read.
Step 7: Fill the envelop with seeds. If the seeds are tiny, fold them into a small piece of paper or tissue first, so they won't leak out.
Step 8: Fold down the top and either tuck it into the back flaps (see picture in step 6), or tape the flap shut.
Step 9: Start trading or sharing with friends! Have fun with it.
Get creative by using different colors and types of paper. You could use a mix of bright colors, or decorative patterns. Just be sure to use a thick paper like craft paper. Thin papers such as newsprint, magazine pages and wrapping paper are too thin and can break open, spilling the seeds.
Storing Your Seed Envelopes
I like to store my seed envelopes in a small plastic bin, like this one. I used to use a recipe box back when my seed collection was much smaller, and that worked great too! You could also use an old photo album (the type that has the pockets) if you have one of those, or you can get a Seed Keeper, which is specifically made for storing seed envelopes!
Related Post: 5 Easy Annuals to Collect and Grow From Seed
Making your own DIY Seed Envelopes is a great way to use up all kinds of scrap paper. Your friends and fellow seed traders will love the cute package their seeds come in, and they can throw the envelope into the compost or recycling bin when they're done planting the seeds. Don't worry though, if you don't have time to make your own seed envelopes, they are inexpensive to buy in bulk. Here's the kind that I buy… Seed Envelopes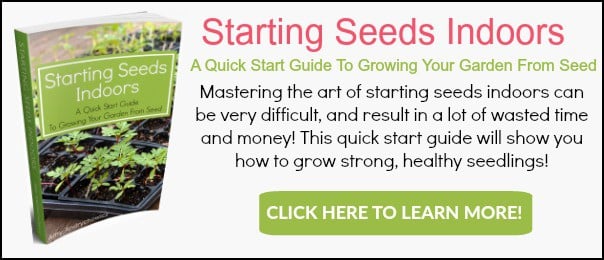 More Posts About Collecting Your Own Seeds
Do you save seeds from your garden to trade or share with friends? Share your stories in the comments below.
Pin It!