Throughout the summer and fall, lots of gardeners like to collect seeds from their gardens to grow for the next year. But how the heck do you organize and store seeds you collected yourself for the winter?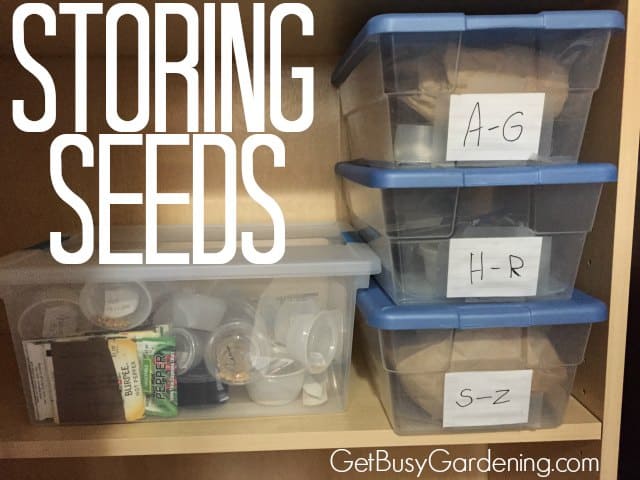 It won't be long before we start planning our gardens for next year, and thinking about which seeds to sow.
I'm here to tell you, having your seed stash organized makes life so much easier, and helps to speed things up when it comes time for sowing.
How To Store Seeds
My favorite way to store seeds from the garden is to put them into those small containers that condiments come in with take out food.
I like these because they are lightweight, small, easy to store, reusable… and of course, because they are free!
I also like that they are clear so I can see the seeds that are inside without having to open the container.
If you don't eat take out food, here are some other nifty seed storage containers…
pill bottles
baby food jars
spice jars
plastic film canisters
small plastic zip top bags
paper bags
There are tons of possibilities!
But, if you choose to use a plastic container for seed storing, make certain the seeds are completely dry otherwise they could mold.
Check out these super cute DIY seed envelopes that you can make for seed storing, trading and sharing seeds.
You could also buy small envelopes if you don't want to make them yourself.
Whatever container you decide to use to for storing seeds, don't forget to label your seed containers with not only the name, but the date the seeds were collected.
It's important to keep track of the date seeds were collected in order to keep your seed stash filled with fresh seeds.
Once my seeds are all packed up in their individual seed containers, I organize the containers into small plastic bins to make it even easier to find the seeds when I need them.
If you have a bunch of leftover seeds from the ones you bought (and you are much more organized than I am), you can use this cute seed organizer for storing seeds.
Or, you could organize your seed envelopes using a recipe box, like this adorable recipe box.
After organizing all of your seeds, be sure to store them in a dark, dry location.
More Seed Saving Posts
How do you store your seeds? Leave a comment below and tell us about it.